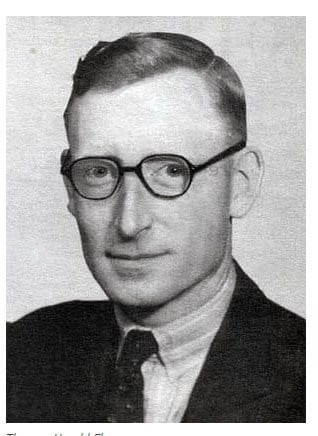 Key Points
Thomas Harold Flowers is the technical genius who created the world's second electronic computer.
Thomas began investigating the use of electronics in telephone exchanges in 1935.
Flowers began working for the Post Office in the engineering department as a probationary inspector in 1926.
Who was Thomas Harold Flowers
Thomas Harold Flowers is the technical genius who created the world's second electronic computer (after ABC of Atanasoff) and the world's first electronic programmable computer—Colossus.
Flowers, the son of a bricklayer, was born on December 22, 1905, at 160 Abbott Road in Poplar, London's East End. He completed evening studies at the University of London to get a degree in electrical engineering while working as a mechanical engineering apprentice at the Royal Arsenal, Woolwich. He joined the General Post Office's (GPO) telecommunications section in 1926, and in 1930 he was sent to the Dollis Hill research station in northwest London. He married Eileen Margaret Green in 1935, and the pair had two sons, John and Kenneth, together.
Early life
Thomas began investigating the use of electronics in telephone exchanges in 1935, and by 1939, he was sure that an all-electronic system was feasible.
When informed that a baby sister was on the way, he expressed a desire for a Meccano set (Meccano is a model building kit consisting of re-usable metal strips, plates, angle girders, wheels, axles, and gears, with nuts and bolts to connect the components). It provided for the construction of functioning models and mechanical devices.) He began a four-year apprenticeship in Mechanical Engineering after graduation at the Woolwich Royal Arsenal. He enrolled in night programs to obtain a bachelor's degree in Engineering from London University.
Career
Early Career
Flowers began working for the Post Office in the engineering department as a probationary inspector in 1926. He started as a probationary assistant engineer at the Dollis Hill laboratory in 1930. (electrical engineer). Eileen Margaret Green, whom he married in 1935. Kenneth and John were the couple's two sons.
Flowers honed his skills in the use of valves, constructing systems of valve amplifiers and switches that, by 1939, allowed long-distance conversations to be made without the assistance of a human operator. He was then security certified for radar operations in 1938.
World War II
In February 1941, Flowers' director, W. Gordon Radley, was solicited for assistance by Alan Turing. The latter worked at Bletchley Park, the British codebreaking center 50 miles (80 kilometers) northwest of London in Buckinghamshire. Turing tasked Flowers with developing a decoder for the relay-based Bombe system, which Turing had created to help decrypt the German Enigma code.
Although the decoder project was abandoned, Turing was pleased by Flowers' work and introduced him to Max Newman, who was conducting an effort to automate part of the cryptanalysis of the Lorenz cipher in February 1943.
What Did Thomas Harold Flowers Invent
Colossus
'Colossus' was the name of his machine, which was the world's first programmable computer. 'Colossus' relied on 1,800 thermion valves, which many saw as flawed because valves were notoriously unstable and prone to failure. On the other hand, Flowers understood from his experience as a GOP engineer that valves tended to fail when a worker constantly turned on and a machine off. So, according to Flowers, 'Colossus' was left on indefinitely in a stable atmosphere. Flowers were proven correct when 'Colossus' proved to be a dependable machine. To give you an idea of his achievements, the previous record for the most valves in a single device was 150.
Flowers presented a more advanced version, creating the wheel patterns electronically using an electronic device dubbed Colossus, with 1,800 thermionic valves (vacuum tubes) instead of 150 and only one paper tape instead of two (which required synchronization). Some were worried about the system's reliability because the most complicated electronic gadget needed around 150 valves. Flowers argued that the British telephone system employed thousands of valves and was dependable because the British kept the electronics in a controlled atmosphere, and the circuitry was turned on at all times.
Flowers was pushed to continue on his own by the Bletchley management, who Flowers did not convince. He did so at the Post Office Research Labs, which he built with his own money. Flowers first met Turing (and got along with him) in 1939 but was scorned by Gordon Welchman because he preferred valves over relays. Welchman favored the opinions of Wynn-Williams and Keene of the British Tabulating Machine Company (BTM), who developed and built the Bombe and wanted Radley and "Mr. Flowers of Dollis Hill" removed from the Colossus project for "wasting excellent valves."
'Colossus' proved to be a formidable opponent. Newman's 'Heath Robinson' read 1000 characters each minute when it was operating. Because of the challenges with dependability, this value was usually much lower. The entire process needed to be accelerated, particularly as D-Day approached. Eisenhower and his crew required as much information as possible regarding Nazi strengths and vulnerabilities in northern France.
Colossus Mark II
In 1944, the Colossus Mark II design went into service, providing crucial intelligence for the D-Day landings. Many historians believe it shortened the war by two years because of its codebreaking.
Tommy's wartime activities were kept hidden for many years after the war, and the computers were mainly decommissioned. However, Tommy returned to his old employment in telecommunications engineering after failing to persuade the Bank of England to provide him a loan to continue his work. He went on to pioneer the first fully-electronic telephone exchange.
Thomas Harold Flowers: Marriage, Divorce, Children, and Personal Life
Marriage
Thomas Harold Flowers married Eileen Margaret Green in 1935.
Children
The couple later had two children, John and Kenneth.
Thomas Harold Flowers: Awards and Achievements
Colossus
Tommy Flowers returned to the GPO's Telephone Research Establishment after the war. He was rewarded 1000 pounds for his war service, hardly enough to pay off the debts he had accumulated while constructing Colossus. He was also awarded the MBE, which some consider insufficient compensation for his war-winning efforts.
Martlesham Medal
In appreciation of his contributions to computers, he was awarded the first-ever Martlesham Medal in 1983.
Thomas Harold Flowers Published Works and Books
Introduction to Exchange Systems
Introduction to Exchange Systems is a book covering the fundamentals of engineering concepts of telephone exchanges, which was released in 1976 by Thomas Harold Flowers.
Next Up…