Who Was Robert Noyce?
Robert Noyce was an American inventor, engineer, and businessman. He made a massive impact on the field of computing in a variety of ways, including his invention of the Monolithic Integrated Circuit. He also co-founded two of the most influential computer companies in history, working to found Fairchild Semiconductor and the Intel Corporation.
Early Life
Noyce was born as the third of four boys to Reverend Brewster Noyce and Harriet May Norton. Both of Noyce's parents were described as extremely intelligent: His father was an ordained minister who was even nominated for a Rhodes scholarship.
Noyce seemed to take after his parents and showed real talent in the area of science and math, taking senior courses during his Freshman year. Upon graduation from High School, he attended Grinnell College, where he graduated in 1949 after earning degrees in both physics and mathematics. Gale then applied to the Massachusetts Institute of Technology, where he graduated with a Ph. D. in physics in 1953.
Career
Philco Corporation & Shockley Semiconductor Laboratory
Upon graduation in 1953, Noyce took a job with the Philco Corporation, where he worked as a research engineer. Noyce wouldn't stay there very long, and he was recruited to work at the Shockley Semiconductor Laboratory in 1956. However, Noyce would stay there for only a year. The company, which was founded by William Shockley, struggled to keep scientists, as its employees disliked Shockley's management style. Upset with working conditions, Noyce joined with numerous other colleagues – including Sherman Fairchild – to found Fairchild Semiconductor.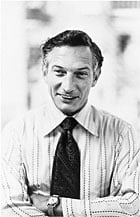 Fairchild Semiconductor
Some of Noyce's greatest and most influential work would come from his time at Fairchild, as it was here that, working with others, Noyce invented the world's first microchip. He also contributed to a variety of other inventions and processes, including the Planar Process that would allow for the mass production of the microchip.
In 1968, Noyce left Fairchild Semiconductor, joining with his colleague, Gordon Moore, to form the Intel Corporation.
Intel Corporation
Noyce and his colleague, Gordon Moore, are the co-founders of the Intel Corporation. Intel – short for "integrated electronics" – was founded in order to make the production of semiconductor chips more affordable.
Noyce and Moore were wildly successful in this venture. They immediately acquired venture capital backing and were able to recruit top engineering and computing talent to their company. As early as 1969 – less than a year after their formal founding – Intel was asked to create twelve custom chips for a Japanese company. Instead, Intel created one chip that could accomplish all twelve tasks.
This kind of business spirit epitomized Intel's ability to mesh creativity, engineering, and computing. They continued to make major advances in microchip production, creating newer, smaller, and more powerful chips, including the Intel 4004, 8080, and more.
Noyce and his fellow leaders at intel – Moore and Andrew Grove – had a management strategy that worked well at recruiting and retaining employees. They were known for their very positive treatment of employees, relatively structure-free working environment, excellent pay, and laid-back work culture. Much of this would become the foundation for how many other Silicon Valley companies manage their employees today. Furthermore, Noyce was lauded for turning down typical company perks, like a private jet and reserved parking spaces.