Key Points
Samuel Kelso was an inventor born in 1835 in Scotland. He spent part of his adult life in Canada and America.
Samuel Kelso is most famous for inventing a cipher that made adding and subtracting large sums fast and easy.
In addition to making several mechanical inventions, Samuel Kelso was also an author, husband, and father of six children.
Who Was Samuel Kelso?
Samuel Kelso was an inventor from Scotland who immigrated to Canada and later to the United States. He is known to be a holder of different patents, like the ciphering machine. This was a calculating machine for solving different equations like addition, multiplication, and subtraction.
He was also a holder of the U.S. patent from 1882 (No. 477942) for a slip-holder. In 1860, he received another patent, a Canadian patent (No. 1121), for an "aqua-gravitation engine."
Quick Facts
Full Name

Samuel John Kelso

Children

Elizabeth (b. 1868), Caroline V. (b. 1870), Belle (b. 1872), Karl W. (b. 1873), Alfred N. (b. 1876), and Walter Rhodes (1882-1948)

Place of Birth

Scotland

Fields of Expertise

["Inventor"]

Contributions

Ciphering machine
Apart from being an inventor, Samuel Kelso was also an author. He published a book entitled Notes on the Saguenay for tourists and others, which was published in 1862.
Early Life
Samuel Kelso was born in 1835 in Scotland to Charlotte L. Kelso (born in 1806) and Henry Kelso (born in 1800). He had two brothers: David (his elder brother, who was born in 1832) and Josiah (born in 1841). Samuel Kelso had one sister, Charlotte (born in 1836).
During the early 1850s, his family lived in Glasgow, Scotland. Samuel Kelso worked as an engineer while his father worked as a teacher. In the late 1850s, Samuel decided to immigrate and start living in the New World. He moved to Quebec, Canada, and later to Detroit, Michigan, USA.
In the year 1867, Samuel Kelso tied the knot with Hannah Roadhouse (born in 1844). Hannah was a Canadian who came from Albion, Ontario.
Together with his wife Hannah, they were blessed with six children: Elizabeth (born in 1968), Caroline V. (born in 1870), Alfred N. (born in 1876), Belle (born in 1872), Walter Rhodes (born in 1882), and Karl W. (born in 1873).
Career
In the early 1860s, Samuel Kelso joined the Scottish Amicable Life Assurance Society based in Chicoutimi, Saguenay, Canada, where he worked as their agent. In the same year, he became the holder of a Canadian patent.
Samuel Kelso authored a book that was published in 1862. In 1882, he owned a U.S. patent for a slip-holder.
In 1866, inventor Samuel Kelso patented a ciphering machine (US patent 58347). It was an adding machine very much similar to the one patented in England by David Roth. This machine was designed to help in subtracting, multiplying, and adding numbers of any magnitude with the greatest facility and ease.
What Did Samuel Kelso Invent?
Ciphering Machine
Samuel Kelso was known as the holder of U.S. patent 58347 (ciphering machine). He invented this machine to help in solving equations like multiplying, adding, and subtracting any number using his invention.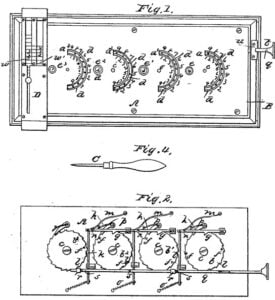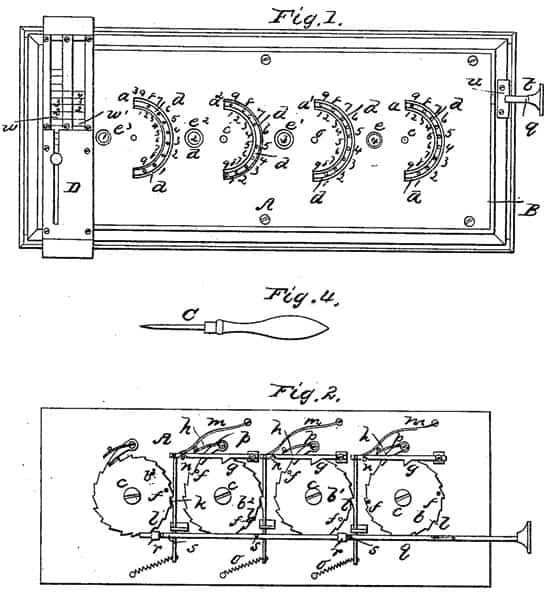 For subtracting and adding, this machine uses wheels that revolve on pins that project directly from under the surface of a sheet metal plate or other suitable material. Each metal plate has ten cavities or holes, while the face plate has semicircular slots with numbers ranging from 1-9 on each of the convex sides of the slots. These are used for addition, and from 9-1 on the concave side, they are used for subtracting.
Samuel Kelso designed the ciphering machine in a suitable way for carrying a mechanism that is joint with other wheels in such a way that when one of those wheels is revolved for the 10 cavities, the next wheel that succeeds will automatically turn for one hole.
The carrying mechanism is made up of an order of compound pawls. Each pawl is made up of two rods. One of these rods is hinged under the surface of the face plate. It is given a cam or nose that should act upon the projecting pin directly from the appropriate wheel. The other rod is also hinged, to the loose side of the first rod, and given a tooth. This tooth touches the next wheel, succeeding in a way that when the first wheel pin goes through the cam or nose of the main rod, the second wheel automatically turns one tooth.
The ciphering machine also has another rod that slides directly into the suitable sockets of the face plate on the underside, serving to throw the carrying mechanism away from the gear. This will enable each of the wheels to be able to turn independently of the others.
The multiplying device has a carriage that is fixed to the case that has different wheels for subtracting and adding. Samuel Kelso's invention has a disengaging slide. The process of setting these wheels back to zero is already facilitated with the material. It also allows the user to save time when operating this machine.
Samuel Kelso: Marriage, Divorce, and Personal Life
Net Worth
His net worth is not known, but Samuel Kelso was a holder of three patents and an author of one published book.
Marriage
In 1867, Kelso married Hannah Roadhouse (b. 1844), a Canadian from Albion, Ontario, and they had six children.
Divorce
Samuel Kelso was never divorced.
Children
With his wife Hannah Roadhouse, they were blessed with six children: Elizabeth (1868), Caroline V. (1870), Belle (1872), Karl W. (1873), Alfred N. (1876), and Walter Rhodes (1882-1948).
Tragedy
There is no information available about Samuel Kelso's death.
Samuel Kelso: Awards and Achievements
Even though Samuel Kelso was a successful author and inventor, it is not yet known if he was awarded for his success. But he has some notable achievements: his published book and three patents.
Samuel Kelso: Published Works
Notes on the Saguenay for tourists and others
Samuel Kelso published one book back in 1862. He is known to be the author of Notes on the Saguenay for tourists and others.