Last updated

August 31, 2021
Willard Legrand Bundy
Willard Legrand Bundy was born on 8 December, 1845, in Otego, New York. He was the first-born of Willard Douglas Bundy (9 Nov. 1815–22 Dec. 1889), and Elizabeth R. Bundy, née Gillespie (29 May 1817–2 Apr. 1894). Willard Legrand had two brothers: J. Leland (Lee) (1847-1910) and Harlow Elisha (1856-1916), and a sister—Prudence Maria (1849-1924).
In 1849 the family moved to Auburn, Cayuga County, New York. In Auburn Willard Douglas Bundy entered the flour and feed business, then he opened a restaurant. About the time the war broke out he went into the grocery business and ran a grocery for seven years. Then he went into the fish, oyster and general provision business, and was also interested in building.
After attending school in Auburn, Willard Legrand learned the trade in a jewelry store and in 1868 he was able to start a business for himself, opening his own jewelry store.
In 1871 Willard Legrand Bundy married to Esther Decatur "Etta" Sweet (12 Oct. 1851–10 Sep. 1931), daughter of Royal D. Sweet from Manlius, Onondaga County, New York. They had two sons: Willard H. (1872–1941) and Royal D. (1875-1940).
In 1880s Willard Bundy built a wonderful 3100-piece clock, called Thousand Year Clock (see the lower photo), to draw and entertain customers at his jewelry store. This clock is now at the Cayuga Museum in Auburn.
Willard Legrand Bundy and his Thousand Year Clock
Willard Legrand Bundy was a prolific inventor, who obtained patents of many mechanical devices. His first patent from 1880 is for calendar-clock movement (US patent Nr. 225968). He was a holder of many patents for cash registers (see electric-cash register of Bundy) and calculating machines. However, the invention which made him famous, was his time recorder, a mechanical device which recorded when workers clocked in and out of work.
Willard Bundy devised his first time-recorder sometime in 1880s. In 1887 he applied for a patent and it was granted in 1888 (US patent 393205). Next year, encouraged by his business-minded brother, Harlow Elisha, Willard entered into business with him and on 30 September, 1889, they founded the Bundy Manufacturing Recording Company of Binghamton, to manufacture Willard's Workman's Time Recorder invention (see one of the early Bundy Time Recorder in the nearby image).
The Bundy Manufacturing Co. begins with just eight employees and $150,000 capital. The brothers needed investors, so several local businessmen, like Austin Ward Ford (an in-law of Harlow), and George Winthrop Fairchild (a six-term Republican U.S. Representative from New York), put some capital in the new company. Harlow was appointed as a general manager, while Willard served as a superintendent and was responsible for technical part (patents and improvements to their time recording clocks).
The Bundy Manufacturing Company was extremely successful and grew into one of the major industries in the Binghamton area, hiring over 140 skilled employees in the late 1890s, and established offices in principle cities all over the United States. In 1898 about 9000 Bundy Time Recorders have been produced, advertised as solving "vexatious questions of recording employee time". Harlow established accounts with the United States Post Office and the Delaware, Lackawanna and Western Railroad. Their time clock created an international revolution in the way that businesses managed their employees.
In 1900, Bundy Manufacturing Company merged with several other time recorder companies and became International Time Recorder Company (ITR). In 1911, the ITR merged with the Tabulating Machine Co. of Hollerith and another company, and incorporated in New York State as the Computing-Tabulating-Recording Company, the forerunner of the world-famous IBM (International Business Machines Corporation).
The Bundy Manufacturing Company's factory on 183-185 Water Street in downtown Binghamton, New York, at the end of 19th century
Unfortunately, a tension between the two brothers Bundy began in 1900, when Willard's elder son—Willard H., was discharged from the company for reasons which are unclear. In 1902, that same son, Willard H. Bundy, was granted a patent for a new time recorder design and incorporated a rival Bundy Time Recorder Company with his younger brother, Royal, and his mother, Esther Sweet.
Shortly thereafter, Harlow discharged Willard Legrand claiming he, and not his son, was the real inventor of the patent and thus violated his contract with the original Bundy company. Willard adamantly denied the allegations, claiming he had done nothing wrong, and, according to a local newspaper, going so far as to continue to go to work and expect to have his pay until his contract with the company expires, even if he has to collect it in the courts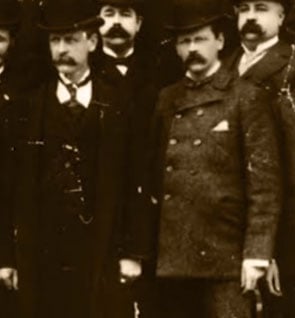 Willard Legrand Bundy (left) and Harlow Elisha Bundy (right) before the scandalous split in 1902
In 1903, Willard Legrand severed his connection with the initial Bundy company. His whole family moved to Syracuse, N.Y., with their respective families and started the production of the Bundy Time Recording Company. W. H. Bundy Recording Company, as the name was later changed to, seemed to enjoy great success, at least at the beginning. It expanded beyond time recorders, manufacturing and marketing an automatic calculating machine in 1904.
By 1906, the company perfected its Columbia Calculating Machine and began production. The machine added, subtracted and multiplied, along with printing words of the figures according to individual requirements. Additionally, the company expanded that year, increasing its capital stock to 500000 USD and established branches in other cities. A local newspaper claimed Syracuse produced half the world's time recorders at that time and recognized W. H. Bundy Recording Company as one of the major manufactures of the area.
Meanwhile, the original Bundy Manufacturing Company continued to press numerous lawsuits against the new Bundy company. The two brothers and their respective companies engaged in several legal battles from 1903 to 1907 over patent rights regarding Bundy Time Recorders, violations of Willard L. Bundy's contract with the original company, and the use of the Bundy name to sell Time Recording Clocks. In 1907, W. H. Bundy Recording Company was found guilty of infringing on the patents, but continued to operate until 1915, refusing to be taken over by his rival.
Willard Legrand Bundy passed away of pneumonia in his home at 207 McClennan Avenue, Syracuse, N.Y, on 19 Jan. 1907, and was buried in Oakwood Cemetery. His invention forever impacted the workplace, and the concept of using a machine to clock in and out still exists in business all over the world.