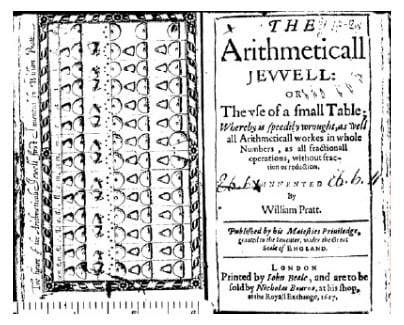 Key Points
William Pratt was a math teacher and inventor from the seventeenth century.
He is most famous for his calculating device called the Arithmetical Jewell in 1616.
This small calculating device did not take paper like many others at the time and was small enough to fit inside your pocket.
Who was William Pratt
William Pratt was a British mathematician, inventor, and a member of the active circle of London's Mathematical teachers in the 17th century. He had a great influence in the field of two mathematical practices, Rabdology and Logarithms.
William Pratt did lots of research on the invention of Scottish Mathematician John Napier in the 1600s. He was able to create a fast and efficient way to calculate the logarithms of Napier. He provided a way in which the logarithms of Napier could be done automatically without the need for a pen and paper.
Quick Facts
Full Name

William Pratt

Nationality

British

Place of Birth

England

Fields of Expertise

["Mathematics"]

Contributions

calculating device
Early Life
Almost nothing is known about William Pratt's early life.
Career
Member of the Active Circle of London's Mathematical Teachers
William Pratt was a knowledgeable and skilled mathematical practitioner who played a vital role as a member of the active circle of London's mathematical teachers. It was located close to the famous Gresham College founded by Thomas Gresham in 1597. 
William and the committee were responsible for studying the nature of mathematics and coming up with modern principles, expanding on mathematical theories, and creating new concepts. Together with a team of two, William Pratt made remarkable progress in the field of Logarithms. 
What did William Pratt Invent?
Arithmetical Jewell
William Pratt designed a calculating device called the Arithmetical Jewell in 1616. John Harper and Jeremiah Drury supported him to bring his fantastic mathematical tool into shape. On 27 March 1616, Pratt and his team received a patent (privilege) "for the sole making of a table for casting accounts." The Arithmetical Jewell performed addition, subtraction, multiplication, and division with minimal or zero errors.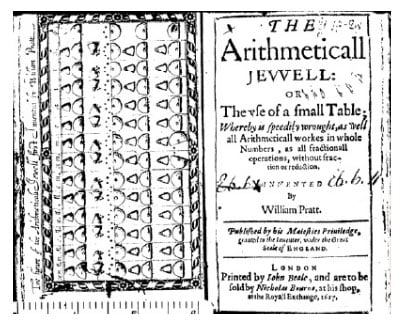 William's Arithmetical Jewell was nothing more than a rudimentary mechanical reconfiguration of the convectional reckoning technique: a portable, fancier, and gentlemanly adaptation of the century-old calculation techniques like plume (manual arithmetic) and Jetons of the abacus. 
Additionally, Pratt's mechanical calculator did not need paper to inscribe; for instance, instead of doing the carry-over numbers of an addition manually, you could use a small metallic stylus to "inscribe" them on the instrument's appropriate sectors brass. Nonetheless, the reckoning method was precisely the same as the plume and jetons in its calculations process. 
The Arithmetical Jewell comprises two ivory-faced wooden tablets, 122 mm x 65 mm x 5 mm each. This pocket calculator has 14 columns on one tablet, each with small brass parallel sectors. The other has seven columns for laying out astronomical fractions to the base 60.
William is a great mathematician acknowledged by many scholars who found his invention helpful. According to a later account by the English antiquary, natural philosopher, and writer John Aubrey (1626–1697): 
Dr. Pell told me that one Jeremiah Grinken [a mathematical instrument maker] frequented Mr. Gunters Lectures at Gresham College: He used an Instrument called a Mathematicall Jewell, by which he did speedily perform all Operations in Arithmeticke, without writing any figures, by little sectors of brasse [or some semi-circles] that did turn every one of them upon a Center. The Doctor has the booke… he told me, he thought his name is [William] Pratt.
Although the number of pocket calculators produced by William Pratt isn't on the record, two copies of the actual instrument still exist. One in the Department of Medieval and Later Antiquities, British Museum, and the other in National Museums of Scotland. 
William Pratt
: Marriage, Divorce, Children, and Personal Life
Net Worth
Nothing is known about William Pratt's career net worth.
Marriage
No information is available about William Pratt's marriage.
Divorce
No information is available about William Pratt's divorce.
Children
No information is available about William Pratt's children.
Tragedy
No information is available about William Pratt's death.
William Pratt Published Works and Books
The Arithmetical Jewell
The Arithmetical Jewell was published in 1617 in London by William's Maiesties privilege to describe the operations of its mechanical calculator. After being published, the book was granted to the inventor William Pratt under the Great Seale of England. 
Below the main title, the book has the writings, "the use of a small Table Whereby is speedily wrought, as well all Arithmetical workes in whole numbers, as all fractional operations, without fraction or reduction."
NEXT UP…