Who Was Vannevar Bush?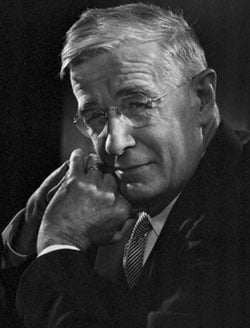 Key Points
Vannevar Bush was an American inventor, electrical engineer, and science administrator.
The American physicist thought scientific research was important.
After inventing the Profile Tracer, this device didn't become as commercially successful as he had expected.
Vannevar Bush was an American inventor, electrical engineer, and science administrator. He was the leader of the Office of Scientific Research and Development during World War II. His offices were located in the United States. He was the leader of almost every wartime military operation that was carried out by the R & D. This also includes other essential radar developments and early administration, as well as the initiation of the Manhattan Project.
The American physicist was keen on emphasizing some of the significance of scientific research to the well-being of the economy and also national security. He was the mastermind behind the movement responsible for the development of the National Science Foundation.
After joining the Massachusetts Institute of Technology Electrical Engineering Department, he established the company, which was later changed to Raytheon Company. As a successful electrical engineer, he served different companies and launched different devices.
In his career, he patented a string in one of his greatest inventions. Vannevar Bush is well-known for his engineering efforts and the work he used in the development of the Memex and the analog computer.
His first device to invent was the differential analyzer, designed in 1927. Memex was a device he designed to help with hypertext. The article outlined that Bush discussed his vision of hypertext and his contribution to the internet. In his article, he wrote in the 45s, 'As We May Think.'
The National Advisory Committee for Aeronautics assigned Bush to serve on it. After a short period, he was appointed as the Chairman of the NACA. The National Defense Research Committee appointed him to be its Chairman.
Later on, he became the director of OSRD. He managed to coordinate the different activities of the leading six thousand scientists from America to lead them in the application process of science to welfare. Vannevar Bush wrote different articles like 'As We May Think' and 'Endless Frontier.'
Early Life
Vannevar Bush was born on March 11, 1890 in Everett, Massachusetts. He became the only son and the third child of the Reverend Perry Bush, a pastor at the local church, and Emma Linwood Bush. He was the brother of Reba and Edith. He was given Vannevar after his family friend, who studied with Perry at Tufts College.
When he was still a kid, he was mostly unwell, and he had to be bedridden. But this didn't prevent him from being a bright and confident kid. Like any other boy child, sometimes he could find himself in fights with other boys. He performed well in his primary education, where his tinker love started, and showed his interest in math.
After his family migrated to Chelsea, Massachusetts, in 1892, his father was later ordained as a pastor to serve in Chelsea, MA. He joined the same high school where his father served. While pursuing his high school education, he still had a versatile shop at home. In 1909, Vannevar Bush completed his high school education.
Vannevar Bush later joined Tufts College to pursue an engineering course. For his college education, he was sponsored, where at least half was paid off by scholarship. He started working as a tutor, primarily in math, to pay another half.
After his popularity in the school, he was appointed as the junior class president and the vice president of his class, a sophomore. Later, as a senior, he became the school's football team manager. He started dating a girl who came from Chelsea, Phoebe Clara Davis, after joining the fraternity of Alpha Tau Omega.
Tufts College allowed its students to do both a bachelor's degree and a master's degree simultaneously in four years. While doing his master's thesis, he patented and invented a "profile tracer."
The profile tracer was a device for mapping and helping surveyors like a lawnmower. This device had two wheels, bicycle-like, and a pen designed to plot a piece of land over the area it had traveled over. Later, the device became Bush's first invention. In 1913, he graduated with both Masters of Science and Bachelor of Science degrees.
Immediately after graduating, he joined General Electric in Schenectady, New York, where he started working for $14 per week. From 1914 to 1915, he became a mathematics tutor at Jackson College. In the same year, in 1915, he joined a program in electrical engineering at the Massachusetts Institute of Technology. With the demand for enough funds to marry, he completed his thesis in less than a year.
On September 5, 1916, Vannevar Bush tied the knot with his girlfriend, Clara Phoebe Davis, dating while studying at Tufts. Together, they were blessed with John Hathaway Bush and Richard Davis Bush.
During the same year, he jointly acquired his doctorate in engineering from Harvard University and the Massachusetts Institute of Technology. He was an assistant professor at Tufts College, where he taught electrical engineering.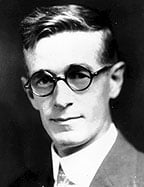 Career
After inventing the Profile Tracer, this device didn't become as commercially successful as he had expected. From his failure, he learned many things that one needs to be a successful engineer, not just physics and mathematics.
Vannevar Bush faced the same challenges during WWI. While working for the U.S Navy, he proposed the WWI idea. With the use of magnetic fields, this was a device that would detect submarines. After testing, this device was successful, but the Navy officials rejected it.
He also learned that he had to be a good politician to be a successful engineer from his failure again. In 1919, he decided to leave the Tufts and linked with MIT's department of electrical engineering to work on the electrical transmission of power as a professor. From the year 1925, he started creating mechanical devices that could be used to perform the integration.
The first product that he designed was the Product Intergraph. He went ahead and came up with the Differential Analyzer. This was just an analog computer designed to help solve some differential equations with many independent variables totaling 18. Bush completed his first differential analyzer in 1931.
During this time, together with the MIT team, they developed the "network analyzer." A system designed to assist in setting up electrical networks, most essential and large in miniature versions.
Later on, he designed a better version of the Differential Analyzer, constructed with electronic tubes. It was used mostly during World War II.
Bush designed the thermostatic switch after the cancellation of AMRAD's lucrative. This was in his attempt to ensure he would reverse the company's fortunes. The device was an invention of the AMRAD technician, AI Spencer. Though the management of this company had no interest in this device, they approved of its sale.
In 1922, with the help of Richard S. Aldrich and Laurence K. Marshall, they started the Spencer Thermostat Company. Vannevar Bush was the company's consultant. Within a short period, the company rapidly increased its revenue.
In 1931, it united with General Plate Company and became the Metals & Controls Corporation, and later, in 1959, it merged with Texas Instruments. But in 2006, Texas Instruments sold the company to Bain Capital. In 2010, it became an independent company known as Sensata Technologies.
Vannevar Bush started concentrating on inventing a new technology that would allow a human being to think automation. His specialization in the science field was a great advantage to him. The world needed something to help the accumulated knowledge in the fast-growing stores.
In the 1930s, he invented microfilm, which was used as a storage device for decades and gained popularity, primarily among librarians. Being a photography enthusiast, Vannevar Bush had a great desire for resurgent technology. He came up with an idea to help the FBI by constructing a machine that would assist them in reviewing a total of 1,000 fingerprints each minute. But they turned his offer down.
Together with John Howard, they patented and built the rapid selector. It was designed to be fast, mostly when referencing stored information in microfilm. Vannevar Bush authored an article that discussed a device. The article was about a device called "Memex." It was the new prototype of the new technology of hypertext systems.
From 1932 to 1938, he served as the dean of engineering and vice president of MIT. In 1938, he served the Carnegie Institution in Washington as its president. The institution allocated $1.5 million as funds for research contributions annually. As the president, he influenced research direction in the U.S. He was also an advisor to the government on matters of science.
In 1940, he became the President's National Defense Research Committee Chairman, and later, in 1941, he was appointed as the Office of Scientific Research and Development Director. With these recent appointments, he became the central figure in developing the Manhattan project and nuclear fission.
After President Roosevelt requested him to recommend some of the applications, of the lessons he learned from WWII direct to the civilian and peace-time activities. He submitted only an article called "The Endless Frontier." This article outlined some of the significance of the research's continued contributions.
In the USA, this physicist was appointed to serve many institutions as a director or chairman for critical contributions. In 1946, he was appointed to serve the Joint Research and Development Board of the War and Navy Department.
The Development Board of the National Military Establishment also appointed him as their chairman in 1947. The same year, he became the AT&T director. In 1957, the American physicist became the MIT Corporation Chairman.
From the year 1957 to the year 1962, he served as the Chairman of one of the biggest pharmaceutical corporations known as Merck & Co., among other different organizations, before he met his tragedy.
What Did Vannevar Bush Invent?
Differential Analyzer and Network Analyzer
In 1919, Bush left Tufts and went to MIT's electrical engineering department as a professor of electrical power transmission. Starting from 1925, Bush began the construction of mechanical devices for performing integration. First was the Product Intergraph, next was the Differential Analyzer, an analog computer that could solve differential equations with as many as 18 independent variables.
It actually used large gears and other mechanical parts to solve equations. In 1931, he completed the first differential analyzer (see the photo below). At the same time, Bush and the team at MIT develop the "network analyzer", a system for setting up miniature versions of large and important electrical networks. Later Bush constructed an improved Differential Analyzer, built by electronic tubes, which was used intensively during WWII.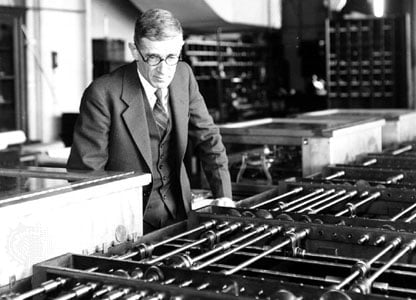 Vannevar Bush Marriage, Divorce, Children, and Personal Life
Net Worth
Nothing is known about Vannevar Bush's net worth.
Marriage
He married Clara Phoebe Davis in 1916 from Chelsea. They were blessed with two lovely sons.
Divorce
No information is available about Vannevar Bush's divorce.
Children
He was blessed with two sons. John Hathaway who is the president of Millipore Corporation and Richard Davis who is a surgeon.
Tragedy
On June 28, 1974, Vannevar suffered a stroke. He passed away in Belmont, Massachusetts, from pneumonia. He died at the age of 84 years.
Vannevar Bush Awards and Achievement
Award 1
Edison Medal (1943)
Award 2
General Medal of Science (1963)
Vannevar Published Works and Books
As We May Think
"As We May Think" is a 1945 essay by Vannevar Bush which has been described as visionary and influential, anticipating many aspects of information society. It was first published in The Atlantic in July 1945 and republished in an abridged version in September 1945.
2. The Endless Frontier
"The Endless Frontier", his 1945 report to the President of the United States, Bush called for an expansion of government support for science, and he pressed for the creation of the National Science Foundation.
Next Up…