Key Points:
In 1959, Jack Kilby filed for a patent for the first integrated circuit–also known as the microchip.
As an employee of Texas Instruments, Jack Kilby's work also resulted in the first handheld calculator, the "Pocketronic," as well as the invention of the first thermal printer.
In December of 2000, Jack Kilby was awarded the Nobel Prize in Physics. Other honors include the

National Medal of Science and the National Medal of Technology.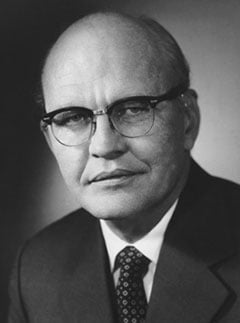 Who was Jack Kilby?
Jack Kilby, an engineer and recipient of the Nobel Prize for physics (along with Robert Noyce) is largely responsible for creating the modern integrated circuit (also called a microchip), as well as several other inventions throughout his life.
Early Life:
While there is some debate as to whether Jack was born in either Missouri or Kansas, he certainly spent the majority of his childhood in Great Bend, Kansas. Born into an educated family, both of Jack's parents Hubert and Vina Kilby held Bachelor of Science degrees from the University of Illinois. Hubert's work as the manager of a local utility company sparked Jack's love for electronics. During Jack's teenage years an ice storm disrupted electric service to much of the Midwest, including his father's customers. Huber Kilby was determined to do whatever it took to run the utility company and help his customers through the duration of the storm, so he communicated with his employees and customers via amateur radio. Jack Kilby even went so far as to get his FCC license and build his own radio.
Quick Facts
Birth

November 8, 1923

Death

June 20, 2005

Net Worth

Unknown

Awards

Nobel Prize in Physics
IEEE David Sarnoff Award
IEEE Fellow
Franklin Institute's Stuart Ballantine Medal
National Medal of Science
American Academy of Achievement's Golden Plate Award
Nation Academy of Engineering's Vladimir K. Zworykin Award
IEEE Cledo Brunetti Award
Induction to the National Inventors Hall of Fame
American Society of Engineer's Holley Medal
IEEE Centennial Medal
IEEE Medal of Honor
Nation Academy of Engineering's Charles Stark Draper Prize
National Medal of Technology
Inamori Foundation's Kyoto Prize
Western Society of Engineers Washington Award
Eta Kappa Nu Vladimir Karapetoff Award

Children

Two daughters: Ann Kilby and Janet Kilby

Nationality

American

Place of Birth

Kansas

Fields of Expertise

["Physics","Electrical Engineering"]

Institutions

Texas Instruments, Texas A&M University

Contributions

Microchip/Integrated Circuit, "Pocketronic" Handheld Calculator
After completing his high school education Jack joined his family's alma mater, attending the University of Illinois and studying electrical engineering. Shortly into his tenure at university Jack enlisted in the United States Army Signal Corps and began helping small units of soldiers communicate with the big Army using the backpack radio he was issued prior to deployment. His fascination and earlier experience building his own amateur radio during high school gave him the idea to improve upon those standard-issue radios using other radio parts he had access to at the time, making his radio better suited to deployment conditions.
Career:
After the war Jack finished his Bachelor's degree and went on to further his education with a Master's degree from the University of Wisconsin in 1950.
Globe Union Inc.
His first job had him working for Globe Union Inc. designing and developing parts for radios, televisions, and other audio equipment. Specifically, Jack worked with semiconductors and circuits. In 1952 Globe Union Inc. sent him to work with Bell Laboratories to learn more about their new transistors, and Jack was enamored by the possibility of a technology capable of replacing the clunky, fragile vacuum tubes used up to that point. Jack Kilby noticed an issue with the new transistors Bell Laboratories had developed; there were still too many electrical connections within too confined of a space to live up to the engineer's designs. Jack Kilby wanted to work toward a solution to this issue, but could not do so with Globe Union Inc.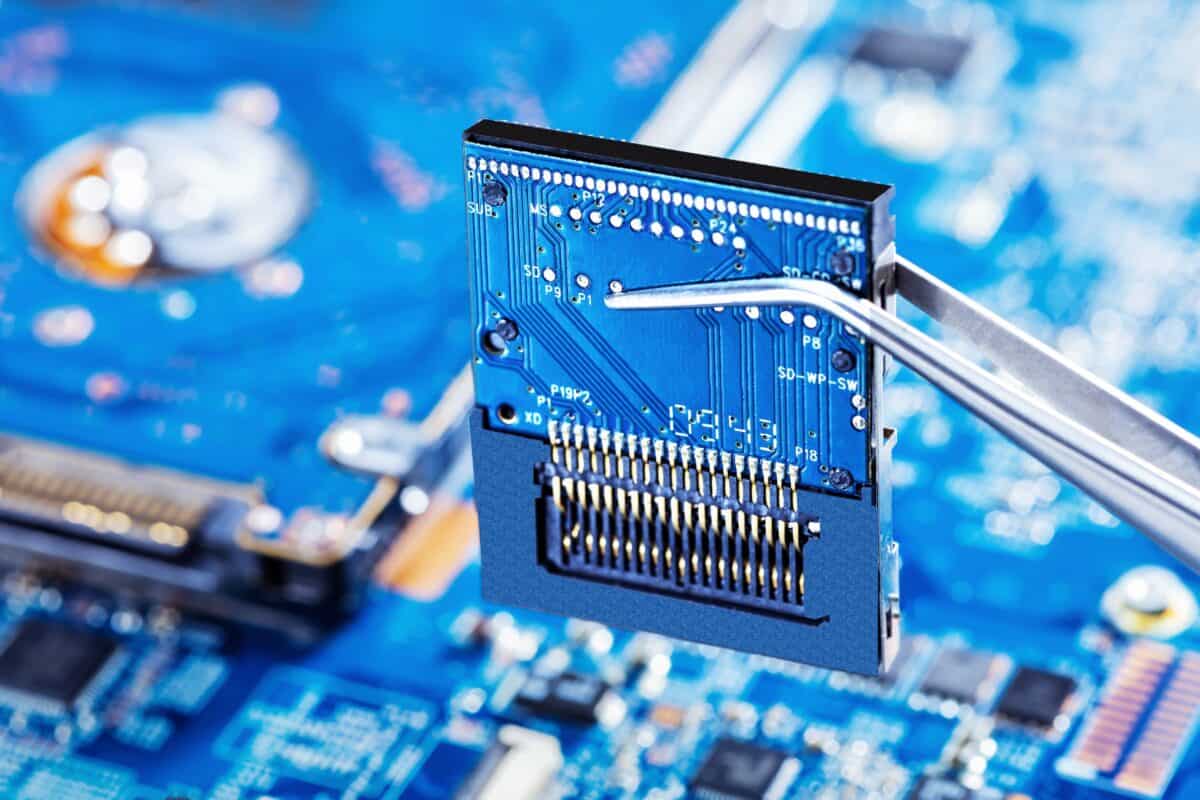 Texas Instruments
Jack was now working with Texas Instruments, who agreed to let him pursue a solution to the miniaturization of electronic components (later called microchips), and ultimately the development of the first integrated circuit (see more about integrated circuits here). Shortly after starting with Texas Instruments Jack Kilby was able to develop a proof of concept for the first integrated circuit. This proof of concept got Kilby to lead teams that developed several inventions, including the first military systems and computers incorporating integrated circuits. His work also resulted in the first handheld calculator, called the "Pocketronic", which used these new microchips to complete complex calculations. The new invention also allowed for the invention of the first thermal printer. In 1959 Jack Kilby filed his patent for the first integrated circuit with the U.S. Patent 3,138,743, which was officially referred to as "miniaturized electronic circuits" (later known as microchips). Jack Kilby shares the credit for creating the first integrated circuit with Robert Noyce, who created a similar integrated circuit on his own just months after Kilby, and later went on to co-found Fairchild Semiconductor and Intel Corporation.
For roughly a decade Jack Kilby continued to develop circuits and lead projects for computers, military systems, and industrial equipment. In 1970 Jack took a hiatus from Texas Instruments to work on his own projects, including exploring an early concept for solar panels by using sunlight to generate electrical power.
Texas A&M
From 1978 to 1984 Kilby returned to the world of education while working as a professor of electrical engineering at Texas A&M University. It was during this time Jack officially retired from Texas Instruments, although he did remain involved in the company's projects a few more years.
What is Jack Kilby Known for?
Integrated Circuit
Jack Kilby is the man responsible for the invention of the integrated circuit (also known as the microchip). However, Jack does not take singular credit for this invention as Robert Noyce also created a similar device independently of Kilby just months later.

Jack Kilby: Marriage, Divorce, Children, and Personal Life
Net Worth
While Jack Kilby had an illustrious career manufacturing some of technology's most important inventions and winning several awards, it is unclear just how much his achievements added to his net worth.
Marriage
Although it's unclear when the two got married and started their family, Jack Kilby married Barbara Annegers Kilby.
Children
Together, Jack and Barbara had two daughters: Ann Kilby and Janet Kilby. It was in 1958 that Jack and Barbara Kilby moved to Dallas, Texas, so Jack could begin what would become some of his most important work with the prominent Texas Instruments.
Jack Kilby: Awards and Achievements
It was in December of 2000 that Jack Kilby officially received the Nobel Prize in Physics, which he stated was a complete surprise. Although Robert Noyce was long dead at the time of receiving the Nobel Prize, Kilby did mention he would have shared it if Noyce was still alive. In the Summer of 2005 the then 81-year-old Jack Kilby was taken by cancer. Throughout his lifetime Jack had been awarded at least nine patents, having filed several more. In addition to his Nobel Prize in Physics, Kilby also received several awards and honors from the Institute of Electrical and Electronics Engineers (IEEE), as well as the awards from various foundations and institutes, such as the National Medal of Science and the National Medal of Technology. Kilby was even inducted into the National Inventors Hall of Fame in 1982. A full list of Kilby's awards can be seen below:
Election to the IEEE Fellow – 1966

IEEE David Sarnoff Award – 1966

Co-Recipient of the Franklin Institute's Stuart Ballantine Medal – 1966

National Medal of Science – 1969

American Academy of Achievement's Golden Plate Award – 1970

National Academy of Engineering's Vladimir K. Zworykin Award – 1975

Co-Recipient of the first IEEE Cledo Brunetti Award – 1978

Inducted into the National Inventors Hall of Fame – 1982

American Society of Mechanical Engineer's Holley Medal – 1982, 1989

IEEE Centennial Medal – 1984

IEEE Medal of Honor – 1986

Co-Recipient of the National Academy of Engineering's Charles Stark Draper Prize – 1989

National Medal of Technology – 1990

Inamori Foundation's Kyoto Prize – 1993

Western Society of Engineers' Washington Award – 1999

Eta Kappa Nu Vladimir Karapetoff Award – 1999

Nobel Prize in Physics – 2000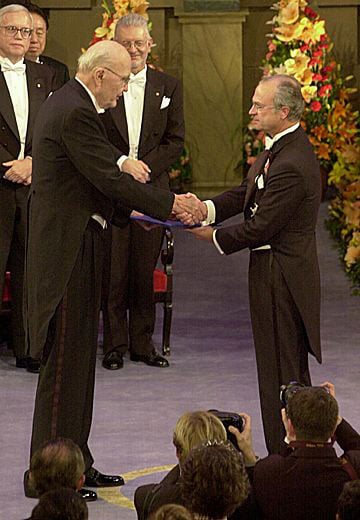 J
ack Kilby Quotes
"My advice is to get involved and get started."

"I'm sure there will continue to be exciting new products and major changes, but it looks as if the existing technology has a great deal of room to grow and prosper."
Up Next…