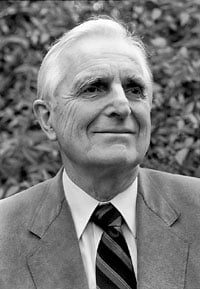 Key Points
Douglas Engelbart was an internet and computer pioneer.
Engelbart began to imagine a high-speed network that would enable people to easily communicate.
Engelbart made his most significant contributions to technology.
Who was Douglas Engelbart?
Douglas Engelbart was an internet and computer pioneer. A visionary, Engelbart is responsible for many of the internet and computer products that we use extensively today, including the computer mouse. Indeed, in many ways, Engelbart's inventions have shaped the modern technological sector and our current computer use.
Quick Facts
Full Name

Douglas Engelbart

Birth

January 30, 1925

Death

July 2, 2013

Net Worth

$1.4 million

Awards

National Medal of Technology
Norbert Wiener Award for Social & Professional Responsibility
Computer History Museum Fellow Award
BCS Lovelace Medal
Turing Award
Lemelson-MIT Prize

Children

Gerda, Diana, Christina, and Norman

Nationality

American

Place of Birth

Portland, OR

Fields of Expertise

["Computers"]

Institutions

University of California (Berkeley), Stanford, SRI International, NLS

Contributions

Invention of the computer mouse, GUI, video conferencing, internet visionary and pioneer
Early Life
Engelbart was born on January 30, 1925. He was the middle child of Carl and Gladys Engelbart. He was raised in and around the city of Portland and graduated from a Portland High School in 1942.
Career
Navy
Engelbart originally attended Oregon State University but had his plans interrupted by World War II. He spent two years in the navy, working as a radio and radar technician in the Far East. Upon the completion of his time in the Navy, Engelbart returned to Oregon State University, where he graduated in 1948 with a degree in electrical engineering.
Further education
Engelbart's time in the Navy, his education, and his personal readings influenced him to think of the way he could "maximize my contribution to mankind." With a mind geared towards electronics, Engelbart began to imagine a high-speed network that would enable people to easily communicate and organize ideas.
This, ultimately, led Engelbart to continue his education. He returned to school, and by 1955, he had earned a Ph. D. in electrical engineering from Stanford University. Engelbart taught at Stanford for some time before determining that his ideas about computers – and specifically, using computers to help humans become smarter and improve society – could not be realized while he was teaching.
This is one of many examples of Engelbart's visionary thought process influencing his ultimate career decisions.
Stanford Research Institute
As a result of this realization, Engelbart moved on and began work at the Stanford Research Institute (SRI). While there, he began research into how technology could improve human intellect. He wrote his book, "Augmenting Human Intellect: A Conceptual Framework" during this time.
NLS
In 1963, Engelbart founded his own research center, the Online System (NLS). It is here that Engelbart made his most significant contributions to technology, including the mouse, hypertext, graphical interfaces, word processing, video conferencing, and more.
ARPA
ARPANet is the famous forerunner to the development of the internet, and Engelbart quickly realized that the vision of ARPAnet aligned well with what he was trying to invent. As such, he partnered with ARPA, and NLS became a node on the ARPANet. His hypertext became a document center and storage for the ARPAnet. As such, Engelbart was intimately involved in the creation of the internet.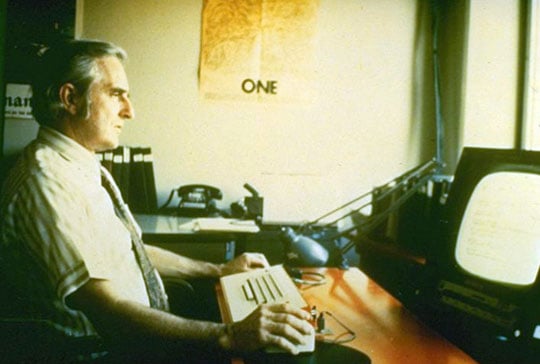 What Did Douglas Engelbart Invent?
Mouse
Engelbart's best-known invention is that of the computer mouse. In 1963, he was trying to figure out better ways to operate computers and graphical user interfaces. As such, he developed the mouse. The first version was actually a wooden device that came on two wheels and was attached to the computer via a wire. It made operating a GUI much easier, and though the device would not be publicly available until the 1980s, Engelbart's device was the precursor to the modern mouse, something that has made it much easier for ordinary people to use computers.
The mouse was much easier than the light pen to use, and Engelbart explicitly designed the mouse to replace the light pen. 
GUI
A GUI – short for a graphical user interface – is the method in which users interact with their computers. Originally, computers came as just blocky text and required extensive knowledge of coding and computing interfaces to operate. Engelbart's thought process helped to change this. He was one of the first to come up with the concept of creating GUIs that could be easily used by other individuals. This, in turn, influenced other visionaries like Steve Jobs and Bill Gates, who worked for companies that refined this process.
Hypertext and contributions to the internet
Hypertext is commonplace today, but in the 1960s, it was considered revolutionary. It is the idea that clicking on some text can link to another form of text, thus creating a major shift in the way that data was stored and accessed. As noted above, Engelbart was instrumental in the development of the first hypertext system, and this system was adopted by ARPAnet, the forerunner to the internet.
Engelbart developed the idea for hypertext in the early 60s while working at NLS. He further refined the idea and presented it to the public in the 1968 demo known as "The mother of all demos," the same demonstration in which he would first demonstrate video conferencing. 
Video conferencing
Engelbart was one of the first to develop the idea that ordinary individuals could video conference with each other. He first demonstrated this idea at a tech demo in 1968, when he and his team ran 30 miles of cable, connecting his office to the demonstration site. As a result, he was able to host a live video conference with people at his office, this showing the potential power of communications to connect ordinary people for work purposes.
Douglas Engelbart: Marriage, Children, and Personal Life
Net Worth
According to available information, Engelbart was able to reap the financial rewards of his extensive computer contributions and was worth at least $1.4 million at the time of his death. While Engelbart's net worth never approached that of some of the more well-known computer innovators, he was, thankfully, able to profit from his inventions.
Marriage and Remarriage
Engelbart married his wife, Ballard, in 1950. He was 25 at the time of his marriage. Ballard died in 1997. Engelbart remarried Karen O'Leary in 2008, five years before his death.
Children
Engelbart and Ballard had four children: Gerda, Diana, Christina, and Norman. The four children produced nine grandchildren.
Tragedy
As a young boy, Engelbart came to know tragedy only: His father died when he was only nine years old.
Death
In 2007, Engelbart was diagnosed with Alzheimer's disease. He would struggle with the illness until his death on July 2, 2013. Engelbart was 88 when he died, and his formal cause of death was kidney failure
Douglas Engelbart: Awards and Achievements
As a major internet pioneer, Engelbart won many awards. These included:
National Medal of Technology and Innovation
This is the highest award that an individual can earn for their contribution to the technology sector as a whole. Engelbart won this award in 2000 and was awarded it by then-President Bill Clinton.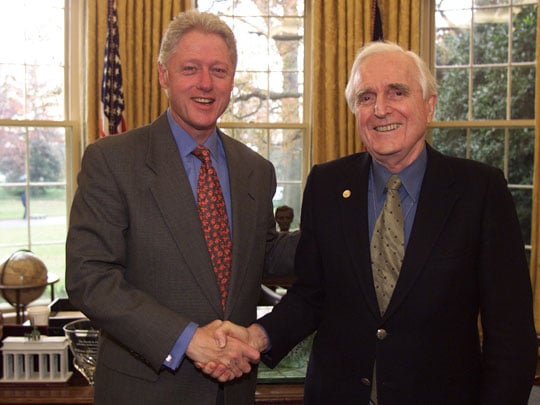 Lemelson-MIT Prize
This is a highly exclusive award that is given to individuals who have invented major products in the realm of computers. These products have led to significant technological breakthroughs. Engelbart won this prize in 1997 for his invention of the computer mouse. The prize also comes with $500,000.
Turing Award
This is another significant computing prize that has earned the nickname "the noble prize of computing." It is awarded to individuals based on their highly significant technological innovations, and also comes with a $1 million prize. Engelbart won this award in 1997.
BCS Lovelace Medal
This award comes from Britain and is awarded to individuals who have made significant contributions to the field of computing. Engelbart won this award in 2001.
Computer History Museum Fellow Award
This award – given by the Computer History Museum – is given to individuals whose inventions related to computers have "changed the world." Engelbart won this award in 2005.
Norbert Wiener Award for Social and Professional Responsibility
This award is given to inventors and visionaries for individuals who have made contributions to technology, but specifically to the "social implications of technology." Engelbart won this award in 2005
Douglas Engelbart: Published Works & Books
Augmenting Human Intellect: A Conceptual Framework
This book is another example of Engelbart's visionary thought process and philosophy. He argued that human thinking and philosophy could be aided by the development of appropriate technological structures. If done right, these new structures could help humans make massive improvements and intellectual gains.
Next Up…