Henri Maillardet
Around 1800, the Swiss mechanician and clockmaker Henri Maillardet (1745-1830), who worked then in London, created an extraordinary automaton, known as the "Draughtsman-Writer".
Maillardet's machine had the largest "memory" (cam-based) of any such machine ever constructed—four drawings and three poems (two in French and one in English).
Jean Henri Nicholas Maillardet was born in Meyriez (the canton of Fribourg) in Switzerland on 19 November 1745, as the second son of Henri (a community leader of Fontaines) and Marguerite Maillardet Kolbe. Henri started his career as a watchmaker in Fontaines and from 1768 until 1770 together with his brother Jean-David worked in Royal Watch Factory in Berlin for Abraham Louis Huguenin.
In 1770 Henri Maillardet already worked for Jacquet-Droz and together with Jean-Frédéric Leschot and Jacob Frisard took part in the construction of three androids, which were finished in 1774, when Jaquet-Droz presented the androids (the Writer, the Artist and the Musician) to the public in La Chaux-de-Fond. They are still functional today in the Musée d'art et d'histoire de Neuchâtel.
In late 1770s Henri-Louis opened his own production studio. The bulk of the production was destined for the Chinese market. When in 1783 Jaquet-Droz opened a studio in London, the management of the studio in Bartlett's Building took Henri Maillardet, who directed the business in London until 1815.
Henri Maillardet's brothers—Jaques-Rodolphe (1743-1828) and Jean-David (1748-1834), also worked in the field of automatics. Jean-David Maillardet (23.05.1748-15.11.1834) became a famous clockmaker and automatist, and also worked some time in Berlin, then established himself in Fontaines where he became a friend of Jacquet-Droz. He built many automata, in particular magicians.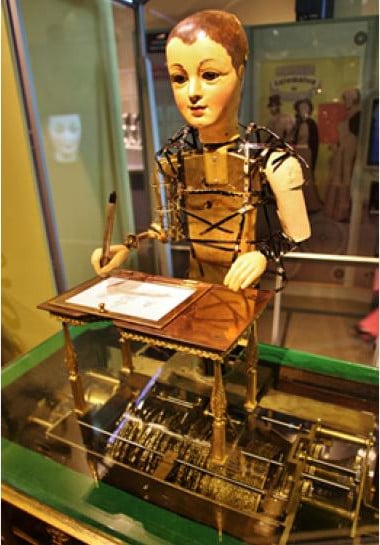 The "Draughtsman-Writer" (see the nearby image), still preserved in the Franklin Institute science museum in Philadelphia, is a spring-activated automaton that draws pictures and writes verses in both French and English. The motions of the hand are produced by a series of cams located on shafts in the base of the automaton, which produces the necessary movement to complete seven sketches and the text.
In early 1800s Henri Maillardet travelled around exhibiting his automata in several European cities. For example, on 21 November 1821, in Freeman's Journal (a Dublin paper) it appeared a long advertisement beginning thus:
MR. MAILLARDET
MOST respectfully informs the Nobility, Gentry, &c. &c. of Dublin and its Vicinity, that he has opened for their inspection, AT THE ROTUNDA, CAVENDISH-ROW, HIS MECHANICAL MUSEUM Containing the following Automaton Figures:
There follows a long list, with details of the actions of some of the figures, which included La Belle Roxalana (a musical lady), The Juvenile artist, The Little Spaniard, an animated Rope Dancer, An Old Necromancer, a humming bird, a Phenomenon Automaton Pedestrian, a beautiful gold serpent, a Siberian mouse, an Ethiopian caterpillar, an Egyptian lizard and an aranea.
Henri Maillardet was married to Jeanne Louise Catherine Mourer from Lausanne, two sons from this marriage are known—Edward Frederick Maillardet (born in 1786 in London and became a dentist), Henry Maillardet (b. 1791), and a daughter, Louisa Henrietta Maillardet (b. 1785).
Henri Maillardet wrote his will in Mechelen, Belgium, and died there on 23 August, 1830.