Key Points
William S. Gubelmann was an American businessman and inventor who held thousands of patents.
He was most famous for his work on cash registers and adding and calculating machines.

William S. Gubelmann died in New York on September 26, 1959, at the age of 96. 
Who Was William S. Gubelmann?
William Samuel Gubelmann was an American businessman and inventor. Mr. Gubelmann was born in mid-1865 and died in 1959. He is known to be among the handful of Americans to hold thousands of accredited patents. Most of William's patents are in the fields of cash registers, accounting machines, adding and calculating machines among others. Thanks to his mastery of accounting and related fields, William gained unprecedented popularity. 
For instance, in 1959, the year the inventor died, Popular Mechanics magazine recognized him. In part, the magazine said, "Mr. Gubelmann is perhaps 'the father of all existing calculating and adding machines that are in use in the world today."
Quick Facts
Full Name

William Samuel Gubelmann

Birth

January 27, 2022

Death

September 26, 1959

Net Worth

NA

Awards

Mentioned as a remarkable inventor by The Popular Mechanics and New York Times magazines

Children

Dorothy (b. 1893), Mildred (b. 1898), Gladys (b. 1899), Walter (1908)

Nationality

American

Place of Birth

St. Louis, Missouri

Fields of Expertise

["Inventor","Accountancy"]

Institutions

Rochester Theology Seminary, Rochester University

Contributions

Adding machine, Calculating machines, Cash registers
In another paper, the New York Times named Gubelmann the man one of the greatest citizens America has ever heard. Regarding William's various inventions, the NYT said, "They form the very foundation of business and the business machine industry in the world."
To ensure they receive large accreditation William S. Gubelmann licensed and registered many of his inventions with large companies. Some of the companies Gubelmann licensed his inventions to include National Cash Register, IBM, and Remington. However, William was later involved in serious litigations with some of these companies.
Early Life
When he was born in July 1865, in St. Loius, Missouri, Mr. Gubelmann was given the name William Gulielmus Samuel Gebelmann. His father, Jacob Samuel Gubelmann was a reverend born in 1836 and died in 1919. 
While William's father was born in Switzerland, his mother, Sophia E. Holste (1843 – 1924, was a German. Although born in Bern, Germany, William's father moved to the United States of America when he was just twelve years old. 
Jacob did not relocate to the US alone. He was with his dad, Henry Gubelmann, who was also a Reverend. A year after they arrived in the US, William's father, Jacob was baptized. Then Jacob turned 13.
A few years after his baptism, Jacob enrolled in a theology school at Theological Seminary in Rochester. Later, he graduated from Rochester University and started to serve as a pastor in different churches for over 25 years. 
Some of the areas he served as a pastor include Louisville, from 1860 to 1862, St. Loius Missouri from 1862 to 1868, and Philadelphia between 1868n and 1885. It was during his evangelical mission in St. Louis that Jacob met Sophia Holste who later became his wife. Their son, William was born in St. Louis a few months after their marriage.
After serving in Philadelphia, Jacob was recalled back to Rochester Seminary, his former school to become a teacher. He'd hold the position of theology teacher for the following 30 years. Apart from William S. Gubelmann, Jacob and Sophia had other children namely Bertha, Albert, and Ella.
Career
William S. Gubelmann was a renowned inventor. His career started back in 1884. This year, he started to develop a typewriter model. After working hard, Gubelmann got his first patent three years later in 1887. 
Over the years, William's inventions have received unprecedented challenges with some challenges finding themselves in the court of law. However, looking at how inventors end up, William S. Gubelmann is one who reaped big from his various inventions. 
William's fortune was acquired from over 50 years of hard work especially royalties on his over 5,000 patents.  From infancy, William S. Gubelmann had a burning passion for many things. However, yachting seemed to top the list. Because of this, William owned a three-mast square-rig yacht. William called the 168-ft yacht USS Seven Seas. 
What Did William S. Gubelmann Invent?
William's first patent came from his invention of a keyboard adder. The machine had one column. He obtained the patent in 1893. The patent number for this invention is US patent no. 507810. 
This first invention is intriguing. It is related to an adding machine. Later, William Gubelmann patented the differential key lock for a writing and composing machine, the apparatus for deleting operations during backspacing on a composing machine, and a justify feature.
William S. Gubelmann is also known for his invention of a cash register, an accounting machine, an adding machine, and a calculating machine among other inventions.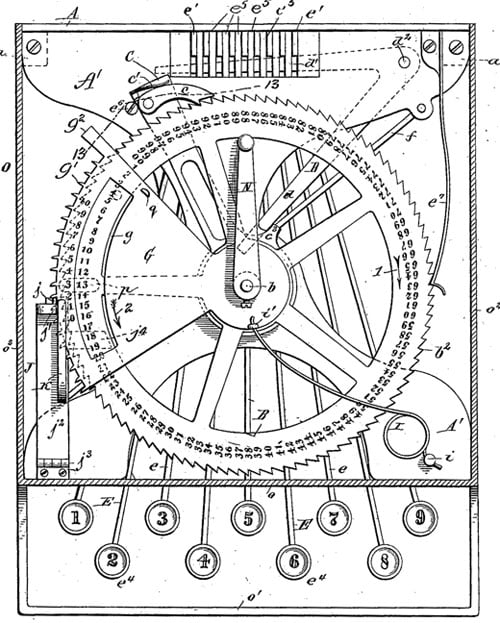 This excerpt from his patent provides a high-level explanation of how the keyboard added functioned and why it was an improvement over existing adding machines:
"This invention relates to an adding machine in which a registering Wheel or disk containing a row of numbers and enclosed in a suitable casing is rotated by a series of key levers, each key lever being provided with a number or figure. Upon depressing one of said key levers, the registering wheel or disk is rotated so as to expose, through an opening in the casing, a number corresponding with the number on the key lever, and upon depressing two or more of the key levers, successively, the number representing the numbers on all of the key levers depressed added together will be indicated on the registering wheel through the opening in the casing.
My invention has for its object to produce a machine of this class which will be simple and inexpensive in its construction and which will be positive and accurate in its operation."
William S. Gubelmann Marriage, Divorce, Children, and Personal Life
Net Worth
Although it is said that William had about 5,000 patents, not much information is known about his wealth. He indeed owned an expensive yacht and other valuables but, to date, the value of these possessions is not known or documented.
Marriage
In 1891, William Samuel Gubelmann married Janette E. Gubelmann. This couple had three children. Later, William married Julia Gubelmann, and the two had a son.
Divorce
He divorced Janette and married Julia.
Children
William had four children; Dorothy (b. 1893), Mildred (b. 1898), Gladys (b. 1899), and Walter (1908) (he was of a different mother.
Tragedy
William S. Gubelmann died in New York on September 26, 1959, aged 96. 
William S. Gubelmann: Awards and Achievements
The New York Times named William S. Gubelmann an inventor whose inventions form the basis of all business machines in the world. Additionally, after looking at his many inventions, Popular Mechanics magazine named William S. Gubelmann the father of all existing calculating machines.