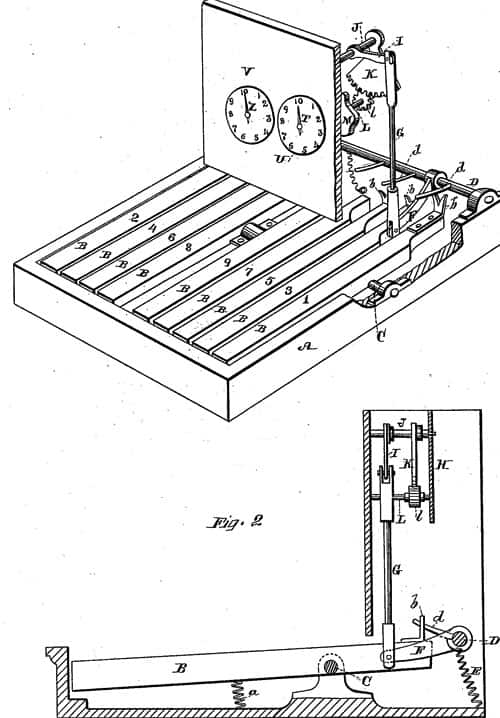 Who was Peter Forrester?
Peter C. Forrester was the inventor of many important tools and devices including (but not limited to) the keyboard adding machine, the drill, the scroll former, a new tool to bind metal strips together, a novel method of mining coal, a new kind of filtering device, and many other game-changing creations for his time. Born in Canada but residing primarily on the west coast of the United States for the duration of his career, it's clear that Forrester led a life of constant creation and invention. In fact, according to records, there are more than 10 different unique creations tied to his name.
Early life
Peter Forrester's early life remains elusive, even after all these years since his passing. It seems his many works and inventions have outlived these finer details of his life, and understandably so, considering the sheer number of patents that list his name as the author. Here's what is known: Peter's mother and father were named Peter C. Forrester and Mary White. There's one sibling on record, an older brother named William White Forrester (1863-1948). Beyond this, Forrester's early life is more or less unknown. Much of all that is known about him is what can be parsed from his many patents over the years.
Quick Facts
Full Name

Peter Forrester

Net Worth

NA

Children

NA

Nationality

Canadian, American

Place of Birth

Canada

Fields of Expertise

Mathematics
Inventor
Business

Institutions

NA

Contributions

Patenting the keyboard adding machine, mobile drill, and scroll former, among many other devices and tools
Career
While there's very little to be said about his early or personal life outside of his work, there's no shortage of material on Peter Forrester's inventions. He spent the entirety of his professional life coming up with new inventions, as evidenced by the more than 10 different patents attached to his name. The most notable of the bunch is, without a doubt, the keyboard adding machine. Forrester's work in the field of mathematics changed the way math was done in the decades that preceded the invention of the modern digital calculator. A comprehensive list of Forrester's known patents can be found below.
What Did Peter Forrester Invent? 
Below are each of the 10 patents currently credited to Peter Forrester. It's more than likely that Forrester invented far more beyond these, but the records of these patents are simply the only ones that have survived the test of time. 
Keyboard Adding Machine
Easily Peter Forrester's most notable creation, the keyboard adding machine relied on a series of dial plates and keys resembling something like an upright piano or a laptop computer. Each press of a plate or each press of the keys would result in a corresponding movement on a clock-like indicator mechanism. Forrester's adding machine had a designated plate and keys for odd numbers on one side and a designated plate and keys for even numbers on the other.
Drill
In 1899, Forrester patented a new and improved drill specially designed to be used on railway tracks. The drill could attach to the rails to drill through the metal during construction.
Mechanical Gate
Patented in 1905, Peter Forrester's mechanical gate is designed to be opened and closed from either side by a person in a vehicle.
Liquid Measuring Apparatus
First patented in 1907, Forrester's liquid measuring apparatus resembles a drinking bird toy. It tilts in one direction to receive a specific amount of liquid from the supply tank, then tilts in the other direction to dispense the same amount into a discharge receptacle.
Filtering Device 
Initially filed in 1919, Peter Forrester's filtering device was made with the mining industry in mind. The filter was intended to separate liquids from solids with materials like clay or feldspar during the various processes of the mining industry.
Pulverizer 
Forrester's pulverizer, patented in 1913, is a tumbler that breaks up rocks and sediments. It resembles an early version of a rock polisher.
Sand-Brick Machine
Peter Forrester's sand-brick machine was patented in 1908. It ingeniously mixes and supplies the materials used to make the bricks.
Limestone-Hydrating Machine
First patented by Forrester in 1907, Peter's limestone hydrating machine uses a series of pipes and faucets to keep the lime from drying out when working with the stone. 
Match Machine 
1912 saw the patenting of Forrester's match machine, which allows for veneer strips to be fed into the machine to form tongues and grooves.
Concentrator
Peter Forrester's concentrator received a patent in 1901. The device was created for the purpose of separating or grading ores.
Peter Forrester: Marriage and Personal Life
Marriage
Very little is known about Peter Forrester's career as an inventor, and even less is known about Peter Forrester's personal life. However, records indicate that Forrester married a woman named Bessie L. Toner on July 25th, 1900. Bessie passed away in 1925 after a quarter-century of marriage.
Children
There are no records of Peter and Bessie having any children over the course of their 25 years of marriage, but that doesn't mean that they couldn't have had children that may have slipped through the cracks of history. For now, though, the answer is unclear.