Key Points
The only son of innkeepers, Scheutz showed an aptitude for language at an early age. He was also an alumnus of the University of Lund where he obtained a law degree in 1805.
In 1825 he launched Sweden's first technical journal which covered topics related to physics, chemistry, and technology. It was this journal that revealed Charles Babbage's difference to his countrymen.
Scheutz is also especially known for inventing the first working difference engine in 1837 and finalizing it in 1843 together with his son, Edvard.
Who Was Pehr-Georg Scheutz?
Pehr-Georg Scheutz, born on September 23, 1785, was a Swedish inventor, translator, and lawyer, popularly known for his pioneering influence in the advancement of computer technology.
Scheutz is most famous for his inventions, especially the first commercial Difference Engine called the Scheutz Calculation Engine that he invented alongside his son, Edvard-Georg Rapheal, in 1837. Pehr George Scheutz died on May 22, 1873.
Quick Facts
Full Name

Pehr George Scheutz

Birth

September 23, 1785

Death

May 22, 1873

Net Worth

N/A

Awards

Medaille d'Honneur, L'Exposition Universelle de Paris, 1855.
Swedish Order of Wasa, 1856.
Russian Order of St. Anne, 1858.

Children

Edvard Georg Raphael and A Daughter

Nationality

Swedish

Place of Birth

Jönköping, Sweden

Fields of Expertise

["Computer Science","Theology","Inventor","Computers","Technology","Law"]

Institutions

Jönköping Elementary School, Gymnasium in Wexiö, and the University of Lund.

Contributions

Safety Valve for Steam Engines, Optical Instrument Used for Copying, Sine Divider, And Differential Engine.
Early Life
Pehr-Georg Scheutz was born in Jönköping, Sweden, on September 23, 1785. His father, Fredrik Christian Ludvig Schuetz, was born in Copenhagen to German parents. With his wife, Johanna Christina Berg, he ran the popular inn and wine merchant's business Fortuna in Jönköping. Besides the inn, Fredrik Schieutz was responsible for providing refreshments for the guests at Medevi Spring, the most frequented spa in the country at that time. In this stimulating, cosmopolitan spot at the southern end of Lake Vättern that Georg Scheutz, his parents' only son, grew up.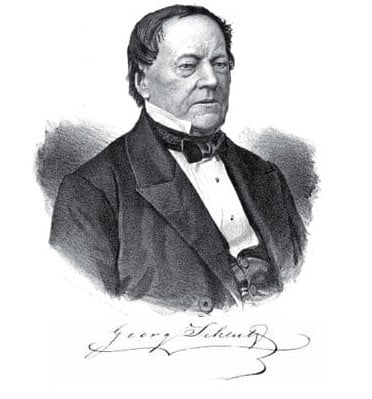 In 1796, when he was eleven years old, Pehr-Georg Scheutz entered Jönköping elementary school. There he followed the normal course of instruction, which included theology, history and political geography, and in addition, he made the acquaintance of the classical authors. Afterwards, Scheutz progressed to the Gymnasium in Wexiö, where the curriculum subjects were much the same as before. He showed a particular interest in languages, read the New Testament in Greek, and even picked up a fair amount of Hebrew outside the regular routine. The main emphasis of Scheutz' schooling was on languages and the humanities, which was to be of great use to him in his future career.
Career
Phase 1
Scheutz began his study at the University of Lund in the autumn of 1803, where he obtained his law degree in 1805 in preparation for more senior posts in mining, which had become his primary goal. In 1800 his father had died, and to pay his way, Scheutz had been compelled to tutor junior students. In 1805, he became a probationer at Göta Hovrätt in his hometown. At various times, he also served as deputy actuary, provisional magistrate, and on one occasion, as mayor in Ulricehamn.
In 1811 Scheutz moved to Stockholm where he was employed in the chancellery of "Justitie-Revisionen för Sjöärendena", the body charged with the preliminary investigation of Supreme Court cases dealing with maritime affairs. Scheutz was appointed the second auditor with the Svea Artillery Regiment, and in November 1814, he received "Royal authorization as Auditeur". This type of post carried more honor than money, which led Scheutz in 1816 to resign. He had given eleven years of his life to the Law, and now he left it forever.
Phase 2
Scheutz decided to start a publishing and printing business, and in 1817 he sold a printing press and the Stockholm's newspaper Anmärkaren, becoming a printer and journalist. As an editor and columnist of his newspaper, Scheutz became a famous political journalist. In 1825 he started the first technical journal in Sweden, the monthly Journal för Manufakturer och Hushållning (see the nearby photo). This magazine contained descriptions of valuable inventions and discoveries in physics, chemistry and technology, which could be simply put to practical use by the intended readers, cottagers and tradesmen. It was in this journal, in November 1833, that the Swedish public was first introduced to Charles Babbage's difference engine.
What Did Pehr-Georg Scheutz Invent?
The creative side to Scheutz' nature was not content simply to read and write about technical matters. The technical problems he encountered at his press led him to make improvements, which led to him making his own first inventions.
Invention 1
Pehr-Georg Scheutz is most popular for inventing the first working and commercially-available difference engine in the world, the Differential Engine. The Difference Engine was invented in 1837 but finalized in 1843. The construction was made possible thanks to the significant contribution to his son, Edvard, who at that time was 22 years old. Scheutz also invented the first complete construction of a printing calculator.
Invention 2
Pehr-Georg Scheutz invented a safety valve for steam engines in 1835. This invention didn't get the desired public response after its release; nonetheless, a few factories in Stockholm confirmed its use.
Invention 3
Scheutz invented the "Portfeuille Iconografique," an optical instrument used for copying and sought for is patent in 1841.
Invention 4
In 1842, Scheutz applied for a patent for a drawing instrument that he called "Sinus-Delare" (Sine Divider). Also, in 1850 he applied for a patent for "metod att bränna Tak-och Murtegel" (method of baking tiles and bricks).
Pehr-Georg Scheutz: Marriage, Divorce, Children, and Personal Life
Marriage
Pehr-Georg Scheutz had just one wife. He was married to Anna Margaretha Schaumann. However, unfortunately, Anna died of breast fever after childbirth on March 16, 1823. Scheutz and Anna only had one child, Edvard, together. Her second child died a day after delivery.
Children
Scheutz had two children with his wife, Anna. Edvard Georg Raphael was born on September 3, 1821 in Stockholm. However, their second child, a daughter, died a day after birth.
Tragedy
Pehr-Georg Scheutz's wife, Anna Margaretha Schaumann, died from breast fever — what is today referred to as mastitis — on March 16, 1823 after giving birth to a daughter. The child lived for only one day.
Their only surviving child, Edvard, was forced to discontinue schooling very early while enrolled at the New Elementary School because of a leg injury.
Because his major invention, the Differential Engine, failed to garner sales as proposed, Pehr-Georg Scheutz died virtually bankrupt on May 22, 1873 in Stockholm.
Pehr-Georg Scheutz: Awards and Achievements
Scheutz didn't receive any major intranational awards. However, below are a few recognitions he received during his lifetime:
Award 1
Medaille d'Honneur, L'Exposition Universelle de Paris, 1855.
Award 2
Swedish Order of Wasa, 1856.
Award 3
Russian Order of St. Anne, 1858.
Pehr-Georg Scheutz Published Works and Books
In seeking to spread knowledge about science and technology, Scheutz published magazines and newspapers and several technical handbooks.
Book 1
Pehr-Georg Scheutz published a handbook in 1819 för Så Wäl Enklare Som Mera Konstig Blekning. The handbook marked the start of his writing and publishing career.
Book 2
Between 1819 and 1832, Scheutz published a total of twelve handbooks. All of them were collected in a series entitled "Library for Art, Handicrafts and Applied Science". Later on, Scheutz continued to publish technical handbooks, and as a translator, translated and edited his publications by himself.
Up Next…
Intrigued by the geniuses of the past? Click on the links below to find out more about these artists, scientists, and inventors.
The image featured at the top of this post is ©http://libris.kb.se/bib/1663432, Public domain, via Wikimedia Commons.