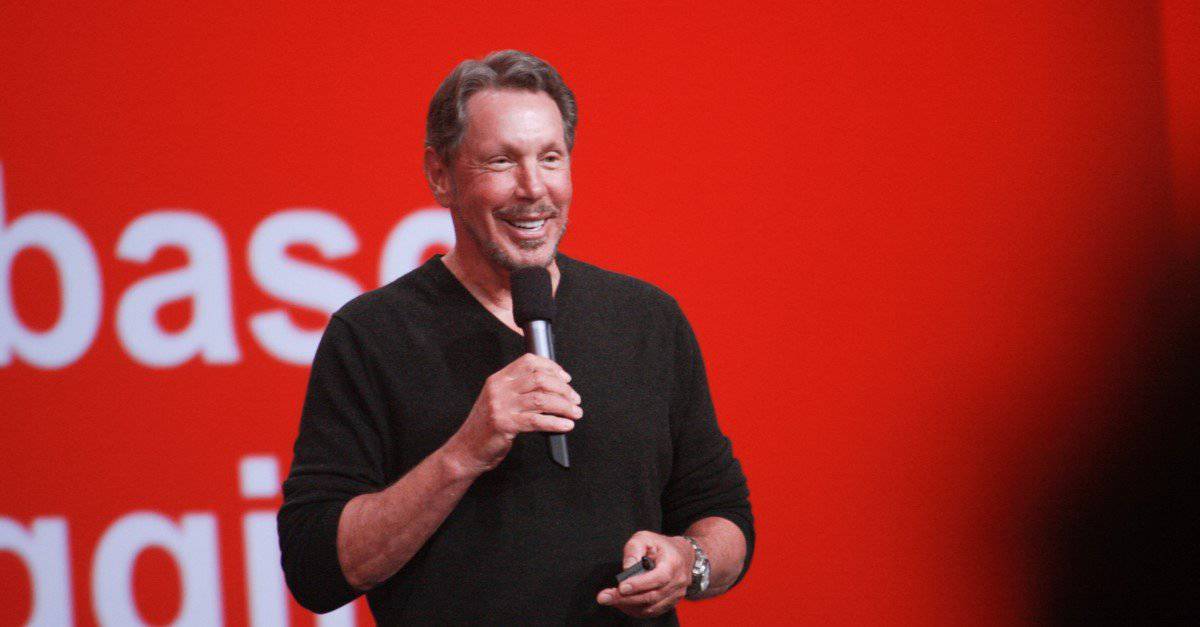 Key Points
Larry Ellison's first job when he dropped out of university was at Ampex where his duties included database management and programming. There, he met Bob Miner and Ed Oates who went on to become his business partners.
In 1977, the trio founded Software Development Laboratories.  One of their first products was Oracle Database 2, released in 1979. They also branched out into hardware, software, and consulting services.
In 1983, Software Development Laboratories changed its name to Oracle Systems Corporation.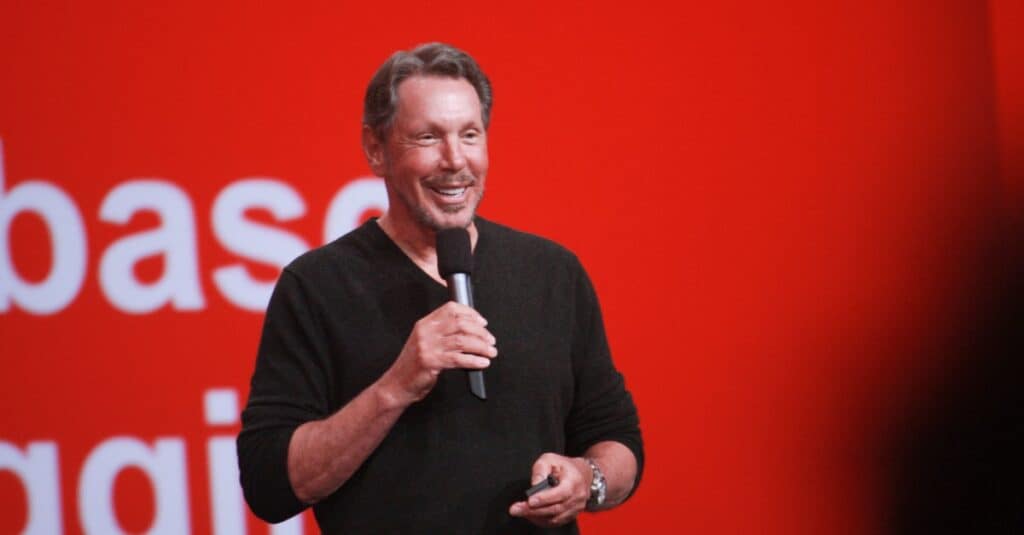 Who Is Larry Ellison?
Larry Ellison is the co-founder of Oracle, the massive technological and computing business. The company is known for a variety of technological innovations, including database management, cloud technology, and more. Ellison transformed Oracle into a massive company, and in so doing, made himself one of the richest people in the world.
Early Life
Ellison was born on August 17, 1944, in New York City. His mother was a single woman, and his father was a pilot in the United States Air Force. Ellison was sick as a child and contracted pneumonia at the age of nine months. The ordeal proved too much for his mother, who gave the child up to his Aunt and Uncle. 
Quick Facts
Full Name

Larry Ellison

Birth

August 17, 1944

Net Worth

$116.1 billion

Awards

Rebel with a Cause
Distinguished Medical Informatics Award

Children

One son and one daughter: David & Megan Ellison

Nationality

American

Place of Birth

New York City

Fields of Expertise

["Computer Science","Business"]

Institutions

University of Chicago, University of Illinois

Contributions

Co-founder of the Oracle Corporation
Ellison was raised by his Aunt and Uncle, who served as his adoptive mother and father. He grew up in Chicago in a middle-class background: his adoptive father worked for the government and was able to provide for the financial security of both Ellison and the rest of his family. 
Ellison originally attended the University of Illinois as a pre-med student but transferred to the University of Chicago, where he studied physics. While there, he was first exposed to computers, and he quickly became interested in the field. 
Like other tech giants – including Bill Gates – Ellison never graduated college. He attended both the University of Illinois and the University of Chicago. Ellison dropped out of both of those institutions. 
At 22, he moved to Berkley, where he worked for the company Ampex.
Career
Ampex Corporation & Relational Software
One of Ellison's first jobs as a young man was to work for the Ampex Corporation, where Ellison did database management and computer programming. This job would form the seeds for Ellison's eventual founding with the Oracle Corporation, with a database he worked on for the CIA actually serving as the inspiration for the name Oracle.
While working at Ampex, Ellison would meet Ed Oates and Bob Miner – the three would eventually found Software Development Laboratories, the forerunner for Oracle.
Software Development Laboratories
Software Development Laboratories was the forerunner for Oracle and was founded by Ellison, Oates & Miner in 1977. The company originally built software and database management software, seeking to work with IBM to develop databases that worked with their systems. One of its first products was the Oracle Database 2, released in 1979. The company continued to expand its product offerings, expanding into additional hardware, software, and consulting services.
Oracle
Software Development Laboratories changed its name to Oracle Systems Corporation in 1983 and would be known as some variation of Oracle from this point forward.
In the 1980s, Oracle entered new markets, creating database products for Windows and Unix and entering an increasingly competitive marketplace. Oracle would continue to grow and expand under Ellison's leadership, and from here, Ellison would become known for a variety of personal characteristics, including an intense competition and leadership style.
As time went on, Oracle's product offerings grew. They would eventually expand to a slew of database management, middleware, Enterprise options, applications, development software, and more.
All of this made Ellison a rich man. His salary and stock options vaulted him into billionaire status in the 1990s, and he would eventually become a board member of a variety of highly prestigious companies, including Tesla and Apple.
What Is Larry Ellison Best Known For?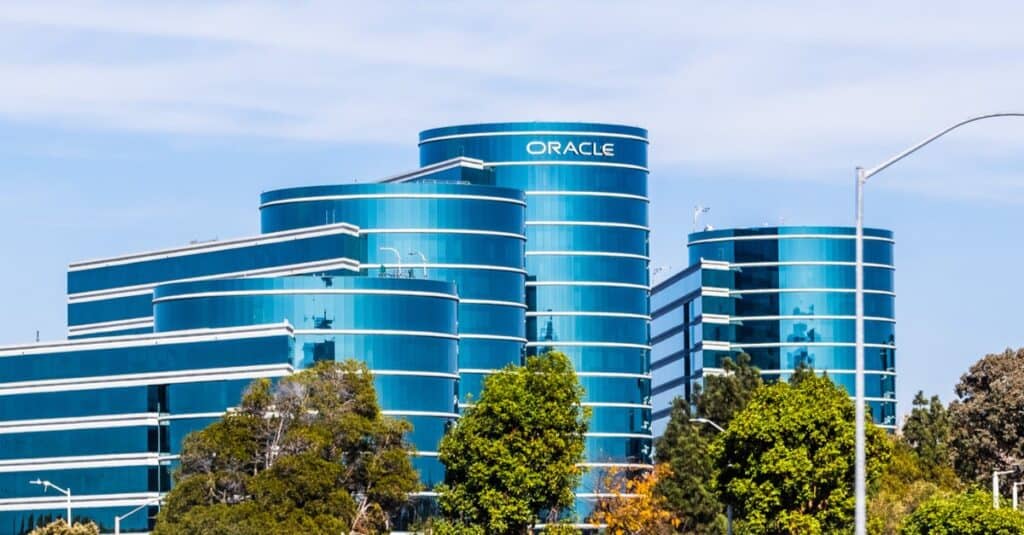 Oracle
There is no question that Ellison is best known for his time as the co-founder and leader of Oracle. During his time, Ellison created a company that has become a tech giant and made himself one of the richest men in the world in the process. He dominated all competition, merged and bought companies, and has become outspoken about his aggressive leadership characteristics. 
Personal Spending
Ellison has earned extensive wealth over the course of his career and he has spent it in many extravagant ways. This includes:
The purchase of an island, Lanai. Lanai is a small island in Hawaii, and Ellison now makes his home there. As of 2012, Ellison owned a massive 98% of the entire island. Lanai is not just Ellison's private home, as it has a small population of roughly 2,100 people. Ellison built a house on the island as well.
While Ellison makes his home on Lanai, he also owns multiple homes across the world, including multiple homes in California. His houses have many different themes, including a Japanese-themed house.
Ellison owns his own fleet of jets, having purchased at least four over time. He owns two military jets and multiple other planes.
Ellison is a yacht racer and ship captain. He has owned multiple yachts over the course of his career.
Despite this, Ellison remains committed to philanthropy. He took Warren Buffet's "Giving Pledge," vowing to give up 95% of his wealth to charity upon his death.
Sports & Hobbies
As noted above, Ellison has made many jet and yacht purchases. He is a certified pilot. He has also been known to enjoy other sports, including yacht racing. 
Ellison's yacht, jet, and motorcycle purchases have sometimes put him in physical danger. In 1992, Ellison shattered his elbow as a result of a motorcycle crash. In the aftermath, Ellison became more interested in medical research, donating millions of dollars to the field and ultimately resulting in him winning multiple awards for his commitment to this area. Indeed, from a philanthropic sense, one of Ellison's defining characteristics has been his interest in this area – an interest unquestionably influenced by his personal experiences.
Larry Ellison: Net Worth, Marriages & Divorces, Children, and Tragedy
Net Worth
As of September 2021, Larry Ellison's net worth was estimated to be $116.1 billion. This net worth made him the 10th richest person in the world as of January 2021. 
Marriages and Divorces
Ellison has been married and divorced four times, but has never been married to a spouse for more than seven years.
His first wife was Adda Quinn. The two were married in 1967 when Ellison was 24. They divorced in 1974, with Adda Quinn blaming Ellison's spending habits and obsession with wealth contributing to the end of their marriage. 
Ellison's second spouse was Nancy Wheeler Jenkins. The two were married in 1977 but divorced by 1978. According to information, Jenkins gave up her claim in Oracle for $500.
Ellison's third wife was Barbara Boothe, who was a reception at one of Ellison's first companies, Relational Software. Booth would become the mother of both of Ellison's son and daughter, David and Megan. The two were married from 1983-1986.
Ellison's fourth and final spouse was Melanie Craft, a novelist. The two were married from 2003-2010. 
Children
Ellison had two children with his third wife, Barbara Boothe, who gave birth to a son and daughter. Their children, David, and Megan Ellison are both film producers. 
Tragedy
Ellison's life was filled with tragedy, and Ellison has noted that these tragedies – and his ability to overcome them – helped lead him to the person he is. 
Ellison was born to a single mother who gave him up when he was a baby. He did not meet his mother again until he was 48 years old. His adopted mother – who was actually his Aunt – died when he was attending the University of Illinois, and this was responsible for him dropping out of college. 
Larry Ellison: Awards and Achievements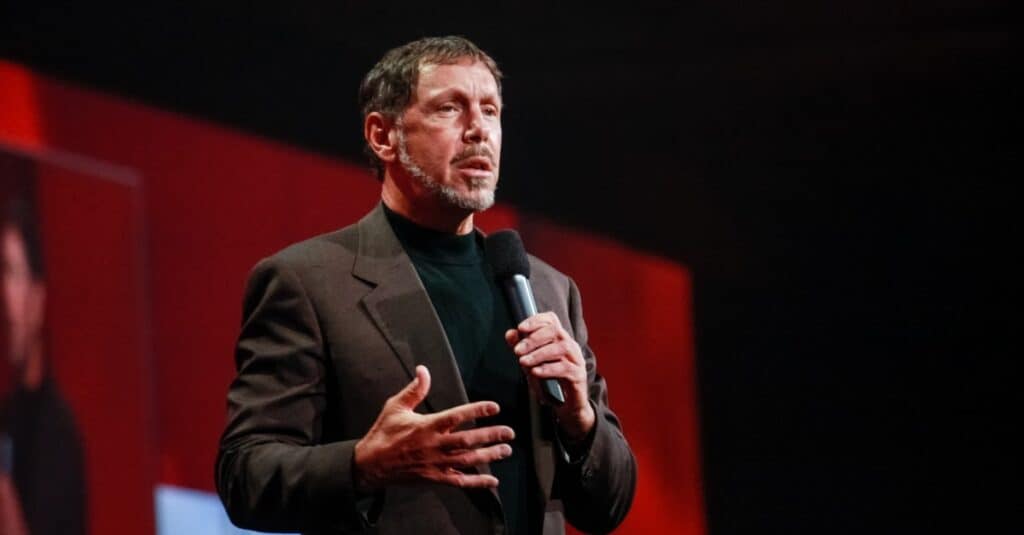 Rebel with a Cause
In 2019, Ellison won the Rebel with a Cause award, given to Ellison on behalf of his extensive work to raise money for medical research and his Foundation.
Distinguished Medical Informatics Award
In 2011, Ellison won the Distinguished Medical Informatics Award from the Friends of the National Library of Medicine. The award was given to Ellison as a result of his efforts to advance health in the world.
Larry Ellison: Published Works and Books
Many books have been written about Larry Ellison, but he has not published any books or other artistic works. 
Larry Ellison: Quotes
"Life's a journey. It's a journey about discovering limits."
"When you live your life in different ways, it makes people around you become uncomfortable. So deal with it. They don't know what you are going to do."
"Being first is more important to me [than earning money]. I have so much money. Whatever money is, it's just a method of keeping score now. I mean, I certainly don't need more money."
Up Next…
Interested in finding out about other influential individuals who changed our world forever? Read the following articles below: