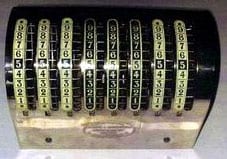 Key Points
Carlo Fossa-Mancini is best known for two things: designing and building an aqueduct.
Carlo Fossa-Mancini is known for the creation of the Indispensable adding machine.
The device is an 8-place adding machine, set by a stylus or keyboard.
Who Was Carlo Fossa-Mancini
Born in Castelplanio, Italy, Carlo Fossa-Mancini is best known for two things: designing and building an aqueduct in the valley dell'Esino and inventing the Indispensable adding machine. Explore the history of this hydro engineer, inventor, and mayor and how he contributed another key component in the history of the modern calculator.
Early Life
Not a whole lot is known of Carlo Fossa-Mancini. He was born on 29 October 1854 in Jesi, Ancona, to a noble and wealthy family, owner of lands, houses, and a castle in Castelplanio, Italy. His father was Raffaele Fossa, a member of the first City Council of Jesi in the new Kingdom of Italy.
Quick Facts
Birth

October 29, 1854

Death

November 28, 1931

Net Worth

NA

Awards

Exposition Nazionale di Torino gold medal (Indispensable)

Children

NA

Nationality

Italian

Place of Birth

Castelplanio

Fields of Expertise

["Engineering","Adding Machines"]

Institutions

University of Pisa

Contributions

Indispensable adding machine
Raffaele Fossa married in 1852 to Enrichetta Mancini, thus creating the branch of the Fossa-Mancini. They had three sons—Carlo, Eugenio and Adolfo (only Eugenio had children, and his son Enrico Fossa Mancini (1884-1950) became a famous Italian geologist).
Career
Because there isn't a lot known about the early life of Carlo Fossa-Mancini, there are gaps in the timeline of his career. His contributions can be divided into three main pursuits.
Hydro Engineer
Carlo's primary career was as a hydro engineer. A major accomplishment in this role was designing and building an aqueduct, located in dell'Esino. Little else was recorded about his time as an engineer.
Inventor
Carlo spent the 1890s working on a new adder, or adding machine. The first patent was granted for his calculator in 1896, so he likely finished the adder sometime around 1893. The machine is best known for its tens-carry mechanism, which improved the sautoir design of the Pascaline adding machine. This border event may not have led to much success during his life, but it helped pave the way for modern computer technology.
Mayor of Castelplanio
Carlo Fossa-Mancini also served as mayor of Castelplanio from 1913-1914. He spent his spare time on religious works and charity. He founded the branches of the Catholic charitable organization Conference of San Vincenzo di Paoli in Jesi and Castelplanio.
What Did Carlo Fossa-Mancini Invent? 
Carlo Fossa-Mancini is primarily known for the creation of the Indispensable adding machine in the 1890s.
Indispensable Adding Machine
The device is an 8-place adding machine, set by a stylus or keyboard. Each adding dial was vertically arranged on one common horizontal shaft, which was a change from the traditional same-plane alignment of other adding machines.
The individual numeral wheels are printed with four groups of the digits 0 to 9. Individual values are entered by pulling down the respective numeral wheels of the number to be added. The respective sums of the entered numbers appear in windows in front of the machine. The last numeral dial to the left causes a bell to sound with every quarter revolution as a sign that the capacity of the device has been exceeded.
Fossa-Mancini designed the mechanism of the tens-carry in an original way. In order to facilitate multiple tens-carry actions (e.g. during adding 99999999+1), which required a significant amount of friction, Fossa-Mancini provided a massive crook with a catch for each wheel.
The crook is pressed against the border of the gear wheels by means of a helical spring. Every time a wheel is advanced by one tooth, its crook rises slightly. When you go from 9-0, the catch is pressed by the helical spring and falls on the next wheel to the left. The catch gives the next wheel a blow sufficient to advance it to 1.
The device was patented in Italy (patentsIT42837 from 1896 and IT49628 from 1898), France (FR272735 from 1897), and Great Britain (GB189904489 from 1899). The English patent introduced a key-driven input mechanism.
It was in production for several years, starting in 1900. The French company Japy Frères & Cie manufactured it, along with clocks, coffee grinders, typewriters, enamelware, kitchen utensils, office machines, and other items. The company was located in Beaucourt, a small village at the border of the principality of Montbéliard.
Carlo Fossa-Mancini: Marriage, Divorce, Children, and Personal Life
Carlo Fossa-Mancini appears to have devoted his life to his career and his religious and charity works. He never married and had no children. Very little is recorded of his personal life, both during early life and during his career.
The family home Fossa-Mancini (Palazzo Fossa Mancini) was taken over by the municipality and is now the town hall. A small museum displays memorabilia in the family, furnishings, and one of the few surviving copies of the Fossa-Mancini adding machine.
Carlo Fossa-Mancini: Awards and Achievements
Gold Medal, Exposition Nazionale di Torino
In 1898, the Exposition Nazionale di Torino awarded the adder machine a gold medal. This was the most prominent award given to his adding machine, which unfortunately didn't become a best-seller. It seems only a few hundred machines have been produced.
Decades later Fossa-Mancini's design was resumed by several producers in Italy (Brevetti Lanza's Addipresto), Germany (Addi, Comet, Argenta), the United States (American Adder, Todd-Star, Little Geant), Japan (Addimat), and Hong Kong (Swift Handy), until the mid-1950s. All those clones were cheap, reliable, and easy to use.
Carlo Fossa-Mancini Published Works and Books
Carlo Fossa-Mancini published a number of works during his time as a professor at the University of Pisa. These scientific books and treatises primarily focused on his expertise as a hydro engineer:
Carlo Fossa-ManciniTheory of the Hydraulic Ram (1890)
Study on the Rotary Pump (1891)
On the Apparent Motion of the Plane of Oscillation of the Pendulum (1891)
Irrigation and Drinking Water in the Valley dell'Esino (1893)
A Critical Study on Poynting's Theorem (1912)
Theory of the Hammer (1915)
Rotation of a Solid About an Axis (1916)
What the War Teaches Us (1920)
Next Up…