Key Points
Orlando Lane Castle was a life long educator, a metaphysician, a mathematician, an inventor, a logician.
Although he made variations of the calculating devices, none seem to have made their way into commercial production.
He also published many books, however, not much is known about them either.
Who was Orlando Lane Castle?
Orlando Lane Castle was a metaphysician, mathematician, logician, and an excellent teacher. He patented numerous inventions, most importantly two calculating machines. While it's unknown where his machines were created, he was influential in improving key-driven calculation machine designs. Explore his early life, career, and contributions to history.
Early Life
Orlando Lane Castle was born in Jericho, Vermont, on July 20th, 1822. He was the third child of Augustus Castle and Almira Bostwick Lane-Castle (1795-1864). The couple had a total of eight children: Sarah Celestia (1819-1864), Emily (1820-), Orlando Lane (1822-1892), William A. (1824-), Eunice Aurelia (1829-), Adoniram Judson (1832-1852), Alonzo (1827-), and Mary Ellen (1837-1892).
His father, Augustus Castle, was born on July 9th, 1791 in Essex. He was an industrious farmer in Jericho. Augustus' farm joined that of his brother, Joel, but in March 1831, he moved with his family from Jericho to Alexandria, in the wilderness of Licking County, central Ohio. His brother Sanford had moved there in 1817. Augustus bought a farm in the area and remained there until his death on March 22, 1880.
Orlando's early intellectual opportunities were quite limited. At 18 years old, he decided to be a teacher. This was a turning point in his life and led to a lifelong career in teaching.
In 1846, Orlando graduated from Granville College (now Denison University) in Ohio, securing the honor of his class. He had little means to meet his expenses in college, so he taught school in the winter and taught lower classes during his last three years in school.
Career
Orlando Castle spent his entire career in education. He worked on calculating machine inventions in his spare time but didn't hold a position as an inventor or engineer. Neither of his machines appears to have been made or sold commercially.
Zanesville Instructor
After graduating, Castle spent one more year as a tutor at Granville College. He was in charge of Zanesville, Ohio public schools for several years after his time at Granville College. He exhibited great efficiency and secured a high reputation as an instructor.
Chair of Rhetoric, Oratory, and Belles-Lettres, Shurtleff College
In 1853, Castle accepted the chair of Rhetoric, Oratory, and Belles-Lettres at Shurtleff College, at Upper Alton. He remained there for almost 39 years and received the degree LLD (Doctor of Laws) from Denison University in 1877. He retired from teaching on January 29th, 1892, just one day before his death.
What Did Orlando Lane Castle Invent?
Orlando Castle was a patent holder for two calculating machines. He also patented some farming machinery—a grain-harvester, a grain-binder, and a nut-lock, among other equipment. It is not known if the calculating machines of Castle were manufactured or played a critical role in the development of other calculating machines.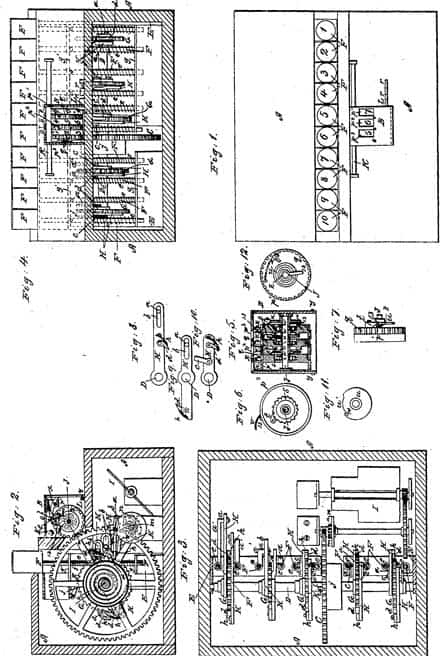 Orlando Castle's First Calculating Machine, 1857
The first calculating machine of Castle was a key-driven adding machine (U.S. patent No. 21941). It was the first machine with a nine-key scheme, connected to the different orders. It used complex sets of gears, keys, and wheels to calculate numbers with columns in the hundreds and thousands.
This machine was patented the same day as Thomas Hill's calculating machine. It's unknown whether the two men influenced each other with their inventions.
Orlando Castle's Second Calculating Machine, 1858
The second calculating machine he created (U.S. patent No. 21941) is a smaller and improved version of the first one. Just like the first machine, it's unclear whether this one was manufactured or whether it became a significant influence in the history of calculating devices.
Orlando Lane Castle: Marriage, Divorce, Children, and Personal Life
Beyond his career as a teacher and professor and his inventions, little is known about Castle's personal life. His net worth at death is unknown and he doesn't appear to have gone through any known personal tragedies. He died of pneumonia on January 30th, 1892, at Alton, Illinois.
Marriage
Orlando Lane Castle married Olive Loveland Thrall on August 15th, 1848. Olive Thrall was born in Granville, Ohio, on November 14th, 1830. The couple had three children. Their eldest child died before her second birthday.
Children
Orlando and Olive Castle had three children: Elizabeth, Lucius Marsh, and Linus Thrall. Elizabeth was born on October 13th, 1849. She died on February 8th, 1851. Lucius Marsh was born on January 16, 1852. Linus Thrall was born on December 12th, 1853.
Orlando Lane Castle: Awards and Achievements
Orlando Castle may be best remembered for his role in inventing calculating machines but he also achieved a few significant accomplishments during his career as an educator. He was an avid mathematician, metaphysician, and inventor even while working in education.
Chair of Rhetoric, Oratory, and Belles-Lettres, 1853
After spending several years teaching in public schools, Castle was offered and accepted the chair position at Shurtleff College. He remained in this position from 1853 until 1892.
Doctor of Laws Degree, 1877
During his time as the chair of Rhetoric, Oratory, and Belles-Lettres, Castle earned an LLD, or Doctor of Laws, degree from Denison University.
Orlando Lane Castle Published Works and Books
Orlando Castle likely published many works during his 39 years at Shurtleff College. Unfortunately, little is known about his time at Shurtleff College.
Next Up…