Key Points
Moses and William Pullen were a father-and-son team of inventors who lived in nineteenth-century England.
They are most famous for inventing a calculating machine constructed out of mahogany, rosewood, or walnut called the Bentham Calculating Machine.
In addition to his son William, Moses Pullen had seven daughters.
Who Were Moses and William Pullen?
Moses and William Pullen are known for their invention of the Bentham Calculating Machine. The purpose of Moses. & William Pullen's Improved Calculating Machine was to add up and compute or ascertain the sum of a column or number of figures, regardless of whether the column or number of figures is related to abstract or tangible attributes. Unfortunately, little is known about the inventors—Moses Pullen and his son William, info found mostly in British national census databases.
Early life
Moses Pullen was born in Manchester in 1821. His youth and schooling are unknown. Moses' son William Pullen was born in the Gloucestershire town of Painswick in 1856.
Quick Facts
Full Name

Moses and William Pullen

Net Worth

NA

Children

Mosses had 8 children

Nationality

British

Place of Birth

Manchester and Painswick, Gloucestershire

Fields of Expertise

["Calculating Machine"]

Institutions

NA

Contributions

Bentham Calculating Machine
Career
Phase 1
Moses Pullen was a one-year interim headmaster of Bentham Grammar School, resigning in May 1876. He was identified as a mechanic when he was 20 years old and living in Bolton in 1841. He became a national schoolmaster by 1851, with Manchester as his birthplace. In 1861, he was still a National Schoolmaster, his wife Ann, his father, seven children, and a 5-year-old son William lived in Painswick, Gloucestershire. Pullen conducted science classes in the Cotswolds in the early 1860s. One of his students was Alexander William Bickerton (1842–1929), a notable New Zealand chemist and astronomer. Alexander became the first professor of chemistry at Canterbury College in New Zealand.
Phase 2
The family was still living in Southwick in 1871, with five daughters. Moses was referred to as a teacher. William was now a pupil-teacher in Norfolk, where he lived with his older married brother, a schoolmaster.
Following the events of 1874-5, when Moses would have been about 54 years old, and William would have been about 18 years old, the 1881 census shows Moses, now a widower, in Leeds, with four unmarried daughters still at home, all five working in the hosiery industry. Moses was the temporary headmaster of Bentham Grammar School, an independent school in Bentham, North Yorkshire, during the 1874–1875 events, resigning in May 1876.
Moses Pullen was listed as a rug producer in the Elland region, near Halifax, in 1891, with six family members in his household. In 1896, Moses Pullen died in Halifax.
What Did Moses and William Pullen Invent?
Bentham Calculating Machine
Moses and William Pullen of High Bentham, near Settle, in the County of York, were issued Letters Patent in 1874 to invent the new and improved machine for adding together and determining the total of a column or number of numbers. The patent was issued on June 4, 1874, and was numbered 1948, sealed on December 1, 1874. The Lancaster Guardian of June 5, 1875, reported that the list of applications for shares in The Bentham Calculating Machine Company Limited, with a capital of £10,000 and 2000 shares of £5 each, would end on June 16 publication printed a copy of the Prospectus. The machine was built in three different versions, each costing half a guinea to four guinea.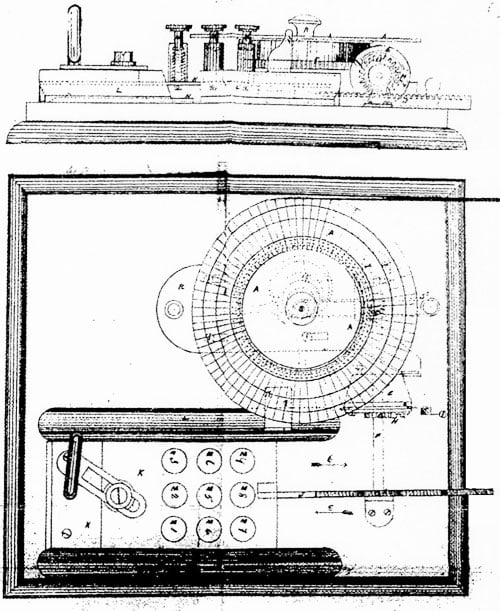 On the south side of Bentham station, a freshly constructed calculating machine factory was on the edge of the Little North-Western railway. The structure was 30 yards by 15 yards in size. There were six lights in each room on the first and second floors of the design. On the first level, there was a Tangye and Bros. horizontal engine of four horsepower nominal, three turning lathes, punching and stamping machines, a circular saw, grinding stone, brass plate polisher, and so on.
Despite its diminutive size, the circular saw had incredible cutting power and could quickly cut solid cylindrical or flat slabs of brass. In addition, the punching machine was a clever device that allowed you to make half or any other defective hole that you couldn't do by hand.
The calculating machine is a simple instrument mounted on a decorative frame of mahogany, rosewood, or walnut. The frames come in square or oval shapes. There are three different calculating machines, all of which are covered by the same patent. This was because the theory is the same in all of them, and the difference is in the way they are set up—the first costs four guineas, the second two guineas, and the third ten guineas and sixpence. The last-mentioned machine has a straightforward design that is ideal for small business owners. All of the devices come with a nice polished cedar box. In addition to the proprietors, the workers employ two men and two boys.
The conception of the machine, as well as its neat and portable construction, reflects considerable technical competence on the part of the inventors, and one expects that the project will be a noteworthy success as a reward for their ingenuity and patience.'
Moses and William Pullen: Marriage, Divorce, Children, and Personal Life
Marriage
Moses's wife was named Ann, and there is no information regarding William's wife, the son of Ann and Moses.
Children
Moses had seven daughters, born in Lancashire, Cheshire, and Shropshire, and William Pullen. It is not known about William's Children.
NEXT UP…