Key Points:
Cisco Catalyst IW9167 helps to control and simplify edge-to-multi-cloud data exchange by extracting, transforming, and sending data to connected applications.
The Bosch IoT Suite's main aim is to provide open, scalable, and flexible solutions to businesses and their customers.
IBM is an American technology company that produces computer hardware, software, and middleware. It also offers consultancy and hosting services in over 171 countries worldwide.
The Internet of Things (IoT) is a collection of devices, software, and services that enables physical devices to connect and exchange data. This market is growing fast, with the number of IoT-connected devices forecasted to reach 29 billion by 2030.
The massive growth in the number of IoT devices has led to an increase in the demand for cloud services and AI. With so many things becoming connected to the internet, it's no surprise that top tech companies are investing billions of dollars into IoT technologies.
The largest IoT companies are placing big bets on this market by expanding their service offerings and creating partnerships with other companies. In this article, we will discuss the 10 largest IoT companies in the world today, ranked by 2022 revenue.
#10: SAP – $27.84 billion
SAP is a multinational software company based in Walldorf, German. The company develops and sells software for managing customers and business operations. SAP also develops and sells cloud engineering systems, database software, and other ERP systems, such as customer relationship management (CRM), supplier relationship management (SRM), supply chain management (SCM), and others. SAP had 107,415 employees as of October 2022.
Being a German giant in the software market, the company is also betting the Internet of Things will change the market drastically. Edge Gateway service, which is part of SAP IoT edge, is a virtual gateway that collects and processes sensor readings. It's also responsible for sending commands to the sensor network on behalf of other modules.
The SAP's Device Connectivity features enable you to send data to SAP IoT directly or by using the Edge Gateway service. In addition, the Device Connectivity collects sensor data at the cloud or edge and stores it in SAP BTP that other applications can use. The Edge Gateway service supports the HTTP, MQTT, OPC, and UA ingestion protocols. 
#9: Cisco – $51.56 billion
Cisco is a multinational digital communications technology company. Leonard Bosack and Sandy Lerner founded Cisco on December 10, 1984. With Cisco Catalyst IW9167, you can wirelessly connect to any application anywhere in a state-of-the-art platform for mission-critical applications. In addition, you'll access easy-to-use network management tools to help your business operations.
Catalyst IW9167 helps to control and simplify edge-to-multi-cloud data exchange by extracting, transforming, and sending data to connected applications. The platform has in-built security to enable secure data storage and transfers. The Catalyst IW9167 has two wireless technologies to enable you to connect devices easily.
Cisco Ultra-reliable Wireless Backhaul technology gives faster connectivity in remote areas, while Wi-Fi 6/6E allows industries to connect their devices.
Cisco supports edge computing, where you can develop IoT applications to accelerate business success after getting real-time data. Industrial cloud sensors help manufacturers to simplify and monitor assets and facilities. 
#8: Siemens – $62.27 billion
Siemens is a multinational conglomerate technology company based in Munich, Germany. Werner von Siemens founded the company on October 1, 1847. Siemens manufactures consumer electronics, water treatment systems, industrial machines, home appliances, and telecommunication equipment. In addition, it offers IoT, project engineering financing, and construction services. Siemens had 303,000 employees as of October 2022.
In its manufacturing processes, Siemens uses edge computing that contributes to the fast processing and production of products. Siemens supports both cloud computing and edge computing, enabling the remote operation of machines connected to the internet.
Artificial intelligence (AI) uses the data from connected machines to recognize production patterns and improve manufacturing processes. They have interconnected sensors that measure the working condition of industrial machines.
The Simatic IoT gateways help collect data by networking machines from different manufacturers with different technology levels. Businesses can get essential data to improve production processes using the SIMATIC IoT gateway. SIMATIC IoT supports several communication protocols and languages, making it suitable for almost every company.
#7: Bosch IoT – $78.74 billion
Bosch is a German technology and engineering company that develops software and hardware, household appliances, industrial technology, energy, and building technology. Robert Bosch founded this company in 1886. Bosch is headquartered in Gerlingen, Germany. The company had 402,600 employees as of October 2022.
The company offers Bosch IoT Suite that helps collect, process, store, and assess IoT data to bring the best out of it. The Suite also helps in managing your IoT devices across all connections. The Bosch IoT Suite's main aim is to provide open, scalable, and flexible solutions to businesses and their customers.
The Bosch IoT Suite has already connected over 15 million devices, machines, and sensors worldwide, and it's still counting. This suite also offers secure data storage and transfer across connected IoT devices. It also offers an end-to-end service solution for data analytics and management.
#6: IBM – $79 billion
IBM is an American technology company that produces computer hardware, software, and middleware. It also offers consultancy and hosting services in over 171 countries worldwide. IBM is headquartered in Armonk, New York. The company was founded on June 16, 1911, by Thoms J Watson, Sr, and Charles Ranlett Flint.
The IBM cloud technologies help businesses to grow by linking them with IoT data. The IBM Watson IoT platform enables you to connect devices and collect your needed data faster.
In addition, businesses can create analytics apps in the IBM cloud that help know the nature of IoT data they collect, such as consumer demographics. The data can be historical or real-time, which will help in making sober business decisions.
You can successfully link the IBM cloud with your devices using the HTTP or the MQTT communication protocol. Businesses can now manage their assets using the IoT and AI. In addition, factories can use AI-driven robots to help manufacture high-quality products.
#5: Intel – $79.02 billion
Intel is an American multinational technology company and is among the world's largest manufacturers of semiconductor chips. Robert Noyce and Gordon Moore founded Intel on July 18, 1968. The company's headquarters are in California, US. Intel manufactures microprocessors, motherboard chipsets, embedded sensors, flash memory, graphic chips, and network interface controllers.
The Intel CPU processors are enhanced for IoT with improved high-performance chip design, enhanced graphic designs, AI, long-term software support, expanded bandwidth & DDR5 memory, and production of IoT applications. The Akara AI robot, powered by Intel Movidius VPU, is helping disinfect hospital surfaces with an UltraViolet light.
This idea comes in handy in reducing the spread of the Covid-19 pandemic. Intel's industrial Edge software helps Audi enhance quality controls in its auto industries. These integrations help to reduce human error during the manufacturing of vehicles.
Intel collaborated with Accenture and Sulubaai Environmental Foundation to launch an AI Corail robot to take coral reef images that help monitor their real-time health.
#4: Microsoft – $198.3 billion
Microsoft is an American multinational software company that produces personal computers, consumer electronics, computer software, and related services. Bill Gates and Paul Alien founded Microsoft on April 4, 1975. The headquarters are in Washington, US.
The Azure IoT is a collection of Microsoft cloud services that connect, monitor and control billions of IoT assets. These IoT devices have sensors that use Wi-Fi to communicate with other devices.
Microsoft has an open-source Device SDK used to build apps for mobile phones. These Device SDKs accelerate the development of IoT solutions in your linked devices. For example, once you connect your fridge to a mobile phone, the sensor sends the temperature details every 5 minutes, making it easy to monitor it.
IoT and Device SDKs support the HTTP, AMQP, and MQTT communication programs. Thus, they can link to a variety of devices with such communication protocols.
#3: Samsung Electronics – $244.4 billion
Samsung is a Korean multinational company that develops smartphones, lithium-ion batteries, display monitors, cameras, image sensors, the Internet of things, and semiconductors. The company started on January 13, 1969, and is headquartered in Yeongtong-gu, South Korea. 
With technologies such as the SmartThings app, you can monitor and control your smart devices or appliances right from your Samsung phone. For instance, you can check what's in your fridge, manage your home theatre, or answer the doorbell.
All you need is internet connectivity to access all those devices. To enjoy Samsung IoT services, you should have devices with compatible operating systems in your home. There are Galaxy watches you can link with your phone. 
Moreover, Samsung Galaxy Watches allow you to use a variety of convenient apps for playing music and making phone calls, managing your health, and analyzing your exercise pattern. Samsung IoT services can enable you to integrate several devices at work or at home with a smartphone.
#2: Google – $278.1 billion
Google is a multinational technology company focusing on search engines, cloud computing, the Internet of things, online advertising, computer software, consumer electronics, and artificial intelligence.
The company started on September 4, 1998. The founders are Larry Page and Sergey Brin. This company is headquartered in Mountain View, US. Google had 139,995 employees as of October 2022.
Google Cloud offers a wide range of software and hardware integrations. You can switch between devices without losing your data courtesy of Google Cloud.
You can access many IoT services from Google if you have a Gmail account. Google Cloud also helps you securely transfer data from one device to another while connected to the internet.
#1: Apple – $365.82 billion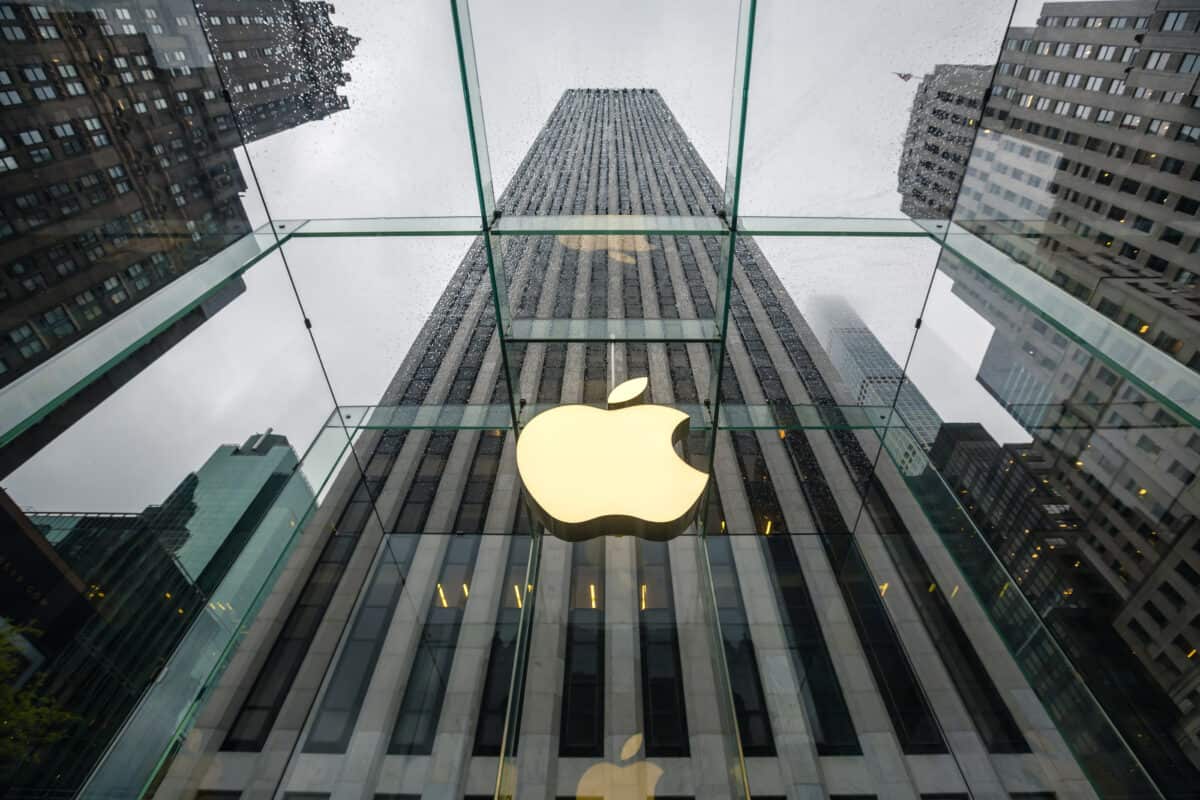 Apple, an American multinational technology company, is the largest IoT company in the world today. The company was founded on April 1, 1976, by Steve Jobs, Steve Wozniak, and Ronald Wayne. Apple is among the American big five technology companies. The company had 154,000 employees as of October 2022.
The iPhone, which was launched in 2007 can be considered the original IoT device in the world. It was the first mainstream device to showcase the power of connected sensors. Thanks to the iPhone, companies such as Uber and Foursquare were able to gather enormous amounts of information on where people wanted to go and when they were expected to arrive.
In 2015, a survey from ThroughTek ranked Apple as the most popular IoT brand. While some industry experts argue that Apple doesn't produce as much Internet of Things (IoT) hardware as firms like Google, they are missing the point. Over the years, Apple has inspired a vast number of entrepreneurs to launch connected products.
Apple's seamless, effortless integration across its entire product line (iPad, MacBook, Apple Watch, and iPhone) gives the company a competitive advantage that is nearly unbeatable.
Bottom Line
The Internet of Things (IoT) is one of the most exciting areas of technology right now. It's an industry that will continue to see explosive growth in the coming years. New devices and services are being launched every day. The IoT has so many potential use cases that it's difficult to even think of all of them.
There are already hundreds of IoT services and devices on the market, including cars, refrigerators, thermostats, speakers, locks, lighting systems, and more. At its core, IoT is about connecting devices with one another so that data can be transmitted between them.
This creates opportunities for businesses and consumers to have access to data they previously could not get easily or at all. With IoT, your refrigerator can tell you if you're running low on eggs or whether you forgot to buy milk the last time you went grocery shopping.
The 10 Largest IoT Companies in The World: Summary
| Rank | Company | Annual Revenue (2022) |
| --- | --- | --- |
| 1  | Apple | $365.82 billion  |
| 2  | Google | $278.1 billion  |
| 3 | Samsung Electronics | $244.4 billion  |
| 4 | Microsoft | $198.3 billion  |
| 5 | Intel | $79.02 billion  |
| 6 | IBM | $79 billion  |
| 7 | Bosch IoT | $78.74 billion  |
| 8 | Siemens | $62.27 billion  |
| 9 | Cisco | $49 billion  |
| 10 | SAP | $27.84 billion  |
Up Next…