Key Points
CRM stands for Customer Relationship Management.
The purpose of a CRM software tool is to manage all interactions and communications with present and future customers.
Microsoft is the largest CRM company in the world, at 1.8 trillion.
A business's relationship with its customers is an important factor in the business's growth and success. The largest CRM companies mentioned in this article work to support brands with their day-to-day activities. CRM software (an acronym that stands for Customer Relationship Management) is an important tool for businesses when it comes to keeping track of their communication with customers, vendors, partners, and employees.
Furthermore, businesses are using CRM platforms to connect their different departments, generate more leads, get insight and predictions from data, and even in keeping tabs on their work. Most companies that use CRM software have reported a significant increase in leads, sales revenue, and customer retention, and this makes this tool a popular one in marketing.
As a business owner, you may be wondering which CRM software to use for your business. This heavily depends on your business needs and budget, as there are so many good companies that offer CRM solutions in the market today. However, to know which one will be a better choice for you, you should know these 10 largest CRM companies in the world and what they do
10. Insightly – $38 million
Insightly, Inc. is a private computer technology company that was founded in 2009. The company's CRM is the top online small business CRM company with more than 1.5 million users and over 25000 companies. Insightly CRM offers customer relationship and project management tools for enterprises in a variety of industries, such as manufacturing, consulting, health & wellness, and more.
Some of Insightly CRM features are;
Track leads and sales management opportunities
Project management
Customization options
Integration with Gmail
Easy Insightly access via Google Universal Navigation
Includes SSL security
Insightly CRM supports the growth of businesses by helping them to manage sales processes, monitor their sales pipeline, track customer relationships, and more.
9. Sugar – $100 million
This CRM company is based in Silicon Valley, and it was founded by Clint Oram, Jacob Taylor, and John Roberts. SugarCRM streamlines the sales and marketing activities of brands like Roxtec, Mazars, Sennheiser, Postnord Logistics, and Tetley. Their CRM simplifies brands' work by offering features like;
Marketing automation
Sales automation
Cloud or on-premise deployment
SugarCRM is a serious competitor in the CRM market and has been attracting investors as they keep on growing their revenue and users yearly. SugarCRM is used across 120 countries with more than 1.5 million end-users.
8. Zoho Corporation – $1 billion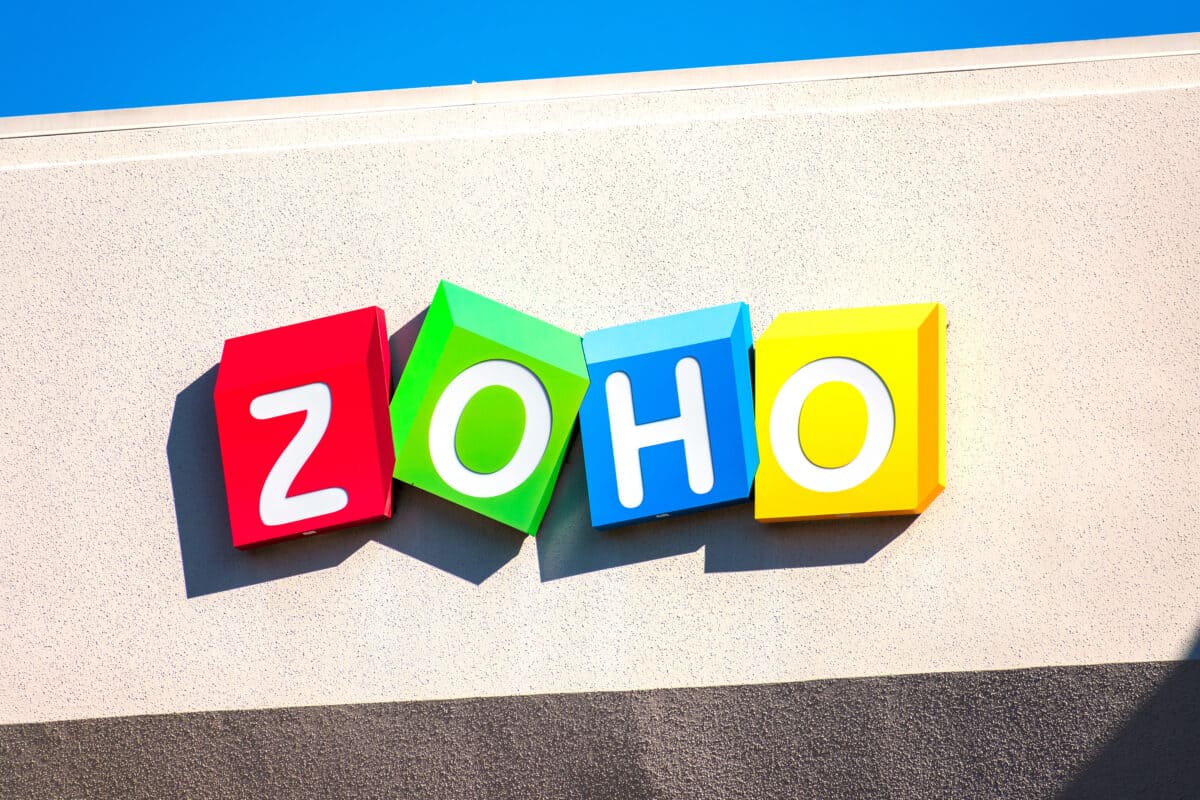 Based in Chennai, India, Zoho Corporation is a company that promises businesses an increase in conversion rate of up to 300% when they use their CRM software, Zoho CRM. Zoho Corporation's software has 50+ million users in 200+ countries, and it is trusted by reputable companies like Johnson and Johnson, Friso, VP Bank, and more.
Zoho CRM software streamlines your personnel and processes by bringing your sales, marketing, and customer support activities together. Zoho's customer relationship management platform has some of the best features in the market, including a simple and easy-to-use user interface, AI, and high security.
What Does Zoho CRM Do?
Apart from being a very affordable and reasonably priced software, many businesses choose Zoho CRM for its functionality and the benefits that this software gives to businesses. Some of the things that this CRM does include;
Daily workflow automation
Marketing automation tools
Lead and contact management
In addition to that, you can get AI predictions about potential customers, track key performance indicators, and more.
7. Monday – $2.7 billion
Headquartered in Israel, Monday was founded in 2012 by Eran Zinman, Eran Kampf, and Roy Man. The company released its first CRM in 2014. Valued at $2.7 billion, Monday's CRM is trusted and used by big brands such as Uber, Adobe, Hulu, Unilever, and Zippo. Monday CRM is easy to use and set up, and it has features like clients & deals management, insightful analytics and monitoring, customization options, contact export database capabilities, and more that make it sought after by businesses.
Monday's CRM has four plans for businesses, namely, Individual, Standard, Pro, and Enterprise. However, you can use the basic Monday CRM functionality for free by subscribing to an Individual plan.
6. Zendesk – $9.43 billion
Headquartered in San Francisco, California, Zendesk was founded in 2007 in Copenhagen, Denmark, by Mikkel Svane, Alexander Aghassipour, and Morten Primdahl. Valued at $9.43 billion, Zendesk is among the best-performing companies on the market. Zendesk CRM is known for boosting the performance of enterprises like Polaris, Siemens, Shopify, Mailchimp, Grubhub, Khan Academy, and other global companies. Some of Zendesk's CRM features include;
Contact management
Email automation and tracking
Integrations and call analytics
Sales dashboard and activity reporting
Zendesk CRM has two pricing plans, and they also offer a free trial period for businesses to test features before paying for the CRM.
5. Hubspot – $21.8 billion
Hubspot is an American company that was founded by Brian Halligan and Dharmesh Shah in 2006. Some of the company's services include website content management, SEO, marketing automation, email marketing, and more. The biggest catch for this company's CRM, Hubspot CRM, is that it is free. Hubspot CRM is known for being powerful and easy to use, as the platform meets your needs for marketing, sales, content management, and customer service through its tools and integrations. Their CRM facilitates effective communication with leads and prospects for small, medium, and big businesses alike.
Some of the features that make Hubspot CRM a hit with business include;
Customer-oriented live webchat
Prospect/contact tracking and management
Email marketing tools with notifications and real-time tracking
Brands like Doordash, Atlassian, Wista, VMWare, InVision, and Purple are using Hubspot CRM to manage their business.
4. Oracle – $41.93 billion
Oracle Corporation created Oracle CRM, which is software with different cloud applications that analyze customer data and help companies manage sales, marketing, and customer support. Oracle's CRM has amazing features like;
Customer data management
Quota management
Sales forecasting with advanced predictive capabilities
Self-service and eBilling
The American Red Cross and Confidential Records, Inc. are some of the brands that use Oracle CRM to run their businesses. Over 420,000 customers across 145 countries use this CRM to manage their customer relationships efficiently through a wide range of fully integrated cloud applications, platform services, and engineered systems.
3. SAP – $104.90 billion
In 1992, SAP created a CRM software for marketing, sales, and service of brands in all industries called SAP CRM. Brands such as Applied Materials, Patterson Companies Inc., Mettler Toledo, and KLA-Tencor trust this CRM. SAP is helping companies to run back-office operations, which has resulted in revenue growth. Some of the features that make SAP CRM the best in the market are;
Built-in augmented intelligence
Prospect, lead, contact, and inventory management.
Sales automation tools
Emphatically, businesses that use SAP CRM have the advantage of testing it for 30 days before subscribing to a paid plan.
2. Salesforce – $227.8 billion
Founded in 1999, Salesforce is one of the leading and the most trusted CRM platform. Salesforce is one of the first companies to replace the old desktop CRM and focus on cloud-based customer relationship management software. Brands like Spotify, T-Mobile, Amazon Web Services, U.S. Bank, Toyota, The New York Post, American Express, and Canon use Salesforce CRM to run their activities.
Salesforce CRM Features
This CRM's features are the reason why 150,000 big and small businesses from diverse industries use the platform. Salesforce boasts clients from entertainment, financial services, manufacturing, and more. The features that attract them are;
Lead management
Account management
Productivity tools
Forecasting tools
Top-notch security
Salesforce CRM is certainly among the largest CRM in the world, and they help scale big and small businesses alike. This CRM provides huge customization and integration functionality opportunities for diverse business niches and, in turn, increases their productivity.
1. Microsoft – $1.856 trillion
Microsoft Corporation initially released its CRM software, Microsoft Dynamics 365 Sales in 2003. Although it can be customized, their CRM focuses on sales, marketing, and customer service. Brands such as Coca-Cola, HP, BMW, Chevron, UPS, and Dr. Martens are using Microsoft Dynamics 365 daily.
Features such as MAPI-based Outlook clients, FLS VISITOUR, and more make this CRM stand out from the rest. Other features that make this software among the toughest CRM competitors in the market include the following:
Summary of the 10 Largest CRM Companies in the World
| Rank | Company |
| --- | --- |
| 1 | Microsoft – $1.856 trillion |
| 2 | Salesforce – $227.8 billion |
| 3 | SAP – $104.90 billion |
| 4 | Oracle – $41.93 billion |
| 5 | Hubspot – $21.8 billion |
| 6 | Zendesk – $9.43 billion |
| 7 | Monday – $2.7 billion |
| 8 | Zoho Corporation – $1 billion |
| 9 | Sugar – $100 million |
| 10 | Insightly – $38 million |
Up Next
The 10 Largest E-bikes Companies in the World and What They Do – E-bikes have become an efficient mode of transport and a way to stay fit. Get to know the 10 largest E-bikes companies that have simplified the way we commute.
The 12 Largest Wind Energy Companies In The World, And What They Do – Recently there has been a push on the use of renewable energy consumption. Get to know the 12 largest companies on the front line of wind energy production.
The 10 Largest Internet Companies In The World, And What They Do – The Internet has revolutionized the way we live. It has made our lives better and easier. Get to know the companies that provide us with a service we can't live without
The image featured at the top of this post is ©Alexander Supertramp/Shutterstock.com.