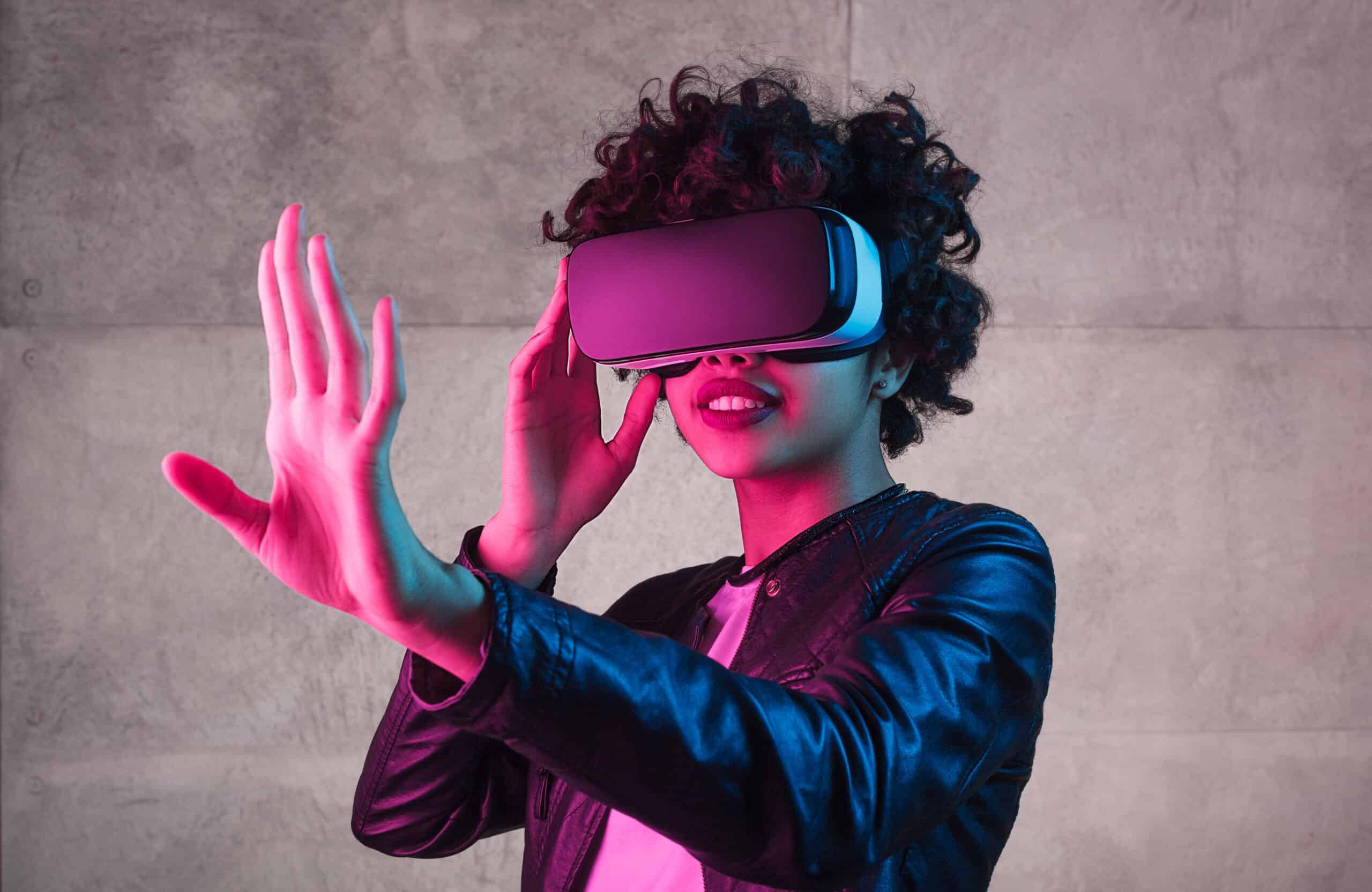 Key Points
Oculus first came on the scene with its peripheral Oculus Rift, in 2012. Since then it has also presented Oculus Quest 2 a next-gen headset which is also seeking to become compatible with PC games.
Microsoft, a juggernaut in the tech space is also working on creating mixed-reality products including the VR headset HoloLens 2.
NVIDIA another giant is working on cloud solutions meant for the 3D simulation of virtual worlds.
In 2019, Beat Saber was released for the Oculus Rift. A combination of Dance Dance Revolution and Star Wars, players wielded two virtual light sabers and slashed at blocks to an electronic beat. The game was an instant hit and defined the virtual reality experience. 
Beat Saber's wild success, however, was only a part of a sweeping movement. Companies around the world are discovering how they can implement AR and VR into their processes. Everyone from Facebook (Meta) and Microsoft to Boeing is getting involved.
Continue reading for the largest virtual reality companies today that are making the biggest impact on the industry.
#1 Oculus VR
No company is more synonymous with virtual reality than Oculus. Founded in 2012, the company quickly rose to the top of the industry with its first peripheral, the Oculus Rift. Within two years, Facebook bought the company with ambitions to launch its biggest project, Meta.
In 2021, the company merged with Facebook's VR team to create Reality Labs. Together, the team is creating the next generation of headsets, the Oculus Quest 2. These peripherals feature industry-standard RAM for one of the highest refresh rates on the market. However, some share frustrations with Facebook's requirement to log in with a social media account.
The Oculus Quest 2 can run all VR games made for the original model. The company is also updating its software to run PC games. Look out for Red Matter 2, one of the newest games for the Quest 2 releasing in August 2022.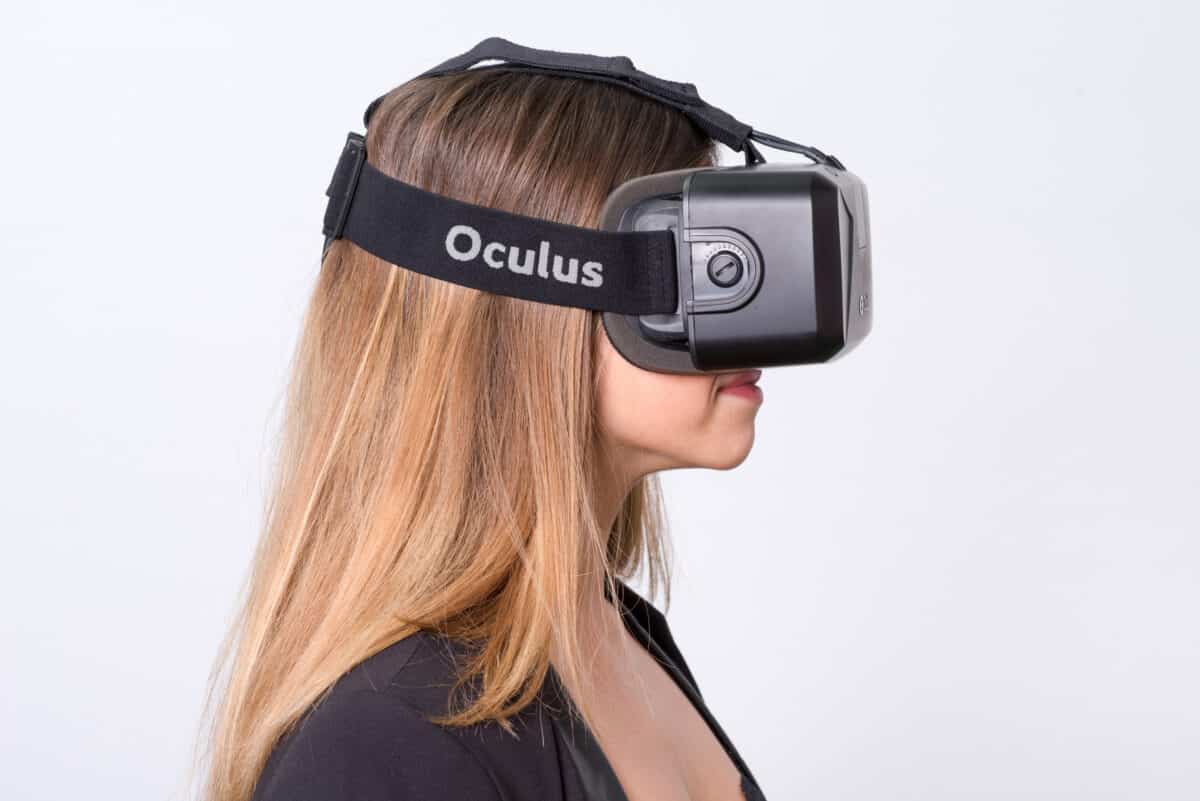 #2 HTC
Oculus didn't completely dominate the virtual reality field, however. In 2017, the HTC Vive came out shortly after the Rift and was equal to (or in some cases, better than) its competition. Unlike Oculus, however, HTC didn't get its start in VR peripherals.
Founded in 1997 in Taiwan, HTC got its start designing laptops. However, unlike other computer manufacturers in the market, HTC never hesitated to pivot when new technology debuted. When the Android OS was released, the tech company switched from laptops to smartphones; the HTC Dream was the first Android phone on the market.
HTC's newest headset, the Vive Pro 2, was rated the best VR headset in 2021. It features some of the most accurate sensors and tracking in the industry and presents visuals in 5K resolution. You'll find these peripherals used by top companies and creative professionals.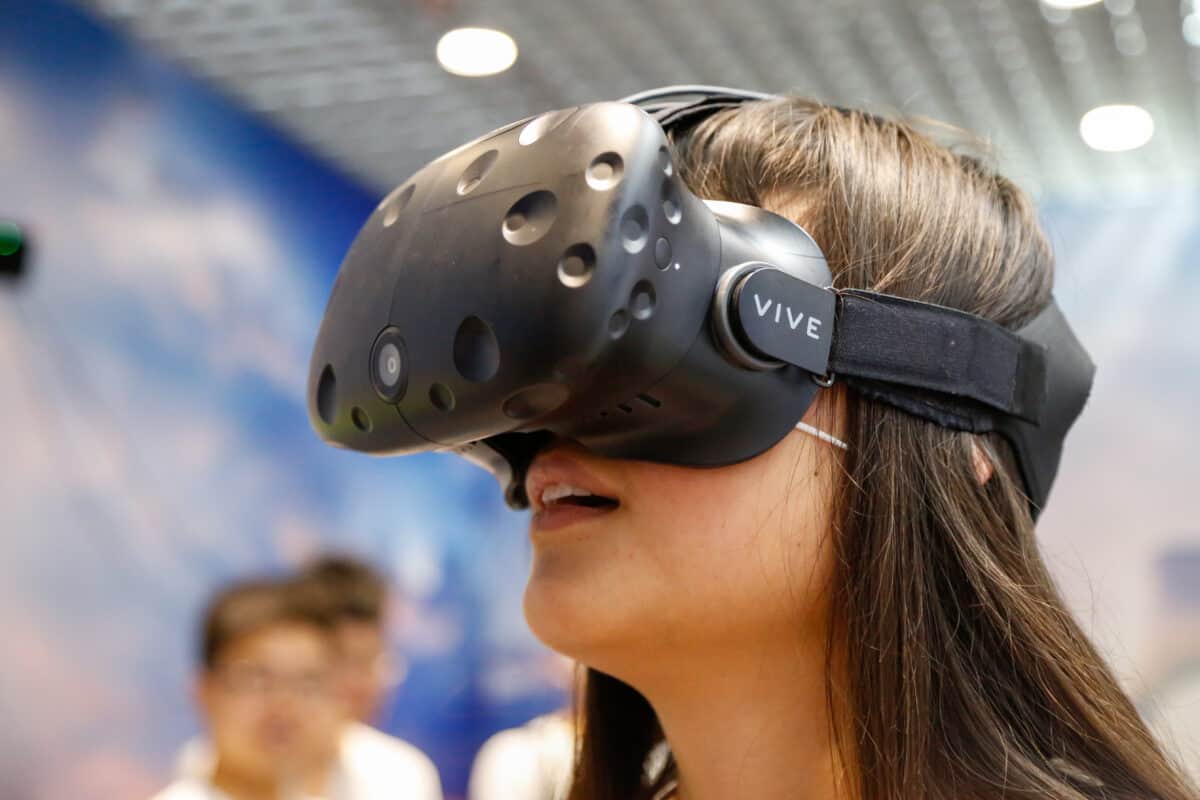 #3 Unity
Of course, the fantastic resolution doesn't amount to much without the highest quality graphic design. For a platform that allows for realistic graphics and lighting effects, designers are using Unity. And, as one of the leading video game platforms for nearly 15 years, it's no surprise the company has ventured into virtual reality.
The first Unity platform was released for Mac OS in 2007 and made it incredibly easy for beginners and indie creators to create stunning 3D and 2D graphics. Because of this, the company exploded and became the most used game engine in the world.
The Unity platform has been used to create over half of the mobile games available, including Call of Duty: Mobile and Pokemon Go. And with their new High Definition Render Pipeline, the company is dominating the VR market as well.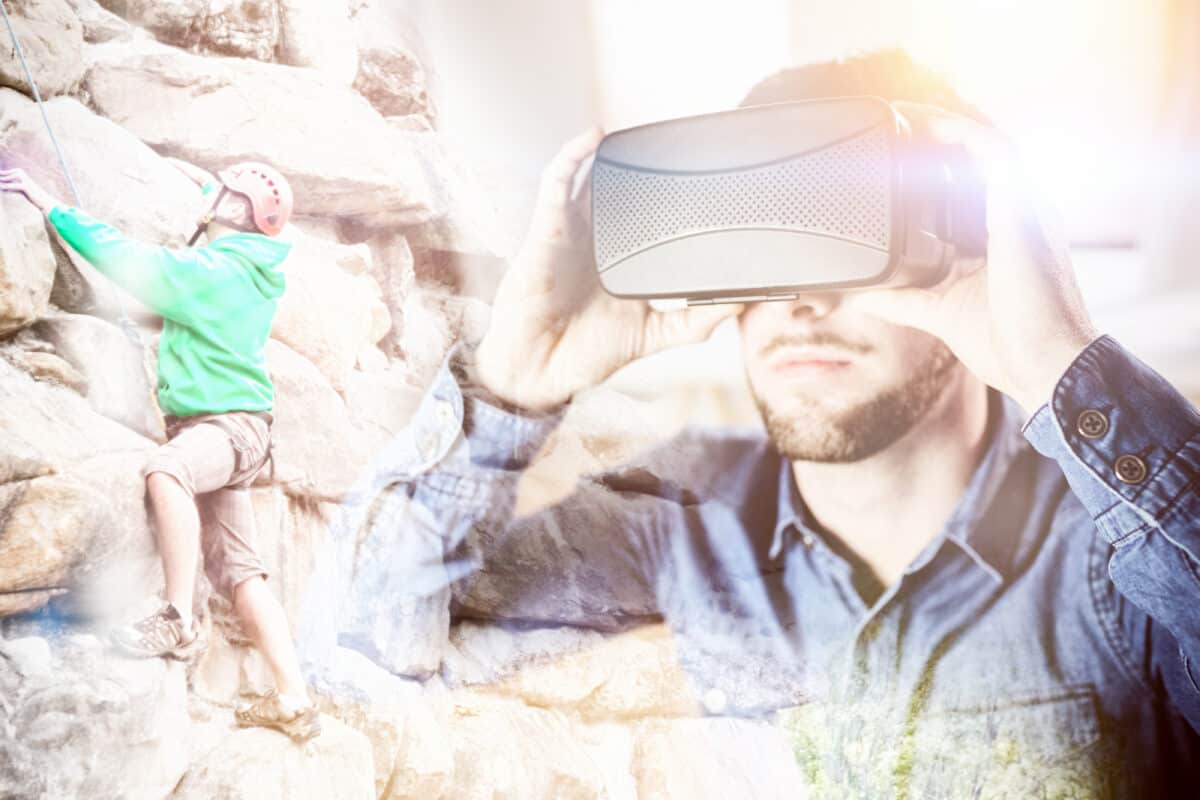 #4 Microsoft
For as long as we've had the internet, Microsoft has been the household name for electronics. Creating everything from information technology to computers to video games, it's no surprise that Microsoft is trying its hand at virtual reality.
The company was founded in 1975 by Bill Gates and Paul Allen, who set out to design a new line of computer software. Their Windows operating system was state-of-the-art and became the base of their success. Today, the company has offices across the world and staffs over 200,000 employees, making it one of the largest ever seen.
With an army of technicians, Microsoft is working on a series of mixed-reality (MR) products. Of these include the HoloLens 2, their VR headset that syncs with native products. Microsoft also announced Mesh, the collaborative metaverse for professionals and creatives to work together digitally.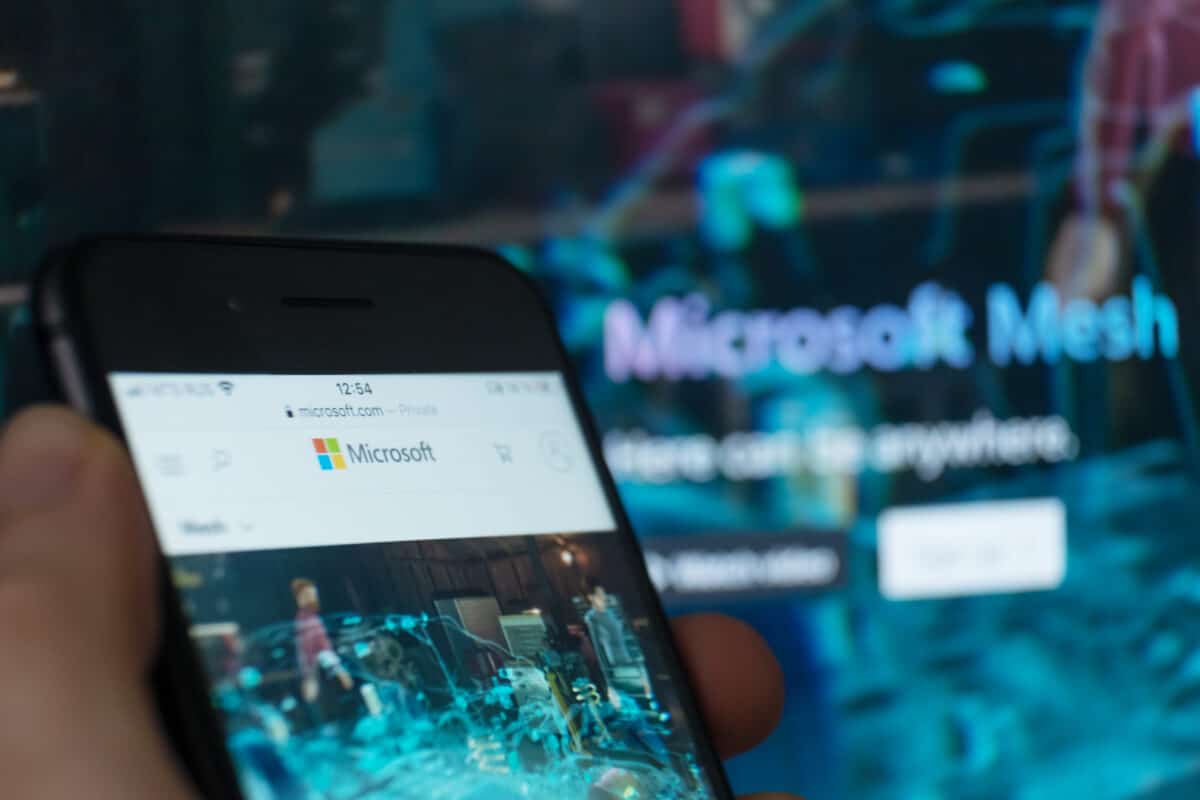 #5 Samsung
As exciting as the new media experience is, many people find the cost of entry too steep (the Vive Pro 2 has a price of $1,400). Samsung's solution? Create midrange hardware that still provides a similar VR experience. 
In 2015, the tech company released the Samsung Gear headset, which used 360 videos and was compatible with the new Galaxy S10. As it only synced with this specific device, it incentivized people to consider their phones over the iPhone 11 when upgrading. Not only was the marketing tactic incredibly successful, but it spurred the widespread adoption of virtual reality.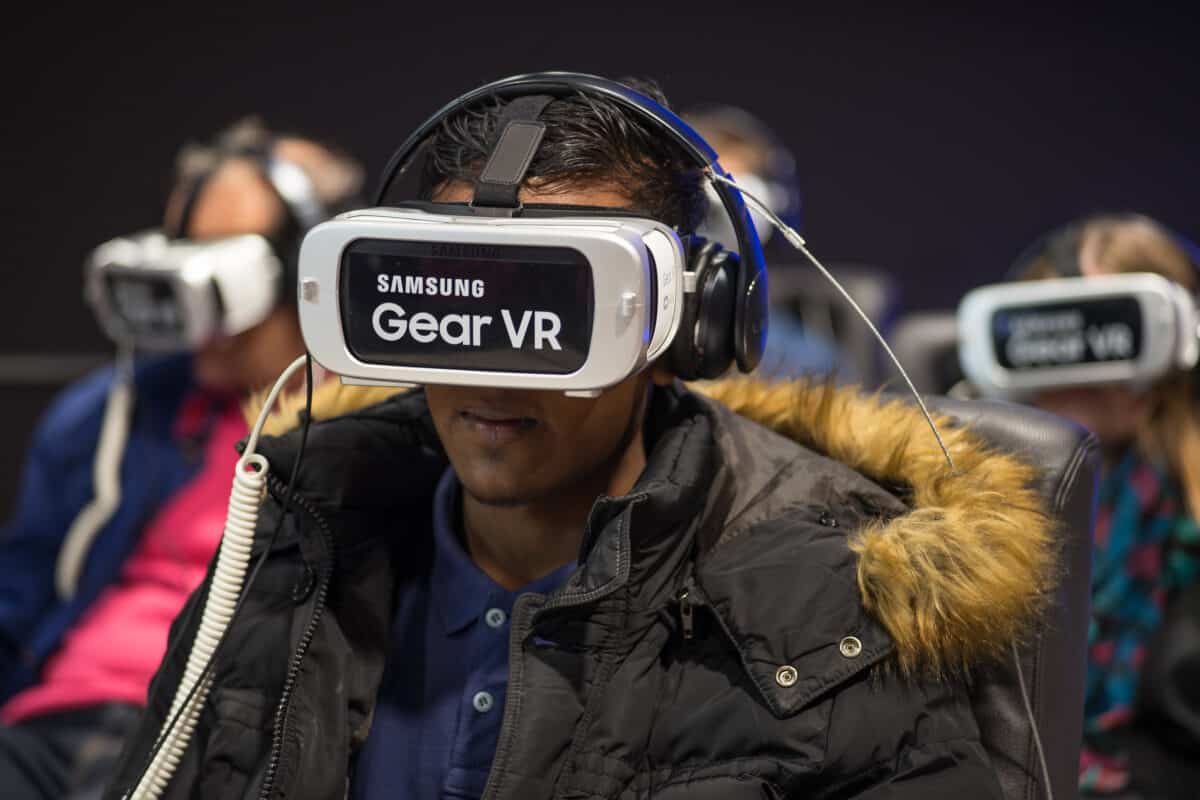 #6 Magic Leap
As one of the most anticipated augmented reality platforms of the decade, Magic Leap received investments from Google, AT&T, and other major players in the tech industry. In 2015, Magic Leap released its AR headset, which uses eye-trackers to render virtual content upon a map of the external world.
Augmented reality is a different experience than virtual reality, using our actual surroundings and expanding on them. For a company to release a headset that computes all of that fast enough for us to use comfortably is an incredible feat. As such, you likely won't find this product used for casual gaming.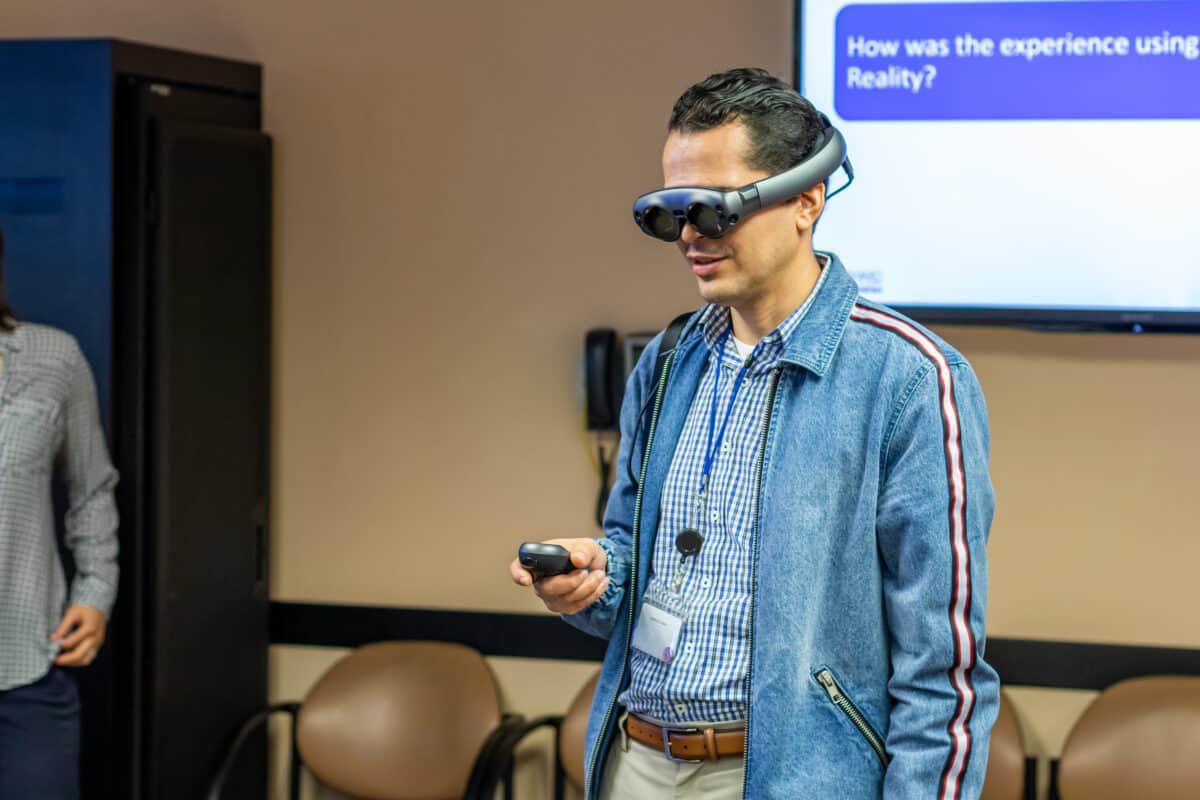 #7 NVIDIA
What separates virtual reality from pure magic is the hardware required to power it. And no other company in the world is creating powerful graphics like NVIDIA. As such, this isn't just one of the largest VR companies, it's one of the largest tech companies, period.
With 22,000 employees, NVIDIA is renowned for its GeForce graphics cards. Its RTX 3090 Ti has an incredible 32GB of memory and boasts clock speeds of 1.86 GHz. This makes it one of the fastest cards in the world. With an impressive reputation, NVIDIA is bringing its tech to virtual reality.
The tech company's powerful hardware easily handles high-demand gaming, but it's also used for much more. NVIDIA is creating cloud solutions for extended reality, allowing for high-definition streaming. Their products are also being used for 3D simulation of virtual worlds.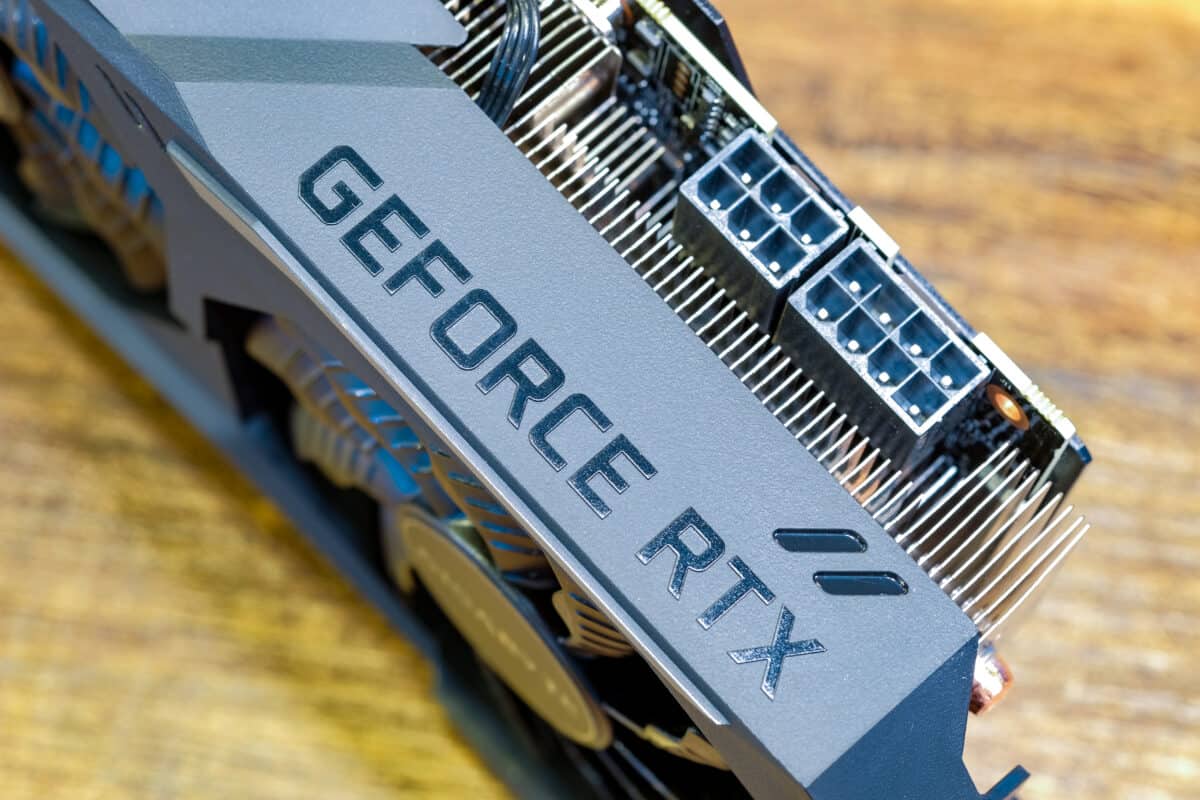 #8 WorldViz
If Oculus can claim the lead in VR gaming, the same can be said about WorldViz in VR enterprising. For 20 years, this company has developed virtual and augmented reality solutions for large companies like Lenovo, Boeing, and Siemens. Their services assist in product testing, safety training, and onboarding.
One of their most fascinating products is the VisMove Prism. Participants can practice in a simulation room as individuals or in a group in a projection space that feels like the actual workplace. This helps reduce the cost of training by keeping practice areas separate from on-site areas.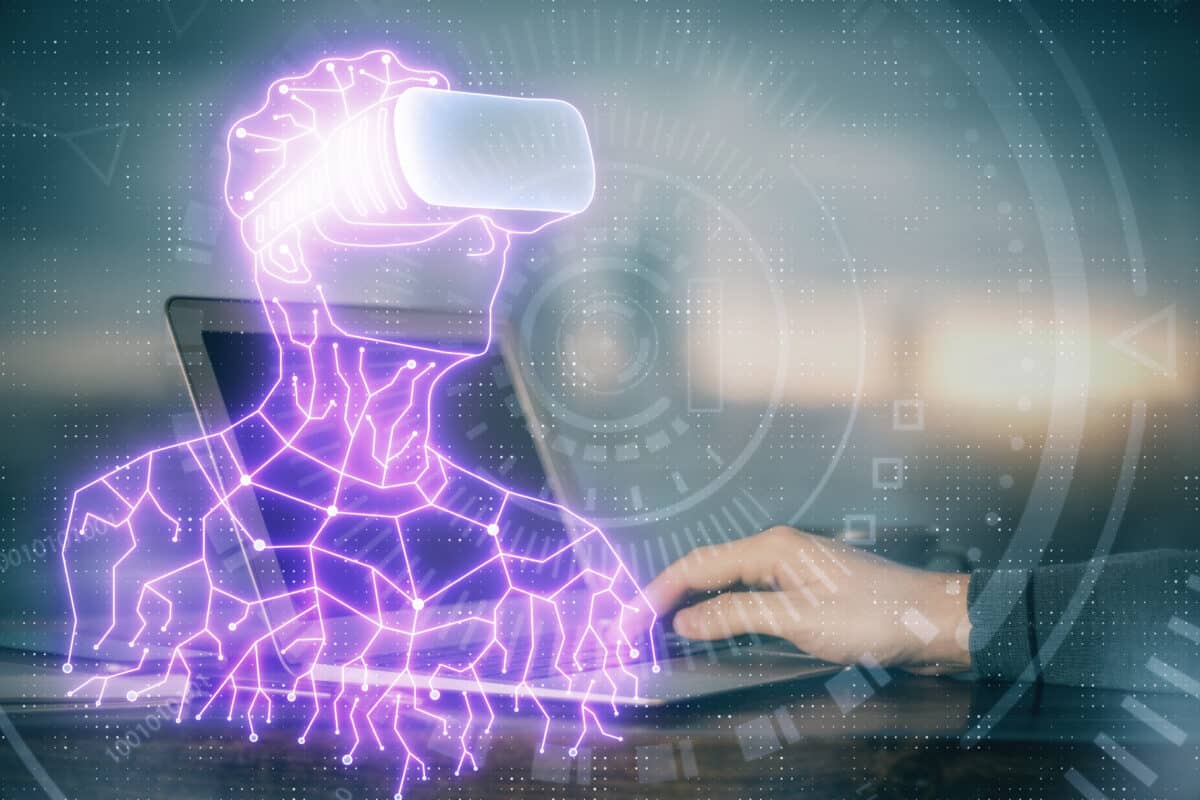 #9 Google
When Samsung came out with their Gear VR headset, Google followed the trend. The search engine company released Googe Cardboard, an affordable way to glimpse at virtual reality. Users would stick their smartphone into the cardboard headset and could watch 360-video similar to Samsung. The benefit? Anyone could use it on whatever phone they had.
While Google Cardboard was a novel experience, it opened Google to the VR industry. The company is now experimenting with augmented reality, implementing google search with identification apps to provide enhancements to the objects in your environment. Keep an eye out for their apps to change the way we see the world.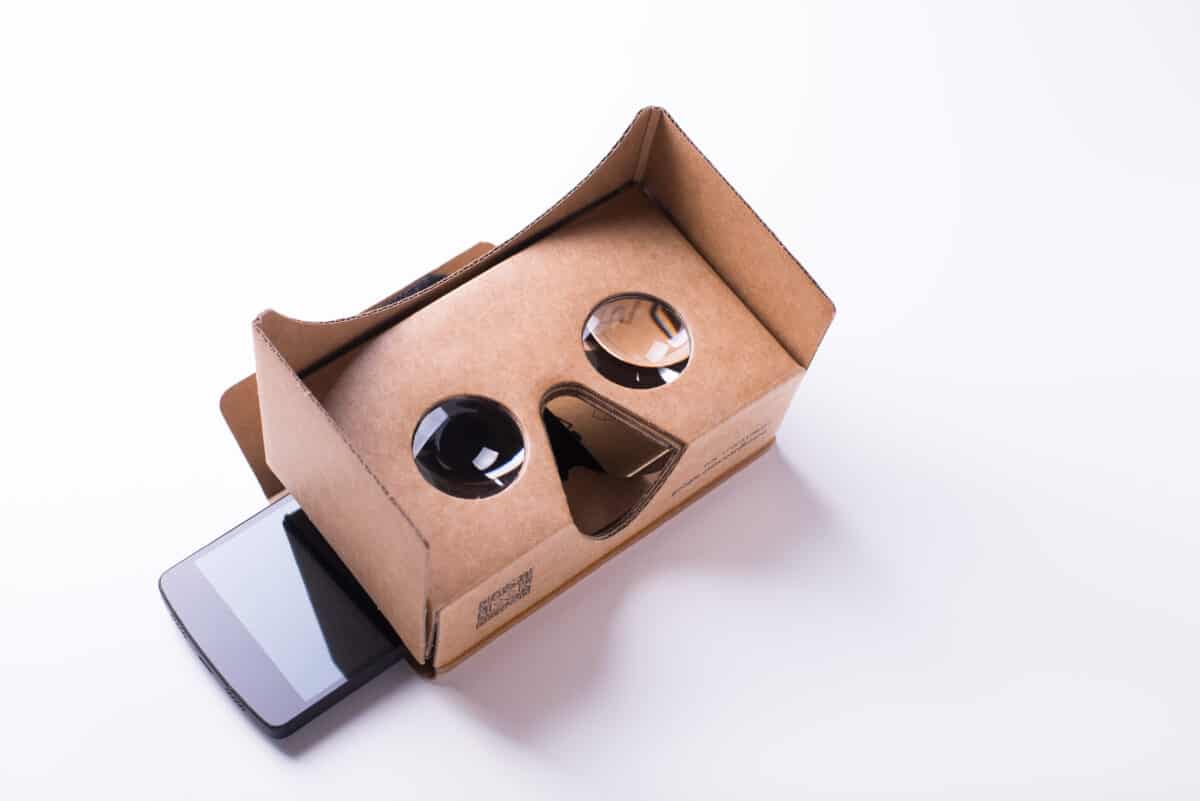 #10 Snap Inc.
When considering the largest virtual reality companies, it might be strange to think of Snapchat. However, the social media company has been playing with AR for some time now, and it's hard to send a Snap to a friend without a filter. Of course, with virtual reality quickly entering society, Snapchat isn't stopping here.
Enter Snap AR. The social media company has designed the Lens Studio for creators to design their own features. Of course, you'll find customized features, but the Lens Studio is used for so much more. Creators are designing full mechanical components for educational purposes. Others are adding sign language recognition to communicate with people around the world.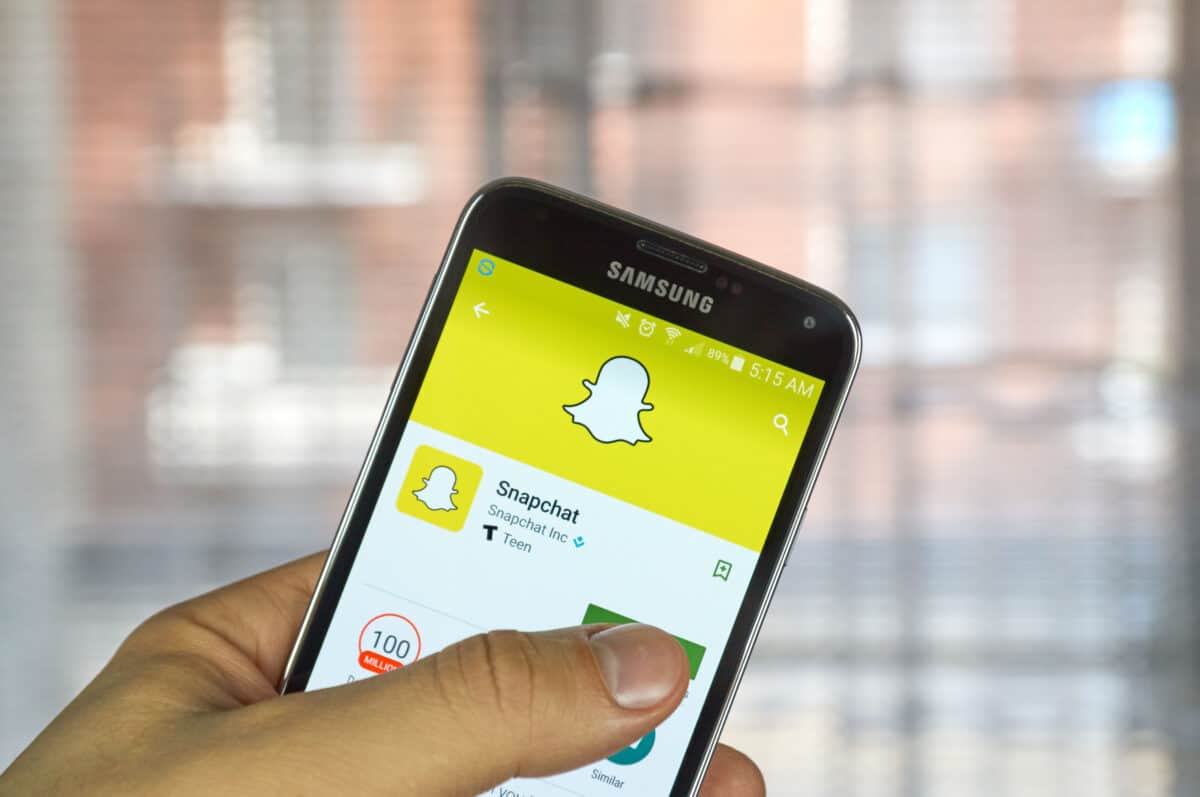 Up Next…
Interested in reading about more of the foremost companies on the planet? Click on the links provided below: