Key Points
Solomon Pool was a mathematics professor who later became President of the University of North Carolina. He was a licensed preacher as well.
Solomon Pool invented a small adding machine that could add figures up to 999.
In his patent, he indicated that the device could be modified to add higher figures by employing additional rings for thousands or any number with a power of ten.
There is no evidence that Pool's adding machine was ever manufactured.
Adding machines are some of the most fascinating inventions and are important too. The early inventions were instrumental in forming the way that mathematics — and other subjects — were able to be carried out. There are many different types of adding machines that have been invented through the years, some which became popular and successful, and others which did not. Solomon Pool invented an adding machine that could add figures up to 999. Read on to learn about Solomon Pool and his adding machine.
Early Life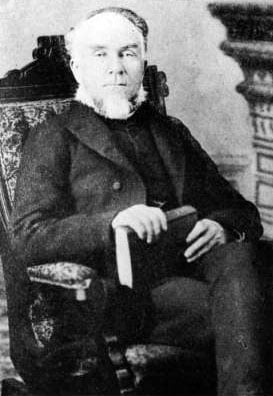 Solomon Pool (see biography of Solomon Pool), was born on April 21, 1832, at Elmwood on the Pasquotank, his family's plantation near Elizabeth City, N.C. Pool was an educator, the University of North Carolina president, and a clergyman. He was a member of one of the most prominent families in Elizabeth City, N.C., in the 19th century. His father, also named Solomon Pool, was a wealthy slaveholding planter who lived in Pasquotank County. His mother, Martha Gaskins Pool, died when Pool was five. Since his father died before his mother, Pool was raised by George Decatur Pool, his older brother, who became an active Republican. Pool's other brothers were John, who became a U.S. senator, and William Gaskins, who was a physician.
Career
Pool entered the University of North Carolina when he was seventeen and graduated with honors in 1853. Later that year, he became a mathematics tutor at the university, and in 1856, he received an honorary alumni master's degree. He was promoted to adjunct professor of math in 1861 and remained in that position until 1866. He then took a leave of absence to serve as U.S.S. deputy appraiser in N.C., a more lucrative position that paid $5,000 per year.
In 1869, Pool became president of the university for $1,500 annually and was allowed to keep his appraiser's job as well.
It's interesting to note that, while his father was a slaveholder, Pool rejected slavery and angered his contemporaries with his notions of egalitarianism.
Pool was a licensed Methodist Episcopalian preacher who preached at the Chapel Hill Chapel monthly, as well as a number of other venues as requested.
Marriage and Children
In 1856, Pool married Cornelia Kirkland. The couple had six sons and two daughters.
Pool became paralyzed while preaching at a revival in 1896. Though he recovered partially, his health remained poor and he died five years later.
Pool's Adding Machine
In 1873, Solomon Pool of Chapel Hill, North Carolina (at the time a principal of a school in Cary, N.C.), patented a small and handy adding machine (US patent 143184) (see image below).
The adding machine of Pool is a cylindrical adding device with a numerical capacity of 999 (although Pool mentioned that a ring for thousands, or rings for any number that represents a power of ten, may be employed). The input and zeroing of the device was made by rotating of the rotary plate B, b, b', which could be rotated in both directions.
The tens carry mechanism was implemented by means of a pawl, which caught a ratchet-tooth, and carried the motion to the next ring.