For many people, smartphones have become an integral part of life — they allow us to communicate with one another, coordinate our schedules, and much more from the palm of our hands. Whether you own one or not, it's hard to deny the influence smartphones have had on society at large; in the United States alone, 95% of adults own smartphones. That's why we're going to break down the ten largest smartphone companies in the world (ranked by 2021 revenue) and what they do.
#10. Alcatel-Lucent – $15.1 million
This is a French telecommunications company that was founded in 1996. Alcatel's main product lines include mobile phones and smartphones, broadband access services, data communication equipment for corporate customers and public operators, unified communications solutions for enterprise customers, and Internet access for residential users.
Nokia acquired Alcatel-Lucent in 2016. However, it continues to operate under Alcatel-Lucent. What's more, the OneTouch series is currently its most well-known smartphone line. The high standards and quality have attracted a large number of clients. In addition, the company provides customization and specialization in technology based on the needs of the consumers.
Pop, Idol, and Pixi are among Alcatel-premium Lucent's smartphone models. The business recently produced the Idol 5S, Pop 4 Plus, A30 Plus, and A50 smartphone models and the Idol 4 and Idol 4s series, which incorporate virtual reality.
#9. LG – $5.219 billion
This is a South Korean mobile phone company that designs and manufactures mobile phones and tablet devices. Over 222,000 people work for the company, which operates in over 80 countries. LG phones are also fairly popular in the United States, where they can be bought from retailers alongside Samsung and Apple handsets.
The LG V40 ThinQ, LG G7 ThinQ, and LG V60 ThinQ 5G are among the most popular phones on the market today. As the name implies, these smartphones are renowned for their thinness and low price. Many of LG's most popular brands are priced between $200 and $400.
In addition, LG has its own operating system called WebOS. While this multitasking Linux kernel-based operating system is particularly beneficial in LG's smart TVs, it has also been deployed as a mobile operating system.
#8. Vivo – $8.458 billion
This is a Chinese multinational technology that develops smartphones, smartphone accessories, software, and online services. The firm creates software for its phones, released through its V-Appstore, and includes Funtouch OS abroad, Origin OS in Mainland China and India, Android-based operating system, and iManager in their proprietary.
Vivo is a self-contained corporation that creates its own products. The company has more than 10,000 employees, with R&D centers in Jiangsu, Nanjing, Guangdong, and Shenzhen. It also has a strong presence in Asian, Russian, and Middle Eastern markets, where it has been one of the top-selling brands for several years.
The company has plans to expand into other markets, like Europe. The Vivo Y72 5G, 4G, Dual Sim, 3G, and Octa-Core are among the company's most popular products. These are low-cost phone options, with prices starting at $300. Like many others on this list, Vivo phones run on the Android operating system.
#7. ZTE – $18.2 billion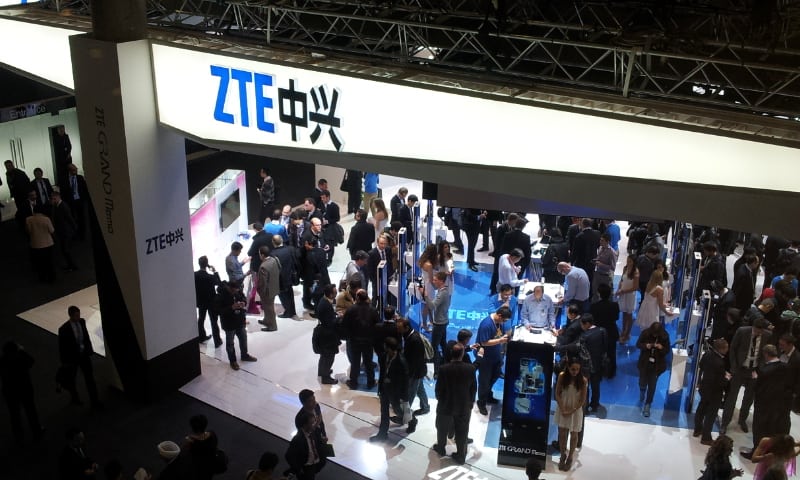 This is a Chinese multinational telecommunications equipment and services company headquartered in Shenzhen, Guangdong. It has subsidiaries in over 20 countries around the world.
ZTE is well-known for its smartphones, tablets, low-cost mobile phones, and other telecommunications and network equipment. They also offer their smartphones under the brand name "OEM" in several countries around the world. What's more, ZTE has established a presence in about 140 countries through intelligent marketing, a broad distribution chain, and smart advertising.
The company currently employs over 70 000 people and is one of the most popular phone manufacturers in the nation. The Axon 11, Blade 2020, Axon 30 Ultra, and ZTE Blade A7 are among the company's most popular phones. These phones run the Android operating system and can cost up to $300.
#6. Oppo – $37 billion
This company operates in over 50 countries and sells smartphones through its own brand and other brands like OnePlus. Their main focus is on offering high-end phones at affordable prices.
Oppo has released a variety of smartphones over the years, targeting both low-income and high-income customer categories. Despite entering the smartphone industry relatively late, Oppo has developed a strong brand presence.
In fact, clever branding and marketing strategies, together with high-quality products, have elevated Oppo to one of the leading mobile phone companies in the smartphone market.
The Oppo F17, Oppo Reno 2F, and Oppo K3 are among the most popular phones from Oppo. In addition, Oppo manufactures a large range of other items, including audio gadgets, power banks, Blu-ray players, and more.
#5. Xiaomi – $48.372 billion
Founded in 2010 and headquartered in Beijing, Xiaomi has quickly become one of China's most successful tech companies. With a customer base of more than 500 million users globally, it sells its smartphones mostly through online channels. With its proprietary Redmi and Mi Series smartphones, the corporation has a foothold in Turkey, Singapore, Brazil, China, India, and other Asian countries.
In addition to being one of the best-selling smartphone companies in the world, Xiaomi has helped make China a global tech powerhouse—and it's not hard to see why. The company makes high-quality consumer electronics at affordable prices, using cutting-edge materials and manufacturing techniques that are often more advanced than those used elsewhere in the industry.
The Redmi Note 10 Pro, Poco X3 Pro, and Poco F3 are among Xiaomi's most popular phones. The popularity of these phones has skyrocketed in recent years, with Xiaomi's growth increasing by 15.7% between 2019 and 2020. Using Xiaomi Smart Home product and its Internet of Things ecosystems, it's also a large manufacturer of gadgets, such as televisions, air purifiers, flashlights, and unmanned aerial vehicles.
#4. Lenovo – $60 billion
This is the fourth-largest smartphone company in the world, with a revenue of $60 billion. It makes Android phones, tablets, personal computers, televisions, and wearable devices.
Lenovo has established a global footprint in 180 countries and has risen to become one of the top global mobile firms. Lenovo's popular smartphones include the P, K, and A series, as well as the Zuk Series and the VIBE. Lenovo also introduced the Moto Z models, which live up to the company's mantra, "Different is Better."
Tango smartphones from Lenovo feature unique sensors that can monitor motion and measure the contours of a room; they can also measure the interiors of residences and buildings utilizing augmented reality features.
The company also offers specialized services for businesses such as virtualized phone systems, enterprise mobility management software, application management tools like cloud printing for business users, and enterprise mobility management platforms for companies that want to securely manage their employees' work-related data from anywhere in the world.
The Lenovo K12 Pro, Lenovo Legion Pro, and Lenovo Legion Phone Duel 2 are among the most popular phones on the market today. The company is also well-known for its Android and Motorola smartphone lines. However, computers and other electronic products tend to be Lenovo's primary markets.
#3. Huawei – $93.908 billion
The Chinese tech giant Huawei is one of the most successful smartphone manufacturers in the world, with $93.908 billion in revenue in 2021. The company was founded in 1987 and has since grown to become a global leader in the telecommunications industry, with operations around the globe.
Huawei had sold 200 million smartphones by 2018. They said that strong consumer demand for premium-range smartphones helped the business exceed $52 billion in consumer sales in 2018. With operations in over 170 countries across six continents, Huawei is an open and inclusive company dedicated to bringing broadband connectivity to a new generation of consumers.
The Huawei Mate series and the Huawei P series are their current high-end smartphone lines. P series phones are normally aimed at ordinary consumers as the company's flagship smartphones, refining and expanding on technology launched in Mate series devices. The Huawei P30 and Huawei Mate 20 are two of the company's most popular models. These phones, like Samsung's, use the Android operating system.
Huawei phones are also famous for their photography innovations. The Huawei P20 Pro, for example, was the first smartphone to be equipped with a Leica triple camera. The company's capacity to develop in this area has contributed to its current dominant position.
#2. Samsung – $240.71 billion
This company has been making smartphones for years, and they're still going strong. In fact, Samsung is the second-largest smartphone company in the world, with $240.71 billion in revenue in 2021. Samsung Electronics is headquartered in Suwon, South Korea, with additional offices around the globe, including China, India, Singapore, Malaysia, and Vietnam.
The company makes a wide range of devices, including tablets, laptops, and even refrigerators. It is also a big seller of tablet computers, particularly its Android-powered Samsung Galaxy Tab line. What's more, it's credited with pioneering the phablet industry with the Samsung Galaxy Note line of devices.
It has also created 5G-enabled smartphones, like the Galaxy S22, and foldable phones, such as the Galaxy Z Fold 4. Overall, the Galaxy is the company's most prominent and advertised brand. In addition, it uses semiconductor chips created by its affiliate Samsung Electronics.
#1. Apple – $365.817 billion
This is the largest smartphone company in the world, with a total of 1.2 billion smartphones sold as of 2022. The company boasts over 1 billion active users on its iOS platform and has been continuously ranked as one of the most valuable companies in the world.
Apple currently employs over 150,000 people around the world, with headquarters in California and offices in China, France, Germany, and Japan. Its success can be attributed to its innovative products, such as the iPad and iPhone. Apple's devices are marketed primarily toward consumers looking for high-quality devices that provide entertainment and connectivity while being easy to use.
Following the release of the iPhone in 2007, Apple rose to prominence in the smartphone business. In fact, it was the first touchscreen phone to have full internet connectivity, which was unheard of at the time. The most recent iPhone models are the iPhone 13 Pro Max, iPhone 14, and iPhone 14 Plus.
The new iPhone generation features superior three-lens cameras as well as the most powerful and intelligent chip yet found in a smartphone. Apple has been criticized for lacking innovation compared to other companies such as Samsung and Huawei. However, it still continues to dominate the industry with its loyal following.
Summary of The 10 Largest Smartphone Companies In The World
| Rank | Annual Revenue (2022) |
| --- | --- |
| 1 | Apple – $365.817 billion |
| 2 | Samsung – $240.71 billion |
| 3 | Huawei – $93.908 billion |
| 4 | Lenovo – $60 billion |
| 5 | Xiaomi – $48.372 billion |
| 6 | Oppo – $37 billion |
| 7 | ZTE – $18.2 billion |
| 8 | Vivo – $8.458 billion |
| 9 | LG – $5.219 billion |
| 10 | Alcatel networks – $15.1 million |
Up Next