Key Points
SunPower (SPWR) is a U.S.-based company that provides photovoltaic solar energy.
Renewable Energy Group (REGI) produces and trades renewable chemicals and biofuel.
First Solar (FSLR) is a company that develops and manufactures solar panels.
With the rapidly rising levels of greenhouse gas emissions in the world today, there is an urgent need to shift from nonrenewable energy sources to renewable energy sources. Thankfully, there are companies working to provide clean energy through wind, solar, hydroelectric, biomass, and geothermal. 
This has helped the world switch from fossil fuels to renewable energy, which is a step forward towards achieving the net zero carbon goal. In addition to providing climate-friendly energy sources, renewable energy companies create economic development and numerous job opportunities. 
Below are the ten largest latest renewable companies in the world and important information to note about them.
10. SunPower (SPWR)- Photovoltaic Solar Energy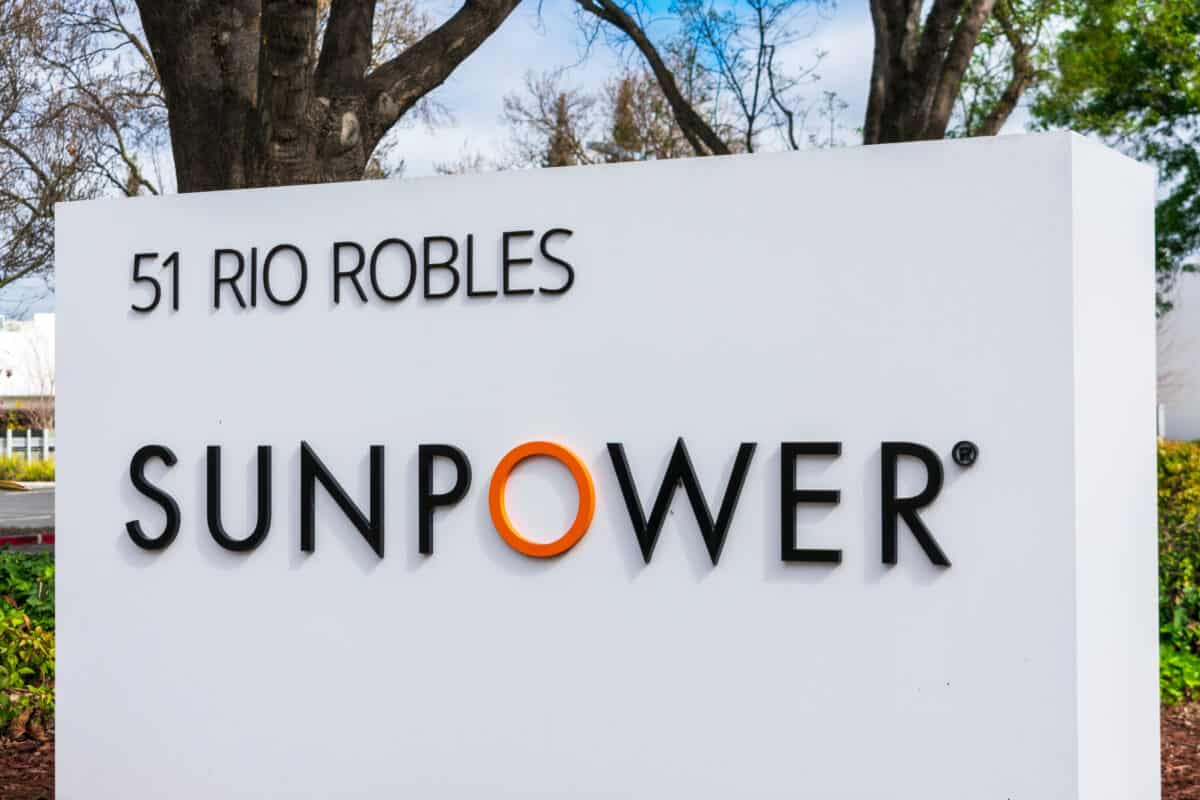 As its name suggests, SunPower(SPWR) is a U.S.-based company that provides photovoltaic solar energy. The company started in 1985 and its headquarters are in California. 
Its main function is to design and manufacture solar panels and systems. These solar systems are good for use by both residential and business homes. Additionally, SunPower also supplies solar equipment to residential and commercial customers in the world. 
They help save customers money on bills and encourage them to embrace their renewable energy switch option. The company's current revenue is $1.39 billion.
9. Renewable Energy Group (REGI)- Renewable Chemicals and Biofuel
Renewable Energy Group produces and trades renewable chemicals and biofuel. The company started in 1996 when it operated under the umbrella of West Central Cooperative in Iowa. In that year, they made their first batch of biodiesel.
It continued growing under this umbrella and got total independence in 2006 when it got its name. Currently, the company has 12 biofuel refineries across America and a feedstock processing plant.
The fuel produced is used in industries such as agriculture, aviation, construction, heating and power generation, railroad, and mining. Ideally, they produce more than 50 million gallons (227304500 liters) of biodiesel annually. This helps in carbon savings of more than 4.1 million metric tons.
In addition to the clean fuel solution, Renewable Energy Group produces other products such as glycerin, renewable propane, methyl esters, diesel fuels, gasoline, and ethanol blends. Moreover, they process animal fats, virgin vegetable oil, and other feedstocks that they sell to retail customers. The company's revenue is $2.61 billion.
8. First Solar (FSLR) -Solar Panels
First Solar is an American company with its headquarters in Arizona. The company develops and manufactures solar panels. It is the largest American solar manufacturing company that uses technology to optimize solar energy generation performance. The technology enables the increase of the energy grid and lowers the Levelized cost of electricity (LCOE).
Over the years, they have financed, developed, engineered, and operated some of the world's largest grid-connected P.V. power plants. Additionally, they have advanced designs of series 6 and series 6 plus that offer an advanced design meant to produce electricity with the lowest carbon footprint possible. First Solar also has other services such as renewable energy finance, maintenance and end-of-life panel services, and construction of facilities.
7. Canadian Solar Inc. (CSIQ)- Solar Photovoltaic Modules
This is a solar energy company in Canada that develops, manufactures, and installs solar photovoltaic modules. It has its headquarters in Guelph, Canada, and serves customers in almost 170 countries in the world. Canadian Solar Inc was founded in 2001 by Shawn QUI, the current president and chief executive. His goal was to bring sun-powered electricity to millions of people worldwide.
The company has delivered over 70GW of solar modules to its customers. This is enough to produce clean energy for over 16.5 million households. Additionally, they have opened subsidiaries in several countries in America and Asia that operate manufacturing facilities.
Canadian Solar Inc. plans to mass-produce N-type TOPon modules by the end of 2022. These products improve module wattage output. They will add to other high-power modules in the company.
The company has received several awards over the years, the most recent being the Top Bankable Manufacture Rated by Bloomberg New Energy Finance. Other awards are the Tier 1 Solar Company by Bloomberg New Energy which they got from 2017-2020.
6. Brookfield Renewable Partners (BEP)- Hydroelectric Operations
This Canada-based limited partnership company owns and operates renewable power assets. The company mainly focuses on hydroelectric operations and owns and operates wind, solar, and other distributed generations. They have renewable power generating facilities in North America, Colombia, Europe, Brazil, India, and China, which add up to over 6000 power generation facilities.
The energy production rate for Brookfield renewable partners is around 21000MW. With this, they help avoid 29 million tons of CO2 every year. This is equivalent to eliminating 6 million vehicles from the road.
Brookfield Renewable Partners have 229 hydro generation facilities and 87 river systems. These hydro generation facilities account for roughly 20% of the energy generated in Colombia. 
5. Siemens Gamesa Renewable Energy (GCTAY)- Onshore and Offshore Wind Turbines
This Spain-based wind engineering company sells onshore and offshore wind turbines. They also sell turbine gearboxes and off-grids. The company also offers reconditioning and maintenance services for these wind turbines.
Siemens Gamesa Renewable energy began in 2017 after Gamesa and Siemens merged. Before merging, these companies had worked individually for over 40 years. Their goal was to power factories and produce lighting while still cleaning the environment. However, they have hit these goals over the years and more so after merging.
The company has installed various technological products in many countries and produces about 120GW from the wind. It is mainly known for its S.G. 14-236DD offshore wind turbine, the world's biggest wind turbine. Additionally, they hold the first position in key markets across Europe, Africa, Asia, and America for onshore wind power.
4. Vestas (VWDRY) -Wind Turbines
Vestas is a company that manufactures and offers installation services of wind turbines. They also operate a service segment that provides spare parts and service contracts, among other related activities. The Denmark wind energy company has developed and installed wind turbines in 88 countries worldwide. These turbines have prevented 1.7 billion tons of CO2 from being produced over the last 40 years. 
The growth journey for Vestas started back in 1898. The company has had steady growth, and it will be celebrating its 77th birthday in November 2022 since it was registered in 1945. Vestas was the first company to achieve the 100GW landmark after it installed and serviced wind turbines.
In addition to creating energy through wind, Vestas has created numerous employment opportunities and currently has more than 29,000 employees. It was the most sustainable company in the world in January 2022, an award given by Corporate Knights. Additionally, they plan to create the world's first circular turbine blade through a CETEC project in 2022.
3. Orsted A/S (DNNGY) – Offshore and Onshore Wind Power and Bioenergy
Orstred A/S is a Denmark-based multinational power company with a revenue of 51.45 billion. It constructs, develops, and operates offshore wind farms using bioenergy and thermal power. However, it aims at being carbon neutral in all its operations by 2025.
In addition to offshore wind, Orsted also deals with renewable hydrogen, onshore wind, bioenergy, solar, and storage. This portfolio helps countries and companies speed up their adaption of renewable energy and reduce fossil fuels. The company is leading in offshore wind production, which helps them provide green power to over 15 million people.
Additionally, the onshore wind turbines that they operate have a capacity of 1.3GW in the U.S. They are ongoing projects to create more solar and wind projects in South Dakota, Texas, and Nebraska. Besides, the Corporate Knights Global 100 index has ranked Orsted A/S as the topmost sustainable energy for four consecutive years. Additionally, they are the largest energy company in Denmark that provides wind power, thermal power, bioenergy, and customer solutions.
2. Iberdrola (IBDRY)- Wind Energy
Iberdrola is a Spain-based multinational electric company that generates, distributes, and trades electricity. It operates in the U.S., UK, Spain, Mexico, and Brazil. Moreover, its international presence is in Portugal, Greece, Japan, and Australia. The company has a revenue of $36.90 billion.
Iberdrola has a history of more than 170 years since it began as Hartford City Light Company. It is currently leading in wind energy by producing 42,951 GW per year. It aims to exceed 60,000MW by 2025. The company currently supplies energy to around 100 million people worldwide and has provided job opportunities to over 40,000 people, placing them among the largest renewable companies in the world.
The company has several flagship projects, such as the East Anglia Hub Offshore wind project, vineyard wind 1 offshore wind farm, Kitty Hawk Offshore wind farm, and Park City Wind offshore wind farm.
1. NextEra Energy (NEE)- Nuclear Energy and Electric Power from Wind and Solar
The NextEra Energy company is built and based in America. Its main role is in electric power where they generate the power, transmit it, distribute it, and sells it. This electricity is produced through solar, wind, nuclear, natural gas facilities, and coal. The company is generating economic benefits by investing in infrastructure and creating jobs across America through electricity production.
NextEra was created in 1925, and it was then called Florida Power and Lighting Company. Back then, the company owned power plants, ice companies, gas plants, and even ice cream services. It was later renamed NextEra Energy in 2010 to show its commitment to serving customers outside of Florida. 
They have a market capitalization of over $100 billion, making them the world's largest utility company and among the largest capital investors of infrastructure in America. They have reduced America's dependency on foreign oil by 98% since 2001. Their electricity generating capacity is 24.6GW spread out in Canada and the U.S. 67% of this energy is from wind, 14% from solar, 9% nuclear, and 10% from other sources.
NextEra captures energy from the sun and wind and stores it. They have over 180MW of battery energy storage to ensure their customers have energy whenever needed. Moreover, they have energy storage innovations such as the Babcock ranch solar energy, the largest solar plus storage facility in America. They also have other solar storage facilities in several states across the country.
Conclusion
Without drastic measures, the world is likely to continue suffering from the effects of greenhouse gases. Luckily, with these latest renewable companies, there is hope that the world will not succumb to the advanced effects of the use of fossil fuels. Select the company that best works for you among these mentioned above and join the race towards achieving a zero-carbon footprint.
Summary of The 10 Largest Renewable Companies In The World, And What They Do
| Rank | Company |
| --- | --- |
| 1 | NextEra Energy (NEE)- Nuclear energy and electric power from wind and solar |
| 2 | Iberdrola (IBDRY)- Wind energy |
| 3 | Orsted  A/S (DNNGY) – Offshore and onshore wind power and bioenergy |
| 4 | Vestas (VWDRY) -Wind turbines |
| 5 | Siemens Gamesa Renewable energy (GCTAY)- Onshore and offshore wind turbines |
| 6 | Brookfield Renewable Partners (BEP)- Hydroelectric operations |
| 7 | Canadian Solar Inc. (CSIQ)- Solar photovoltaic modules |
| 8 | First Solar (FSLR) -Solar panels |
| 9 | Renewable Energy Group (REGI)- Renewable chemicals and biofuel |
| 10 | SunPower (SPWR)- Photovoltaic solar energy |
Up Next