3D printing is a fascinating technology that allows users to create physical objects from their desired digital designs. The process entails molding layers of liquid material to parts of the design and fusing them.
This type of technology may sound futuristic to most people, but that is far from the truth. 3D printing technology has existed for over thirty years and is used in different scientific fields. As such, 3D printing is a niche market, especially in today's world in which people seek new sustainable production means.
Various players have jumped on this market, set to be worth over $83 billion in the next decade, and have gained considerable profits from the business. While most of these companies are from North America, 3D printing is a global business with companies from all parts of the world.
This article gives insight into the business as it discusses some of the world's leading 3D printing companies, ranked by their 2021 revenue. Stay tuned! 
#10: Nano Dimension – $10.49 million
Starting off our list is a company that seeks to change the world by building intelligent machines that transform how the world manufactures. Despite being a relatively new company, Nano Dimension has reached considerable heights in the 3D business.
Amit Dror founded the company in Israel in 2012. He's currently serving as its Chief Sales officer. With its current headquarters in Waltham, Massachusetts, Nano Dimension offers production solutions through 3D printing that incorporates impeccable designs that ensure each product's efficiency.
The 3D printing company is among the pioneer producers of additively manufactured electronics technology. It has transformed how printed circuit boards and other connected devices are made. The company's niche is its unique production methods and attention to detail; down to the micron level.
Despite moving its headquarters to the United States, Nano Dimensions retained most of its manufacturing services in Israel. It combines advanced technologies, such as 3D inkjet, 3D software, and nanomaterials, in coining its products.
DragonFly Pro
Some of the products the startup is known for include the world's first-ever manufacturing electronic printer. It integrated production processes, making them faster and more accurate. The company also developed the DragonFly Pro precision system, dedicated to computer chips.
Through its innovative use of 3D in manufacturing electronic components, Nano Dimensions has built itself from a local Israeli-based enterprise to a reputable company on the global scene.
Recently, in 2021, the company experienced increased sales, recording $10.49 million in revenue and earning its spot as one of the largest 3D companies in the world.
#9: Desktop Metal – $19 million
Desktop Metal is a newcomer in the 3D printing business with considerable success. The company originates in Cambridge, Massachusetts. Ric Fulop, Johan Myerberg, Yet-Ming Chiang, Chris Schuh, Ely Sachs, John Hart, and Rick Chin founded it in October 2015. 
With Sach's knowledge and experience with 3D printers and $14 million in funding, the team started working on prototypes that would define their business. By 2017, the young startup company made substantial business progress as it partnered with major companies, such as Ford Motor and BMW, helping them streamline their production processes.
Later that year, in April, Desktop Metal launched its first two products. One was Studio Systems, a 3D metal printing system designed for engineers conducting small production runs. The other was the Production System which, as the name suggests, is intended for large-scale 3D printing.
The inventions were pivotal in the company's growth as they earned substantial revenue. As a result, Desktop Metal could hire more staff and continue its innovative journey.
Patents
In its few years of operation, Desktop Metal has two patents to its name. These include ones for an interface layer, separable support, and hundreds of other pending patents for numerous inventions. Once approved, the company could easily climb the ladder as one of the world's most influential 3D printing companies.
Expansion
In 2021, the company expanded its venture from exclusive metal printing, commonly associated with engineering, to photopolymer printing by purchasing EnvisionTEC. This venture allowed the company to launch Desktop Health, a subsidiary specializing in 3D printed healthcare products, immensely contributing to its $19 million revenue at the year's close.
The company is on an upward trajectory as it continues expanding its scope and partnering with other companies. Recently, Desktop Metal acquired a subcontract under the Defense Logistics Agency, with potential earnings amounting to $15 million.
#8: Velo 3D – $27 million
Velo 3D is a 3D company founded in 2014. It manufactures (AM) complex geometric structures additively. The founder, Benny Buller, built the company with the objective of optimizing the design phase to inform manufacturing. The process unites Sapphire, hardware, and software on the front and back end (Flow and Assure).
Due to this technology, leaders can embrace AM to come up with previously considered close-to-impossible designs and outcomes. The company allows designers and engineers to constantly print parts to exact standards of consistency, responsibility, and quality.
First Software
The company's first software, Sapphire, uses intelligent fusion to print complex metal objects by sintering a bed of powder with a laser. The technology is capable of creating geometrically complex objects without the need for a support structure.
Velo 3D also offers Flow Software that prescribes the manufacturing process to the Sapphire family of metal 3D printers. The software eliminates the need to develop new part-specific parameter sets. Thus, it saves months of development time and reduces the need for specialized technicians. 
In 2021, the company reported a 45% increase in revenue, reaching $27million. Higher Sapphire system sales drove the increase, boosting the company's revenue from support services.
Velo 3D will likely report a higher revenue in 2022. The company announced a revenue increase of 176.1% in Q2 2022, increasing its earnings for the fourth consecutive quarter. 
#7: Stakeholder Foods (Previously MeaTech 3D) – $43.8 million
MeaTech 3D is a technology company that develops bio-printing software focused on cellular agriculture. Founded in 2019, the company is headquartered in Ness Ziona, Israel. It manufactures technology that produces alternative protein products that focus on producing cell-based beef and chicken.
In 2022, the company changed its name to Stakeholder Foods, intending to reflect its commitment to creating a group of meat lovers who support in vitro meat production worldwide. The company is a pioneer in the cultivated meat sector and is known to produce sizeable meat cuts using its advanced 3D bio-printing technology.
In December 2021, Stakeholder Foods boasted about having produced the largest cultured steak ever produced, weighing 3.67 oz (104 grams). The meat products comprise real meat that is cell-based, slaughter-free, and considered safer than farm-raised meat.
These exploits, led by science and technology, enabled the company's capital revenues to rise from $15.6 million in 2020 to about $43.8 million as of June 2021.
#6: Xometry – $218.3 million
Xometry is an industrial on-demand parts marketplace in Maryland. Altschuler and Laurence Zuriff founded the company in 2013. It seeks to provide buyers with access to instant and larger seller capabilities. Xometry went public in 2021, raising capital for expanding its operations.
The company supports businesses in the product development stage. It does so by equipping them with machines they can use for rapid prototype production. This reduces the time required to validate the prototypes and move into the next development phase.
The company uses two core technologies to meet clients' demands. These are direct metal laser sintering (DMLS) and binder jetting. The company reported a revenue of $218.3 million in 2021, a 54% increase from the $141.4 million it reported the previous year.
#5: FARO Technologies – $338 million
FARO Technologies has been in the 3D printing industry since the technology was invented. The American industrial company was formed in 1981, with its production centered on portable measurement technology.
These innovations have enabled FARO Technologies to establish itself as an industrial powerhouse in 3D printing. Though its headquarters are in Mary, Florida, the company has subsidiaries in Europe and Asia and employs over 1,000 people.
FARO's 3D mobile measurement technology offers a convenient alternative to conventional measuring techniques such as the Vernier calipers and dialogue gauges. The technology makes it possible to detect and rectify production errors as measurements are taken remotely, without transporting them to a measuring room for quality assurance.
The portable measuring technology is not limited to production. It can be used in numerous fields, such as conducting forensics and medicine. Since its establishment, FARO Technologies has acquired numerous manufacturing companies as clients, including Volkswagen, BMW, Ford, and Siemens.
As of 2021, the company had 15,000 customers and over 20,000 installations, making it a world leader in portable computer-aided machines and the 3d printing business. Unsurprisingly, it closed the year with $338 million in revenue.
#4: Protolabs – $488.1 million
Ushering us to the world's top three largest 3D companies in the world is Protolabs. The company produces and supplies 3D-printed sheet metal and injection-molded custom parts.
The company was established in 1999 as Protomold Company Inc., specializing in the 3D printing of plastic custom molded parts. It was famous for its brilliant designs and rush orders, which earned them several clients.
In 2009, Protomold Company rebranded as Protolabs and expanded its business to Japan, offering similar efficient services. Today, Protolabs specializes in other products besides plastic molded parts.
It widened its scope to include aluminum, ABS, nylon, and PEEK products to compete with tech and robotics companies. This expansion especially came in handy during the Corona Virus pandemic in 2020 as the company produced and distributed medical equipment, masks, face shields, plastic clips, and test kits to hospitals.
While most companies registered losses during the period, Protolabs gained considerable profits and made great business strides. It reported a revenue of $488.1 million in 2021.
#3: 3D Systems – $615.6 million
You can't complete a list of the largest 3D printing companies without mentioning 3D Systems. The company is one of the largest South Carolina-based tech companies offering comprehensive 3D printing services.
3D Systems manufactures and sells 3D printers, printing materials, and scanners. It also offers 3D printing services for custom designs. For anything related to 3D printing, the company will have you covered.
Chuck Hull established the company in 1986 in Valencia, California. He holds the patent for the first stereolithography rapid prototyping systems. The invention enabled the 3D printing pioneer to create models and prototypes by layering material according to a given design.
It is used in various industries, offering fast and accurate production methods. As a pioneer in 3D printing, 3D Systems has considerable success in the industry and remains relevant to date. Its success is attributable to its 3D printer sales, as the technology is becoming increasingly popular.
The company earns considerable revenue through licenses for its patents in related products. In 2021, the company registered $615.6 million in revenue, cementing its place as one of the largest 3D printing companies in the world.
#2: Stratasys – $680-695 million
S. Scott Crump founded Stratasys in 1939. The company sold its first product, the 3D Modeler, in April 1992. In 1994, the company sold its 1.38 million shares, making approximately $5.7million. The move allowed the acquisition of IBM's rapid prototyping intellectual property and various assets, including employees developing a new 3D prototype that relied on Crump's patented Fused Deposition Modelling (FDM) technology.
Stratasys technology rose to become the best-selling rapid prototyping technology company. The company then acquired Solidscape, which manufactured 3D printers for jewelry, medical, dental, and industrial markets in 2011. The company has continuously been among the leading 3D printing companies due to its ability to push innovation limits.
Over the years, the company has been involved in various industries, including Aerospace, Automotive, Dental, Medical, Education, Art, and Fashion. In 2021, the company revenue was estimated to be between $680 million and $695 million, an increase from the $520 million it reported the previous year.
#1: Xerox – $7.03 billion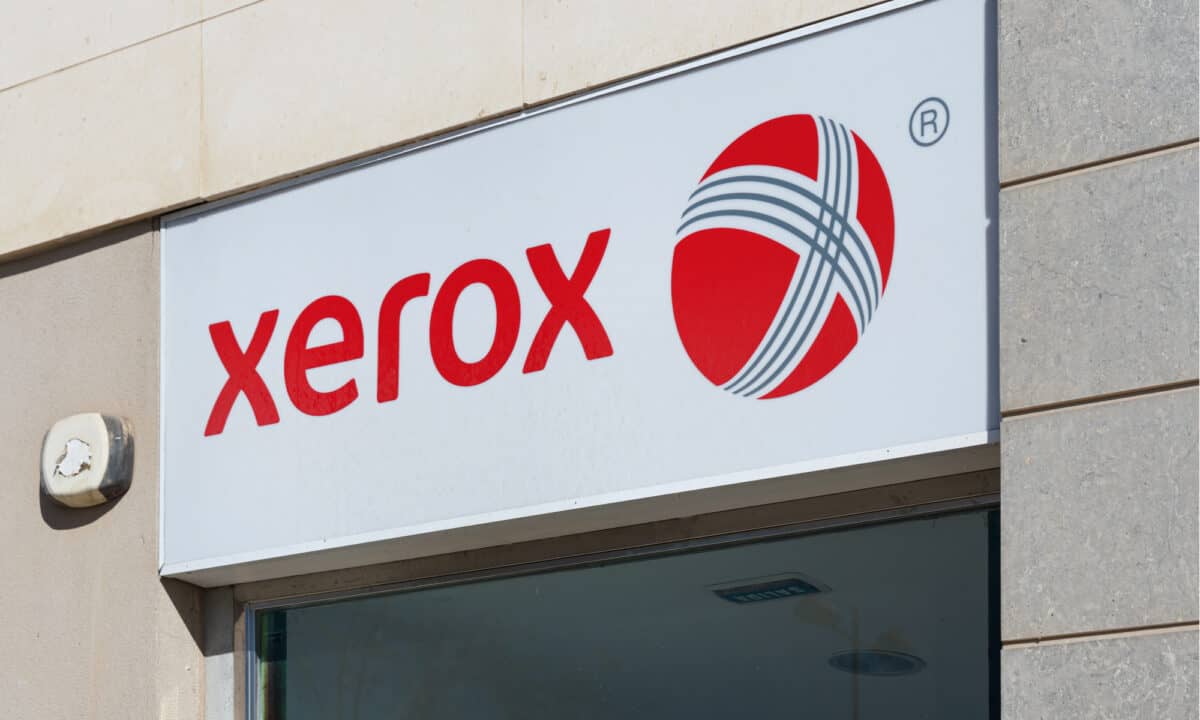 Xerox is by far the largest company in the 3D printing business globally. The company has been providing technology solutions for over a century to its numerous clients. Joseph C. Wilson established the company in Rochester, New York, in 1906. Initially, it manufactured and distributed photographic paper and equipment.
The business evolved over the years, and the company eventually settled into the printing and photocopier market. If you visit any office, you are likely to bump into a Xerox printer copier, or perhaps you've heard of their products, such as the Xerox Notetaker.
Currently, the billion-dollar company operates in over 160 countries, with its 3D printing business centered on printing various equipment for its clients. It also offers various services, such as workflow automation, content management, packaging, and document transaction processing to various industries.
Xerox has consistently recorded business success. It gained an impressive $7.03 billion in revenue at the end of 2021. The company continues to bag various contracts in addition to its sales.
Summary of the 10 Largest 3D Printing Companies in The World
| Rank | Company |
| --- | --- |
| 1. | Xerox – $7.03 billion |
| 2. | Stratasys – $680-690 million |
| 3. | 3D Systems – $615.6 million |
| 4. | Protolabs – $488.1 million |
| 5. | FARO Technologies – $338 million |
| 6. | Xometry – $218.3 million |
| 7. | MedTech – $43.8 million |
| 8. | Veto3D – $27 million |
| 9. | Desktop Metal – $19 million |
| 10. | Nano Dimensions – $10.49 million |
Up Next