Last updated

July 15, 2021
History of Computers and Computing, Mechanical calculators, 19th century, Saxonia calculating machine
Eduard Zeibig (left) and Eugen Straßberger (right)
Saxonia (Zeibig, Straßberger and Schumann)
In 1895 three of the mechanics, who worked in the factory of Arthur Burkhardt in Glashütte— Eduard Zeibig (1856-1944), Eugen Straßberger (1857-1945), who started with Curt Dietzschold in 1878, and Josef Schumann (who was a foreman in the factory), decided to leave and to found a new factory for calculating machines—Glashütter Rechenmaschinen-Fabrik Saxonia. In this factory was produced the successful calculating machine Saxonia. Schumann left the company in 1912, but the founders Zeibig & Straßberger continued to run the company together. Later on in 1920 the factory Saxonia will merge with the factory of Burkhardt and the joined company United Glashütte Rechenmaschinenfabriken was opened. It will continue production up to 1929, when a bankruptcy of the company was opened.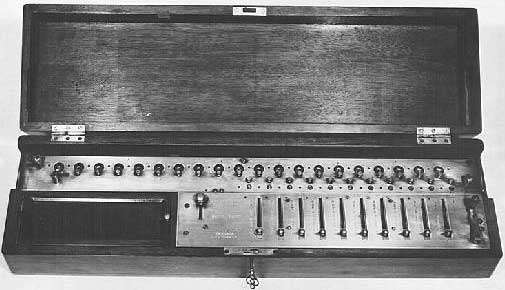 One of the first models of Saxonia calculating machine (Courtesy of Nico Baaijens, www.calculi.nl)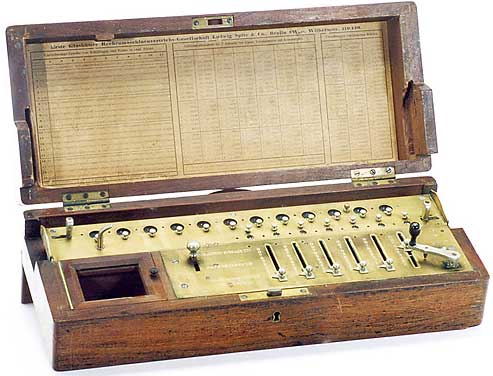 First models of the machine certainly are almost identical to the Burkhardt's Arithmometer, but later models had many improvements, such as a rotary setting lever by which a dust-tight encapsulation the mechanism was possible, moment cancellation mechanism, rolling box lid. There was even a model with a keyboard, instead of the traditional sliders of stepped-drum machines.
A portable model of Saxonia calculating machine
Over 12000 Saxonia machines were manufactured and sold from 1895 to 1914.