Key Points
Tesla remains the world's #1 EV seller when only all-electric EVs are counted.
The Tesla Model Y was the top worldwide EV for 2022's first half (1H 2022).
China's BYD has climbed to second place and is in the first place if hybrids are included.
Electric vehicles' surging popularity is a major testament to their current excellence after many years of being short-range, often-unreliable curiosities. Scientists worked tirelessly to make the advances in batteries and electric motors powering today's automotive revolution.
Now, with an array of EV cars, SUVs, pickups, and even off-road ATVs and UTVs, EVs are seriously challenging the primacy of gasoline and diesel vehicles. Maverick businessman Elon Musk's Tesla spearheaded the new trend but many other companies are now adding to the momentum.
Tesla occupied the leading position among 2021's 15 largest EV companies with a global market share north of 20%. The company was still in the lead during 2022's first half but dipped below 20% market share (19.2%). People bought more Tesla Model Ys in 1H 2022 than any other EV. Meanwhile, Chinese EV maker BYD ("Build Your Dreams") climbed to second place.
While the list of 2021's 15 biggest EV makers gives a look at the recent market, we're giving you a snapshot of where the market is going. More drivers than ever are opting for electric vehicles with American sales jumping 41% in 2022. Here's a rundown of the 10 best EV companies in the world right now, based on the number of plug-in vehicles (BEVs and PHEVs) they sold through October 2022.
10. Chery – 202,678 plug-in vehicles
Chery Automobile Co. Ltd. has had a somewhat checkered history since its 1999 founding. The Chinese company claims it has more than 11,000 patents for unique features on its vehicles. However, many foreign companies claim it has copied many features and designs directly from other automakers.
Even its name has been suggested to be an attempt to make its vehicles look like "Chevy" vehicles to enhance their appeal. With state ownership and backing, it is unlikely to face consequences if any of the accusations are true.
Chery also seems to be putting its own branding on vehicles made by other companies. The Australian edition of Drive reports a new Chery utility vehicle model for the Australian market is really built by ZX Auto. Chery previously said it was building the new "ute" itself after designing it from square one. It's possible some of its EVs are made in the same way.
Regardless of their exact origin, though, Chery's EVs are selling well enough to put it in the top 10 EV automakers of 2022. It passed the 202,000 sales mark by October 2022. Most of Chery's EVs are extremely compact city cars, designed to take up very little space in dense Chinese urban areas.
But its partnership with Huawei should see several larger models rolled out in March 2023, TechNode says. Both models are at the pricier end of the EV market, at least by Chinese standards. One is a sports sedan and the other is said to be a large crossover SUV. Engineers used Huawei software and a CATL Qilin battery pack, the latter said to provide an outstanding range of 435 miles.
9. GAC – 212,741 plug-in vehicles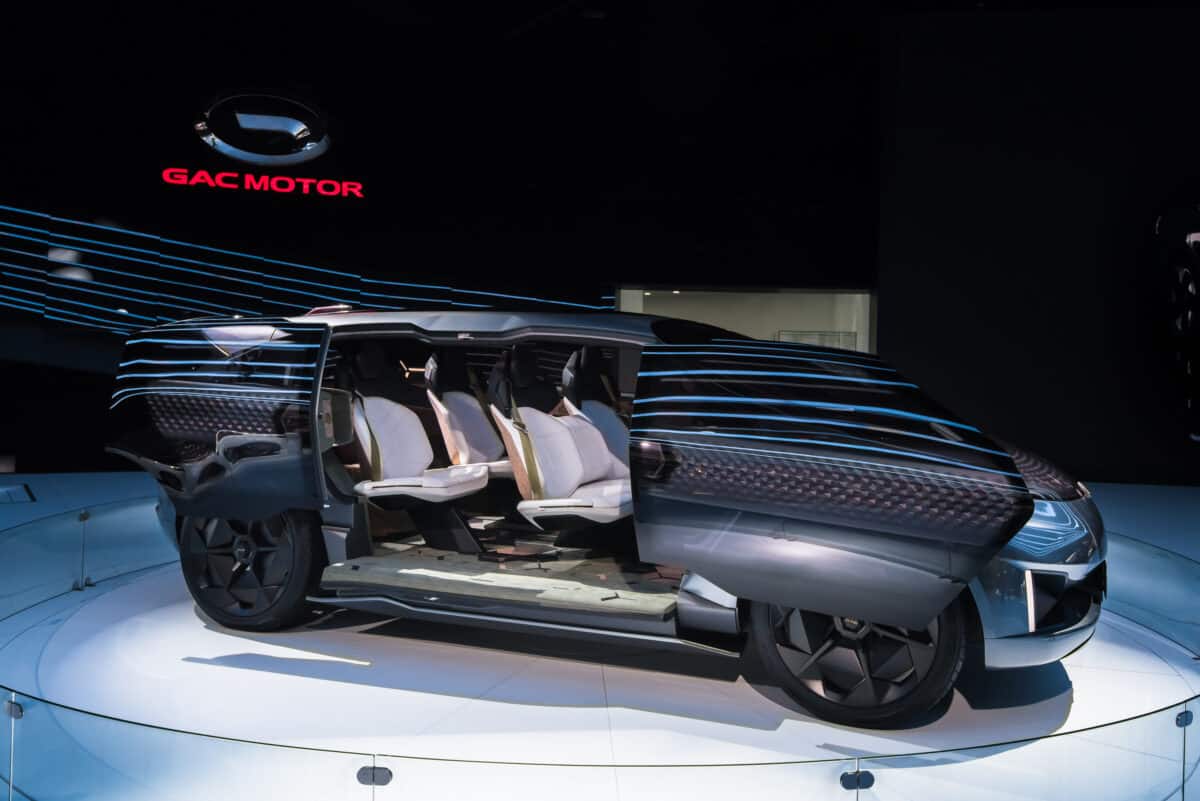 Chinese automaker GAC Motor claimed a place for itself in 2022's ten best EV makers when it reached 212,000 plug-in sales. Originally founded in 2008, the company broke through in the past year with outstanding growth in EV sales.
In the first half of 2022 (1H 2022), EV deliveries soared 135% above 2021's figure for the same time period. Some sources report even higher BEV sales, which could potentially put it in eighth place ahead of Mercedes. Additionally, while it has plug-in hybrid models, the vast majority of its 2022 sales are all-electric BEVs.
While it naturally sells mainly in China, the ambitious company also offers its vehicles as far afield as Russia and Peru. It sells its EVs in Qatar, where it recently announced a special Ramadan promotion. GAC Motor's expansion is notable because it is happening in the Chinese EV market, one of the world's most competitive. Of course, state ownership of the company likely gives it a leg up.
GAC Motor still hasn't broken into the USA market, with its nearest approach being sales in Mexico. Even there, it will initially call the vehicle it plans to sell the Dodge Journey rather than it appearing under the GAC nameplate.
When GAC Motor's EVs will appear in the United States, or whether they will at all, remains uncertain. However, they appear ready to keep competing with other brands, including the mighty Tesla, in the important Chinese market.
8. Mercedes – 225,159 plug-in vehicles
The famous luxury car company Mercedes didn't launch its first EV until 2019, making it a latecomer to the market. However, it's been working hard at catching up since then, building on earlier EV platform developments.
It sold more than 225,000 plug-in vehicles in 2022 through October, including both PHEVs and BEVs. Hybrids slightly outnumbered all-electric vehicles in this year's sales, but more EVs are on the way.
Mercedes recently introduced the EQB SUV, a luxury vehicle with moderate power and range by EV standards. Its engineers built the sport-utility on the EQ platform unveiled at the Paris Motor Show six years ago. The EQB was built more as a spacious daily driver than for sporty high-speed maneuvering.
The company also manufactures an EQV minivan seating 7 people, again with a fairly modest range of under 250 miles. The EQV has a camper version with a pop-up roof and a built-in kitchen area.
The automaker says it's changing its entire lineup over to electric vehicles by 2030. ESG Today reports Mercedes is investing 40 billion Euros, or about $42.5 billion, in the transformation. Its CEO Ola Kallenius remarked on how the "EV shift is picking up speed – especially in the luxury segment, where Mercedes-Benz belongs."
In addition to its existing EV platforms, Mercedes plans to add three more in 2025. It wants to roll out platforms supporting all-electric large passenger cars, sports cars, and vans.
These platforms will, of course, support multiple configurations, giving Mercedes more flexibility in the types of EVs it builds. It also has a battery manufacturing joint venture with Stellantis, an enterprise named Automotive Cells Company.
7. BMW – 268,198 plug-in vehicles
One of seven automakers to pass the quarter-million mark in plug-in vehicle sales during 2022, BMW is continuing a trend it started with its first EV in 1972. It focuses on building luxury EVs, including its flagship BMW i3 which has been on the road since 2011. The current production BMW iX offers sporty driving as an SAV or "sport activity vehicle" and 0-60 mph times as short as 3.8 seconds for higher trim levels.
BMW has been a pioneer in EVs for over a decade. However, its low production numbers and high prices obscure its contributions and keep it out of the limelight. Its plug-in vehicle sales rose 19% year over year between 2021 and 2022's first halves. The automaker continues selling more PHEVs than EVs, but both sections of its business are growing.
Press releases from BMW state it has retrofitted all of its factories in Germany to manufacture EVs. Production of gasoline models continues also, at least for the time being. The company says that by "2024, at least one in three BMWs coming out of our Bavarian plants will be an electric car."
Government officials back up the statements by saying Bavaria is turning into a stronghold of EV manufacturing. With that said, BMW isn't using all its chips to wager on BEVs alone. It also has a hydrogen-powered model available, the iX5. Most carmakers focus on only a single type of gasoline-free vehicle – EVs – but BMW, like Toyota, appears to be hedging its bets.
6. Stellantis – 293,000+ plug-in vehicles
Stellantis, the parent company of Jeep, Mopar, Dodge, Chrysler, Ram, Maserati, and a total of 14 auto brands, committed strongly to EVs in 2022. The automaker recently launched a plug-in hybrid electric (PHEV) version of its iconic Jeep Wrangler, dubbed the 4xe.
It began installing chargers at popular off-road trails in partnership with Electrify America at the same time. The chargers aim to make the wide open spaces more accessible to off-road EVs and thus boost the Wrangler 4xe's appeal to buyers.
The Europe-headquartered Stellantis plans more electrified releases for its popular Jeep nameplate. These include all-electric BEVs like a new Jeep Recon, Jeep Wagoneer, and a Europe-only Jeep Avenger. Its existing worldwide BEV and hybrid sales already topped 293,000 before October 2022.
The company reported 186,000 all-electric BEV sales during 2022's first half (1H 2022), a 50% jump year-over-year. During the third quarter (Q3) it sold 68,000 more BEVs, up 41% from a year earlier.
Beyond its current lineup, Stellantis plans a big reveal of new EVs at the February 2023 Las Vegas CES show. The Ram Revolution BEV 1500 full-size EV pickup truck stars as the splashiest new offering previewed at CES. Stellantis intends to display upcoming EVs for its Dodge, Chrysler, Jeep, Peugeot, and Fiat brands at the same event.
Stellantis wants to have an EV variant of all current Jeep nameplates by 2025. Customers are currently buying EVs and PHEVs at an approximate 60%/40% ratio. The company's bold electrification strategy calls for launching 75 individual EV models by 2030. It also expects to sell 100% BEVs in Europe and 50% BEVs in the United States by that date.
5. Volkswagen – 319,373 plug-in vehicles
Despite its long and storied history as an automaker, Volkswagen was slow to join the EV revolution. The company initially focused more on so-called "clean diesel" passenger car models, leading to the "diesel scandal" of 2015.
Volkswagen built cars able to detect a test driving regimen and temporarily reduce their emissions of toxic nitrogen dioxide. However, once it was "caught," Volkswagen committed strongly to EVs. The German "people's car" company has rolled out new electric models steadily over the past few years.
It plans to make its new ID.4 Standard trim crossover in the USA, possibly holding the price below $40,000. VW's engineers gave the ID.4 Standard a spacious, comfortable interior and a big enough battery for 208 miles of range.
It's also releasing the ID. Buzz microbus, an all-electric version of the famous original Microbus of the Fifties, Sixties, and Seventies. The new Buzz is a surprisingly faithful reincarnation of the original Microbus' look and feel, married to eco-friendly electric power.
Volkswagen is putting its money where its mouth is, moving forward with several new EV and battery factories in America. The company means to invest at least several billion dollars in US production. It's also setting up its historic Wolfsburg, Germany factory to construct ID.3 EVs and an upcoming battery-electric SUV.
It says the changeover to EV manufacture at Wolfsburg, one of the world's biggest auto factories, will cost it $482 million. Construction crews should complete the site's makeover by 2025, just in time to roll out VW's dedicated all-electric MEB platform.
4. Hyundai-Kia – 363,547 plug-in vehicles
Hyundai and Kia are both parts of the Hyundai Motor Group and form a complex decentralized conglomerate making cars in South Korea. Hyundai is the country's largest automaker and Kia is the second biggest.
With their unusual "chaebol" conglomerate alliance neither company fully controls the other. The two are linked by owning a stake in the other's operations and sharing platforms for many vehicles, including some EVs.
Like many Asian conglomerates, the Hyundai and Kia alliance makes a wide range of industrial products. One subsidiary, Hyundai Rotem, manufactures the K2 Black Panther main battle tank, used by the South Korean and Polish armies.
Kia started as a bicycle part manufacturer in 1944 while Hyundai's origins are as a construction company in 1947. The company's EV sales continue to grow with over 363,000 PHEVs and BEVs bearing a Kia or Hyundai nameplate sold in 2022 so far.
Hyundai manufactures well-known and well-received EV models like the Ioniq 5 and Ioniq 6 today. It is also looking into ways to make driving EVs more enjoyable. The company wants to eschew a bland electric driving experience by developing a simulated manual shifter.
The stick shift would provide the feeling of shifting gears and might be linked to changes in torque for the proper sensation like other automakers' planned shifters. It also means adding engine noises.
Hyundai Motor Group is building EV and battery factories in the state of Georgia, USA in response to the Inflation Reduction Act. Construction companies will start work on the facilities in 2023 and Hyundai plans to have both EV and battery facilities operational by 2025.
3. SAIC-GM-Wuling – 400,953 plug-in vehicles
The triple alliance between SAIC, General Motors, and Wuling Automotive began in 2002 and is going strong two decades later. The joint venture sold plenty of vehicles in China long before EVs were even a blip on the automotive horizon. The manufacturing group seized on the new electric vehicle trend and started producing models as soon as it became technically viable.
SAIC-GM-Wuling sold more than 400,000 BEVs and PHEVs during 2022's first three quarters. Its electric city cars are extremely popular in China, Indonesia, and several other markets. The tiny vehicles are generally two-door subcompacts with two, three, or four seats squeezed into the interior.
BYD's engineers design many of these vehicles to be less than 10 feet long. This gives them a significant advantage for maneuvering through dense traffic or finding parking in crowded cities. Performance is often surprisingly good for such miniature cars. Some offer top speeds over 60 mph and a range of about 190 miles.
The company recently announced the availability of yet another model, the Wuling Air EV. It built the new EV city car from the ground up rather than repurposing gasoline subcompacts like with previous models. BYD kept the stumpy, cube-like design of its other cars despite the design overhaul.
However, it stayed focused on its signature offering of power in a compact package. The pint-sized Wuling Air EV punches above its weight with 111 ft-lbs of torque and develops 67 maximum horsepower. It can also charge up on a Level 3 charger in three-quarters of an hour and drives up to 186 miles per charge.
2. BYD – 584,285 BEVs (1.4 million plug-in vehicles)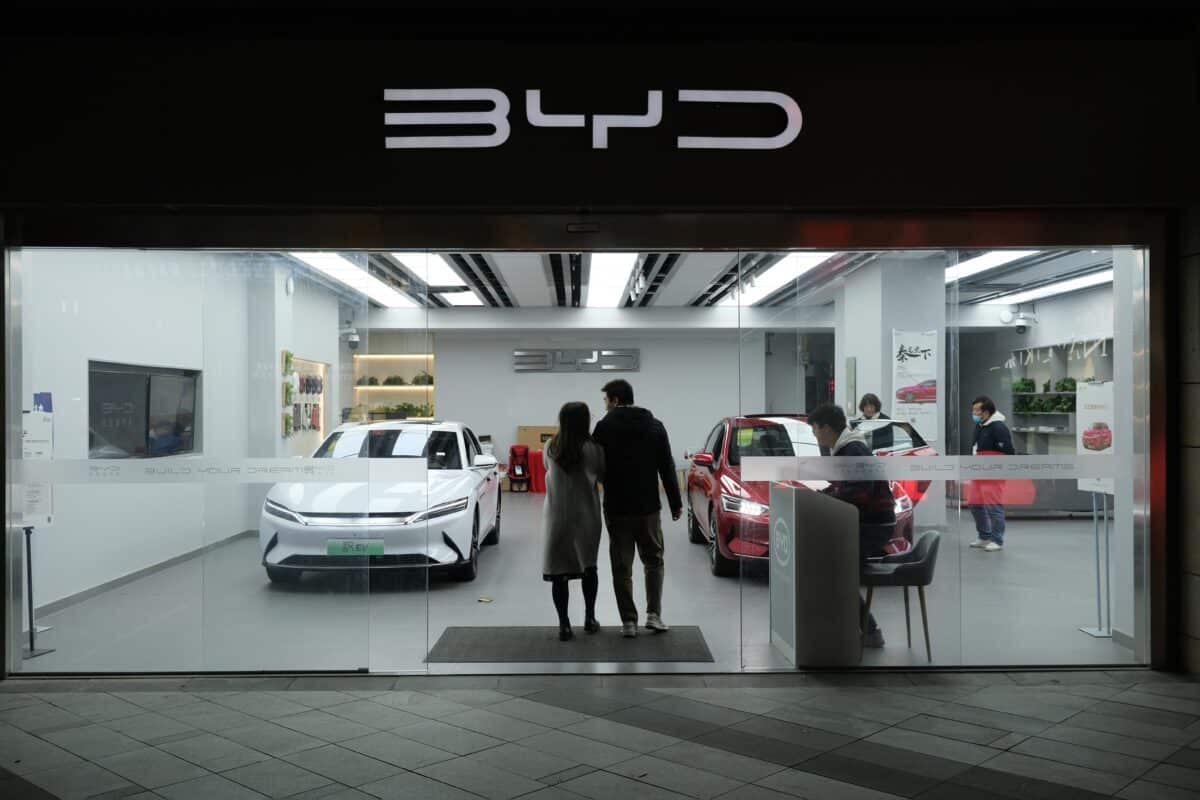 Chinese automaker BYD leapfrogged over several other EV manufacturers to achieve second place in 2022. In fact, if both PHEVs and BEVs are counted, it's in the number one slot, even ahead of Tesla. BYD sells even more plug-in hybrid electric vehicles (PHEVs) than BEVs, bringing its total of plug-in vehicles to just under 1.4 million for 2022's first 10 months. If it can grow its BEV lineup more, it may overtake Tesla in all-electric sales, too.
BYD has a home-field advantage in the gigantic electric vehicle market of China. China's government is even more aggressive than American or European lawmakers in pushing EV adoption. Given the country's vast urban areas and high pollution the government is likely to continue and strengthen its pro-EV policies.
The conglomerate's BYD Automotive branch is 2022's biggest single producer of PHEVs on the planet. It also churned out almost 600,000 BEVs from January to October 2022. Its executives say it exports its vehicles to 35 other nations worldwide, including Norway.
The Chinese automaker plans to break into the Japanese market in 2023, according to Reuters. It will spearhead the new market with its ATTO 3 EV SUV and intends to open 100 auto dealerships in Japan by 2025. The energetic expansion will continue with two possible factories soon to open in Europe.
BYD clearly means to keep up its momentum in the EV world. A branding executive recently unveiled its plans to offer an entirely new BEV brand of "professional and personal" vehicles in 2023. The company looks poised to surpass Tesla even in all-electric BEVs sooner rather than later.
1. Tesla – 989,262 BEVs
Tesla was a major catalyst in getting today's EV renaissance off the ground. It still leads the pack when only BEVs are counted, coming in at almost double BYD's all-electric EV sales. It's also unique on the list of top EV makers as the only pure manufacturer of electric vehicles. Elon Musk's company has zero PHEVs, other types of hybrids, or internal combustion vehicles in its lineup.
Tesla is America's biggest EV maker by far and still holds a significant piece of the huge Chinese market. Its Model Y is the most popular single EV model on Earth to this day. It's also branching into powerful commercial EV sales with the first deliveries of its long-awaited Tesla Semi truck in December.
PepsiCo's Mike O'Connell recently caused some confusion when he said the Tesla Semi would haul soda only 100 miles when its fully-loaded range should be 500+ miles. Nevertheless, Tesla might have won the first-mover advantage, jumping ahead of competitors in the all-electric trucking market, too.
Tesla still holds the crown for all-electric EVs and saw its sales grow compared to 2021. With an array of gigafactories in operation, the company is still looking for ways to increase its production speed. It might launch a new gigafactory in Mexico in the near future while expanding its current facilities.
Gigafactory Nevada is just 30% complete and is slated for expansion. It's being used to build the first Tesla Semis until Gigafactory Texas can take over. Tesla still holds the lead and continues its growth, but its challengers are catching up even faster. Whatever the future brings, Tesla remains the planet's best EV company by sales.
The 10 Best EV Companies in the World: Summary
| Rank | Company |
| --- | --- |
| 1 | Tesla – 989,262 BEVs |
| 2 | BYD – 584,285 BEVs (1.4 million plug-in vehicles) |
| 3 | SAIC-GM-Wuling – 400,953 plug-in vehicles |
| 4 | Hyundai-Kia – 363,547 plug-in vehicles |
| 5 | Volkswagen – 319,373 plug-in vehicles |
| 6 | Stellantis – 293,000+ plug-in vehicles |
| 7 | BMW – 268,198 plug-in vehicles |
| 8 | Mercedes – 225,159 plug-in vehicles |
| 9 | GAC – 212,741 plug-in vehicles |
| 10 | Chery – 202,678 plug-in vehicles |
Up Next
Top 10 EVs With Longest Battery Life – EV drivers usually want the longest possible range on a single charge as one of the top ways they choose what to buy. Find out which EVs offer the best battery life, helping propel their parent companies to the top of the best EV maker charts.
Electrifying the Trail: Top 10 Electric UTVs for 2023 – While the major automakers jockey for position in the world's markets, electric power is coming to the ATV and UTV sphere, too. Discover what all-electric small vehicles are available for off-road fun or work.
Top 10 Autonomous EV Car Companies and What They Do – These companies are taking self-driving to the next level. Read up on the wave of the future with the 10 enterprises focusing on a sci-fi robot car future.
The image featured at the top of this post is ©Avigator Fortuner/Shutterstock.com.