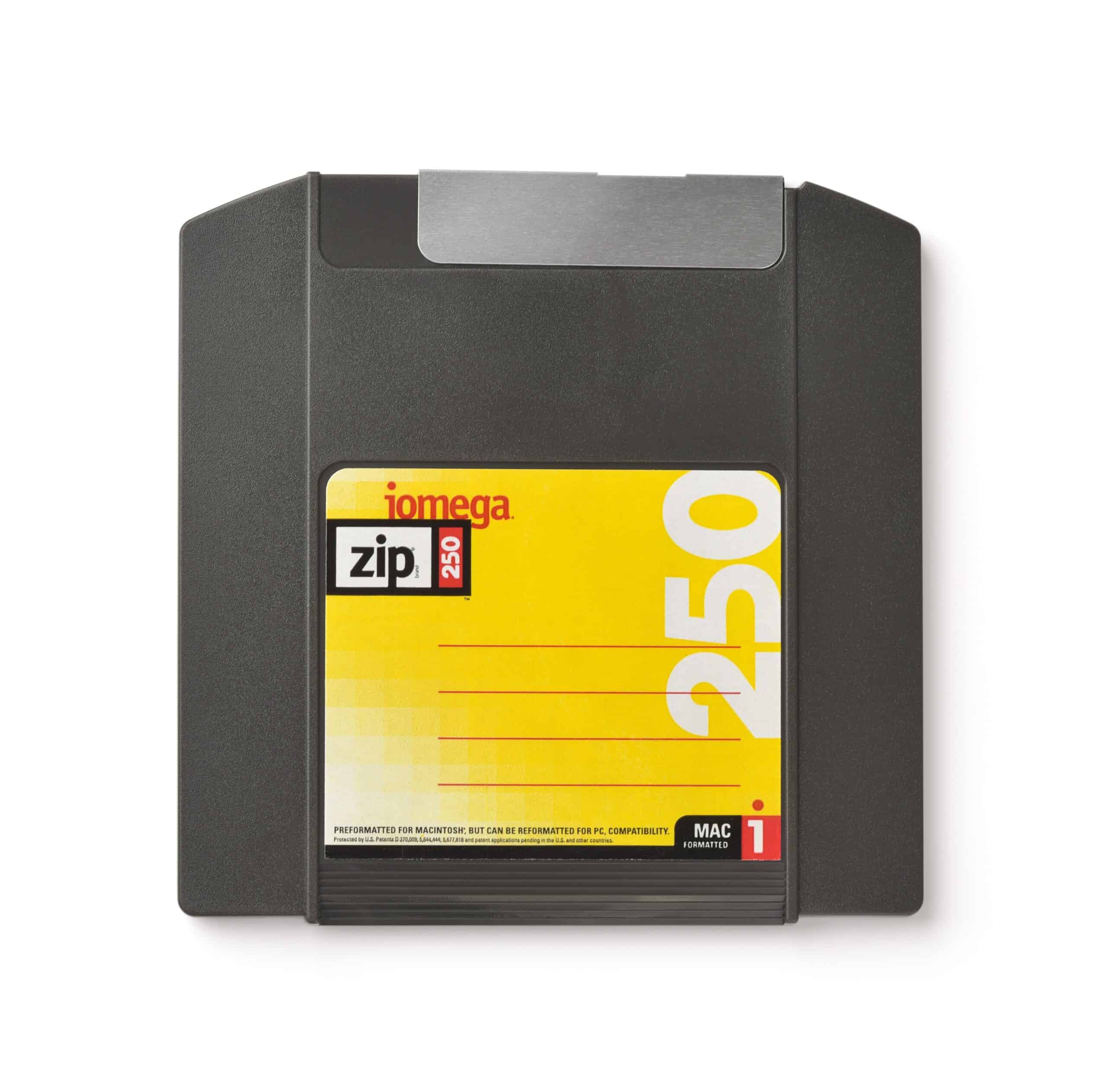 If you stepped back in time to the early 1990s, the idea of a single computer disk holding more than a few megabytes of data would have been considered quite futuristic. All of that changed when a company known as Iomega introduced its "Zip drives." With the ability to hold 100MB of data on a single disk, Iomega changed the idea of what external data storage could look like. 
Compared to floppy disks of the time, Iomega's work not only felt like it was a huge leap forward for the industry, but it was priced to be available for businesses and personal computer users. Once its technology entered mainstream computing, Iomega was hailed as the future of digital storage. 
Unfortunately, that would not come to pass as Iomega's time in the sun evaporated just as quickly as it arrived. Fueled by internet-based conversation, Iomega's stock (literally and figuratively) came crashing down as CD-burning drives grew alongside sending large files through email.
Let's find out what happened to Iomega below.
Quick Facts
| | |
| --- | --- |
| Year Founded | 1980 (Databyte Corporation) |
| Founders | David Bailey and David Norton |
| Industry | Computer storage (Zip drives) |
| Headquarters | San Diego, California (Roy, Utah initially) |
| Notable Products | Zip drives, disk drives |
| Website | http://www.iomega.com/  |
5 Must-Know Facts About Iomega
Iomega products coined the popular "click of death" saying in the late 1990s.
At its height, Iomega's valuation approached $7 billion, and its stock grew 2,135% year-over-year to $27 a share in 1996.
The "Zip drive," Iomega's flagship product, was a huge leap over floppy desks by adding up to 100MB of data against the floppy disk's 1.44MB of data.
Iomega was purchased by EMC Corporation (later LenovoEMC) in 2008.
More than 450 employees called Iomega home during the peak of its growth.
Why Iomega Mattered
Iomega isn't a name many associate with changing the face of computing, but it's still an important brand all the same.
The popularity of their Zip drives and the opportunity for personal computer users to store far more data on a single disk than ever was breakthrough technology. In the time between floppy disks and before CDs, Iomega offered a glimpse of how to store large files in small packages.
The History of Iomega: What to Know
Started in Roy, Utah in 1980, Iomega was founded by David Bailey and David Norton. What began as Databyte Corporation lasted for around a month before the company changed its name to Iomega Corporation in May 1980. 
With the financial support of outside investors, Iomega began with around $5 million dollars and a promise to drive the future of computer data storage products. The early years were challenging as the company looked to find a product that could help spark an interest in its brand. 
The first success was with the "Bernoulli Box," a high-capacity disk drive developed in partnership with IBM, which offered a 'revolutionary' small design. Initial success with the Bernoulli Box provided the company with a much-needed financial boost. 
Leadership Changes
Iomega looked to finally deliver on its initial promises to investors as the clock turned to 1984. They reported their first annual profit of $2.5 million against $51 million in total sales. This growth would continue over the next two years when, in 1986, they reported total sales of $126 million.
However, 1987 showed the Bernoulli Box was beginning to face steeper competition. Personal computers began to ship with hard drives preinstalled, which was a major blow to Iomega's external hard drive business model. This led to more than $39 million in losses in 1987 as sales plunged 30 percent. To help turn the business around, a new CEO was named Michael Kucha, who had been an early investor in the company. 
Kucha's tenure began strongly as he helped the company become healthy once again, thanks to cost-cutting efforts amidst new research and development. Having turned the company around, Kucha would vacate his post in 1989 and turn the company over to Fred Wenninger, a veteran of Hewlett-Packard. 
Between 1989 and 1992, things looked up for Iomega as the company returned to profitability, only to start to slip again in 1993. The Bernoulli Box drive had run its course as consumers stopped buying, leaving only large businesses and government entities as potential buyers. 
Enter the Zip Drive
Once again, Iomega found itself needing a new steward, and it arrived in the form of Kim B. Edwards in 1994, and thus began Iomega's rise. 
Introduced in late 1994, Zip drives would help usher in a wave of marketing unlike anything Iomega had ever done. Promoting the Zip drive hardware for $199 alongside $19.95 for 100MB disks and $9.95 for 25MB disks, the Zip drive was unlike anything computer users had ever seen. 
Zip drives flew off the shelf, selling out on their first day and shipping more than two million units in the first 15 months of availability. As a result, Iomega's share price jumped from a $2 low in 1993 to more than $20 in 1995. 
By 1996, Iomega's revenue had blasted off to over $1.2 billion, making them the dominant player in computer data storage.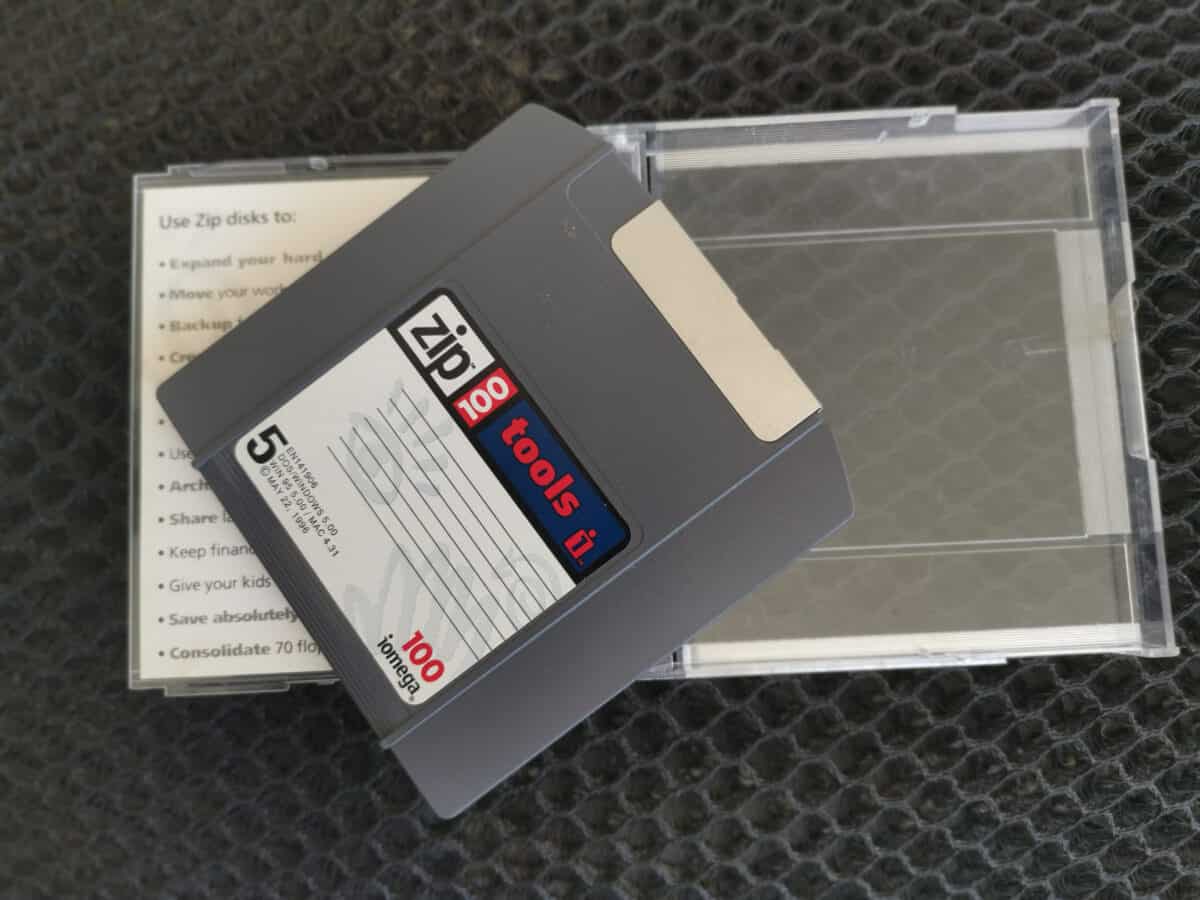 The Downfall
Iomega's celebration of increased profitability and market leadership came crashing down in 1998 as the phrase "click of death" was coined. This phrase was used in context with the sound an Iomega drive would make prior to it failing, eventually leading to a class action lawsuit. Legal action focused on the idea that Iomega's promise of a lifetime warranty was misleading and that its products were faulty. 
Once the "click of death" phrasing took hold in the public zeitgeist, there was no turning back for Iomega. The Zip drive in its original form was finished. 
The company would tread water for the next 10 years, trying its hand at different products, including redesigned versions of the Zip drive, like the PocketZip in 1999, and even a pocket-sized MP3 player in 2001. Pivoting toward CD-R products with the ZipCD 650 in 2000 led to initially strong sales but would never capture the market share of the original Zip drive. 
EMC Saves the Day
Iomega continued to sell products over the next 8 years and, as of 2003, had sold 50 million Zip drives worldwide. Finally, in 2008, Iomega sold itself to EMC Corporation. EMC would keep the Iomega brand alive as their NAS product lineup (2004) and the ScreenPlay TV Link adapter (2008) were still selling well. 
By 2013, EMC joined forces with Lenovo and renamed the company LenovoEMC, which led to the rebranding of all Iomega products. LenovoEMC would stick around for another five years, only to disband in 2018 and discontinue all products. 
Why Iomega Failed
For all intents and purposes, Iomega should never have failed. They had a product that was selling fast, was well-reviewed, and was first to market. While this should have been a boon to Iomega, it turned out to be the reason for the start of its gradual decline.
As the "click of death" reputation grew, Zip drive owners became increasingly frustrated that there wasn't enough customer support to help troubleshoot complaints. And, while Iomega eventually did bulk up its customer support staff, it didn't do so fast enough to stop the "click of death" lawsuit from moving forward. 
Lawsuit
The "click of death" was best described as the sound Iomega Zip drives would make around the time they were beginning to fail. The lawsuit, filed in 1998, affected all Zip drives made after 1995, so it accounted for almost the entirety of Zip drive models sold to customers. Iomega's lawsuit defeat would result in having to give customers coupons to be used on future products, a massive financial blow. 
Competition
On top of its legal troubles, Iomega also faced increased competition from both Syquest Technology, Inc. and French-based Nomai, both of whom offered competitive products. 
What eventually did Iomega in was the rise of hard drive sizes, which became too large for the Zip drives to properly back up. Even when Iomega started to offer larger size disks, the price of CDs was dropping rapidly, and Iomega simply couldn't match the storage of a compact disc. When Iomega did finally enter the CD market with the ZipCD 650 in 2000, it suffered from a poor reputation for reliability and never captured any meaningful market share. 
Last but not least was the introduction of local area networks, and with their increased data transfer speeds over the internet, the need for physical hardware to transport data was significantly reduced. 
Historical Significance of Iomega
Its failures aside, Iomega has its place in pushing the personal computer industry forward. Zip drives played a major role in driving competition to add larger hard drives to computers, which was advantageous for customers who didn't want separate hardware.
At the time, the Zip Drive offered exponentially more storage than the floppy disk, which made businesses and consumers gravitate toward an exciting new product. Today, you live in a world where 256GB and 1TB hard drives are the norms, and that's in small part due to Iomega's push for more data availability.
Up Next