Today, the idea of the internet having a fixed number of websites seems unimaginable. From its founding 30-plus years ago, the World Wide Web has come a long way since its beginning at CERN and the work of Tim Berners-Lee.
If the founders of the World Wide Web had any idea of what their invention would become after its launch around Christmas 1990, they might not have believed over 1 billion websites exist today.  
Hoping to provide an easier way to exchange data between different colleagues, Tim and his counterpart, Robert Cailliau, stumbled into something far greater. While the first registered domain, Symbolics.com, no longer exists in its honorary form, there are still plenty of old websites that reach back to the founding of the WWW but still exist today.
With that in mind, let's take a look at the 10 oldest websites that are still active today.
#1: ITcorp.com
Taking the prize for not just the oldest active website, but also potentially the funniest website online, ITcorp.com was registered on September 18, 1986. Something of a placeholder for a still active business, the website pokes fun by saying "This web page exists primarily to satisfy the needs of those who expect every domain to have a web presence."
The real Interrupt Technology Corporation is actually a consulting firm located out of California and is privately held. It is clearly in on the joke as it knows its domain has the opportunity to attract some researchers every year, so something was left up to help make sure there is at least a small pot of gold at the end of the rainbow.

#2: Vortex.com
Registered by ICANN on October 27, 1986, Vortex.com was registered by Lauren Weinstein, who was the co-founder of the People For Internet Responsibility and the Founder of the Privacy Forum. While the site is still active, it's hardly full of function as it's mostly a combination of links to various weather reports or Lauren's various social channels and blogs. She has also placed a link directly to The Privacy Forum, which is also little more than a white page with a bunch of context on screen, plus one picture of a motorcycle. 
One notable aspect of the page that is interesting is the disclaimer that Vortex Technology doesn't manufacture any type of technology products like cellular phones, tablets, scopes, binoculars, or any other products. This may be in response to the notion that "Vortex Technology" is the name of dozens of other businesses floating around the world.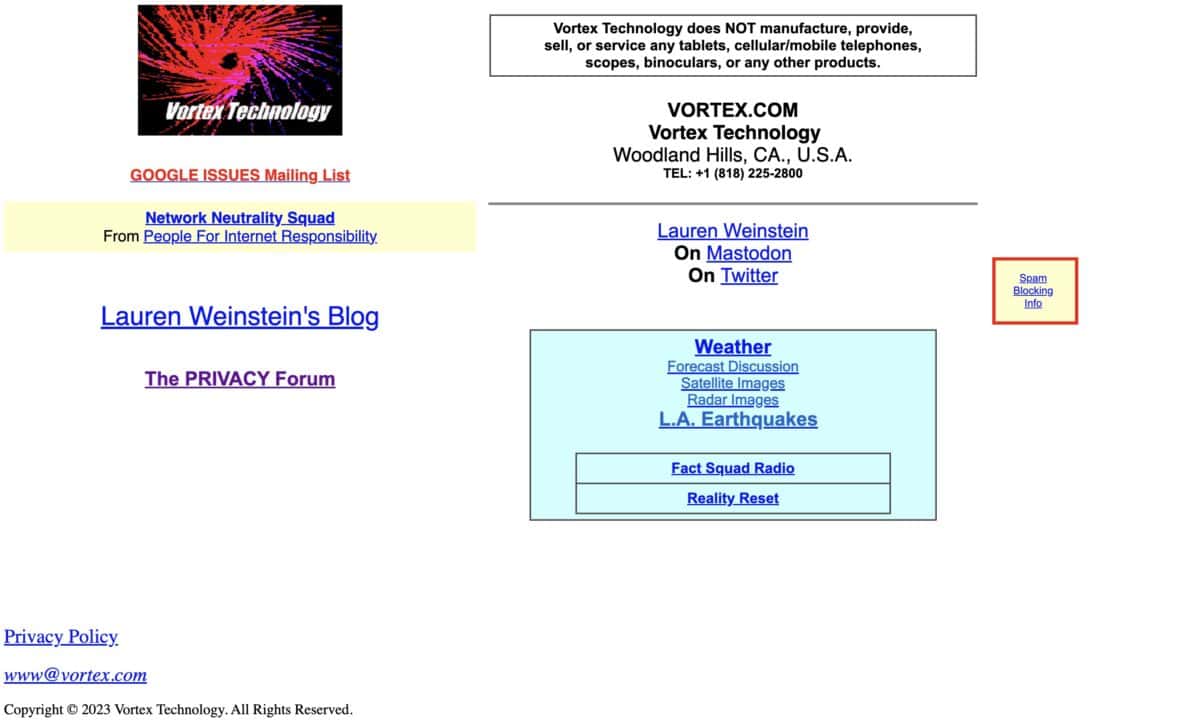 #3: Texas Internet Consulting
The third still active website, Texas Internet Consulting, or tic.com as it's better known, was registered on April 23, 1987. Even with the website's last update in 2004, it retains all of its original design with a warm yellow background and little more than some additional information about its owner, Smoot Carl-Mitchell. 
Well, more specifically, the site highlights that Carl-Mitchell's consulting firm specializes in GNU/Linux System Architecture, Unix System architecture, TCP/IP Network Design, Network Security, and Open Source Tool Development. There are also links to a bio page about Carl-Mitchell, a link to books, contact info, some partners, and whitepapers as well as a search functionality that includes limited details about Texas Internet Consulting.
#4: Toad.com
Registered in the early morning of August 18, 1987, toad.com is a website that is the personification of what a simple web page can and should be. While the original purpose of the website is still something of a mystery, it is known that the site is focused on John Gilmore, who is a founding member of the well-known Electronic Frontier Foundation, or the EFF, as it is more commonly known. The EFF is a highly-regarded organization that fights unjust regulations and laws to ensure users have plenty of privacy and rights online. 
As for the website itself, the first link is a plug for John Gilmore's primary website. The rest of the website is a series of links to other works of John's as well as various links to other freedom of speech highlights. There are also some links deriding former President George Bush and the war in Iraq and a few links to photos of John. It's a mish-mosh of links to be sure, but perhaps that is some of the charm for one of the oldest websites still online.
#5: CFG.com
Registered on November 2, 1987, the website for Caine, Farber & Gordon, Inc. at cfg.com is the 5th oldest website that is still active. This site for Steve Caine, Dave Farber, and Kent Gordon is dedicated to their business, which is best known for the PDL/81 Program Design Language Processor.
On the "General Page" of the site, there is also a note indicating CFG is also known for Solving Problems and Developing and Marketing Software Tools. While it's a little vague, it is known that the business existed for at least 17 years prior to the website going online.
A Contact Us page indicates the business is out of Pasadena, California, and lists still active phone numbers. Also on the General page is a link to a secondary business the three partners founded called Gatekeeper Systems, which also still has a live website that was founded in 1995.
#6: ACME.com
Jumping ahead a few years, Acme.com saw its registration take place on April 17, 1991. Since its release to the world, Acme.com hasn't changed all that much and it's pretty obvious by the look of things. It appears as if the site owner hasn't found the need to make an update, but is plenty comfortable making jokes. The very last line on the website indicates that any "affiliation between ACME Laboratories and Warner Brothers is that I've been a fan of Wile E. Coyote for decades." 
As humorous as this may be, the rest of the site is all business with a couple dozen links to various locations around the web. Everything from links to an ACME label maker or a license maker is mixed in with links to the ACME Chocolate Registry, Labs Calendar, and ACME News, which serves as a web conferencing system. There is no denying it's a random set of links with a look that feels very much like it belongs in 1991.

#7: Info.CERN.Ch
While it may be labeled as "The First Web Page," Info.CERN.Ch is actually a site that was registered on August 6, 1991. While labeling it as the first web page isn't technically true, it's still pretty funny to see the name attached to what is arguably the most basic website on this list.
Once you land on the page, you are greeted by just 4 different options, and among them include a direct link to the "first" website, learning more about the birth of the web, or learning more about CERN, which is the physics laboratory where the web was first established. 
If you click on the first link and head over to the first website, you will find another series of links including some of the technical details about the origins of the web as well as some biographies of famous people who took part in its creation. Ultimately, a white landing page with basic hyperlinks is about as minimal as you can get with this page but it's still very cool to see this page alive and well.
#8: The Tech
Claiming to be the first newspaper to deliver content over the web, MIT established thetech.com online beginning in May 1993. A student-managed newspaper, the first issue of the newspaper was published in 1881 but it would be another 112 years before the newspaper would go online.
The paper is officially recognized by the student body and the administration of MIT. A self-supported newspaper, today's thetech.com website very obviously looks very different today than it did when it first launched.
What makes The Tech such a great story is that the paper has managed to keep every edition available online as PDF files. This includes the very first issue of the paper from 1881, which is a real accomplishment for any paper, never mind one from one of the most exclusive universities in the world.
#9: MTV.com
The story behind MTV.com is an interesting one, and it's also an equally surprising entry into a list of the oldest websites that are still active. At the time of its inception in August 1993, MTV VJ Adam Curry received the approval of his MTV supervisors to register and launch MTV.com as an unofficial "fan" site. Curry would go on and run the site out of his own pocket until January 1994. At that time, MTV demanded that he stop using the mtv.com address, even as he was still employed by the network. 
By the spring of 1994, mtv.com had received millions of hits, which is likely the catalyst that led MTV to sue Curry for the website domain. The court case was a messy one with numerous claims flying back and forth between both parties, but in the end, MTV won the domain. 
Today, MTV is one of the most popular music channels in the world and is a household name for all things music, pop, entertainment, and culture.
#10: Bloomberg.com
Moving into a more popular arena of websites, Bloomberg.com is undoubtedly one of the largest and best-known names on this list. Created on September 9, 1993, Bloomberg.com has gone on to become one of the biggest names in the financial portal. The website itself was launched on September 29, 1993, as a financial portal for tracking news, events, and markets as well as Bloomberg Terminal subscriptions. 
Today, the Bloomberg terminal is one of the most important pieces of software in all of finance. While it's grown significantly since the launch of the website in 1993, Bloomberg.com still has a place as one of the oldest websites that are still active, even if it's taken on many different forms since 1993. A privately-owned company, its owner, Michael Bloomberg, was even the mayor of New York City, which is a testament to how much the website has grown since its early days.
#11: Bonus Sites
By the end of 1994, the web consisted of 623 total websites according to a study done by an MIT researcher. Notable sites on this list that followed the release of Bloomberg.com include Chabad.org, Wired.com, IMDB.com, and Photo.net. While these websites have changed ownership hands a few times and undergone numerous redesigns, they are also notable additions to any list of the oldest websites that are still active.
The Oldest Websites That Are Still Active Summary
| Rank | Name | Year Founded |
| --- | --- | --- |
| #1 | ITcorp.com | September 1986 |
| #2 | Vortex.com | October 1986 |
| #3 | TIC.com (Texas Internet Consulting) | April 1987 |
| #4 | Toad.com | August 1987 |
| #5 | CFG.com (Caine, Farber & Gordon, Inc.) | November 1987 |
| #6 | ACME.com | April 1991 |
| #7 | Info.CERN.Ch | August 1991 |
| #8 | The Tech (thetech.com) | May 1993 |
| #9 | MTV.com | August 1993 |
| #10 | Bloomberg.com | September 1993 |
Wrapping Up
Little did the world know when the first and oldest websites were unveiled just how influential the entirety of the World Wide Web would become.
One of the most important inventions over the past few decades, the internet has changed the lives of just about everyone, thanks to the ability to access the entirety of human knowledge in one place. It's still incredible that the web has grown so much since the first website was released in 1986 with ITcorp.com.
The image featured at the top of this post is ©adike/Shutterstock.com.