Key Points
The Nokia 1100 is a basic mobile phone made by Nokia in 2003.
250 million 1100s were sold worldwide.
The 1100 mobile included an alarm clock, a stopwatch, a flashlight, a calculator, and plenty of wallpaper and screensaver choices
What comes to mind when you think of the best-selling mobile phone of all time? Do you envision one of the early iPhone models? Or do you picture a flip phone that came out in the mid-2000s and sold like hotcakes? Perhaps you picture the Blackberry, the phone of choice for professionals worldwide. None of these mobile phones is an all-time bestseller, though. Not even close. That honor goes to the Nokia 1100: The original "brick" phone that has been the punchline of endless jokes.
You can laugh all you want, but Nokia has the last laugh. With more than 250 million units sold in its six-year history, the Nokia 1100 brought in unfathomable profits and international success to Nokia. But how did the Nokia 1100 come to be? How was it conceived, and why was it eventually discontinued? We'll find answers to these and other questions in the section below.
The Nokia 1100: Overview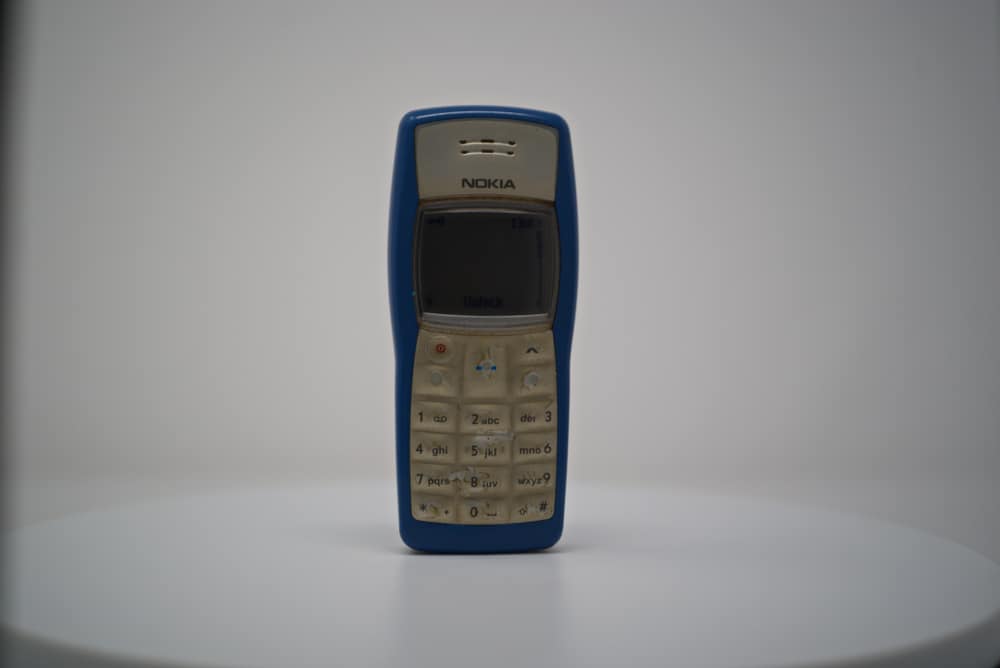 It's easy to look at the Nokia 1100 and dismiss it as an insignificant relic from our pre-smartphone world. However, a lot of important history is packed into this tiny brick phone. Let's take a look at its release date, price, its various models, its features, and its specs below.
Release Date and Price
The Nokia 1100 came out on August 27th, 2003. It sold for around $100, which sounds like a lot by today's standards but was quite reasonable at the time. Nevertheless, it's hard to imagine anyone paying so much for such few features. It's important to remember the state of mobile phones at this point in the early 2000s — It was a wonder they even existed in the first place. People were willing to pay any price just to get their hands on one. It wasn't until the technology was developed further that prices were able to drop for subsequent Nokia releases.
The Nokia 1108, another 1100 variant, was released in 2003, the same year as the base model followed the 1101 model, which swapped the signature green backlighting with a white one. It was more or less the same phone, save for adding an extremely basic web browser. Nokia and its variants continued to sell well until they were discontinued in September 2009. Nearly 20 years later, it remains the best-selling mobile phone.
Different Models
1100a (GSM-900/1800 network)
1100b (GSM-850/1900 network)
1101 (white backlight, WAP 1.1 browser)
1108 (white backlight, exclusive to Asia)
Features
In addition to the basic functionality of a mobile phone at this time — strictly calling with minimal texting — the Nokia 1100 boasted some appealing features. The first was a built-in flashlight. Users could turn the flashlight on by pressing and holding the C key. By pressing and holding the C key twice, users locked the flashlight into "on" mode. The flashlight could also be activated by selecting it from the phone's menu. 1100 also contained many ringtone options and 36 pre-installed tones!
The 1100 mobile also included an alarm clock, a stopwatch, a calculator, and plenty of wallpaper and screensaver choices. Cingular — a now-defunct mobile provider that AT&T absorbed — had a special line of Nokia 1100s with AOL Instant Messenger capabilities. All 1100s also had a ringtone composer built-in, allowing users to make their own ringtone if the three dozen pre-installed ones didn't do the trick. You could also purchase colored cases that clicked into place. Special 1100s designed for developing nations had dustproof keys, screens, and a non-slip grip.
Specifications
Release Date
August 2003
Size
106 mm × 46 mm × 20 mm
Weight
86 g
Screen
96 × 65 px Monochrome
Battery
Nokia BL-5C
Battery Life
400 hours
Charge Time
Two hours
Variants
Nokia 1100a
Nokia 1100b
Nokia 1101
Nokia 1108
Price
Approx. $100
Units Sold
More than 250 million
Discontinued
September 2009
History of the Nokia 1100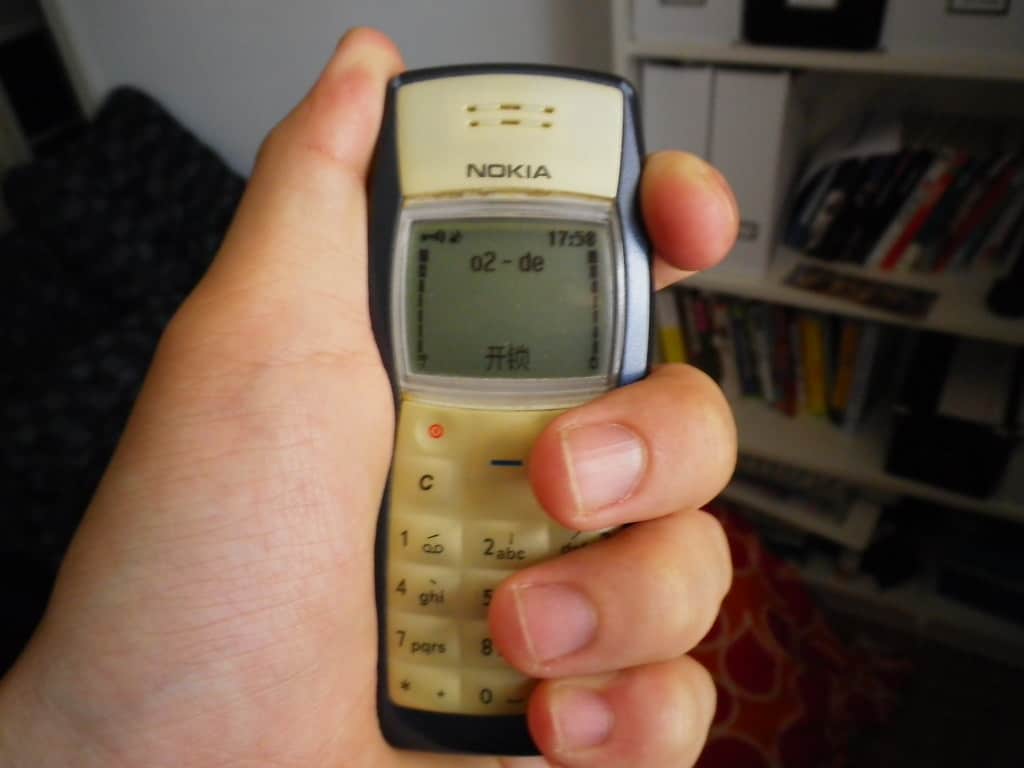 Interestingly enough, the Nokia 1100 was far from the most advanced mobile phone on the market upon its release in 2003. Despite its simplicity, it still found massive global success. Nokia marketed the phone to developing countries. In these countries, the phone's special features like the flashlight, alarm clock, and dustproof protection were well received. Not to mention its long 400-hour battery life.
Simply put, the Nokia 1100 was a basic phone made well. It was durable and offered essential functions at an affordable price. Back then, it was Nokia's cheapest offering. It resembled the Nokia 5110 (released in 1998) and the Nokia 3210 (released in 1999), but it had even fewer functions and features than these older phones. Nokia's strategy of delivering a perfected mobile phone worked. With only a handful of bells and whistles, the Nokia 1100 was the most practical and functional mobile phone around.
By scaling back the features and focusing on the essentials, Nokia transformed the branding surrounding 1100 from a cheaper, lesser offering to an essential, invaluable tool for users around the globe. As we now know, it was a genuinely winning reversal of public perception. Instead of being shrugged off — like an Apple or Samsung device — the Nokia 1100 was fully embraced. It went on to sell more than 250 million units and blasted Nokia past one billion sales in 2005.
Pros and Cons of the Nokia 1100
| Pros | Cons |
| --- | --- |
| 400-hour battery life from two hours of charging | Very basic, very stripped-down features |
| More affordable than other competitors' phones | It could only hold 50 SMS text |
| Ideal for users in developing countries (a market often ignored by big tech today) | Developed a serious firmware flaw in 2009 |
| Very durable and resilient (hence the "brick" nickname) | It could not compete with the success of smartphones in the late 2000s |
Nokia's Future After 1100
Sadly, all good things must come to an end at some point. This is true not only for the Nokia 1100 but also Nokia as a mobile phone brand. Nokia 1100 was discontinued in 2009, the same year Nokia reached its peak on the Fortune 500 ranking. They came in at #85, only to drop quickly in the years that followed. Nokia 1100's discontinuation became a trend instead of an anomaly. Subsequently, Nokia saw its market share in the mobile phone industry drop significantly.
Nokia has been around since 1865 in some capacity or another. With more than 150 years of history under the company's belt, it would take much more than just poor mobile phone sales to tank it. Luckily for them, Nokia decided to pivot at just the right moment. Beginning in the mid-2010s, they began investing in telecommunications, business communications infrastructure, and IoT (internet of things) technology. With this, Nokia was able to find some much-needed stable footing.
During this recovery, Nokia generally stayed away from mobile phones. It was hard to believe that, just a decade earlier, they had the best-selling mobile phone on the market. Now, they wanted little to do with them. By the late 2010s, Nokia was able to dip its feet back into the mobile marketplace by switching sides and focusing on patent licensing. Instead of developing their own phones, they would facilitate other phone makers.
NEXT UP…