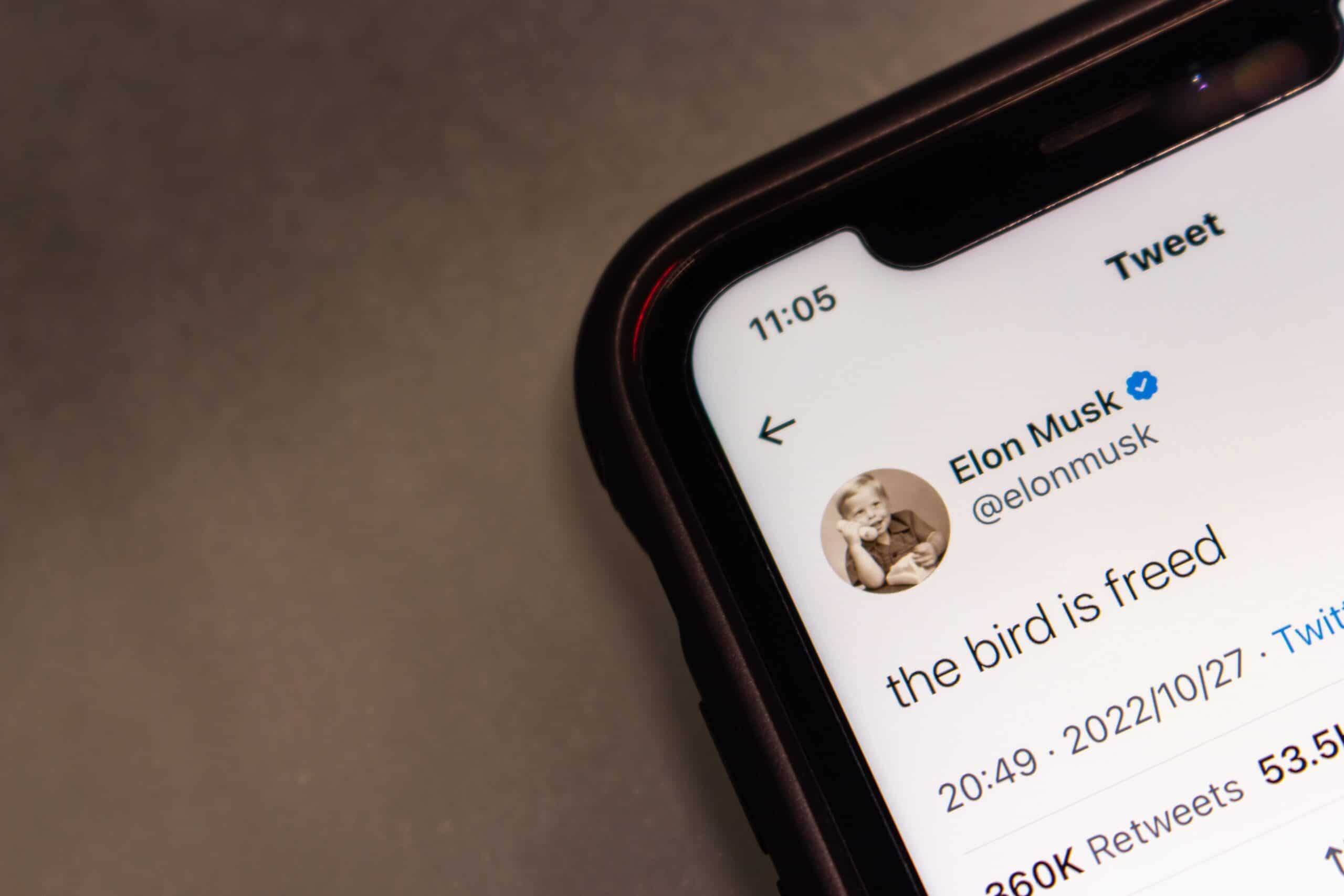 Before we discuss the most controversial tweets Elon Musk has ever sent, we should start by saying that the new owner of Twitter, and self-declared "Chief Twit," had promised the social media platform would be a free-speech podium. The world's second richest man is himself a prolific tweeter and has used the platform to promote his many businesses, share memes and, more recently, weigh in on geopolitics.
Unlike many of the world's wealthiest men, Elon Musk never shies from speaking his mind. In the recent past, the Tesla boss has presented himself as a political analyst, an international affairs expert, and a source of wisdom on all issues. From funny statements to odd and unorthodox ideas, here are some of the most controversial tweets by Elon Musk.
1. Nuke Mars
Elon Musk has always dreamed of colonizing Mars and making humans a multi-planetary species. This has been the main goal of the multi-billion-dollar company SpaceX since its creation almost two decades ago. In 2020, Musk shared his ambitions of building a city of one million inhabitants on Mars by 2050. Even more interesting is his approach to making Mars a habitable place.
On the 16th of August 2019, Musk called for a nuclear attack on Mars with a two-word tweet, "Nuke Mars." In a series of tweets, he promised Mars a hot date and said he would unveil T-shirts with the slogan soon. This prompted a series of reactions from his followers, with some suggesting that the plan didn't sound safe.
Several days later, Musk clarified that hitting Mars with a stream of nuclear explosions would create man-made suns without causing radioactivity. Also, the heat from the nuclear explosion could melt the ice caps and glaciers to release water and the CO2 trapped inside Mars.
Musk has championed the idea since 2015. He believes it will warm the planet and make it hospitable for human life.
2. Playing Down the Seriousness of the Pandemic
Even as world leaders and public officials around the globe warned of the potentially devastating implications of COVID-19, and as state and city leaders asked the public to prevent the virus's spread by social distancing, Musk suggested that the whole thing is "dumb." 
Musk made a number of comments about the coronavirus pandemic in 2020. Arguably, one tweet from the 6th of March 2020 made the headlines. According to the Tesla CEO, "The coronavirus panic is dumb."
He would later make similarly aligned statements on Twitter, including playing down precautionary lockdown measures that were put in place in April of that year. This came as a surprise to most of his followers. As if that wasn't enough, he cast doubt on the seriousness of the pandemic when the official death toll in the United States hit 1 million.
3. Proposing a Solution to the War in Ukraine
Most people would wish to see the Russo-Ukrainian War end soon. Even so, not many people believe they can provide a solution to the ongoing conflict, but Musk thinks he does. On the 3rd of October 2022, he outlined his preconditions for an instant treaty between Kyiv and Moscow. Firstly, he asked for a rerun of elections in the four regions annexed by Russia, which should be conducted under UN observation.
According to Musk, a redo of elections was necessary for Ukraine to be recognized as part of Russia and remain non-partisan in the future rather than join NATO. When he polled his 108 million Twitter followers, asking whether they supported his call for a neutral Ukraine, 59.1% disagreed.
Most of his followers preferred an independent Ukraine. Ukraine's head of state, Volodymyr Zelenskyy, was vividly displeased. He even did his own poll asking which version of Musk his followers liked more, one backing Ukraine or Russia. 78% preferred the Ukraine-allied Musk.
4. Buying Twitter
On April 14, 2022, Musk tweeted about his intention to buy Twitter, stating, "I made an offer." Many wondered if this was another joke from the eccentric billionaire, but, as it turned out, he had placed a bid to take over Twitter. After receiving the bid, Twitter's board considered and accepted his offer.
However, he quickly changed tune and later tried to withdraw his bid several times, prompting a legal battle with the social media company. Twitter accused Musk of breaching a legal agreement, and, on October 27, 2022, caught in an intense legal tussle, he finally bought it.
The Tesla CEO sealed the acquisition of Twitter at a price of $54.20 per share, for a total cost of approximately $44 billion. Musk's tweets dominated the platform after the deal was announced, with the billionaire writing the eight most popular posts on Twitter during the week Twitter approved the $44 billion offer.
Even though he finally bought the company, it was Musk's speculative tweets and the ensuing legal back-and-forth that made his announcement one of the most controversial tweets in 2022.
5. Taking Tesla Private
In August 2018, Musk announced his intention to take Tesla private in a tweet that read, "Am considering taking Tesla private at $420. Funding secured." This meant the company's shareholders had to sell their stock, and Tesla would be delisted from the public stock exchange.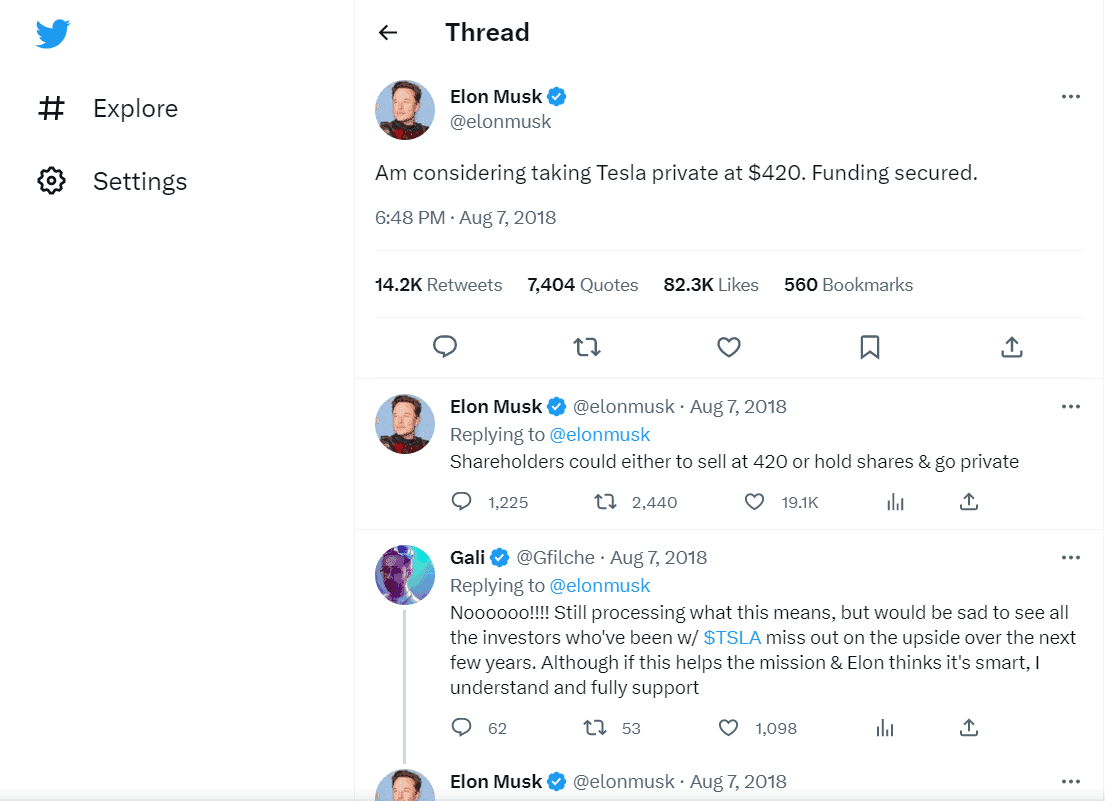 Those who didn't take the tweet too seriously believed it was a weed joke, since April 20th is a popular holiday for celebrating cannabis culture, and Musk has publicly smoked marijuana during a Joe Rogan podcast.
Nonetheless, the US Securities and Exchange Commission did not take the tweet lightly. They launched an investigation and filed a lawsuit against the Tesla CEO for stating he had the funding for the buyout without giving specifics to back his claim.
Musk was also charged a 20 million fine for "misleading" investors who lost billions following the tweet. He was asked to step down as Tesla CEO for three years and was requested by the SEC to forward any tweets that could influence stock prices for review before posting.
6. Making Tesla Stock Drop
Despite the agreement reached with the SEC that required his tweets to be scrutinized before they were published, Musk continued to post confusing tweets regarding Tesla. On May 1st, 2020, he posted, "Tesla stock price is too high IMO." Tesla's stock price dropped sharply as a result. 
The company's stock had been trading at around $760 per share before plummeting to below $700 within minutes of Musk's Tweet. Tesla stock fell nearly 10% within minutes, wiping out $14 billion from the company's market value. Even after Musk acquired Twitter, some Tesla stockholders were dissatisfied with his tweets, claiming the tech CEO had become distracted. 
7. Response to Bernie Sanders
Mr. Musk enjoys going up against politicians and has had a lengthy feud with President Joe Biden, who blatantly ignores Tesla, even when discussing the importance of electric vehicles in the United States.
On the other hand, Democrats in the US senate have recently proposed "a billionaire tax" to target the super-rich on their liquid assets such as bonds, assets held in taxable accounts, and stock.
When Senator Bernie Sanders suggested that the elites should pay their "fair share," it did not sit well with Musk, who replied, "I keep forgetting that you're still alive."
The troll sparked mixed reactions and furious debates online. Some pointed to the federal government's hand in the growing wealth of billionaires, while others termed Musk's response to the 80-year-old senator "obnoxious."
8. Musk's Plan to Sell All of His Physical Possessions
Shortly after the Tesla stock price tweet, Musk posted that he planned to sell most of his physical possessions. This was followed by a tweet that suggested his girlfriend at the time, electronic pop star Grimes, would be upset with him for this decision.
Whether he was rethinking his attachment to the material world or simply posting another eccentric tweet, the Tesla CEO made good on his promise. Between June 2020 and November 2021, he sold 11 homes at $128 million, making a profit of approximately $25 million.
Many people have given their theories and ideas behind Musk getting rid of his property and terminating his residence in California. Some believe the move would allow him to be a Texas citizen where there is no income tax. Texas is also known to have state-friendly taxes and regulations.
Others believe his houses and properties were distractions, meaning he needed to dedicate time and focus to them. For a person with his ambitions, who values his attention to work, owning many homes was a distraction. Regardless of his reasons, Musk accomplished what he wanted, sparking a conversation.
9. Alienating Some of His Fan Base
Mr. Musk's all-electric vision and reinventing the electric car earned him a loyal fan base of eco-friendly wealthy people, particularly in liberal coastal areas of America. The billionaire had long complained about the regulations he faced while operating his company in Democrat-controlled California, so it was no surprise when he relocated Tesla to Texas.
However, his endorsement of the Republican Party, which has for decades pushed for more oil drilling while downplaying or denying humanity's impact on the climate, surprised many and arguably started a slide in Tesla share prices that continues today.
Though Musk is well known for his "dank memes" and for reviving the space race, some of his public remarks have left many puzzled. In several instances, some of his sentiments harmed his company, Tesla, causing its stock price to drop. Musk is determined to use his freedom of speech to share what is on his mind. Whether he will intensify or lessen his self-expression, only time will tell.
Up Next