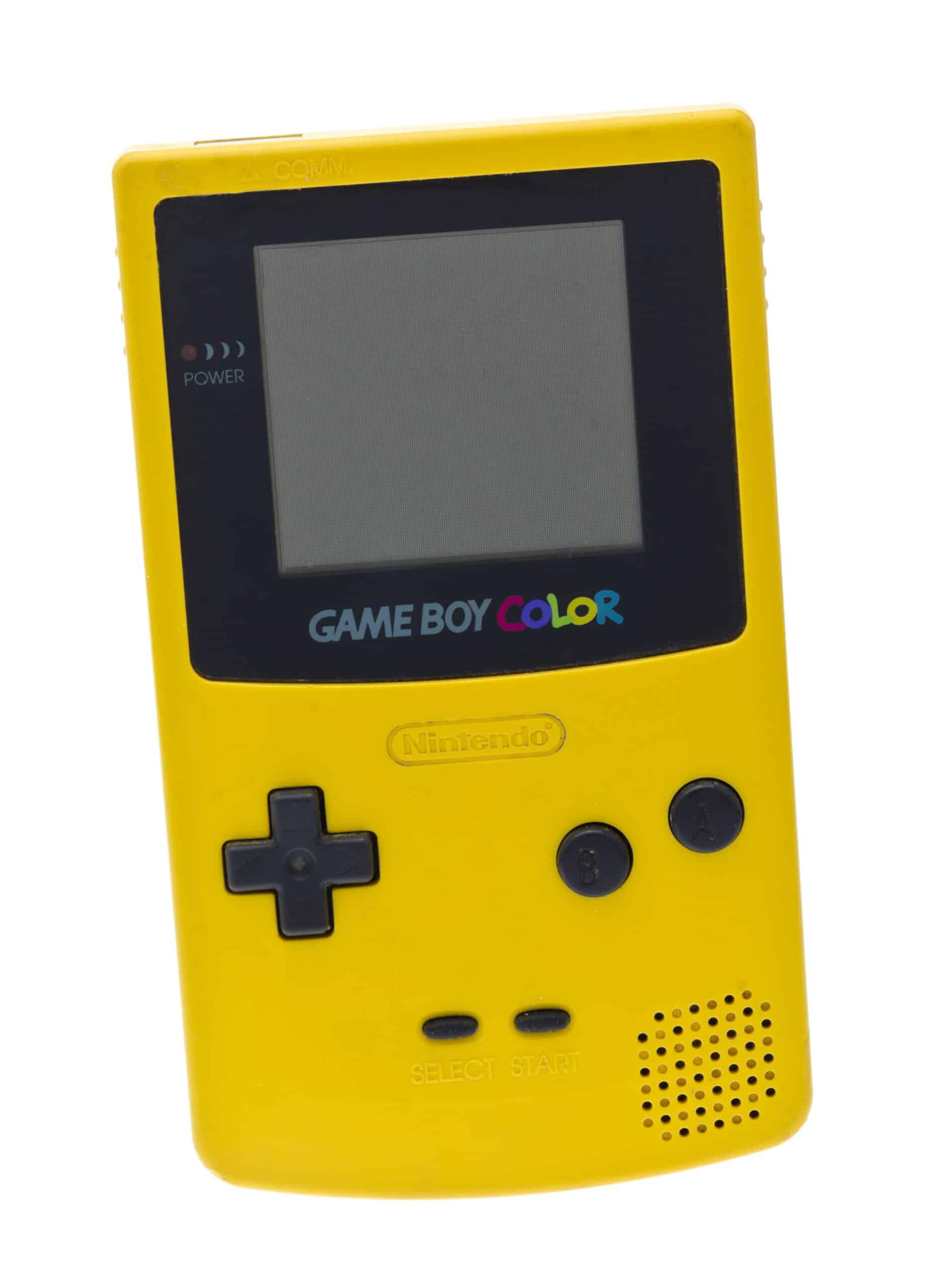 There are few consoles that have defined the post-video game crash era as well as the Nintendo Game Boy. To this day, the Game Boy and its successor, the Game Boy Color, rank as the third best-selling consoles of all time. Nintendo can't lay claim to inventing the video game handheld, but no company had seen or, for that matter, has seen, the same level of success since. 
Looking back, the original Game Boy looks outdated and cumbersome to use but there is magic to it. The 16×16 screen resolution is downright ancient compared to the likes of the OLED 1080p Nintendo Switch but that's okay!
Some thirty years after the original Game Boy was released, let's take a look back at how this beloved handheld console came to be and why its many successors all feel just as great to use. 
5 Facts About the Game Boy
More than 118 million Game Boy and Game Boy Color units were sold. 
The Game Boy was the first video game console to visit outer space when it visited the Mir Space Station in 1993.  
The first Game Boy could run for up to 30 hours on two AA batteries.
The release of the "Print and Play,", the Game Boy digital camera and printer accessory, are likely responsible for the word "selfie."
When it was released, the Game Boy included a copy of Tetris which led to more than 35 million copies being available. 
Game Boy Specs
| | Game Boy | Game Boy Color | Game Boy Advance |
| --- | --- | --- | --- |
| Release Date | July 23, 1989 | November 18, 1998 | June 11, 2001 |
| Discontinued | March 23, 2003 | March 23, 2003 | Q1 2008 |
| Units Sold | 118 million  | 118 million | 81 million |
| Introductory Price | $89.99 | $69.99 | $99.99 |
| Key People | Gunpei Yokoi, Hiroshi Yamauchi, Minoru Arakawa, Satoru Okada | Gunpei Yokoi, Hiroshi Yamauchi | Gwénaël Nicolas  |
| Notable Games | Tetris, Super Mario Land, Baseball, Dr. Mario, Donkey Kong Land | Pokemon Pinball, Pokemon Gold and Silver, Super Mario Land, Wario Land 3 | Super Mario Advance, Pokemon Emerald, V-Rally 3 |
The History of Game Boy: What to Know
Origins
The name Gunpei Yokoi likely doesn't mean much to many who aren't intimately familiar with Game Boy history, but he's a name every Nintendo fan should know. In 1987, Gunpei approached Nintendo's President, Hiroshi Yamauchi with a prototype portable gaming device and speculated it would sell 25 million units in three years. 
Even though many employees within Nintendo were uncertain that the Game Boy aka "DMG-01" (its original product name) would be successful, nicknaming it "DameGame" (hopeless in Japanese), Gunpei kept moving with his design and hardware. Around the same time, Tetris was presented to Nintendo of America's President, Minoru Arakawa, with the hopes of porting it over to Nintendo's new portable game system. 
Arakawa would agree to package a copy of Tetris with every Game Boy just as the company packaged a copy of Mario with every NES purchase. Arakawa wouldn't know it at the same time, but this decision turned out to be one of the best decisions in gaming history. 
While Nintendo was aligned on including a copy of Tetris, internal debates between Okada and Yokoi continued around Game Boy hardware. Fierce discussions occurred about whether DMG-01 should be small and light, and arrive with an immediately recognizable library of game titles. Yokoi believed that players would only consider purchasing the Game Boy if it had enough battery life to last a train ride or a long road trip. 
Hardware
Yokoi won the debate and, as a result, the hardware offered a 160×144 pixel screen on a 2" display that showed only a few different shades of gray. The original hope was to release with a color screen but the technology wasn't there to offer both that and a battery that lasted for hours. 
Instead, Nintendo believed that as long as the company released a compelling lineup of games, players would overlook the black-and-white graphics as well as the lack of a backlight. Yokoi was right and as a result of his non-stop work to push Nintendo to believe in his plan, the Game Boy was able to last around 30 hours on four AA batteries. 
Going to Market
When the Game Boy was released in Japan in April 1989 and in North America a few months later, Nintendo spent $10 million dollars promoting the Game Boy. What happened next was to everyone's surprise as the Game Boy would go on and spark a global frenzy clearing out inventory as fast as Nintendo could bring hardware to retailers. Featuring interchangeable cartridges and excellent battery life, the Game Boy was a bonafide hit. 
Game Boy Versions: Each Edition
Game Boy 
Even at the time of its release, the Game Boy hardware wasn't particularly impressive. The black and white 2-inch screen, the thick hardware frame, and the vertical setup weren't thought to be what video game consumers would respond to. The hardware was pretty basic with four operation buttons: A, B, Select, and Start, along with the directional pad (d-pad nowadays). A volume control button sits on the right side of the hardware while a contrast dial lives on the left side. 
Inserting a game happened on the back of the handheld and was as easy as pushing it in and pulling it out. The on-off switch not only doubled as a power button but would also prevent users from accidentally pulling a cartridge out during gameplay. 
One of the best aspects of the Game Boy was its ability to link to other systems using a link cable. This led to some incredible accessories produced not only by Nintendo but by third parties who quickly saw promise with this portable handheld. Players could also use this link system to play head-to-head which was another major win for Nintendo. 
Within three years of releasing to the world, Nintendo had already sold 32 million units. By 1997, that number was now over 60 million. When Nintendo finally discontinued its original Game Boy model in 2003, it would eclipse more than 118 million units sold when combined with its successor, the Game Boy Color. 
Game Boy Color
The true successor to the original Game Boy hardware, the 8-bit color edition was released in late 1998. With this edition, Nintendo was able to finally release the color version of the Game Boy it had originally hoped to launch. The monochrome screen was dropped all while making the overall hardware thinner and lighter than the original Game Boy. 
The Game Boy Color added a maximum of 56 different colors on the screen simultaneously, which was 52 more colors than the original Game Boy. Additionally, it increased the processing power of the hardware to more than twice the speed of the original and quadrupled the available memory. It was also backward compatible with the original Game Boy, making it an easy purchase. 
The Game Boy was powered by two AA batteries which offered around 10 hours of gameplay. The Color was released in five original colors and had a library of more than 575 games available. When it was discontinued in 2003, the Color and the original Game Boy accounted for 118 million units sold. 
Game Boy Advance
The pinnacle of Game Boy hardware, the Game Boy Advance advanced the Game Boy name into the 32-bit era of gaming. Released in Japan in March 2001 and in North America later that June, the Game Boy Advance became a part of the sixth generation of video game consoles. Nintendo would announce the GBA on September 1, 1999, and would release the console two years later with 15 launch titles and a $99.99 price point. 
Unlike the original Game Boy and the Color edition, Nintendo opted to move away from its beloved portrait form factor in favor of a landscape design. This would put the buttons on the sides of the screen rather than below it, which was a questionable design choice given how well the portrait model had sold. This meant Nintendo now had enough space to add six total action buttons, an eight-way control pad, as well as the volume slider, power switch, and cartridge slot. 
The screen jumped to a 2.9-inch LCD display that was powered by two AA batteries which were good enough for up to 15 hours of gameplay. Advancing the Game Boy Color's screen dramatically, the GBA was good for 512 simultaneous colors in "character mode" and more than 32,000 colors in "bitmap mode." 
It would eventually be succeeded by the Game Boy Advance SP, a clamshell design of the GBA that offered all of the same functionality and gameplay, but in a clamshell design. All totaled, between the various iterations of the Game Boy Advance, more than 81 million units would be sold before it was discontinued. 
The Public Response
It goes without saying that the public response to the Game Boy was one of incredible success.
As one of the best-selling video game consoles of all time, not only was the original Game Boy an instant hit, every edition thereafter was successful by most measures. However, media outlets were somewhat more skeptical about its chances as Electronic Gaming Monthly, a now-defunct gaming magazine, negatively gravitated toward the black and white display while simultaneously praising battery life. Between four editors, it scored out of 10: 7.5, 7.0, 8.0, and 2.0. 
Thankfully, reviews never stopped the Game Boy juggernaut. Even the Game Boy Micro, the last iteration of the Game Boy Advance, was by all accounts a stripped-down version of the GBA without backward compatibility and still sold 2.4 million units. That's more than most Game Boy competitors sold during their lifespan (we're looking at you, Atari Lynx).
With more than 1,046 games released in total, the Game Boy truly had something for everyone. While its spirit lives on in the form of the Nintendo DS, 3DS, and now with the Nintendo Switch, there was a magic to the original Game Boy that was truly magnificent.
Up Next…
Interested in similar articles? Click on the links below: