Key Points
The mastermind behind the Sol-20 invention was Lee Felsenstein (b. 1945 in Philadelphia), an American computer engineer who also designed the

Osborne 1

(one of the first portable computers) and effective computer hardware.

Sol-20 is among the few computers that stormed the market in the 19th century and significantly changed computer developments. It was one of the earliest to include a keyboard interface and support circuitry to implement all 8080 functions.

It was also a pioneer in modern video output boards by having a design that put up alphanumeric characters on the screen, using a form of distributed processing that didn't lean on the CPU for all processing.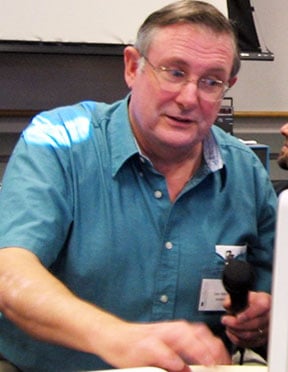 In November 1975, the electronics engineer Robert M. (Bob) Marsh founded the Processor Technology company in Berkeley, California. He produced ROM, RAM, and I/O cards for Altair. Together with Leslie (Les) Solomon (technical editor of Popular Electronics magazine), they discussed the just emerged concept of the personal computer. The famous Altair 8800 was just presented (in the January 1975 issue of Popular Electronics). It seemed to be very profitable, although it had a small memory, and its programming was slow because it lacked a keyboard. Solomon agreed to carry a construction article on an intelligent terminal on the magazine's cover if a working model could be supplied in thirty days.
The work on the project started immediately in Processor Technology, but it was challenging. Marsh asked Lee Felsenstein to help them produce a working model for their project. He had previously worked for Processor Technology on building a plug-in video terminal board for Altair. He became the main designer of Sol-20, working in cooperation with Marsh himself (who designed the power supply and the audio cassette interface) and Gordon French (project manager and mechanical designer).
Quick Facts
Original price

$2129
As the design progressed, the team realized that they were building a general-purpose computer rather than an intelligent terminal. Still, the decision was made to soft-pedal the fact until the last possible moment. Once published, all the fuss possible was to be made about its general-purpose nature; but until it saw print, it was to be treated first as a terminal.
A friend of Marsh could supply walnut side panels for the case, and if the computer was designed low enough, they could use center-cut pieces of wood, which were cheap and easily available. The height of Sol-20 was also a problem but was solved by mounting the expansion boards horizontally rather than vertically. With only one room in the case for five boards, most of the computer functions, including the processor, video, I/O ports, and cassette interface, were mounted on a single large board positioned at the bottom of the case.
When the prototype machine was completed, Marsh and Felsenstein headed for New York to demonstrate it to Les Solomon. Despite their successful demonstration in the offices of Electronics, they had a rough time as the Sol-20 machine did not start and had to be repaired. Murphy's Law is confirmed! Felsenstein needed almost a whole day to trace the trouble to a wire damaged during the transportation to New York.
Sol-20 was presented in the July 1976 issue of Popular Electronics. The article in Popular Electronics offered a kit version (just like Altair and Imsai computers) at a very low price ($995) and free schematics to all who asked. Processor Technology was soon deluged with orders, and it took almost a year to fulfill them.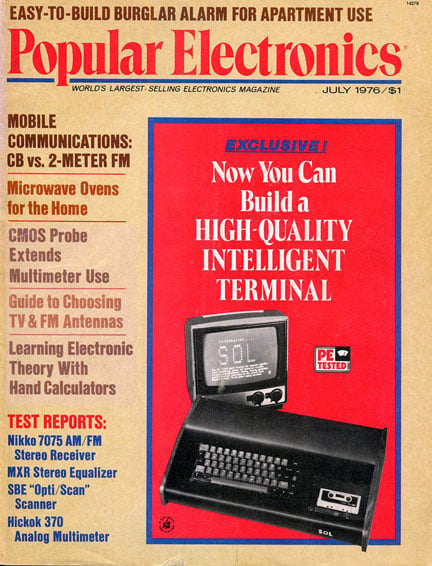 The full working version of Sol-20 ($2129) was introduced in August 1976 at the Personal Computing Show in Atlantic City, and it became the hit of the show.
SOL-20 became known as the most reliable machine on the market. By 1977, it was the dominant personal computer in the industry. It was in production until 1979, and over10,000 Sol computers were produced (some 5000 as kits, some 5000 as pre-builts). 
Current Availability
Unfortunately, Sol-20 is no longer available in the market today. It was discontinued in 1979, as newly introduced computers such as Apple II hit the market.
Sol-20 Overview
Release date and price
Sol-20 was announced in August 1976 with a market price of $2,129. 
Different Models
The Sol computer was designed in three variations:
Sol-PC

had a single circuit board without a case or power supply. It was sold as a kit at $475, and the purchaser could assemble it themselves or get the fully assembled Sol-20 computer for $745.

Sol-10

was a Sol-PC as the motherboard but included a case, keyboard, and power supply.

Sol-20

was the same as Sol-10 but included a vertical expansion backplane, enhanced keyboard, a bigger power supply, and cost about $200 more.
Features
Sol-20 was among the first computers to introduce the keyboard interface. Unlike previously designed computers like the Altair 8800 that lacked a keyboard, using Sol-20 is much easier, and you could quickly key in commands. 
UHF Connector and Composite Video
What distinguished the Sol-20 from other designed computers of the time was its capability to connect with other devices. It could be connected to a monitor or a conventional television. Therefore, you could effectively control other external functions.
One of the ways to increase the sales of Sol-20 computers was by providing a common programming language. Sol-20 computer used the Basic/5 language, which was user-friendly, unlike the writing custom software. Additionally, the Basic/5 language was more appropriate as it could run on a minimal machine.
A major challenge experienced by early computer developers was how to develop an external cage. The Sol-20 computer provided a solution by creating only output and input that acted non-simultaneously. This terminal computer allowed a signal to pass on only one of the two bases by using signals.
Specifications
| | |
| --- | --- |
| Size | N/A |
| Weight | N/A |
| Screen type/size | Display: 64×16 text. |
| Video output | Composite Video Output |
| Audio output | N/A |
| Card slot type | S-100 slots |
| Internal battery type | N/A |
| Operating system | Intel 8080 |
| memory | 1 KB- 64KB RAM, 1KB- 2KB ROM |
| Storage | Cassette Tape, 5.25″ and 8″ disk |
| Battery life | N/A |
| Charging time | N/A |
Sol-20 Review
We tested the efficiency of Sol-20 computers in our offices, and it served us well. Amazingly, its installation was quick, thanks to the user manual provided. See The System Manual of SOL-20
We connected it to our company's laptop, and the best part was how fast it transferred the file to its system. Also, this terminal computer starts instantly, making it a very reliable machine when performing urgent tasks. We also played some games on this excellent computer. Although the games have poorly designed characters, it's quite interesting.
The keyboard was good as it sent the right signal on our monitor. However, it was challenging to learn its operating system as it uses a text interface. Unlike modern computers, the Sol-20 requires codes to understand the given command.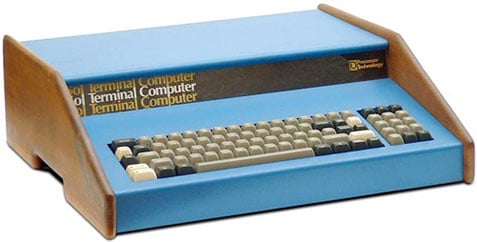 Sol-20 Pros and Cons
Pros:
Relatively cheap

amazing keyboard

input/output ports

Efficient external storage
Cons:
Poor process

Limited ROM memory

Uses the user interface program
Sol-20: Was It a Good Buy?
It Was a Great Buy If…
Your work depended on external devices. The Sol-20 computer was designed with an input and output port for external devices. So, users could easily connect to their monitor or transfer data from their laptop and work on this great computer. 
It Wasn't a Great Buy If…
You needed a fast and effective processor. Almost everything about the Sol-20 was amazing, but its processor was a problem when users ran too many applications. It only had a maximum of 2KB ROM, which was enough to run one or two programs at a given time, but if your work entailed loading a lot of data, this computer wasn't an optimal choice. 
NEXT UP…