Elon Musk is, at the time this is written, the wealthiest man on the planet. With a net worth of 181.1 billion USD, Musk has edged over other top billionaires, including Bernard Arnault, Bill Gates, Jeff Bezos, and Mark Zuckerberg. His electric vehicle company, Tesla, has played a big part in putting him in the billionaires club and, subsequently, the number one richest man alive. In fact, Musk's net worth crossed the billion mark through Tesla's success. Unknown to many, Musk has actively founded other companies before Tesla, including PayPal, SpaceX, and Zip2. He is a seasoned entrepreneur, engineer, and innovator who has continually reinvested and taken big risks to get to where he is.
With all this affluence, you might wonder what type of cars the Tesla boss drives. Running the top EV manufacturer in the world, you would expect his car collection to involve only the top electric vehicles, but that is not the case. Musk's garage consists of different vehicle types, ranging from analog, classic, and modern EV makes. Here are all the automobiles in Elon Musk's garage and what he actually drives today.
1978 BMW 320i
The BMW 320i  was Musk's first car. It reflected his humble beginnings because it was an inexpensive car. In fact, he purchased a used model at $1,400 and worked on it himself. Back then, BMW wasn't a sign of status as it is today, so it was just an ordinary vehicle anyone could acquire. The iconic car was the inaugural generation of the celebrated BMW 3 Series, which debuted at Munich's Olympic Stadium in 1975.
The BMW 320i was powerful, with a top speed of 112mph and accelerating from 0-60mph in slightly over ten seconds. Musk used this car for several years until one time, the wheels fell off when his intern in Zip2 was using it. After the incident, he decided to do away with the car.
1997 McLaren F1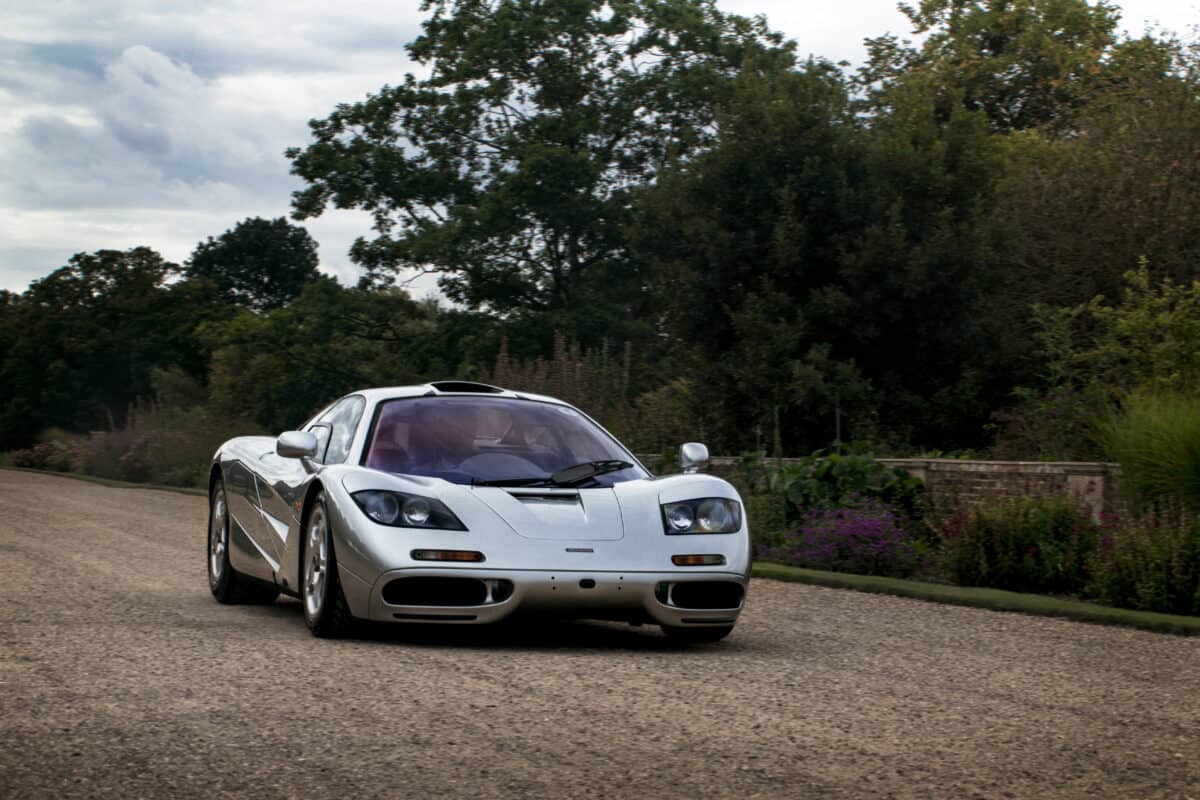 Following the acquisition of his company, Elon indulged himself in a luxury purchase. While he considered buying a home in Palo Alto or a McLaren F1, he ultimately decided on the latter. His specific F1, number 067, was among the seven vehicles of its make in the US at the time. This means he paid handsomely for it. The car had an incredible top speed of 240 mph. However, Musk was not satisfied with this performance and purposed to make an electric car that would surpass F1 performance.
Musk opted not to purchase insurance because he was confident he wouldn't be one of those wealthy individuals who crashed their sports cars. However, three years later, Musk did indeed crash his silver supercar. Although he came out unharmed, the vehicle suffered significant damage. In the end, Musk sold the car at a profit in 2007 because he didn't want the constant attention that came with owning a high-performance gas guzzler.
1976 Lotus Esprit, aka Wet Nellie
Lotus Esprit S1 was an iconic car used to film the James Bond movie, The Spy Who Loved Me. Getting this car in your garage was incredible for anyone who grew up watching the movie, and Musk was not left behind. A car that could turn into a submarine became popular and earned the nickname"Wet Nellie." Musk was fascinated by the idea, so when the Lotus Esprit S1 was put up for auction in 2013, Musk didn't think twice about the bid. He savaged it from auctioneers for close to a million dollars.
It was, however, discovered that Wet Nellie could not turn into a submarine. It would not be surprising to see Elon bring the idea to reality and make the vehicle the submarine it was supposed to be.
1920 Ford Model T
Musk's possession of Tin Lizzie, a classic car, might come across as unexpected, but it speaks to his enthusiasm for the bygone era. For those who anticipate that he will revolutionize terrestrial and interstellar transportation, it seems fitting that he owns a vehicle that transformed personal mobility during its time.
The Ford Model T is a remarkable relic of the automobile industry. Henry Ford's decision to launch the Model T as the first car mass-produced for the general public resulted in the most momentous car of the twentieth century.
1967 E-Type Jaguar Roadster
Jaguar E-Type was an admirable vehicle because of its lightweight make, power, and stability during high-speed racing. Its unique make was also striking, probably the reason Musk loved the car when he first saw it at only 17 years of age. He purposed to get one for himself when he could manage, and as the ambitious man he is, that dream didn't take long before actualizing.
Unfortunately, his experience with the British Roadster did not turn out as he envisioned. On his way from the showroom, it broke down, frustrating his dream of owning an impeccable vehicle. He is once quoted saying that the Jaguar was like a terrible girlfriend who kept pulling all sorts of drama and creating difficulties.
2006 BMW M5
A BMW tuning specialist, Hamman, transformed an M5 into a remarkable display of Bavarian engineering. The M5 was already an exceptional car in its own right, but Hamman elevated it to new heights by enhancing the performance of its 5.0-liter V10 engine, boosting its output to 603 horsepower and unlocking a top speed of 199 miles per hour by removing the speed limiters.
Despite being classified as a family car with four seats, the M5's capabilities were far from ordinary. It was such an extraordinary vehicle that it may have even inspired Elon Musk's "Ludicrous" driving mode on the Tesla Model S.
2010 Audi Q7
By 2010, the Musks family had significantly grown and needed a big car to accommodate it. Of course, besides size, he was out for a classy and luxurious SUV. His search landed him on the  Audi Q7, which features a smooth performance, high-tech features, a lush interior, and a sporty look. While the car was one of the best SUVs at the time, Musk was not satisfied.
He publicly expressed dissatisfaction, calling it "particularly horrendous." His displeasure pushed him to construct a car with better features and convenience. The falcon-wing doors in the Tesla Model X are a clear solution to accessibility. Passengers can easily reach the rear seats even in confined parking spaces.
2021 Porsche 911 Turbo
The 2021 Porsche 911 Turbo is an incredible sports car with a rich heritage in motorsport. Its intriguing design makes it stand out among its peers, such that even the automobile engineer, Elon Musk, could not resist its charm. The massive guzzling engine was, however, something he wanted to change. The idea of converting his to electric vehicles came alive. He pursued the idea of battery-powered engines with engineer JB Straubel whom he had met in 2003.
Straubel was working with Alan Cocconi, and the two had successfully created a prototype e-car (the T-Zero). This impressed Musk, who shared his idea of converting his Porsche 911 Turbo to an electric vehicle. Cocconi didn't think it was viable; instead, he introduced Musk to Tesla founders assembling their electric car startup. This matched his ambitions, and he didn't hesitate to invest heavily in the company. His contributions to the growth of Tesla tell of a man who pursued his ambitions into reality.
2008 Tesla Roadster
Elon Musk owns a Tesla Roadster and has more than one, as you might expect! However, the particular Tesla Roadster in question is not currently in his garage, rather, it's cruising in space. The story of how it got there is quite intriguing, so let's dive in.
In 2008, Tesla launched its first EV,  the Roadster. Built on a Lotus Elise chassis, the Roadster was powered by lithium-ion batteries and had an impressive 227 miles range. The Roadster was powerful, accelerating from 0-60mph in just 3.7 seconds. Elon Musk was the first person to own the Roadster, and for several years, it was his car for daily commutes.
After enjoying the Roadster for some time, Musk decided to give it a grand send-off rather than selling it on eBay like an ordinary person. He placed the car on board his SpaceX Falcon Heavy rocket and launched it into space on February 6, 2018. For those curious about Space Tesla's journey, an unofficial website has been created to track its progress: whereisroadster.com.
2019 Tesla Model S Performance
Tesla Model S is one of the most comfortable and spacious cars in Tesla's lineup. It also has an impressive range of up to 405 miles and accelerates from 0-60mph in 2.4 seconds. It's not a surprise then that this is the car Musk drives the most. Out of the inspiration from Hamann-tuned BMW M5, Musk introduced a Ludicrous mode for this model, increasing Tesla's power by featuring a turbocharger. This boosted the 2019 Tesla Model S Performance, becoming one of the fastest Evs in the market. That was not enough, though. Musk craved more power and introduced a Plaid version of the Model S, delivering incredible speeds.
The Model S features incredible design, high-tech features, and capabilities such as big infotainment screens with a wide range of functions, semi-autonomous driving mode, automatic emergency braking, and more.
2020 Tesla Cybertruck
It's no surprise that one of the world's most controversial figures introduced an equally controversial vehicle – the Cybertruck. This futuristic electric pickup truck, slated for release in 2023, boasts a design unlike anything seen before, including bulletproof glass. While Rivian has already released its electric truck, Musk's creation stands out with a design reminiscent of something out of a sci-fi movie from the 1980s.
The Cybertruck has seating space for six people, 500 miles range on a single charge, and an ultra-hard 30x cold-rolled stainless steel body with armored glass that's virtually indestructible. Despite this, at the launch event, a metal ball thrown at the windshield shattered it immediately, much to Musk's disappointment. Nonetheless, the Cybertruck is shaping to be Tesla's most audacious vehicle yet.
With all-wheel drive, the Cybertruck has a towing capacity of 14,000 pounds. The Cybertruck, like most Teslas vehicles, has three versions, single, dual, and three motors with different engine capacities. The 0 to 60 mph acceleration for the three variants is 6.5 seconds, 4.5 seconds, and 2.9 seconds, respectively, and the respective top speed is 110mph, 120mph, and 130mph.
Elon Musk Car Collection: Bottom Line
The car collection in Elon Musk's garage is as diverse as his investments. It's clear that he is an automobile enthusiast with a focus on perfection. Each car tells a story. Most of the cars he has owned have inspired him to develop better vehicles with better features. When he eventually joined Tesla, he had an opportunity to perfect the flaws he saw in some of the cars he bought. He also borrowed features like the BMW M5s Ludicrous mode and integrated them into Tesla models to boost performance.