Key Points
Seagate is a technology company that produces hard drives for computers.
The company was first founded in 1978 and produced a hard drive with a five-megabyte capacity.
As of 2021, the company enjoys a massive 43% market share of all hard drives sold worldwide.
Anyone who has built a PC or installed a hard drive may be familiar with the name Seagate. The tech firm has solidified its reputation as the world's largest hard drives producer. With a 43% market share as of 2021, Seagate ships more hard drives than even its closest competitor, Western Digital. But how did this firm become such a large and successful company?
The Founding of Seagate Technologies: How it happened
Seagate Technologies has been in the hard drive industry for over 40 years. But they were not always the dominant player in the data storage market. In fact, the company sprang from the idea that hard drives would eventually become popular and wind up in every computer sold one day.
Quick Facts
Year Founded

1979

Founders

Alan Shugart, Tom Mitchell, Doug Mahon, Finis Conner, Syed Iftikar

Industry

Data storage

Headquarter

Dubline, Ireland

Key People

Dave Mosley (CEO), Michael Cannon (chairman), Ravi Naik (CIO)

Notable Products

Hard drives, solid-state drives, hybrid drives

Website

http://www.seagate.com/
Al Shugart, Tom Mitchell, Doug Mahon, Finis Conner, and Syed Iftikar formed Shugart Technology in 1978. This name was quickly changed to prevent issues with Al Shugart's other company, Shugart Associates. In 1979, the name was officially changed and incorporated as Seagate Technologies.
Finis Conner initially approached Al Shugart to develop and produce the first 5.25-inch hard disk drives for home computers. Since the computer revolution was in its infancy, home computers were highly uncommon. Even so, this intuition would pay off for the young company. Over the next several decades, the use of home computers surged, and before long, Seagate was leading the pack in hard drives and storage development.
Seagate Technologies Through The Decades
The 1980s
Seagate Technologies hit the ground running with its first product launch in 1980. With a capacity of five megabytes, the company's first hard drive provided home computer users with more storage. Before long, Seagate produced a 10-megabyte hard drive using the same form factor.
Seagate soon secured a contract with IBM, thanks to these early products. In fact, IBM's first personal computer used a Seagate hard drive. The company enjoyed $10 million in shipments in its first year, then went public in 1981. Just a year later, the company was shipping over $100 million worth of hard drives annually. From then on, Seagate's reputation in the data storage industry only grew stronger.
The early success of Seagate Technologies in the 1980s was based on the contracts with IBM. In fact, over 60% of Seagate's sales were going to the early IBM home PCs. With the booming popularity of the home PC, hard drives grew equally in popularity. People needed the means to store their files, and floppy disks did not provide the high capacities offered by hard drives at the time.
By 1983, Tom Mitchell had replaced Al Shugart as president of the company. Growth continued throughout the rest of the decade as personal computers became more prevalent. Seagate acquired Imprimis Technology, a competing disk storage company, by the decade's end. The result was an increase in market share and a further reduction in production costs for the company.
The 1990s
The next decade saw even more growth in the personal computing industry. As a result, Seagate capitalized on a rapidly evolving data storage market. In 1991, Al Shugart returned as president of the company. Shugart implemented several changes in order to spur further growth of the company. Production costs were decreased, and Seagate kept up with the increasing demand for PC hard drives by focusing on the most lucrative markets.
Seagate introduced one of the most successful products ever in 1991: the Barracuda hard drive. With a 7200-RPM spindle speed, it was the fastest hard drive ever made. By 1993, Seagate Technologies had shipped more than 50 million hard drives. This massive success encouraged the company to move from the Nasdaq exchange to the New York Stock Exchange. The company's stock continued to soar as growth continued.
Seagate merged with several other companies throughout the decade while absorbing its production facilities and market share. It seemed like the company was unstoppable, producing faster drives with ever-increasing capacities. However, good times could not continue indefinitely, and 1997 saw a decline in growth for the first time.
Al Shugart stepped down as president in 1998 and was replaced by Steve Luczo. The company laid off thousands of employees in a restructuring effort and even closed some of its less profitable divisions. Seagate closed over half of its factories and poured as much money into research and development as possible. The company's goal going into the next decade was to innovate and grow by creating leading-edge technology.
The 2000s
Although Seagate started to decline towards the end of the 1990s, it enjoyed the most successful turnaround of any technology company to date within a few short years. Seagate started the new millennium in a massive restructuring deal, which took the company private in 2000. In a massive $20 billion buyout, the company was able to unlock additional capital for expansion.
The restructuring effort was a massive success, and the company could go public again in 2002. In 2003, Seagate was once again listed on the New York Stock Exchange, and further growth followed. With the increase in popularity of laptops and portable devices, Seagate was able to capture even more market share. Since the first iPod used Seagate hard drives. The firm supplies hard drives for all subsequent models.
Throughout the rest of the decade, Seagate was praised for its good management and the quality of its products. Accolades from the New York Times and Forbes praised Seagate as the company that "sparked the personal computer revolution 25 years ago with the first 5.25-inch hard drive for the PC."
Seagate continued to innovate with higher-capacity hard drives with smaller dimensions. In 2007, the company became the first to introduce the hybrid drive, with a solid state and conventional partition in one device. Growth continued almost exponentially for Seagate throughout the 2000s, and by 2008, the company had officially shipped over one billion hard drives.
Present Day
Though Seagate faced some hiccups along the way, the next decade would ultimately prove to be just as successful. With hard drive capacities growing ever larger and production costs decreasing, annual revenue had reached over $14 billion by 2012.
Innovation continued at the company, demonstrating the world's first 1TB per square inch technology produced in 2012. Seagate claimed this technology could be improved rapidly, and it would be possible to reach 60TB hard drives by 2030. In 2016, Seagate broke its own estimate by decades when it demonstrated the world's first 60TB solid-state drive at Flash Memory Summit in California.
Seagate continues to lead the data storage industry in innovation and production capacity. As of 2021, the company enjoys a massive 43% market share of all hard drives sold worldwide.
What are the most important inventions from Seagate Technologies
1980 – 5-Megabyte ST-506
Seagate's first product launch was its own 5.25-inch hard drive. It was the first ever hard drive to fit in a small form factor and could match the standard floppy drive of the time. Before this, hard drives suffered from smaller capacities and massive physical dimensions.
1991 – Barracuda 7200
Seagate produced the world's first 7200-RPM hard drive in 1991. Known as the Barracuda, this hard drive would continue to evolve and stay in use for the next several decades. In fact, the Barracuda lineup is still produced and used in PCs to this day.
1996 – Cheetah 4LP
A few years after introducing the 7200-RPM hard drive, Seagate released an even faster 10,000-RPM Cheetah 4LP. This hard drive was intended for servers and workstations that required higher data transfer speeds.
2007 – Hybrid Solid-State Drive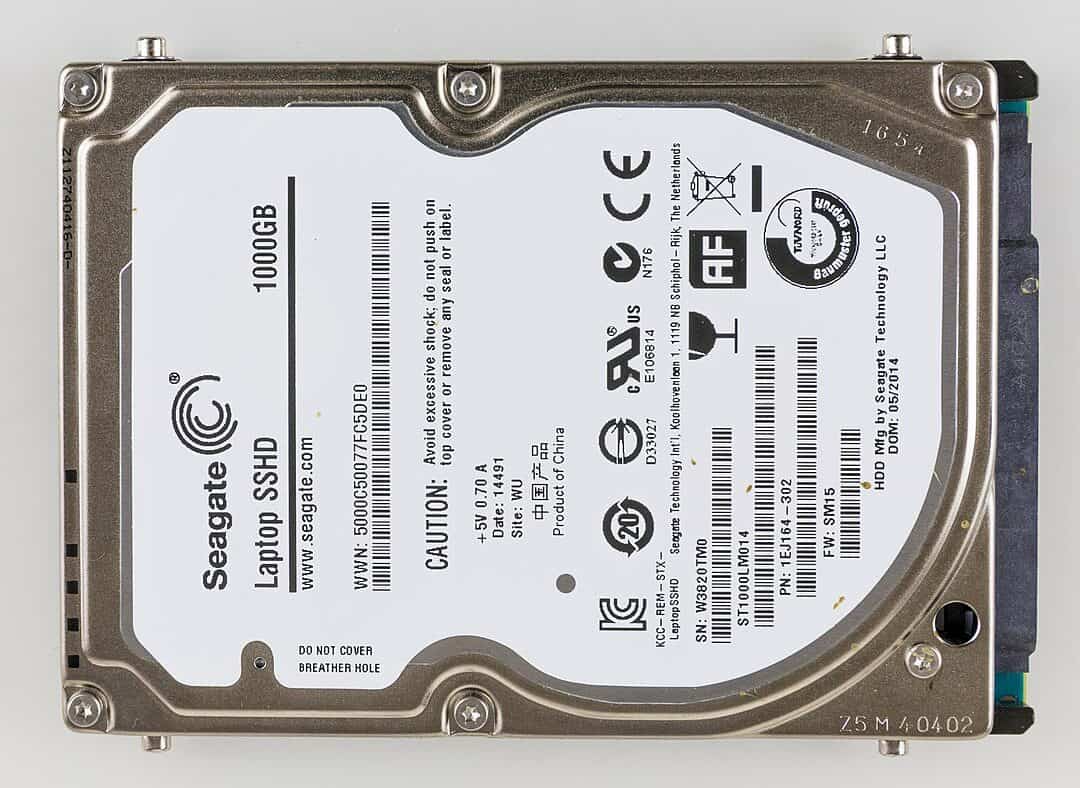 Seagate introduced the world's first hybrid drives alongside Samsung in 2007. While not nearly as fast as modern SSDs, these early hybrid drives greatly improved over standard disk drives. Hybrid drives offered much better performance for consumers with a partition of NAND flash memory for loading the most critical files.
2013 – Shingled Magnetic Recording Drive
Shingled magnetic recording allowed even higher storage density than standard hard drives. Seagate pioneered this technology and shipped over one million drives by 2013. Drives that took advantage of this new technology were typically sold to enterprise clients, who required higher storage capacities.
How Does Seagate Technologies Make Money?
Seagate Technologies focuses exclusively on data storage. The company is the leading manufacturer of consumer and enterprise hard drives and has largest market share. Seagate also produces storage devices for gaming consoles, portable devices, and surveillance systems.
Besides hard drives, Seagate also manufactures solid-state drives, external hard drives, and storage subsystems. Part of the company's enterprise offerings includes edge-to-cloud data platforms and storage-as-a-service.
Seagate Technologies Acquisitions
Maxtor – $1.9 Billion – 1982
Seagate acquired Maxtor, one of its largest competitors, in 1982 for a staggering sum of $1.9 billion. The increase in market share and production facilities spurred continued growth.
Lacie – $186 Million – 1989
The Lacie name is still around today, present on external hard drives and storage devices. Seagate acquired the company in 1989 and improved its production and manufacturing processes.
Xyratex – $374 Million – 2009
Xyratex was a producer of modular solutions for the enterprise data storage industry. Seagate acquired this company to bolster its enterprise and cloud storage offerings.
Kioxia – $18 Billion – 2017
Seagate's largest acquisition to date is the company Kioxia. Although Seagate paid a whopping sum of $18 billion, the company hopes to utilize Kioxia's cutting-edge research and development to further expand its market share in the SSD and cloud storage industries.
Seagate Technologies Notable Controversies
1997 – Sued in England Over Faulty Hard Drives
As a result of a lawsuit filed by Amstrad PLC over disk drives Seagate sold to the company, the High Court of Justice awarded the company $93 million in May 1997.
2016 – Faulty Hard Drives Lead To Class-Action Lawsuit Yet Again
Two Seagate hard drives – Barracuda 3TB Hard Disk Drive and Backup Plus 3TB External Hard Disk Drive each have a 3TB capacity. In its lawsuit against Seagate, Hagens Berman claim these drives "failed at exceptionally high rates, leaving consumers with broken hardware and significant data loss."
2021 – Seagate Violated Export Sanctions
Seagate was accused of violating export administration regulations in October 2021 when it sold parts and components to the Chinese company Huawei, despite U.S sanctions.
NEXT UP…
The image featured at the top of this post is ©Coolcaesar, CC BY-SA 4.0 , via Wikimedia Commons.