Key Points
Archie, created in 1990, was the first search engine and focused on crawling through files across anonymous FTP servers.
Veronica, launched in 1992, was a text-based search engine that searched through the Gopherspace.
Aliweb, announced in 1993, was the first search engine to focus on the World Wide Web and relied on people writing descriptions of their services.
WebCrawler, launched in 1994, was the first search engine to use a 'spider' to crawl web pages and provide accurate search results.
Yahoo!, established in 1995, became one of the most important names in the early internet era and had the best search results among its competitors.
When you think of search engines, the first name that comes to mind is undoubtedly Google and for good reason. However, Google's dominance doesn't mean they were first to market. In fact, Google was almost a decade late to the search engine game, and while it all worked out in the end for it, there is a notable history of search that's well worth taking the time to learn about. 
Even as many of these search engines are no longer available, their contributions to the world of search cannot be forgotten or ignored. It's the success of these smaller search players that helped Google understand how to best approach and later dominate the market.
With that in mind, let's take a look at the 10 oldest search engines in history.
#1: Archie
The first search engine to ever exist is Archie, which was created in 1990 or one year after the creation of the World Wide Web. Developed by Alan Emtage, Archie focused its search function on crawling through files across a public yet anonymous FTP server and then indexing them so users could find whatever information they were looking to locate. As these indexes were updated, roughly once a month, new search results would appear to Archie's users. 
By incorporating a variety of anonymous FTP host directories, Alan and the rest of his development team were able to find files thanks to discovering a way to plug in directly to a host of searchable FTP databases.
Interestingly enough, at the height of its use, more than 50% of all internet traffic in Montreal, Canada, where Alan was at school, was handled through Archie. Unfortunately, high costs would force Alan and his team to shut down the site, ending the story of the world's first and oldest search engine.
#2: Veronica
Launched by Steven Foster and Fred Barrie at the University of Nevada, Veronica went online in November 1992. Named after the character Veronica Lodge of the Archie comics, Veronica went online as part of the "Gopher" project, which was a decentralized information portal that was effectively an alternative to the World Wide Web. 
Designed by Foster and Barrie to search Gopherspace, Veronica would enable users to search everything from files, images, and even documents. While today's internet is very much based on a graphical user interface, Veronica was heavily focused on text and more menu-driven protocols that would help users navigate the system.
As users searched Veronica, results would pop up from the Gopherspace that matched their query and would give them a list of results to choose from. While Veronica never truly gained traction, you can still find some hints of its existence across various Veronica installations that still exist to this day.
#3: Aliweb
Unlike Archie and Veronica which were built with particular focuses like the Gopherspace or FTP servers, Aliweb is considered the first search engine to focus on the World Wide Web. First announced in November 1993, Martijn Koster would borrow from Archie with its name as "Archie-Like Indexing for the Web."
Unlike other web search engines that you may know today, Aliweb would make use of an entirely different practice. It relied heavily on people who would write descriptions of their services using a standard format on the web and then tell Aliweb about the file they had completed.
As Aliweb would retrieve these files, it would combine them into a searchable database and then allow anyone to come and search Aliweb. Search results were updated regularly, often once a day, but it wasn't enough as Aliweb never really gained enough momentum to make a lasting impression on the world. However, that doesn't take away from Aliweb still being considered one of the first attempts to try and organize the World Wide Web in a way that makes sense for everyone.
#4: WebCrawler
Launched in January 1994 by Brian Pinkerton, WebCrawler, along with Lycos, has the honor of being one of the oldest search engines that is still active.
WebCrawler's introduction to the market gave the world its first look at a search engine providing full-text search functionality. Originally a desktop application, WebCrawler would begin with 4,000 websites in its database and would take just 6 months to hit its 1 millionth search query.
Where WebCrawler succeeded was by being the oldest search engine to use a "spider" to crawl through web pages so they could be indexed for search results. While this is commonplace today for search engines like Google, at the time it was a big leap for search and would provide WebCrawler with some of the most accurate results with any search query.
By 1995, America Online would acquire WebCrawler only to then have it be acquired by Excite in 1997, where it would eventually be spun off as an independent entity and is still available today.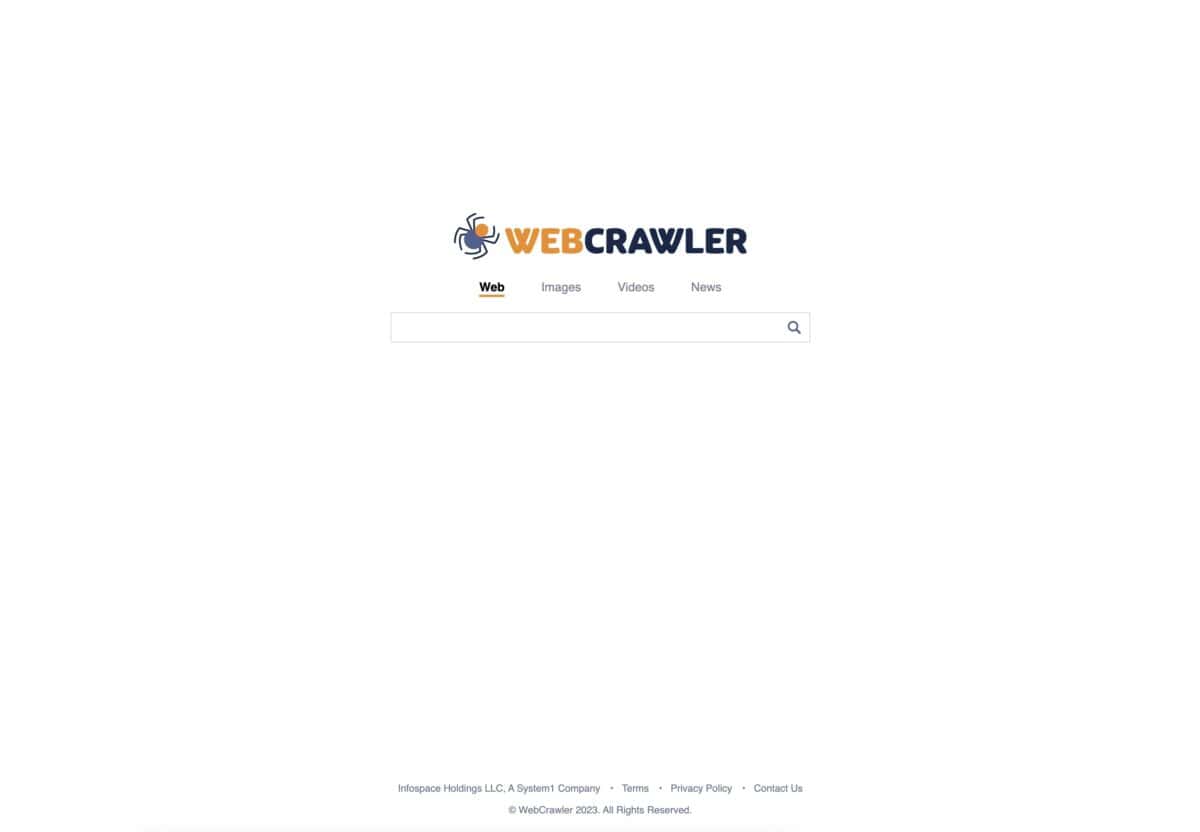 #5: Yahoo!
Established by Jerry Yang and David Filo in January 1995, Yahoo! has the great honor of being one of the most important names in the early internet era. Originally started as a web directory in 1994, the two Stanford graduates would later shift their efforts to search. 
Yahoo!'s growth was explosive in the 1990s and became synonymous with the rise of the dot-com world. In direct competition with the likes of Lycos, America Online, and Excite, Yahoo!'s results were the best of the bunch and became the central point for most internet users. As of 1998, Yahoo! was getting over 95 million page views per day, more than 3x the number its closest rival, Excite, was receiving. 
Coincidentally, Yahoo! would begin using Google's search engine in June 2000, which helped it maintain some level of importance over the next few years. Unfortunately, Yahoo!'s fortunes would begin to decline and it would turn down a $44.6 billion dollar buyout from Microsoft in February 2008. Today, Yahoo!'s services of search and email have helped it maintain some relevance even as its search market share has declined to 2.4%. 
#6: Infoseek
When it was launched in January 1994, Infoseek became next in line to try its hand at conquering the world of search. At the time of its launch, it was initially a pay-per-use service but would quickly drop that approach and shift to search by February of the following year.
Growing quickly thanks to its unique way of delivering search results by focusing on relevancy, Infoseek was among the first to try and provide its users with a ranked system of relevant results. In 1995, the popularity of this system helped Infoseek ink a deal with Netscape Navigator to become its default search engine.
To help grow revenue with Netscape, Infoseek introduced the Cost Per Thousand Impressions model, or CPMs, to sell advertisements, which is one of the biggest advertising models across the internet today. 
By September 1997, Infoseek was receiving over 7.3 million visitors a month, which was good enough to give it the rank of the 7th most visited website. Its popularity eventually caught the attention of Disney, which bought a 43% stake in the company in 1998, and would incorporate Infoseek across its various media properties online. Eventually, Disney acquired the rest of Infoseek and utilized its technology to develop the still available Go.com portal for all of Disney's various media businesses. 
#7: Lycos
Developed in 1994 and launched in April 1995, Lycos is likely to be the first name on this list that large groups of people immediately recognize. Founded by Michael Loren Mauldin at Carnegie Mellon University with approximately $2 million dollars in venture capital, Lycos had a presence in more than 40 countries at its peak.
By April 1996, Lycos had grown so quickly with its ability to enable users to search for entertainment, news, and other content that it had the fastest IPO (initial public offering) from creation to going live on the NASDAQ in the exchange's history. When its first day as a public company ended, Lycos had a market value of over $300 million and stood as the first search engine to go public by using enabling all of the words and phrases on a web page to show up as part of its search results.
By 1997, Lycos was only continuing to grow and would start offering email services to its customers by October of that year, which would help it become the 8th most visited website in the world. Unfortunately, the burst of the dot-com bubble would force Lycos to move away from search as its main feature all while divesting properties like Wired News and Quote.com. Sadly, attempts to reinvigorate the brand with a phone and wearables in the late 2000s would fail.
#8: AltaVista
One of the first big-name search engines to crawl the World Wide Web, AltaVista was launched in 1995 by Digital Equipment Corporation. AltaVista's initial growth was big and it was a strong competitor for Yahoo! and Excite with more than 13 million search queries or 80 million page views taking place every day by 1998.
In the same year, AltaVista was the 11th most visited website online and had become a favorite search engine among researchers thanks to its strong results. Its popularity would grow even higher by 2000 as it found its way to 17.7% of all World Wide Web searches compared to Google's then 7%.
Ironically, by 1999, AltaVista's search results were so good, Yahoo! pivoted and would incorporate AltaVista as its search provider. Unfortunately, mismanagement would lead AltaVista to be sold to Compaq computers in the same year and attempts to introduce a web portal were unsuccessful.
After the dot-com bubble burst, a public IPO offering was canceled and, when combined with Google's growth, AltaVista would see its once-dominant position dramatically diminish and it would shut down in 2013.  
#9: Excite
Founded in 1994 but launched in October 1995, Excite was one of the 3 biggest search engines during the mid-1990s and eventually grew to be the 6th most visited website online.
Offering a portal full of features like search, online shopping, email, and news, Excite was the first search brand to purchase another search engine after scooping up WebCrawler in 1996. Excite also has the honor of being one of the first companies to have exclusive distribution agreements with popular brands at the time: Netscape, Apple, and Microsoft.
At the height of its strength as a search engine, Excite would attempt to buy Google for $750,000 in 1999, but then Excite CEO George Bell decided the cost was too high. This massive mistake would come just one year after Yahoo! attempted to purchase Excite for up to $6 billion. Unfortunately, a series of difficult management decisions would force Excite to sell to Ask Jeeves in March 2004, and the company has been unable to recapture any meaningful market share. 
#10: Ask Jeeves
Best known for its iconic Jeeves the Butler logo, Ask Jeeves was launched on June 1, 1997. Running on the success of its unique question-and-answer functionality, Ask Jeeves was one of the first search engines to try and incorporate natural language search instead of just utilizing keywords.  
Over time, to stabilize its business against growing competition, Ask Jeeves would become a popular search alternative for non-technical groups of people who didn't understand how to search by keyword. Ask Jeeves would continue to try and improve its search algorithms by asking Jeeves fictional questions and providing both an answer as well as relevant search results.
Today, after falling on hard times after the dot-com bubble burst, Ask Jeeves attempted numerous rebrands only to be sold to IAC in July 2005, which would drop the "Jeeves" part of the name. Today, Ask.com still exists with a search feature but the likes of Google have made it difficult to find its way back to true relevance in the search market.
The Oldest Search Engines in History Summary
| Rank | Name | Launch Date |
| --- | --- | --- |
| #1 | Archie | September 1990 |
| #2 | Veronica | November 1992 |
| #3 | Aliweb | November 1993 |
| #4 | WebCrawler | January 1994 |
| #5 | Yahoo! | January 1995 |
| #6 | Infoseek | February 1995 |
| #7 | Lycos | April 1995 |
| #8 | AltaVista | Mid-1995 |
| #9 | Excite | October 1995 |
| #10 | Ask Jeeves | June 1997 |
Wrapping Up
The history of search is one of the most important among all of the various technological advances over the last 30 years. The likes of Google, Yahoo!, and Bing have changed the world for the better, and it's thanks to the older search engines on this list that Google was able to become a reality.
Other search engines like HotBot and DogPile also played a role in shaping the Google behemoth and have all seen various features become an integral part of the internet we know today.
The image featured at the top of this post is ©13_Phunkod/Shutterstock.com.