Many people seriously consider electric vehicles a feasible and more effective option because of their concerns about the environmental effects of diesel and gas-powered engines. As a result, the EV business has exploded. Technology for electric vehicles has advanced significantly, moving from being a niche luxury item to the new norm in the automobile industry.
Delivery trucks, sports cars, bikes, and other products manufactured to make travel easier, smoother, and more environmentally friendly are available as electric vehicles. The following is a list of electric car (EV) companies, starting with the biggest.
#1: Tesla
Tesla is one of the world's top producers and innovators of electric vehicles. It was among the first companies to master EV design.
The goal of Tesla is to hasten the world's transition to sustainable energy through the production and storage of renewable energy sources and increasingly inexpensive electric vehicles. More than 275,000 Model 3, Model S, and Model X Teslas are on the road worldwide. 
#2: Toyota
Toyota is a well-known Japanese firm that began producing cars in 1933. It has grown into a multinational business with a worldwide presence. In 1997, Toyota unveiled the Prius, a hybrid vehicle intended for mass production. Toyota recently revealed the bZ4X, its first battery-electric car. It has all-wheel drive and a 252-mile range per charge.
#3: General Motors
General Motors, a company with over a century of expertise, is promoting an all-electric future for the automotive sector. The firm works to produce accessible and inclusive electric vehicles. 
GM is committed to building a universally inclusive and reachable all-electric future. General Motors can develop several EV cars with its flexible battery architecture and Ultium platform.
#4: Ford Motor Company
Ford makes three all-electric vehicles in addition to several hybrid versions of its various vehicle lines. EVs made by Ford include the Mustang-E, F-150 Lightning, and the E-Transit. 
#5: Volvo Group
Volvo has stated that it wants to be an electric car firm by 2030. This desire, however, is not as strong as a commitment.
With 402 horsepower and 75 kWh of usable battery capacity, the Volvo XC40 Recharge electric crossover is currently on the market and has a range of 208 miles. The C40 Recharge is a coupe-roofed variation of this car, and it will be available soon.
Two all-electric variants and five hybrid models are available from Volvo. The EX90 SUV, a third EV model, is currently accepting reservations and should be delivered to customers in 2024. By 2025, the corporation wants at least 50% of its car lineup to be electric-only.
#6: Uber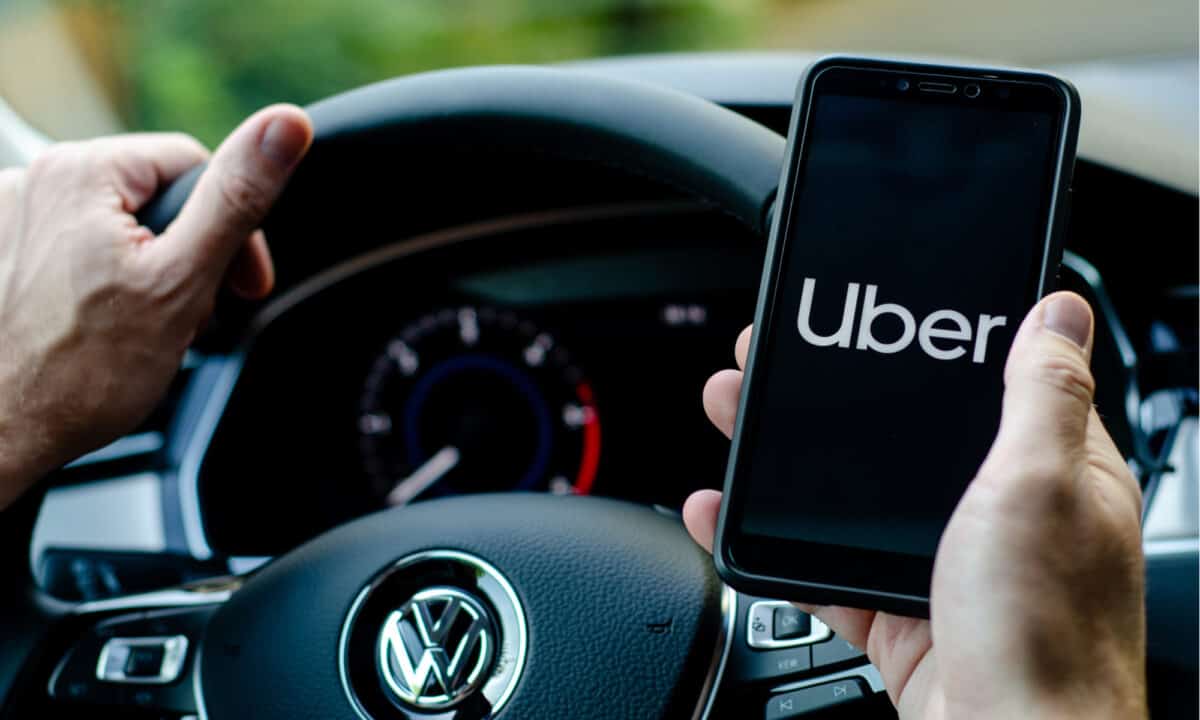 One of the biggest ride-sharing firms in the world, Uber helps individuals get on-demand trips in many different locations around the world. With the Uber Green and Uber Comfort Electric choices, users can now only connect with drivers operating hybrid or all-electric vehicles. By 2030, the corporation wants to have a fleet made up entirely of electric cars.
#7: Nissan
Nissan is a major automaker with operations all over the world. One of the first practical mainstream production electric vehicles was the 2010 Nissan Leaf. However, even after some upgrades, the Leaf is not very competitive. 
The Ariya SUV, which will soon be available to compete with Tesla Model Y and the Ford Mustang Mach-E, intends to change that. It has a 300-mile range and 389 horsepower from an optional e-4ORCE all-wheel drive system.
#8: Aptiv
As one of the top producers of electric vehicle architecture worldwide, Aptiv is committed to increasing the efficiency of transportation technologies by promoting the widespread adoption of EV technology. In addition to other facets of vehicle design, the business has developed solutions for cutting-edge safety and autonomous driving.
#9: Chevrolet
Chevy is committed to pushing the boundaries of what's possible in automobile design and engineering, inspired by the spirit of American inventiveness. Some of Chevrolet's most adored cars are electric automobiles, and they are both technologically advanced and eye-catching.
You can manage everything from long highway journeys to towing trailers with various vehicle options. The Bolt EUV, Bolt EV, and Silverado EV are some of the fully electric vehicles manufactured by Chevrolet.
#10: Rivian
The "electric adventure vehicle" from Rivian, which has both on- and off-road capabilities, comes in two variants. Based on battery and engine modifications, the company's R1T pickup truck can travel between 260 and 400 miles, while the R1S can accelerate from 0 to 60 miles per hour in roughly three seconds. Moreover, Rivian collaborates with customers to electrify their fleets of commercial vehicles.
#11: Arrival
Arrival is a manufacturer of electric vehicles whose goal is to help the transportation sector move to a zero-emissions business model. Along with producing electric passenger vehicles, Arrival also makes electric buses and vans. The company collaborates with businesses and government agencies to assist them in becoming more environmentally friendly and energy efficient.
#12: Canoo
Canoo is a Los Angeles-based firm that offers electric vehicles by subscription. Canoo's diverse electric vehicle options serve individual and corporate clients sustainably in meeting their transportation demands, from personal cars to delivery trucks. Walmart plans to buy 4,500 delivery EVs from Canoo. 
#13: Forth
Forth is a leader in developing electric and intelligent vehicle technologies, enabling the use of completely electric and hybrid vehicles for private transportation and ride-sharing. The business's online platform gathers information and specifications on vehicle range, horsepower, and other attributes while giving clients access to price and rebate choices.
#14: Proterra
Located in California, Proterra designs zero-emission vehicles, mostly heavy-duty ones. Apart from cutting operational costs, Proterra manufactures clean, quiet buses, trucks, and other heavy-duty vehicles across North America. Proterra helps businesses and government entities migrate from fossil fuel to electric power without losing efficiency.
#15: Lucid Motors
Lucid Motors manufactures smart electric automobiles with the features of conventional luxury cars. They blend elegance and sustainability.
The vehicles made by Lucid Motors have a charging time of about 20 minutes and can reach 60 mph in under 3 seconds. Additionally, they have intelligent ecosystems that support the latest GPS technology, voice control, and mobile connectivity.
#16: Mercedes Benz
Mercedes has not been left behind in the production of EVs. The company is assigning each EV model an EQ prefix, accompanied by a letter matching the class size of related combustion vehicles, to make its EV lineup easy to identify. 
We now anticipate the EQA small crossover, the EQB crossover, the EQC crossover, the EQE sedan, and the EQS in both sedan and SUV configurations. Moreover, the EQG electric G-Class SUV will hit the market in 2024.
#17: Faraday Future
American technology startup Faraday Future was established in 2014, focusing on producing electric automobiles. The FF 91, the first of Faraday Future's "next-generation smart electric linked vehicles," was up for preorder in the first half of 2023. According to the manufacturer, the car will include zero-gravity seats, a battery life of up to 300 miles, and autonomous driving features.
#18: Envoy
Envoy is a provider of shared EVs. The company offers mobility as a service to places people work, live, and visit. Envoy also helps owners of real estate properties acquire electric vehicle fleets that they can use to improve mobility while still preserving energy and conserving the environment.
The company's mobile transportation platform facilitates movement between residential buildings, hotels, and business settings by enabling users to make reservations for EVs on demand.
#19: Li Auto
Li Auto Inc. is a frontrunner in China's new technology vehicle business. The company designs, manufactures, and sells EVs. Li Auto pioneered the successful commercialization of electric vehicles with an extended range. It started mass production in November 2019.
Its model lineup consists of the Li L7, a premier family SUV with five seats, the Li L8 and Li ONE, premium SUVs with six seats each, and the Li L9, a flagship family SUV with six seats.
Final Thoughts
Electric car (EV) companies have gone out of their way to manufacture and support luxury models that match their conventional counterparts. Electric vehicles (EVs) consistently demonstrate their potential as an innovative technology for attaining sustainability in the automobile industry in the coming years. It's the reason the market is growing so rapidly. More growth is on the way in the years ahead.