Three Facts about Hewlett Packard 9100A
The Hewlett Packard 9100A is considered the earliest documented use of the term "personal computer."
Despite this, the 9100A was marketed as a programmable desktop calculator. Bill Hewlett commented, "If we had called it a computer, it would have been rejected by our customer's computer gurus because it didn't look like an IBM. We, therefore, decided to call it a calculator and all such nonsense disappeared."
Hewlett Packard began to develop the 9100A after being approached by two inventors, Thomas E. Osborne and Malcolm McMillian, with their own separate calculator devices.
The History of Hewlett Packard 9100A: What To Know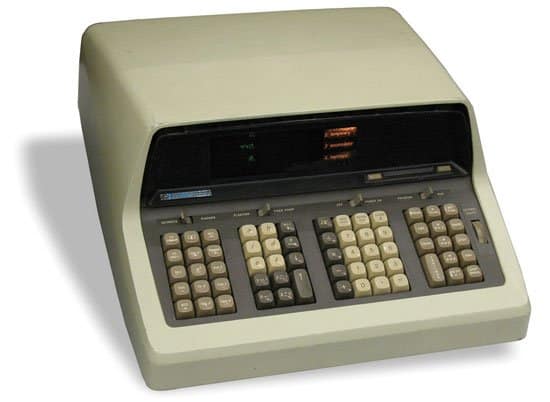 Development of the Hewlett-Packard 9100A started in 1965 in Palo Alto when a physicist named Malcolm McMillian approached HP with a small calculator he invented. Thomas E. Osborne, another inventor, also approached HP with his own home-built calculator. The best features of the two products were combined and Osborne was hired as a consultant to continue the development work in HP Labs.
The Hewlett Packard 9100A was officially introduced in March 1968. It was the first totally self-contained programmable unit of its kind, which could fit on a desk (see the HP 9100A Brochure).
It included a display with three registers and a magnetic card reader. An optional printer, which fit neatly on the top of the 9100A, was sold separately. The 9100A used a PC board ROM for its algorithms, including log and trig functions. Its volatile core memory used small ferrite rings through which were woven copper wires. The initial price of $4,900 was rather steep and it was later lowered to $4,400. The 9100A was about the size and weight of a typewriter. The original size of the product was reduced by the invention of a PC board ROM by Chuck Near.
The 9100A's performance seems insignificant today. It had limited internal memory and only stored 196 steps. For its time, it was a particularly powerful programmable calculator.
Hewlett Packard 9100A Versions: Each Edition
The HP 9100A was upgraded once as the 9830A. It also had a lot of peripheral devices that could be connected to 9100A. Here are a few examples of add-on devices:
9101A Extended Memory
9104A Tape Reader
9107A Digitizer
9120A Printer
9125A X-Y Plotter
9150A Display Monitor
9160A Optical Card Reader
Hewlett-Packard soon followed up with the 9100B, an enhanced version that provided several new features.
Hewlett Packard 9830A
In 1972, HP introduced the HP 9830A—the most powerful model of the original 9800 series calculators. It greatly blurred the lines between traditional computers and calculators with its use of the BASIC programming language and options such as terminal emulation and a hard disk drive.
Hewlett Packard 9100A: Historical Significance
In 1968, Hewlett-Packard Co. launched its first programmable desktop calculator designed for scientists and engineers. It was probably the first device in the world called a "personal computer."
The October 4, 1968, issue of Science contains a Hewlett-Packard ad for its new HP 9100A. The ad boasted the dynamic functionality of this new device, called both a personal computer and a programmable calculator. The 9100A was capable of performing hyperbolics, roots of a fifth-degree polynomial, elliptic integrals, and other complex functions.
Next Up…