The fast-acting Absorbent Glass Mat (AGM) battery and its gelatinous opposite, the gel battery, are among the most widely used batteries today. Although they share the honor of being Valve Regulated Lead Acid (VRLA) batteries, each has its own personality and strengths.
It is essential to consider all those important differences to understand which battery would work for your needs. So, strap in for an exciting ride as we compare and contrast these two leading candidates to help you choose the battery that is the greatest fit for your unique energy requirements.
Gel Batteries: What are They?
Gel batteries, which have been used commercially for almost 40 years, are very desirable for any emergency application due to their extremely low drain rate. With a service life of 10 to 20 years, they are commonly used in medical facilities as backup power sources. These batteries are 30% more powerful than regular batteries and can survive being turned over or rocked in a boat without suffering damage. They can be entirely released, and special care is not needed for them.
AGM Batteries: What You Need to Know
AGM, or Absorbed Glass Mat, batteries use gel electrolytes and a glass fiber separator. They are essentially a cross between lead-acid and gel batteries, with higher efficiency and lower cost than both. AGM batteries provide nearly twice the power of lead-acid batteries for the same weight. They last longer than standard batteries, but they are more difficult to find than lead-acid batteries. AGM batteries are also around 30% more expensive on average.
Gel Battery vs. AGM Battery: A Side-by-Side Comparison
| | Gel Batteries | AGM Batteries |
| --- | --- | --- |
| Internal Resistance | High | Low |
| Surge Current Capability | Low | High |
| Self-Discharge Rate | Higher | Lower |
| Resistance to Vibration | Low | High |
| Affordability | More Expensive | Affordable |
| Lifespan | 1200 cycles for 50% DoD | 550 cycles for 50% DoD |
Great Gel Battery
We earn a commission if you make a purchase, at no additional cost to you.
Top AGM Option
Renogy Deep Cycle AGM Battery
12V 100Ah
3% discharge rate
2,000A Max Discharge Current
Safe charge
Most home appliances for RV, camping, cabin, marine, and off-grid system
Maintenance Free
We earn a commission if you make a purchase, at no additional cost to you.
Gel Battery vs. AGM Battery: What's the Difference?
Design and Construction
You can identify gel batteries by their usage of sulfuric acid and silica-gelled electrolytes. Even if the battery case is broken, this will generate a thick, jelly-like substance that will keep the battery from leaking. It means they do not require regular maintenance, especially because of their sealed and valve-regulated design.
On the other hand, those valve-regulated AGM batteries have a sealed construction. The electrolyte in AGM batteries is a thin fiberglass mat drenched in sulfuric acid, which is where the main difference resides. This mat serves as a barrier between the battery's lead plates and the electrolyte, facilitating better conductivity and absorption.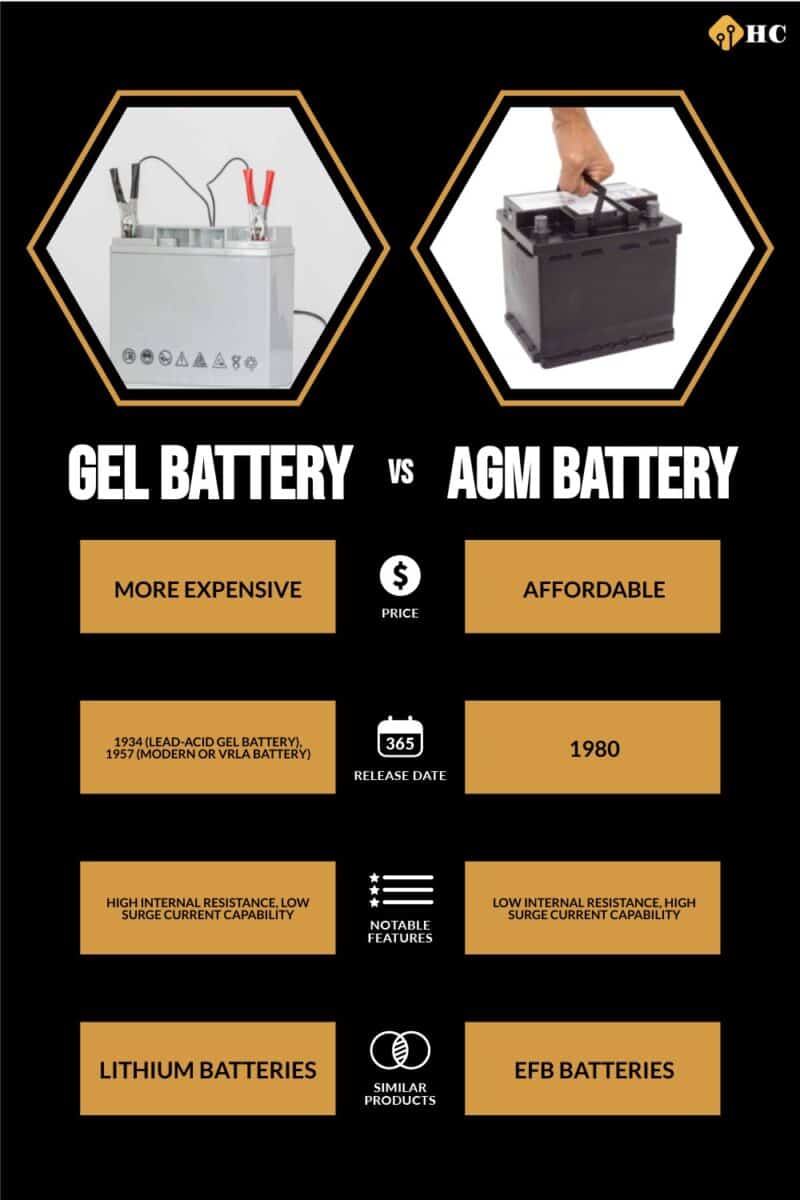 Performance and Efficiency
Gel batteries have a slower discharge rate and superior deep-cycle performance thanks to the gel-based electrolyte. This makes them an excellent choice for use in long-term energy storage solutions, such as solar power systems, because they can endure more frequent and deeper discharges. Yet, they are not ideal for high-current uses because of their slower discharge rate and reduced energy output.
Because of their lower internal resistance, AGM batteries are able to supply more current and perform better in high-demand situations. Also, unlike gel batteries, you can recharge them quite quickly. Yet, their deep-cycle performance and lifespan go down marginally when you subject them to repeated and deep discharges.
Charging
Gel batteries are more sensitive to charging voltages and have unique charging profiles than standard batteries. The lifespan of a gel electrolyte battery can come down considerably by overcharging or charging at an excessive voltage. So, to get the most out of your gel batteries, you need a charger that is either made for them or is compatible with them.
AGM batteries are more tolerant of a wider variety of charging voltages and are therefore easier to charge. There is no need to make any adjustments or deal with mismatched chargers or charge controls because the charging voltages are the same as for any regular battery.
Because of this, it is much easier to incorporate them into existing charging infrastructures and devices. The battery hardly gets warm even when subjected to high charge and discharge currents due to its incredibly low internal resistance. If you want to avoid overcharging and get the most out of your AGM batteries, though, you will need a charger designed for them.
Temperature Tolerance
Gel batteries can withstand higher temperatures and perform better in extreme conditions. The gel electrolyte's enhanced heat dissipation properties may improve the battery's performance and lifespan in high-temperature environments. However, under really cold conditions, they may be more prone to harm because the gel electrolyte can lose some of its effectiveness.
Although AGM batteries may operate in a wide temperature range, their performance may suffer in extremely hot conditions. However, it is worth mentioning that the conductivity of the fiberglass mat in AGM batteries stays consistent even at low temperatures, making them preferable to gel batteries in cold climates.
Cycle Life and Depth of Discharge (DoD)
Gel batteries, in comparison to AGM batteries, can usually withstand more deep discharge cycles. This is because the gelled electrolyte eliminates plate shedding, a leading cause of battery failure in lead-acid batteries. The gel electrolyte also enables deeper discharge, which is useful for applications that drain batteries slowly over time.
It is important to know that deep discharges shorten the lifespan of AGM batteries even more so than they do for gel batteries. Still, the cycle life is pretty reasonable and you may use them for a variety of things. Keep in mind that AGM batteries can only be discharged to a lesser extent than gel batteries, so they need to be recharged more frequently when subjected to heavy current draw.
Battery Lifespan
The longevity of AGM batteries is roughly 4 to 8 years, depending on the depth of discharge, temperature, maintenance, and how often and how deeply cycled they are.
The same factors can have an impact on how long a gel battery would last, but in most cases, they are likely to survive 2-5 years of use.
Cost and Availability
When compared to AGM batteries, the cost of gel batteries is often higher due to the higher cost of materials. They are also uncommon enough that locating them may necessitate a special order, which is going to push the cost even further.
Compared to gel batteries, AGM batteries are less expensive and more commonly available. Those on a tighter budget may appreciate their lower cost and more availability for a wide range of uses.
Safety
Gel batteries are made to not leak or spill, protecting both the user and any nearby electronics from acid leaks or spills. Gel batteries are environmentally preferable because they do not release toxic gases during regular operation. They are more secure and long-lasting because of the gel electrolyte's enhanced resilience to vibration and stress.
Speaking of spills, AGM batteries are even better. Even if the battery case breaks for some reason, the AGM design keeps acid from leaking out. When compared to gel batteries, AGM batteries are far safer to use in high-temperature situations due to their reduced susceptibility to thermal runaway.
Vibration
The precision construction of the thick AGM separator includes a book of plates that is tightly compressed, making it resistant to vibration. Glass mats saturated with electrolytes go between the lead plates to act as a dampener.
On the other hand, gel batteries are pretty good as well and know how to resist vibration like a pro. Nevertheless, they still cannot compete with the potential of AGM batteries, especially when it comes to minimizing vibrations.
Maintenance
Gel batteries, thanks to their viscosity, are less prone to evaporation, making them ideal for low-maintenance applications.
Also, unlike the liquid electrolytes you see in AGMs, the gel has a lower freezing and higher boiling point, making them more adaptable to harsh environments (especially high temperatures).
Due to their sealed construction, gel batteries can do great without regular maintenance. Unlike conventional flooded lead-acid batteries, they do not require frequent additions of water or electrolyte. Because of this, maintaining the battery is less of a burden, making it a more flexible option.
AGM batteries, like gel batteries, never need to have their electrolyte or water levels checked or replenished. This is because the electrolyte is stays within the battery thanks to the absorbent glass mat construction. In addition to being low-maintenance, AGM batteries do not require regular "equalization" charges.
Gel Battery vs. AGM Battery: 5 Must-Know Facts
Comparatively, the internal resistance of gel batteries is higher and their surge current capacity is lower than that of AGM batteries.
AGM batteries have a lower self-discharge rate and higher vibration resistance than gel batteries, which have a slower self-discharge rate.
While gel batteries are typically more expensive, they deliver 1200 cycles at 50% DoD, whereas AGM batteries only offer 550 cycles but at a more affordable price.
Gel batteries excel in high-demand conditions, whereas AGM batteries shine in high-temperature environments and deep-cycle applications.
Unlike gel batteries, which need precise charging profiles to maximize their lifespan, you can charge AGM batteries with a wider range of voltages.
Great Gel Battery
We earn a commission if you make a purchase, at no additional cost to you.
Top AGM Option
Renogy Deep Cycle AGM Battery
12V 100Ah
3% discharge rate
2,000A Max Discharge Current
Safe charge
Most home appliances for RV, camping, cabin, marine, and off-grid system
Maintenance Free
We earn a commission if you make a purchase, at no additional cost to you.
Gel Battery vs. AGM Battery: Which One to Buy?
Both batteries deliver a solid performance punch, but which one to buy depends heavily on how you are going to use them.
Gel batteries can take a lot of abuse before they die, as they can handle deep discharge levels better. A gel battery may still last for about 700 cycles after you routinely deplete it to 90% DoD, and it is much greater than an AGM battery discharged at only 50% DoD. Consequently, if you want to maximize your battery's cycle life, you should probably choose a gel battery if you want to discharge it for more than half its capacity.
AGM batteries are often the best option when you need high current. It is usually the case when starting an engine or powering high drain equipment. A gel battery may be preferable for solar power systems and backup power generators due to its ability to store energy for extended periods of time and to withstand deep-cycle use.
Similarly, you may want to think about the range of temperatures your battery will have to endure. Considering the battery's potential exposure to high temperatures, a gel battery may be the better option. An AGM battery is a good choice if you will use your battery in environments with moderate temperatures.
Another important consideration is to check your current charging infrastructure. AGM batteries may work better with your charging system if it can handle a wide range of voltages. To avoid damaging your gel battery, check that your charging system supports the battery type's preferred charging profile. Keep in mind that if you are like someone who does not want to spend much time maintaining their batteries, you may want to go with gel batteries. They may be more durable due to their resilience to vibration and stress than AGM batteries.
And lastly, besides considering your unique usage requirements, you should also consider the cost of getting these batteries. Be sure to weigh the long-term benefit of AGM batteries against the higher upfront cost of gel batteries. When evaluating the total cost of ownership for different battery types, it is important to take into account elements such as longevity, maintenance expenses, and overall performance.
The image featured at the top of this post is ©chaphot/Shutterstock.com.