In the past five years, few billionaires have attracted as much public attention as Elon Musk and Jeff Bezos. Their larger-than-life personas, wealth, and business acumen have graced the headlines every few months, if not weeks. From business magazines and lifestyle blogs to social media feeds, we cannot seem to get enough of the two billionaires.
However, most stories covering Elon Musk and Jeff Bezos focus on their recent triumphs. As a result, many people do not know their backgrounds. For instance, how did they build their wealth?
Well, we are here to answer such questions. This article provides an in-depth review of Elon Musk vs. Jeff Bezos, including their origins, investments, and rivalry. Let's get into it.
Elon Musk vs. Jeff Bezos: Side-by-Side Comparison
Elon Musk
Jeff Bezos
Full Name
Elon Reeve Musk
Jeffrey Preston Bezos
Date of Birth
June 28, 1971
January 12, 1964
Place of Birth
Pretoria, South Africa
Albuquerque, New Mexico, USA
Nationality
South African, Canadian, American
American
Children
10 (one deceased)
Four
Education
Bachelor's degrees in Physics
and Economics (University of Pennsylvania)
Degrees in Electrical Engineering and Computer Science (Princeton University)
Primary Sources of Wealth
Tesla, Inc., SpaceX
Amazon
Other Past and Current Involvements
Twitter, The Boring Company, Neuralink, PayPal
The Washington Post, Blue Origin, Bezos Expeditions
Net Worth (as of August 30, 2023)
$257.5 Billion
$157.5 Billion
Elon Musk vs. Jeff Bezos: What Are the Differences Between Them?
There are very few similarities between Elon Musk and Jeff Bezos. However, the one that sticks out is their wealth. Ironically, their wealth is also the main point of difference between them. Below is a comparison of the two billionaires.
Early Beginnings
Elon Musk and Jeff Bezos are among the world's top five richest people. Interestingly, their journeys were riddled with challenges, risky investments, and the importance of self-belief. Let's focus on their early beginnings.
Elon Musk
Elon Musk has always been entrepreneurial. His first foray into business was selling a video game, Blastar, which he created when he was 12. He coded and designed the game on a Commodore VIC-20, then sold it for $500 to PC and Office Technology magazine.
Musk's first big venture came in 1995. Initially, he had enrolled in a Doctor of Philosophy (PhD) course at Stanford University. However, he dropped out two days later to exploit the 1990s internet boom.
Musk joined forces with his brother, Kimbal, and friend, Greg Kouri, to found Zip2. The company created and licensed online city guides, primarily to local newspaper companies. Over time, Zip2 secured contracts from major national newspapers like The New York Times and The Chicago Tribune.
Zip2's growth attracted interest from other companies wanting to merge or acquire it. CitySearch was among the earliest proponents of a merger, but Zip2's board of directors rejected the offer. Later, Compaq tabled an irresistible offer and bought Zip2 for around $300 million in 1999. The sale would earn Elon Musk his first big payday of over $20 million.
Jeff Bezos
Bezos had received several job offers from reputable companies by the time he completed his bachelor's degree. The list included semiconductor giant Intel, telecommunication research company Bell Labs, and the IT services company Andersen Consulting.
However, Bezos opted to work for Fitel, a little-known fintech firm. He quickly rose through the company's ranks to become Head of Development and later Director of Customer Services.
Bezos then transitioned to the finance industry. He started working for Bankers Trust before joining D. E. Shaw & Co., a hedge fund company, in 1990. Like in his previous jobs, Bezos was a hard worker and quickly rose through the ranks until he became a Senior Vice President by the age of 30.
Ultimately, Jeff Bezos' rise to billionaire status was more straightforward than Elon Musk's. This is not to water down Bezos' achievements, as he also had to overcome some challenges to become the business magnate he is today.
Road to Billionaire Status
Musk and Bezos did not become billionaires overnight. It took years of sacrifice and resilience to grow their companies until they crossed the billion-dollar mark. Here's how the two became billionaires.
Elon Musk
Becoming a multimillionaire before 30 fueled Musk's ambitions. He wanted to have a larger impact on society and the tech industry. Shortly after selling Zip2, Musk used his earnings to start an online financial services company, X.com. It became one of the first online banks to receive backing from the Federal Deposit Insurance Corporation (FDIC).
X.com soon merged with another online bank, Confinity, in 2000 and was later rebranded to PayPal. eBay later acquired it for $1.5 billion in 2002. Being a significant shareholder, Musk earned $175 million from the sale. This gave him the capital he needed to fund his passions, including founding SpaceX.
Musk invested $6.5 million in Tesla, Inc. in 2004, becoming the largest shareholder and later CEO. However, it was not until 2012 that Tesla experienced exponential growth. The unveiling of the Model X caused a noticeable hike in Tesla shares, placing Musk's stake in the company at just above $1 billion in valuation. Forbes featured Elon Musk on its billionaires list for the first time in 2012. His net worth was estimated at $2 billion.
Jeff Bezos
Jeff Bezos left D. E. Shaw & Co. in 1994 to found an online bookstore. He made this decision after discovering how popular the internet had become. He saw the internet's growth as a way to create a lasting business.
Bezos famously devised the business plan for the online bookshop while on a cross-country road trip from New York to Seattle with his wife. Once they got to Seattle, they started the company, initially working out of a rented garage. Initially, Bezos wanted to name the company Cadabra but settled for Amazon because the name would rank higher on alphabetized website listings.
Bezos' parents were among Amazon's first major investors. They put more than $240,000 into the venture. However, it was not long before Bezos and Amazon received backing from a major investor. In 1996, venture capital (VC) firm Kleiner Perkins invested $8 million. The VC also helped Amazon poach top executives from Microsoft and Walmart to build the company's infrastructure.
Jeff Bezos made Amazon public on May 15, 1997, about three years after founding it. The IPO was so successful that Bezos appeared on Forbes' list of the wealthiest Americans in 1998. Forbes placed his net worth at $1.6 billion.
Jeff Bezos was quick to attain billionaire status. He did so fourteen years before Elon Musk, who first appeared on Forbes' list in 2012.
Other Investments
Elon Musk and Jeff Bezos are shrewd investors. They have turned relatively modest assets into colossal fortunes. Below are some of their noteworthy investments.
Musk Founds SpaceX
After being ousted as X.com CEO in 2000, Elon Musk began interacting with the space exploration community. This sparked his interest in Mars exploration and its potential colonization in the future. However, he could not explore space without a spacecraft. This prompted him to found SpaceX in 2002.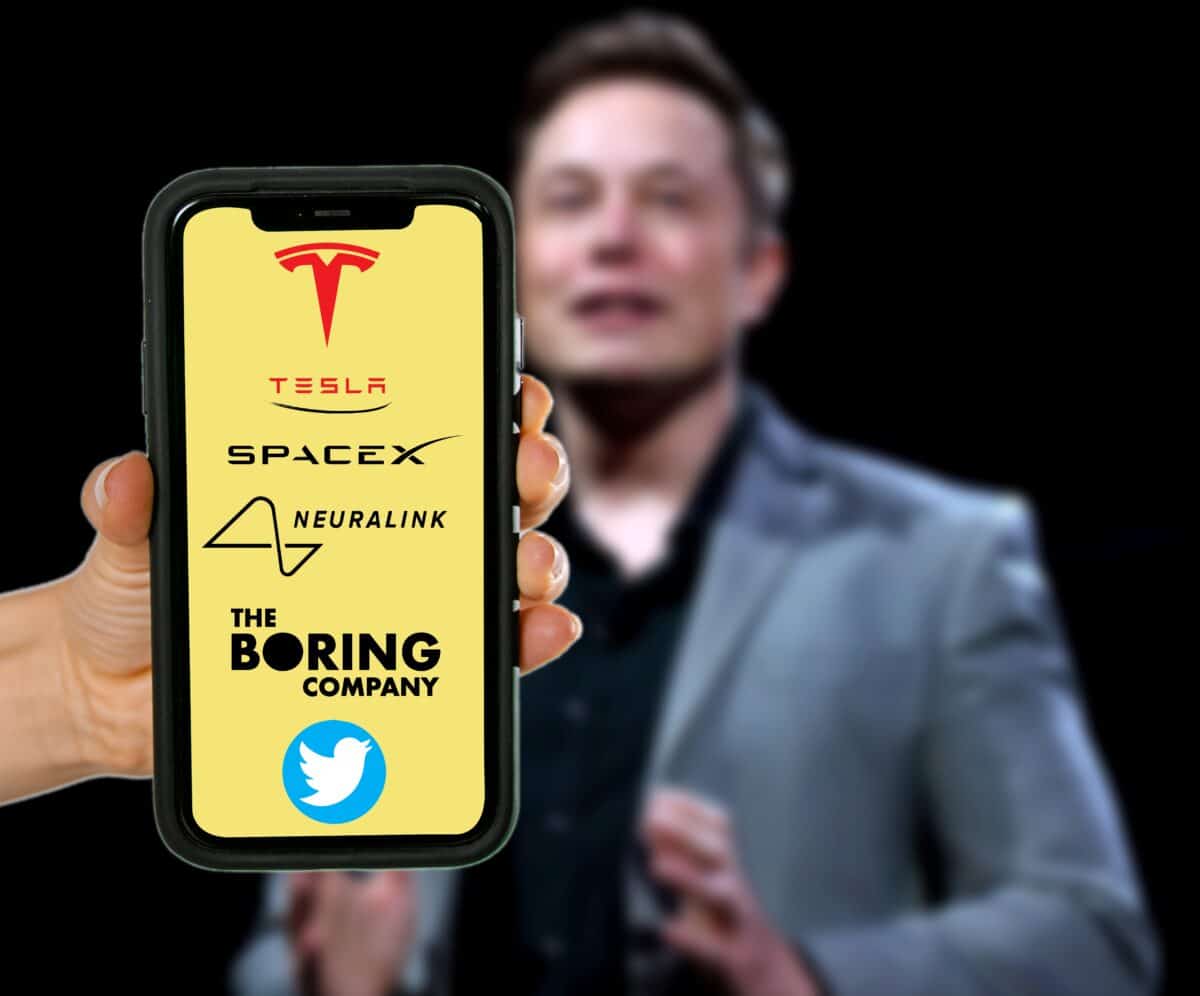 As the company's CEO, Musk led his staff to develop the Falcon 1 rocket, which was launched in 2006. The initial launch was not as successful as anticipated but was nevertheless a landmark achievement for SpaceX.
It earned the company a few contracts until it caught NASA's attention. NASA awarded SpaceX a contract to develop a commercial vehicle for transporting astronauts and cargo to the International Space Station (ISS).
SpaceX finally had a successful launch in 2008. As a result, interest in the company skyrocketed (no pun intended). Since then, SpaceX has achieved several milestones. That includes launching its first manned flight to the ISS in 2020. This made SpaceX the first privately-owned company to send people to space.
Musk Buys Twitter
Musk acquired Twitter for $44 billion on October 27, 2022. Twitter had offered Musk a seat on the board in a bid to prevent him from taking over the company. However, Musk formally bid to privatize Twitter at $54.20 a share. This would begin a tumultuous back and forth between Musk and Twitter's board until the sale was finalized.
Musk Invests in Starlink, Neuralink, and The Boring Company
Musk has a stake in Starlink, a subsidiary of SpaceX that offers satellite internet access to more than 50 countries. He also co-founded and invested in Neuralink. The company aims to integrate the human brain with artificial intelligence. Finally, Musk founded The Boring Company, which seeks to develop high-speed underground transportation corridors to minimize traffic above ground.
Bezos Founds Blue Origin
Bezos has openly stated his passion for space since he was a child. He once told the Miami Herald he wished to build human colonies in space someday.
Bezos founded Blue Origin in 2000. The company did not make substantial progress until 2006, when it acquired a 165,000-acre ranch in Texas to serve as a launch and test site. Blue Origin has developed several successful crafts.
These include the New Shepard, a suborbital rocket system capable of transporting people to the Karman line — the internationally recognized border between Earth and space. The trip only takes 11 minutes.
Bezos' Other Investments
One of Bezos' first investments was a $250,000 bet on Google after he met the company's co-founders Sergey Brin and Larry Page in 1998. Since then, he has used Bezos Expeditions to invest in several notable companies.
The list includes Airbnb, Twitter, Uber, Business Insider, and Denali Therapeutics. Bezos also bought the Washington Post newspaper in 2013 for $250 million. He has since overseen its transition into a modern media company.
Rivalries
The rivalry between Elon Musk and Jeff Bezos stems from their interest in space exploration and colonization. The feud reportedly started in 2004 when the two met for dinner to discuss their space ambitions. The dinner went horribly, and since then, the billionaires have publicly attacked each other and their space companies.
In one instance, Blue Origin tried to block SpaceX's exclusive use of a NASA launchpad. In another instance, SpaceX successfully petitioned to void a patent awarded to Blue Origin that concerned drone ships. SpaceX won the case in 2015.
Musk and Bezos have also ridiculed and attacked each other's company achievements. For instance, Musk trivialized Bezos' trip to sub-orbit on a Blue Origin craft in 2021. He has also mocked Amazon's business practices and acquisitions.
Conversely, Jeff Bezos has previously criticized Musk's Twitter acquisition, questioning whether it was politically motivated. Musk has been accused of trying to appease China, given that it's one of the largest EV markets. As such, Bezos was implying that Beijing could use Twitter to social engineer the American population.
Overall, Musk has been more vocal in his attacks on Bezos.
Views on Money and Charity
Elon Musk and Jeff Bezos share some views on the topic of money and disagree on others. For example, they agree that money is only important when used to improve humanity. Both have donated more than a billion dollars to charity.
Bezos is estimated to have given about $2.1 billion to charity during his lifetime. His contributions are mainly directed to charity foundations tackling climate change and homelessness.
Bezos has received criticism on several occasions for refusing to sign The Giving Pledge — it calls on the richest people on Earth to pledge at least half of their wealth to philanthropy. However, Jeff Bezos has on various occasions claimed that he plans to give most of his fortune to charity during his lifetime or in his will.
Elon Musk has been known to make radical statements about money and philanthropy. On one occasion, he claimed that he did not care about being viewed as a billionaire philanthropist. This is unsurprising, considering even Forbes gave Musk a philanthropy score of one out of 10.
Elon Musk believes that most world issues, like hunger and homelessness, could be solved without politicization. Musk also believes that philanthropy goes beyond donating money. It comes with a personal responsibility to ensure the donation is put to a good cause.
However, even with such radical views, Elon Musk has made significant charity donations in the last few years. For example, he donated Tesla shares worth $1.9 billion to a charity foundation in 2022. He has also promised to give at least half of his wealth to charity.
There is no clear winner on who is more philanthropic between the two.
Net Worth
Elon Musk and Jeff Bezos have traded places on the world's wealthiest people list. However, Bezos has enjoyed billionaire status for much longer than Musk.
Bezos became a billionaire in 1998, a year after taking Amazon public in an IPO. After that, his net worth fluctuated for about 10 years. It reached a high of $10.1 billion in 1999 during the dot-com bubble and a low of $1.5 billion in 2002 after the bubble burst.
However, since 2010, his net worth has been on a steady climb, with the only exceptions being a drop between 2019 and 2020 after divorcing his wife, Mackenzie Scott, and between 2022 and 2023 after Amazon's stock price dipped.
On the other hand, Musk became a billionaire in 2012. He was a mid-tier billionaire for most of the 2010s, with his highest net worth recorded in 2019 at $22.3 billion. However, his situation quickly changed when his net worth surged from $24.6 billion in 2020 to $151 billion in 2021. He temporarily overtook Bezos to become the wealthiest person in early 2021 before Bezos reclaimed the top spot.
However, Musk cemented his position as the wealthiest person in the world when his net worth crossed the $200 billion mark in late 2021. On October 29, 2021, Musk's net worth temporarily crossed $300 billion. So, he wins this round, given he currently ranks above Bezos on the Forbes' billionaires list.
Elon Musk vs. Jeff Bezos: 7 Must-Know Facts
Elon Musk was born in Pretoria, South Africa, during Apartheid.
Miguel Bezos adopted Jeff Bezos when he was four after marrying his mother.
Bezos founded Amazon in 1994 in a rented garage.
Elon Musk used his payout from the sale of PayPal to start SpaceX and invest in Tesla.
Jeff Bezos was among the early investors of Google.
Elon Musk has 10 children, including triplets and two sets of twins.
Bezos has four children from his marriage to Mackenzie Scott.
Elon Musk vs. Jeff Bezos: Who Is Better?
The lives of Elon Musk and Jeff Bezos are not necessarily a grass-to-grace story. For example, they were both born and raised in upper-middle-class homes. They also attended relatively prestigious schools. However, they made the most of the cards life dealt them.
Both have founded or grown little-known start-ups into global companies. This makes it difficult to choose who has led a more wholesome life. Personal preferences will likely influence which billionaire you prefer. For example, people fascinated by Tesla EVs may be biased and choose Elon Musk. The same applies to people motivated by Jeff Bezos' life journey and achievements.