Key Points
The 4680 is Tesla's fourth type of lithium-ion EV battery. Since it's larger than its three predecessors the 18650, 2170, and prismatic-type, it offers a longer range and a more powerful performance than Tesla's other EVBs.
Panasonic is slotted to be Tesla's main manufacturer for the 4680s and plans to start mass production of the batteries in the spring of 2023.
The 4680 will come equipped in all future Tesla models, including the Model Y and Cybertruck.
Without batteries, electric vehicles (EVs) would be nothing. Electric vehicle batteries, also known as EVBs, are the main power source for EV engines. The EVBs are not like your average AA or 9V batteries found in the junk drawer of your kitchen. They are designed to withstand hundreds upon hundreds of recharges and long-distance journeys without significant loss of efficiency or charge. Tesla's 4680 battery is one great example.
The latest and greatest battery to power a Tesla EV, the 4680 battery, is a new and exciting development in the world of EVBs. But what is it about this battery that makes it so special? And how does it compare to Tesla's other battery types? Plus, how has the history of Tesla batteries led to the development of the 4680? Let's go over all these questions and more below, where we'll discuss everything you need to know about this new battery.
History of Tesla Batteries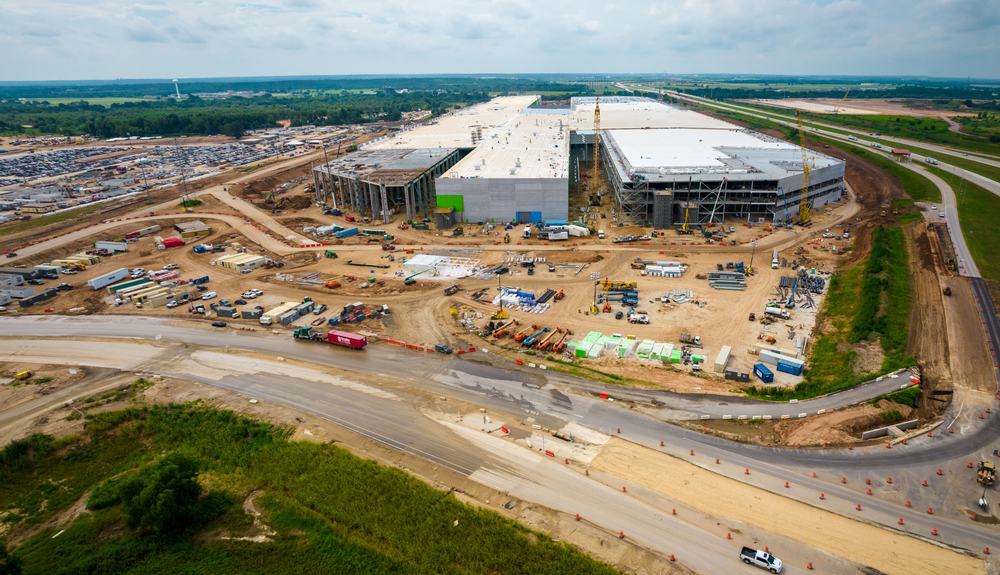 Right now, there are four different types of Tesla batteries. The 18650-type, the 2170-type, the prismatic-type, and — most recently — the 4680 battery. Though their names differ, they're all united by their shared lithium-ion classification. Beyond this simple fact, however, different chemical makeups set these Tesla battery types apart.
These different chemical makeups consist of three distinct cathode types: nickel-cobalt-aluminum, or NCA; nickel-cobalt-manganese, or NCM; and lithium-iron-phosphate, or LFP. NCA and NCM are known for having a high energy density and providing Tesla vehicles with long-range charges. The LFP, on the other hand, is known best for its much cheaper cost and dependable stability compared to the other two.
The 18650-type is an NCA lithium-ion battery, while 2170 is either an NCA or an NCM lithium-ion battery (depending on where it's manufactured). The 4680 is also an NCM lithium-ion battery. The only Tesla battery to utilize the LFP cathode type is prismatic.
That said, Tesla has openly discussed their plan to focus more on the LFP type in the coming years. Their reasoning behind this decision is multi-faceted. For one, cobalt is expected to be in high demand soon. Not to mention, the NCA and NCM cathode types made a bad impression in the past. Tesla has unfortunately found itself the subject of far too many controversies over these batteries. Due to the immense heat generated during use, NCAs and NCMs have caused Teslas to burst into flame on more than one occasion.
4680 Battery Specs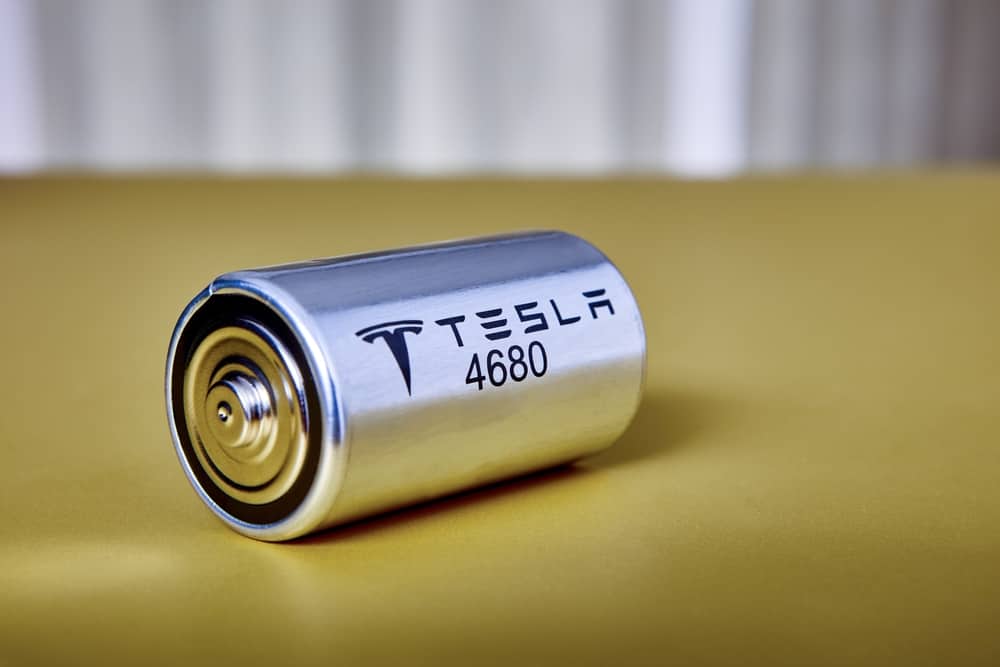 | | |
| --- | --- |
| Battery Type | 4680 battery |
| Cell Weight | 355 g |
| Cell Measurements | 46mm x 80mm |
| Cathode Type | NCM |
| Anode Type | Graphite |
| Nickel Content | 81.6% |
| Energy Density | 272-296 Wh/kg (estimated) |
| Total Capacity | 9,000 mAh (estimated) |
| Total Energy | 96-99 Wh (estimated) |
| Tabbed or Tabless? | Tabless |
Which Tesla Models Are Using the 4680 Battery?
While the 4680 battery boasts some impressive specs, you're only likely to find it in a specific Tesla vehicle: Model Ys, manufactured in Tesla's new Texas plant. By far the largest battery cell ever used by the EV titan, the 4680-type just entered the market in 2022. As such, there's still a bit of time to go before we know the true power of the thing. Still, at five times the size of the 2170 battery and even larger than the 18650, there's no doubt the 4680 will make its way into more than just the Model Ys in the coming years.
Outside of the United States, the 4680 battery can also be found in the Model Ys manufactured at Tesla's German plant. Starting June 2022, Germany's Gigafactory began implementing the 4680 in around 1,000 Model Ys weekly. The plant is expected to double or triple these weekly numbers to 2,000-3,000 by the end of the year.
Looking ahead, the 4680 battery is slated for far more Tesla models than just the Y. In fact, the plan is to place the 4680-type in every model, including the Cybertruck. Not only is it cheaper, but it also delivers longer distances on a single charge. These two factors make it hugely appealing for Tesla and its entire line of electric vehicles. For the time being, you can only see the 4680 in Model Ys built at the Gigafactories in Texas and Germany.
The 4680 Battery Compared to Other Tesla Batteries
| | 18650-type | 2170-type | 4680-type |
| --- | --- | --- | --- |
| Cathode Type | NCA | NCA, NCM | NCM |
| Associated Models | Model S, Model X | Model 3, Model Y | New Model Ys |
| Cell Weight | 47 g | 68 g | 355 g |
| Cell Measurements | 18mm x 65mm | 21mm x 70mm | 46mm x 80mm |
| Total Capacity | 3,500 mAh | 4,800 mAh | 9,000 mAh (estimated) |
| Total Energy | 10-13 Wh (estimated) | 17-19 Wh (estimated) | 96-99 Wh (estimated) |
Who Supplies Tesla Batteries?
One might think that all of Tesla's battery production happens in-house. However, the truth is that — like many parts of a car — the batteries Tesla uses are sourced from all over the place. For instance, the 18650-type comes from Panasonic. Alternately, the 2170-type comes from LG. Not to mention, the prismatic type comes from CATL. But what about the 4680?
As it turns out, the 4680 is the first battery used in Tesla vehicles to come from Tesla itself. It's worth mentioning Panasonic has also entered into the production of the 4680 and very well could end up supplying Tesla with these particular batteries in the future. For now, though, it's all happening in-house at Tesla. Presently, Tesla builds the 4680 battery at the Gigafactory in Texas.
As demand increases, Tesla will likely need Panasonic's help to meet the sheer number of batteries needed to complete the full line of vehicles equipped with the 4680. Many inside and out of Tesla view the 4680 battery as the company's future and expect demand to surge.
When Will the 4680 Battery Go Into Production?
In recent months, the question of when 4680 battery production will kick into high gear has frustrated investors and insiders alike. Tesla is placing a massive amount of significance on the shoulders of the 4680. Many would like to know when they can expect to see Tesla start mass-producing these batteries on an appropriately large scale.
While Tesla is being hush-hush, Panasonic has been less so. In a report back at the start of June 2022, the company stated that they've sent prototypes to Tesla and that approval was being awaited. Once that much-needed approval comes in, Panasonic has set aside nearly a billion dollars for mass production costs.
According to Panasonic, if all goes according to plan, the 4680 battery will enter mass production in March of 2023. At first, production will take place exclusively in Japan. Eventually, Panasonic plans to move production over to North America. This will require the construction of a brand-new Panasonic plant in the United States. The location of this planned plant is yet to be disclosed, but insiders have named Kansas and Oklahoma as frontrunners.
Pros and Cons of the 4680 Battery
| Pros | Cons |
| --- | --- |
| The 4680 is a dry cell and can perform in all weather types, not just warm conditions. | Only made by a few plants, leading to a shortage of 4680s |
| The 4680 battery provides a larger battery cell at a much lower cost, which is a real win-win from a production standpoint | Only available with the new Model Y being built at Texas's Gigafactory. |
| 4680 battery has a longer life, a greater capacity, a larger size, and a heavier weight | Lots of unknowns about the 4680, from a solid production timeline to who else will produce the battery |
| Faster charge times, with some reporting that the new Model Ys with 4680 battery can go from 0% to nearly 100% charge in under one hour. | |
Tesla 4680 Batteries in the News
In January 2023, Tesla's CEO Elon Musk said that he expects the company to be able to produce 100 GWh of 4680 batteries by the end of the year. This will be enough batteries to power approximately one million EVs.
In April 2023, Tesla announced that it had started shipping 4680 batteries to its suppliers. This was a significant milestone, because it meant that the company was able to start integrating these batteries into its vehicles.
Up Next
The image featured at the top of this post is ©Grigvovan/Shutterstock.com.