All too often, cable TV gets the short end of the stick compared to streaming services. There are way more commercials, way fewer choices, and far fewer titles available at any given time. However, there's actually a lot of good about cable TV that makes up for all these things it lacks. Hence the question: which is better, YouTube TV vs Comcast?
From live broadcasts such as news programs, sporting events, and awards shows, to the ability to leave the TV on without having to choose what plays next to the pleasure of curated content, there's plenty to love about cable. But what's the best way to get it?
Both YouTube TV and Comcast provide cable TV to the modern subscriber. However, the two cable providers go about it in entirely different ways. While Comcast is your more traditional cable service — offered through their Xfinity arm — YouTube TV is more suited for those accustomed to streaming via the internet.
But, which of the two cable providers is ultimately best? YouTube TV vs Comcast? Let's weigh all the particulars, paying close attention to their specs, histories, pros and cons, and key differences in order to determine a winner.
YouTube TV vs Comcast: Side-by-Side Comparison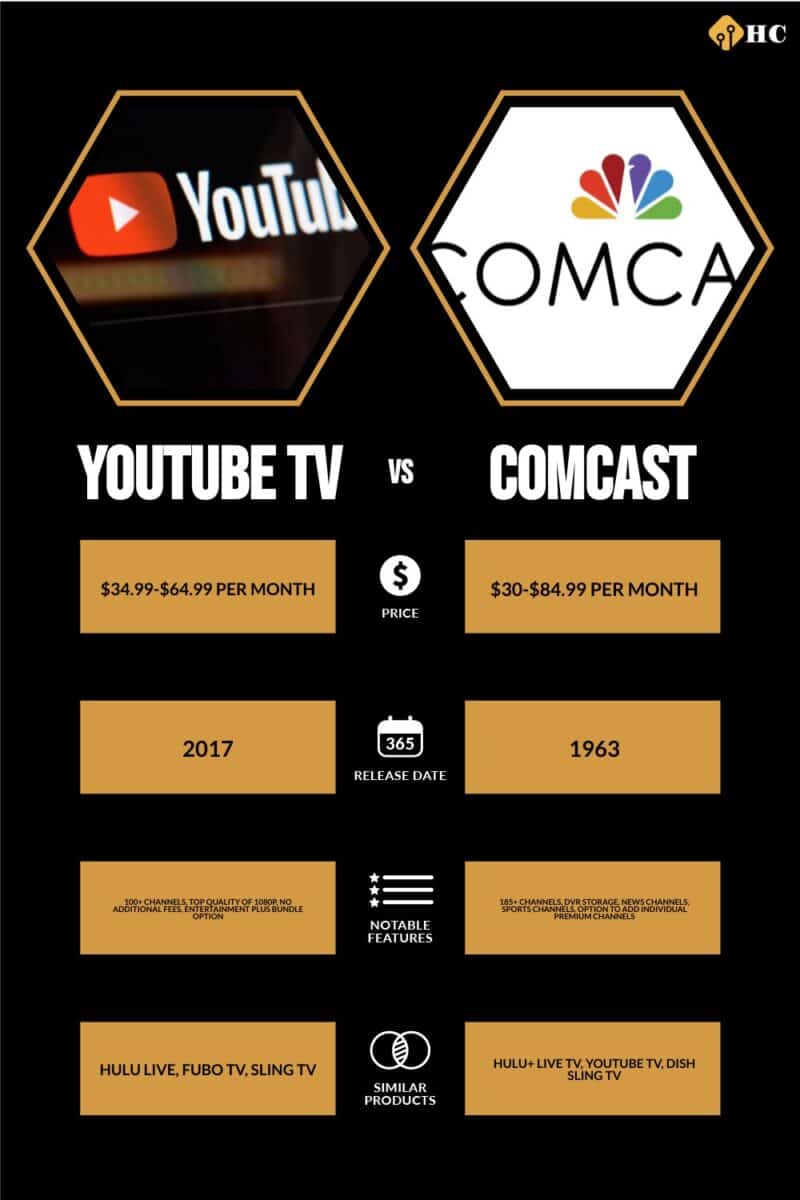 | | YouTube TV | Comcast |
| --- | --- | --- |
| First Established | 2017 | 1963 |
| Parent Company | Google | None |
| Number of Channels | 100+ | 185+ |
| Top Quality | 1080p | 4K UHD, HDR |
| Additional Fees | None | TV box, DVR storage, regional news channels, regional sports channels |
| Bundles | Entertainment Plus bundle (includes HBO Max, SHOWTIME, STARZ) | Option to add on individual premium channels |
| Price Per Month | $34.99-$64.99 | $30-$84.99 |
| Price Increases? | None, unless the subscription price per month changes | Plan price increases after the first year |
YouTube TV vs Comcast: What's the Difference?
Now that you've gotten a good idea of the basic specs surrounding YouTube TV vs Comcast, it's worth diving deeper into the key differences that exist between the two cable television providers. When trying to determine a winner between the two, these are the factors worth considering the most.
From the price you'll pay per month to the number of channels you'll get, and from the top picture quality to the number of additional fees you can expect, these are the key differences that set YouTube TV vs Comcast apart.
Price Per Month
Firstly, there's the actual price per month for your cable TV subscription. Is there anything more important than the cost you're going to pay for your service? YouTube TV offers up two options at two different price points.
There's the Base Plan, which runs $64.99 a month for more than 100 streaming cable TV channels. Then there's the Spanish Plan, which offers more than 28 Spanish-language exclusive channels for $34.99 a month.
This is obviously the more affordable of the two plans, but irrelevant for anyone that doesn't speak Spanish. Most will be paying $64.99 a month for YouTube TV.
Then, there's Comcast (which you'll typically see referred to interchangeably as Xfinity, Xfinity by Comcast, or simply Comcast). While their cheapest tier is just $30 a month, you'll only get 10 basic channels at this price point.
They also offer a 140+ channel package for $59.99 a month, a 220+ channel package for $69.99 a month, and a 260+ channel package for $84.99 a month. Comparing this to YouTube TV's price for 100+ channels, you'll see that Comcast has lower prices. However, their costs increase after the first year and YouTube TV's don't.
Number of Channels
While touched on briefly in the discussion of price per month, it's worth diving deeper into the number of channels in a YouTube TV vs Comcast subscription. The most you can get through a Comcast subscription is 260+, while the most you can get through YouTube TV is 100+.
In other words, Comcast has nearly three times the possible number of channels available. That's pretty significant, especially when you start adding in the regional broadcast and regional sports options available as add-ons to Comcast subscribers.
Picture Quality
Thirdly, after cost and channels, it's worth considering the best quality available to you. YouTube TV caps picture quality at 1080p, while Comcast supports up to a 4K UHD resolution with HDR colors.
Some might consider this a frivolous discussion, however. As the top quality available means very little if the actual channel itself isn't broadcasting in that quality to begin with.
In the end, Comcast offers higher picture quality by supporting 4K UHD with HDR. But it doesn't matter much when almost every cable channel tops out at 1080p anyway.
Additional Costs and Fees
Lastly, there are additional costs and fees to take into consideration. Nothing is ever as good as it seems when it comes to subscription services, and your cable TV options are no exception. YouTube TV has a set cost per month, and this price will not increase based on the length of your subscription.
However, YouTube TV — like any other streaming service — has been known to increase its prices every so often. This is based less on individual subscription length and more on simply increasing profit margins. Subscribers can also pay more per month if they bundle premium cable networks.
Comcast, on the other hand, has far more additional costs and fees included in its base price. Not only do subscribers have to pay a price for as many cable boxes as they need, but also for DVR storage and local channels.
What's more, Comcast will increase your plan's price by $20-$30 after your first year as a subscriber. This is typical of most cable companies, and Comcast is no exception. Comcast was already more expensive than YouTube TV, and this certainly doesn't help their case. They've got a boatload more costs and fees than the competition.
The History of YouTube TV
Back in April 2017, Google's video-sharing and streaming service YouTube tested out an experiment in five major U.S. cities. In New York City, L.A., San Francisco, Philadelphia, and Chicago, they debuted YouTube TV: a streaming television service, not unlike Sling or Philo, that offered a number of live cable channels.
Additionally, this YouTube TV trial run included a library of on-demand titles and cloud DVR space to boot. It was a bona fide success, delivering cable television that worked better for the cord-cutting generation than traditional cable TV.
Over the next two years, YouTube TV grew both in the number of channels and number of subscribers. Google opened up the service to customers nationwide, and by January 2019, more than 98% of Americans were eligible to subscribe.
Priced at just $39.99, the service now included even more basic cable offerings, including content from ABC, CBS, NBC, Disney Channel, CNBC, MSNBC, BBC, and more. This was in addition to YouTube Premium content (including YouTube Originals such as Cobra Kai and more).
Over the next few years, YouTube TV worked diligently to add even more channels. Soon, the number exceeded the double digits and entered into the 100s. Discovery, Inc., Turner Broadcasting System, Lionsgate, Metro-Goldwyn-Mayer, WarnerMedia.
The bigger YouTube TV grew, the more networks and studios wanted to collaborate with them to bring their content to YouTube TV. Naturally, this brought continued price increases. However, this did not deter subscribers from continuing to flock to the service. By 2022, five years after its launch, YouTube TV had passed five million subscribers.
How Comcast Competes
The YouTube TV vs Comcast debate can really be summed up as the new vs the old. If YouTube TV is the new, then Comcast is decidedly the old.
A traditional cable provider defined as the biggest multinational telecommunications conglomerate in America, Comcast also serves as the world's second-biggest broadcasting and cable television company. In other words, Comcast is a true behemoth of the industry. They've been destined for this status since their inception in the '60s.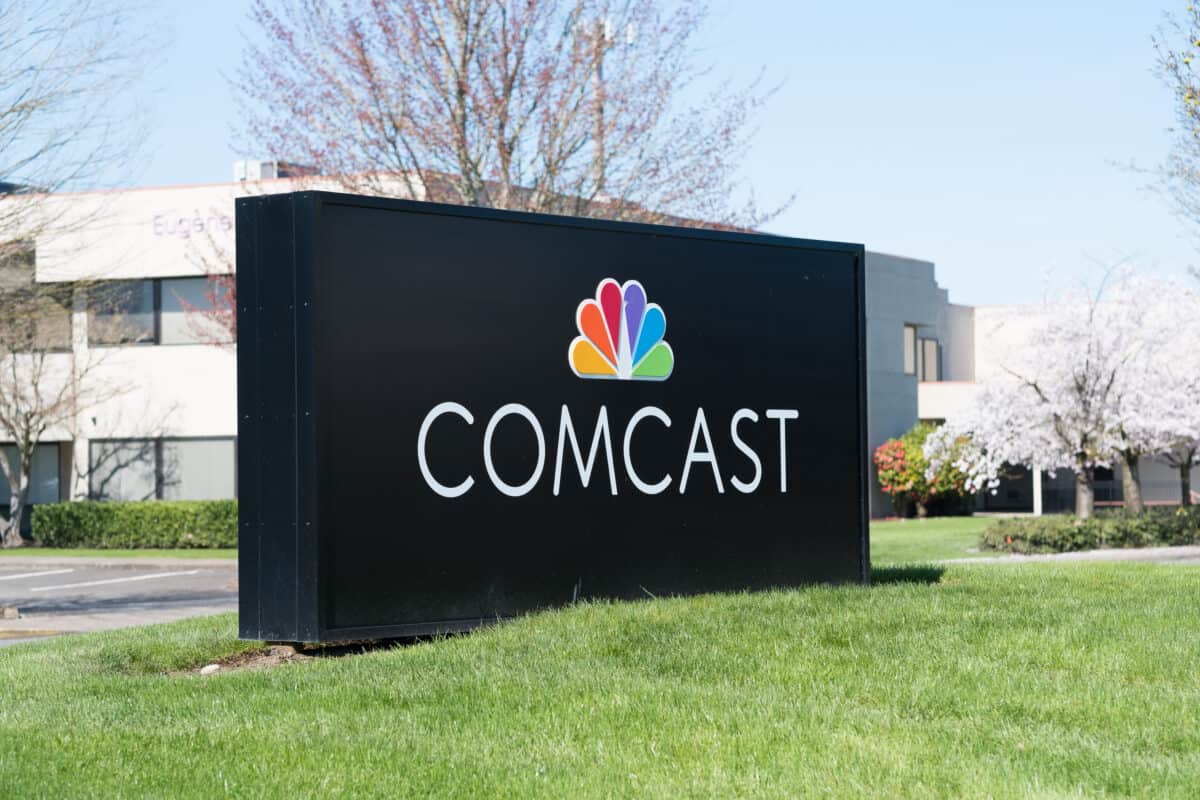 From their humble beginnings in Tupelo, Mississippi — beginning with just five channels and only 12,000 subscribers — to their eventual nationwide domination, Comcast has remained a trusted source for cable television. They got to where they are today through a series of strategic acquisitions, buying up fractions of competing cable networks here and there as they grew throughout the 1980s and '90s.
By the early 2000s, Comcast had surpassed 20 million subscribers. Their next move? Acquiring bigger and better names such as NBC Universal, the Sky Group, and more.
Today, with more than $116 billion in annual revenue and more than 16.6 million subscribers in all, Comcast struggles to hold onto the number of subscribers it once enjoyed. While still a titan of the industry, cable television in general simply struggles to keep up with the sheer number of cord-cutters opting for streamers instead.
Just three years ago, Comcast boasted more than 21 million subscribers. Today, that number has dropped by nearly five million and counting. Comcast tries to compete with streaming by offering cheaper, more expansive plans, but it might just be a losing battle.
YouTube TV vs Comcast: Pros and Cons
| Pros of YouTube TV | Cons of YouTube TV |
| --- | --- |
| The Channel lineup includes most people's favorites | While solid, the channel lineup is still small |
| Doesn't come with a contract or additional fees or add-ons such as cable boxes | Continued price hikes have more than doubled the initial starting price in only five years |
| An unlimited amount of cloud DVR space | Limited regional offerings |
| Still cheaper than many cable offerings | Cannot be bundled with cable or phone services |
| Pros of Comcast | Cons of Comcast |
| --- | --- |
| Far more channels than YouTube TV | Plans are more expensive than YouTube TV |
| Higher picture quality compared to YouTube TV | Prices increase after the first year |
| Prices seem more reasonable when bundled with Comcast internet and telephone | Additional fees for cable boxes and regional channels |
| Better dollar-to-channel ratio | Limited DVR space |
YouTube TV vs Comcast: 5 Must-Know Facts
These days, with the success of streaming, cable TV's market share has fallen to less than 50% globally.
Nearly 70% of adults subscribe to at least one streaming service. Comparatively, 65% and dropping have a cable TV subscription.
Comcast is losing around a million cable TV subscribers a year. Meanwhile, they gain the same number in internet subscriptions.
2021 saw an estimated 27% of Americans cutting out cable completely. This follows more than six million cord-cutters in 2020 alone.
Americans spend an average of around $50 a month on streaming services. This is still much less than the typical cable TV plan, which averages around $90 a month.
YouTube TV vs Comcast: Which One Is Better?
So, new vs old: who's winning out in the end? It's not the easiest decision to make. While YouTube TV has lower prices and greater DVR space, Comcast has a larger number of channels and a superior dollar-to-channel ratio.
Not to mention, YouTube TV relies on the internet, whereas Comcast is dependent on cables. The two are appealing in their own ways, no doubt, but there has to be a winner in the end. Based on all we've discussed thus far, it seems more than fair to say that the winner is YouTube TV.
For all that's good about Comcast and their Xfinity cable, betting on cable at this point in time feels like a foolish thing to do. Comcast's number of subscribers has dropped every quarter for the past five years or more, whereas YouTube TV's continue to increase year over year.
There's simply no denying that cable television is no longer where it's at. It's all about streaming television services in this day and age, and YouTube TV is no doubt one of the best options around. With its lower price, lack of additional fees, contract-free subscription, and unlimited DVR space, YouTube TV wins.
The image featured at the top of this post is ©metamorworks/Shutterstock.com.