As streaming burgeons, streaming services seem to struggle to make money without the help of ad revenue. As it turns out, ad revenue is a huge driving force behind the decades-long dominance of radio, television, and publishing. Without it, streaming services will continue to struggle. Not freemium services, however. YouTube and Spotify offer some features for free and charge extra to unlock the rest via subscriptions). That said, how does YouTube Premium vs Spotify Premium compare?
YouTube Premium vs Spotify Premium: Side-by-Side Comparison
YouTube Premium
Spotify Premium
Founded
February 14th, 2005
April 23rd, 2006
Premium Launched
November 14th, 2014
2009
Service
Online video platform
Audio streaming platform
Parent Company
Google LLC (2006- )
None
Founders
Chad Hurley
Steve Chen
Jawed Karim
Daniel Ek
Martin Lorentzon
Key Figure(s)
Neal Mohan (CEO)
Matt Halprin (VP)
Chad Hurley (Advisor)
Daniel Ek (Chairman & CEO)
Active Users
2.5 billion (2022)
515 million (2022)
Subscribers
80 million (2022)
210 million (2022)
Premium Pricing
$11.99 (monthly)
$119.99 (annually)
$9.99 (monthly)
Available Discounts
Student Plan: $6.99 (monthly)
Family Plan: $22.99 (monthly)
Student Plan: $4.99 (monthly)
Duo Plan: $12.99 (monthly)
Family Plan: $15.99 (monthly)
YouTube Premium vs Spotify Premium: 4 Key Differences
YouTube and Spotify are significant players in the freemium space. You can enjoy both without paying a dime, so long as you're willing to put up with limited features and plenty of ads. However, both offer premium subscription models that eliminate ads and implement several alluring features. How does YouTube Premium vs Spotify Premium compare to one another? Which subscription service is better, and which site is better off enjoying free? Let's discuss several key differences below before coming up with an answer.
Types of Content
A significant difference in our YouTube Premium vs Spotify Premium comparison is the types of content each offers. YouTube is a place for user-uploaded videos. While YouTube Music is available to premium subscribers, it's not the main draw to YouTube or its subscription service. Spotify Premium is a place for professionally produced music. Spotify lets you listen to your favorite artists and songs, from classics to obscurities to new releases. Their limited video content is not the main draw.
Premium Pricing
YouTube Premium costs $11.99 a month. Spotify Premium costs $9.99 a month. While both services can be used for free, this monthly cost will eliminate ads and allow you to download videos or songs to the app for offline listening. Whether or not you're willing to pay this premium pricing depends entirely on how often you use the site. Spotify has an advantage in this regard, as it's two dollars cheaper than YouTube Premium.
Discounted Plans
Going hand-in-hand with the previous point is the number of discounted premium plans available on YouTube vs Spotify. As of this writing, YouTube has two alternative subscription plans that offer discounts to qualifying subscribers. YouTube Premium's student plan is $6.99 monthly, while its family plan is $22.99 monthly. Spotify tells a similar story but with three alternatives instead of two. Spotify's student plan is $4.99 monthly, its duo plan is $12.99 monthly, and its family plan is $15.99 monthly. Not only is there more variety, but also lower prices.
Number of Subscribers
Both services have different subscribers. YouTube Premium vs Spotify Premium numbers will tell us how people feel about the subscription. If the ratio's bigger, we can assume the service is worth it to users. With this in mind, YouTube Premium has just 80 million subscribers compared to YouTube's total of 2.5 billion active users (or 3.2%). Spotify Premium has 210 million subscribers compared to Spotify's total of 515 million active users (or just over 40%). That's quite telling.
The History of YouTube Premium
YouTube founders Chad Hurley, Steve Chen, and Jawed Karim created the site in 2005. The trio hoped to solve a serious problem in the early days of social media: It was tough to send videos to one another. After initially helping to develop PayPal, Hurley, Chen, and Karim were already quite experienced with sending and receiving things over the Internet. With the help of Google (who came on as an early investor in 2006), YouTube quickly became the Internet's top destination for uploading and sharing videos.
Over the next several years, YouTube's user base grew exponentially. By the start of the 2010s, millions visited YouTube daily to see the latest viral uploads, music videos, and original content from their favorite creators. Today, the site enjoys more than two billion active users each month. These folks stream over a billion hours of videos and content daily. YouTube's subscription service, dubbed YouTube Premium, further incentivizes these streams.
YouTube Premium aims to reward those willing to pay a monthly fee to use the service. The subscription offers ad-free videos, offline playback, and background viewing on desktop and mobile. Plus, Youtube Premium subscribers get access to YouTube Music — a Spotify-esque music streaming service — and YouTube Kids — a kid-friendly version of the popular site that blocks all adult or mature content. The service originated as YouTube Red in 2014 before rebranding to YouTube Premium in 2018. Presently, more than 80 million people subscribe to the service in all.
How Spotify Premium Compares
When comparing YouTube Premium vs Spotify Premium, one thing is abundantly clear. YouTube puts more focus on videos, while Spotify on music. Of course, YouTube has gone on to rope in music streaming and Spotify video content. And yet, this fundamental difference remains integral to the YouTube Premium vs Spotify Premium debate. The one thing that does unite them more than anything else, though? The presence of a premium subscription tier.
Spotify was founded in Sweden in 2006 by Daniel Ek and Martin Lorentzon. These two tech entrepreneurs hoped to squash illegal downloading, which was rife in the music industry then. They didn't take long to assemble the right team and work on their idea. By the time the service was ready to launch, Ek and Lorentzon had perfected a free, high-quality, legal streamer.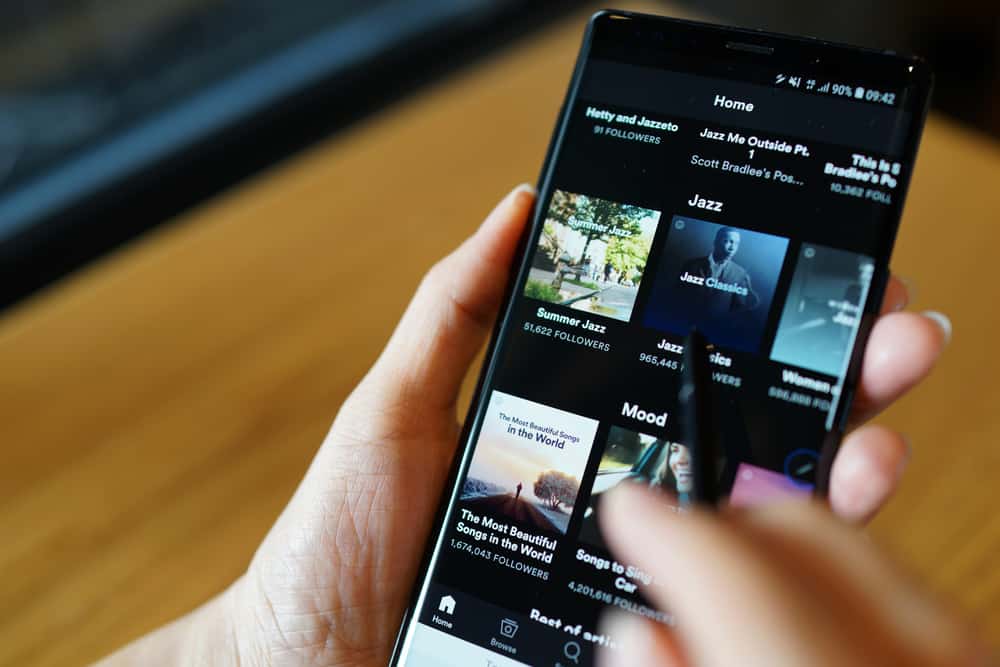 It wasn't long until Ek and Lorentzon decided that Spotify needed a paid tier. (Unlike YouTube, which is also free to use without a subscription.) It was simple: Spotify subscribers could benefit from added features while the higher-ups could enjoy an additional much-needed revenue stream. Thus, Spotify Premium was born. Offering ad-free listening, exclusive video content, higher-quality audio, and the ability to download music to listen offline, Spotify Premium subscribers now make up more than 40% of Spotify's total active users.
YouTube Premium vs Spotify Premium: 5 Must-Know Facts
YouTube Premium and Spotify Premium are ad-free, and allow users to download content for offline listening or viewing through the service's designated app. Both offer affordable family plans for up to five people in one household.
Spotify once toyed with the idea of limiting new albums and releases to Premium subscribers for two weeks before opening them up to free listeners. This idea was later scrapped after such negative reception.
YouTube Premium was formerly known as YouTube Red, a failed subscription service that aimed to capitalize on the push for original streaming content. It shut down just four years when the name was changed to YouTube Premium.
Spotify has only recently begun to dabble in the video space. Currently, the site has a limited amount of artist-curated video content. Similarly, YouTube has started to experiment in the music space with the introduction of YouTube Music.
Spotify and YouTube offer kid-friendly versions of their streaming services for family plan subscribers. This is handy, as it automatically blocks any explicit or age-restricted content from the interface.
YouTube Premium vs Spotify Premium: Pros and Cons
| Pros of YouTube Premium | Cons of YouTube Premium |
| --- | --- |
| Eliminates ads | Only a tiny fraction of people subscribed |
| Enables offline viewing | Not many features for the price |
| Allows background playback | Pricier than other subscription services |
| Includes access to YouTube Music | Some videos still have advertisements |
| Pros of Spotify Premium | Cons of Spotify Premium |
| --- | --- |
| Gets rid of ads between songs | Not much video content |
| It lets you download tracks for offline listening | Not every artist is on Spotify |
| Better sound quality over the free plan | Prices tend to increase over time |
| Discounts for families and students | Downloaded music restricted to the Spotify app |
YouTube Premium vs Spotify Premium: Which Is Best?
Looking at YouTube Premium vs Spotify Premium, which of these two freemium services offers the better subscription service? Considering YouTube Premium's expensive price point, the limited number of premium features, and the lack of appealing original content, it seems Spotify Premium is worth your attention. Not only is Spotify Premium more affordable, but it's also loaded with better features to boot. Sure, it doesn't have as much content as YouTube provides, but you can still get that from YouTube for free. Spotify Premium wins.
The image featured at the top of this post is ©Ben Harding/Shutterstock.com.