The 9th generation of home gaming consoles broke new ground and brought gamers into the 4K age with style.
Deciding between the Xbox Series X and Series S was tough to make at the time and one that's only grown more challenging now that the consoles have been out for a few years.  
There is a significant gap in price and performance between these next-gen consoles, but that's not the only difference. With the Xbox Series X becoming easier to obtain, more gamers are trying to decide which system Xbox system is the best choice for their needs.
Xbox Series X vs. Series S: A Side-by-Side Comparison
| | Xbox Series X | Xbox Series S |
| --- | --- | --- |
| What is it? | A high-end home gaming console | A budget-friendly version of the Series X |
| Designer | Microsoft | Microsoft |
| Release Date | November 10, 2020 | November 10, 2020 |
| Console Generation | 9th | 9th |
| Resolution Target | 4k at 60 FPS | 1,440p at 60 FPS |
| CPU | AMD 8-core 3.8 GHz | AMD 8-core 3.6 GHz |
| GPU | AMD RDNA 2 – 1.8GHz, 12 Teraflops | AMD RDNA 2 – 1.56GHz, 4 Teraflops |
| Memory | 16GB GDDR6 with a 320-bit bus | 10GB GDDR6 with a 128-bit bus |
| Storage | Ultra HD Blu-ray Drive | None |
| Media | 1TB NVMe custom SSD | 512GB custom NVMe SSD |
| Dimensions | 11.85" H x 5.9" D x 5.9" W | 10.8" H x 5.9" D x 2.6" W |
| Weight | 9.8 lbs | 4.25 lbs |
| Price | Starting at $499 | Starting at $299 |
Xbox Series X vs. Series S: 5 Must-Know Facts
The Xbox Series X and Series S are the fourth generation of Xbox consoles.
These consoles were the first to offer Dolby Vision and Dolby Atmos for media and gaming.
8K resolution is possible through the Xbox Series X console.
Solid-state drives used in these consoles are 40 times faster than the drives in the Xbox One.
The Series X and S consoles can pause and resume multiple games, even after a reboot.
Xbox Series X vs. Xbox Series S: What's the Difference?
Our side-by-side comparison will give you a solid idea of how the Xbox Series X and Xbox Series S stack up against each other. It's only part of the story, however, as it doesn't cover the design of these systems or the potential pitfalls for their target audiences.
Physical Media
One of the most significant differences between the Xbox Series X and Series S is how they deal with storage and media.
If you plan to use the console to play UHD Blu-ray movies, the decision is simple—buy the Xbox Series X.
The Xbox Series X comes with an optical drive allowing you to play physical media and disk-based games. Gamers that appreciate physical media or want to forego buying a 4K Blu-ray player with Dolby Vision will love the Series X.
Alternatively, the Xbox Series S doesn't have an optical drive. It's designed for gamers that prefer digital media, although it has a measure of built-in storage. The Series S has a speedy NVMe 512GB SSD, with 330GB of usable space. The Xbox Series X specs show a 1TB SSD, but both have expandable storage.
Backward compatibility is also an issue here. Both consoles provide support for previous Xbox games, but you can't load up discs from older consoles on the Xbox One S.
The Design
Leaving out the optical drive on the Xbox Series S doesn't impact its performance, but it does affect the design. The hardware inside also plays a part in that, and while the gamepad remains the same, the style is remarkably different.
Is space limited in your gaming room or are you trying to cram a console into a home theater shelf full of components? In either case, the Xbox Series S leaves a small footprint behind at only 10.8" H x 5.9" D x 2.6" W. It's the smallest Xbox ever designed, and it can sit upright or on its side for additional versatility. It has a clean design with minimal flair aside from a large grill for the fan.
If you didn't see the Xbox logo, you might assume the Xbox Series X is a PC, not a console. It has a completely different design that the Xbox Series S, and is larger at 11.85" H x 5.9" D x 5.9" W. It's twice the weight at 9.8 pounds and can also sit vertically or horizontally in your home. The larger dimensions can make it challenging to place, which gives the Series S an advantage.
Both consoles are stylish, but the Xbox Series S is smaller, lighter, and a bit more versatile when it comes to positioning, due to its size.
Resolution
The resolution is where things get interesting between these two consoles. It's also an area where consumers can become confused considering both can stream 4K content with HDR or Dolby Vision.
Xbox consoles have always been great streaming devices, and the newest generation is no different. Both the Xbox Series X and Xbox Series S specifications show they can "stream" 4K content from services like Netflix and Disney+, but that's where the similarities end.
The Xbox Series X supports native 4K gaming along with 4K UHD Blu-rays while the Xbox Series S has upscaling and no optical drive. Both have ray-tracing, although it's limited on the Series S due to hardware limitations.
Gamers that haven't upgraded to a 4K TV set will be thrilled with the Xbox One S. If you already own a high-end TV or monitor, it's another easy win for the Xbox Series X console.
Performance and Price
The Xbox Series X is known for its hardware, which includes a custom AMD GPU. That GPU provides 12 teraflops of power, which is staggering compared to the Series S at only 4 teraflops. By comparison, the PlayStation 5 is around 10.2 teraflops.
Loading times and overall speed is incredible on the Xbox Series X. Having 16GB of GDDR6 RAM certainly helps and is another upgrade of the Series S, which has 10GB of RAM. Both consoles have a similar processor with an 8-core CPU from AMX. The Series X has an edge with a higher clock speed, however, it is at 3.8GHz.
When it comes to performance, the PlayStation 5 is the only console comparable. Comparing the performance of these consoles isn't particularly close, and it shows in the price. The hardware and optical drive are the main reasons the Xbox Series X is more expensive than the Series S. Pricing for that console starts at $499, while the Xbox Series S is only $299.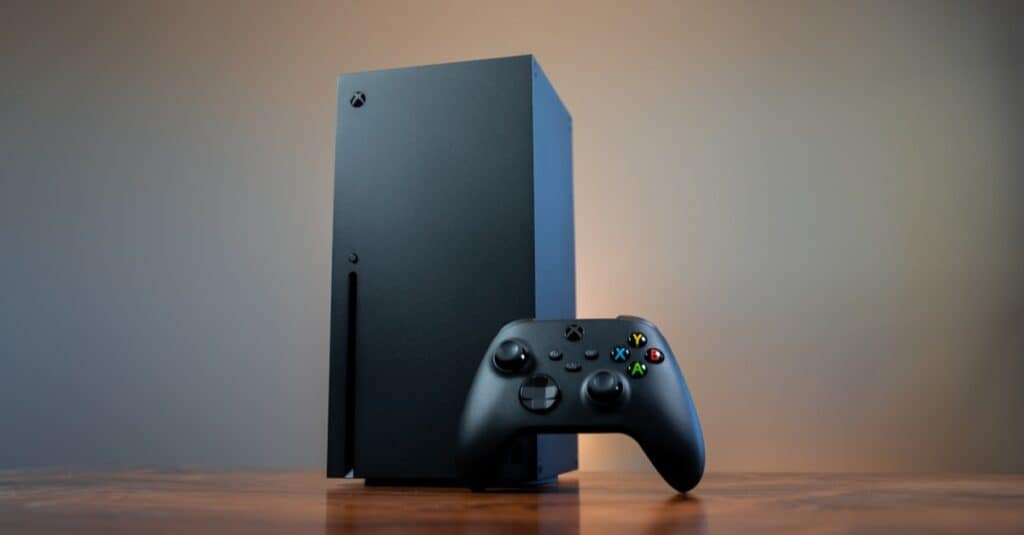 Xbox Series X vs. Series S: What's the Same?
Microsoft did a fantastic job of making these consoles just different enough to entice two completely separate audiences. While the size, price, and performance may be different, the Xbox Series X and Xbox Series S share plenty of similarities.
Game Catalog
Both of these next-gen consoles use the same controllers and can load games with amazing speed thanks to the SSD drives. Our Xbox Series X and Series S comparison shows that the systems don't compare in performance, but they share the exact same catalog of games.
There have been more than a hundred games released for the Xbox Series X and S since its initial launch. You can play the newest iteration of Madden or FIFA on either console, along with racing games, RPGs, and indie favorites.
Xbox Game Pass and other services are also available, and both offer backward compatibility—even if it's limited on the Series S.
Expandable Storage
With previous console generations, you had to turn to memory cards or delete things when the storage became full. Newer models give consumers an option of storage capacity, and also provide gamers a way to expand when things get tight.
Microsoft designed the new Series X and Series S consoles for expansion with up to 2TB of additional space. Given the company's impressive catalog of games, it's a welcome addition to both consoles. These small high-capacity cards from Seagate not only look good, but they will expand the storage on either console considerably.
Xbox Series X vs. Series S: Which One is Better?
Next-gen consoles aren't exactly cheap, especially when you factor in the price of new games, services, and peripherals. That makes choosing the right console the first time around critical for many consumers. If you've been on the fence between the Xbox Series X and Series S, it's pretty clear-cut.
Gamers that are looking for performance and don't want to worry about upgrading should choose the Xbox One X. While it's more expensive and could be awkward to place, it can play 4K UHD Blu-rays along with any old Xbox games you have on disk. It's a technical marvel, although the Xbox Series S is nothing to scoff at.
The Xbox Series S is the best choice when you're looking to break into this generation but aren't yet ready to go all-in. You can still play the latest titles with excellent quality, and you'll definitely see a difference from the last generation in performance. It's an ideal streaming device for digital gamers as well.
If you're undecided between Xbox and Sony, or considering purchasing your first console, this guide can clear up some questions about both companies.
NEXT UP…