Wyze and Blink are arguably the best home security brands available. They offer wireless home security camera systems that help keep an eye on your home. So, if you want to install a surveillance system, you are probably considering the two brands.
Wyze and Blink cameras have formidable qualities to enhance your home's security. However, they have different features that make each ideal for different situations. In this comparison, we'll look into Wyze and Blink's various aspects to help determine what brand best suits your needs.
Wyze vs. Blink: Side-by-Side Comparison
| | Wyze | Blink |
| --- | --- | --- |
| What it is | Home camera system | Home camera system  |
| Primary Use | Surveillance  | Surveillance  |
| Release | July 2018 | September 2020 |
| Video Quality | 1080 P | 1080 P |
| Smart Home Compatibility | Yes (Alexa and Google Assistant) | Yes (Alexa and IFTTT) |
| Power Option | Plug-In | AA batteries with plug-in option |
| Storage | Offline storage | Cloud storage |
| Clip Length | 12 Seconds | 60 seconds |
| Retrigger Speed/Cool Down Time | 5 minutes | 10 seconds |
| Price | From $29.99 | From $34.99 |
| Monitoring fee | $4.99 per month | N/A |
WYZE Cam v3 with Color Night Vision, Wired 1080p HD Indoor/Outdoor Video Camera, 2-Way Audio, Works with Alexa, Google Assistant, and IFTTT
Color night vision: An all-new Starlight Sensor records night time video in full, vivid color. The Starlight Sensor can see full color in environments up to 25x darker than traditional video cameras...
Indoor/Outdoor: Wyze Cam v3 is a wired video camera with an IP65 rating so you can confidently install it outside in the rain or inside in the kids' room. Wyze Outdoor Power Adapter (sold...
Motion & Sound detection: Wyze Cam records video when motion or sound is detected and sends an alert straight to your phone. Motion Detection Zones and custom settings allow you to adjust the...
24/7 Continuous Recording: Continuous video recording with a 32GB MicroSD card (sold separately). Just insert the MicroSD into the base of the Wyze Cam and you're all set.
IFTTT certified connect all of your different apps and devices. When you sign up for a free account, you can enable your apps and devices to work together.
We earn a commission if you make a purchase, at no additional cost to you.
Wyze vs. Blink: What's the Difference?
Wyze and Blink are fierce competitors in the home camera installation business, battling for sales supremacy in the market. Both tech giants offer their cutting-edge technology at affordable prices. 
So, as a prospective buyer, you may want to know what sets them apart and decide your preference. The Wyze and Blink wireless cameras are inherently different. For example, they have different camera designs, storage capacities, retrigger speeds, and power options.
Below, is a detailed review of their differences: 
Design
A product's design is the first thing that attracts you to it. Save for efficiency, you want a sleek, portable device that perhaps complements your home's interior. True to this, Wyze and Blink wireless cameras have elegant designs to accommodate their operations and subtly fit your home décor without creating an eyesore.
The Wyze cam has an adorable cube design giving it the appearance of a tiny robot. It has a mountable base complemented by a 3-axis design that allows you to point it in any direction. So, you can set up your camera to monitor your desired angle. Due to its small size and light weight, you can move the Wyze camera to any location.
The camera also has a waterproof body, making it ideal for the outdoors. However, its portability may be a disadvantage for the outside environment as intruders could easily make away with it.
The Blink wireless camera's design is meant to ensure the device works without problems. The camera's head has a square design with a broad face to incorporate its infrared LED and increase its field of view. The component is attached to a plastic base with a rotatable neck that allows you to view different angles of the surveyed area. 
You may think the small plastic is unstable, but Blink reinforced the material to form a sturdy base impervious to breakage. Therefore you can mount the camera and be sure it will not fall off.
Video and Audio Features
It would defeat the purpose of buying a home security camera system if it had poor video and audio features. After all, the devices are meant to monitor your premises for intruders and unauthorized people. Despite their affordable prices, both Wyze and Blink wireless cameras have formidable recording qualities.
The Wyze camera captures explicit videos with a 1080p resolution ensuring image quality. It gives a view of the surveyed surroundings up to 10 feet from the camera. The precise imaging also extends to the nighttime as the camera has illuminating features that light up the dark, giving you a moderately clear view of the night surrounding. 
The crisp video quality is backed by audio recording features that allow the camera to pick up sounds as it captures the images.
However, if you don't pay for the monthly package, the clear-resolution video recordings are capped at 12 seconds with a five-minute cooldown. This means the camera only records for 12 seconds when triggered, and you'll have to wait five minutes for it to pick up and resume recording.
The Blink camera records equally clear videos with a similar resolution of 1080p. Although the video recordings aren't as clear as Wyze cameras, they still capture a decent range of the surroundings. The camera also has a night vision feature which increases clarity at dusk and the wee hours of the night, enabling the user to monitor their property in low light. 
Bliz's video-capturing capabilities are complemented by a two-way audio system that captures sounds and allows the owner to communicate with whoever is at their door.
Similarly, Blink's video capture accommodates a higher clip length of 60 seconds with a 10-second cooldown. It doesn't take long for the camera to retrigger and resume recording.
Storage
Wyze and Blink wireless camera systems offer different video storage options that enable users to access the recorded footage when needed. Wyze cameras give you offline and cloud storage options. The offline storage option means you may plug in your USB flash drive or a microSD card to the camera and retrieve the footage you need. Wyze camera systems also come with a 14- day free cloud recording with limited features. You can view your camera's video history, monitor your home in real-time, and get motion-triggered alerts.
On the other hand, Blink camera systems record and store surveillance videos and save them on the cloud to view at your convenience. Unlike the Wyze camera, whose footage risk getting lost when someone makes away with the device, you can monitor all recorded motion-triggered footage on your phone through the Blink app. The Blink cloud storage gives you the discretion to review video footage at your convenience.
Power Supply
Like all current electronic devices, Wyze and Blink wireless camera systems need a power source to support their operation. An efficient power system ensures the camera works around the clock to provide surveillance of your property.
The Wyze camera system runs on a plug-in power supply. It would be best if you connected the camera directly to a power outlet for it to work. This could be inconvenient if you'd like to install your camera outdoors and you don't have a reliable extension cord. Nonetheless, you could use a Wyze outdoor power adapter cord to increase your flexibility when installing the camera.
Regarding power supply, Blink cameras offer a more flexible option. The camera system is primarily powered by two AA batteries, advertised to last two years. The portable power supply delimits your options in setting up the camera system, as the camera is more portable. Blink also incorporated a USB power supply option as a backup for when the batteries die or if you simply prefer the direct plug-in.
Pricing
What's a product comparison without looking at the prices to determine which gives you value for your money? With this in mind, the Wyze and Blink camera systems are reasonably priced.
Wyze offers affordable prices for all its products considering their features and efficiency. Since it is a DIY security company, you can purchase a Wyze security system for as low as $29.99 and install it into your home. You can get a comprehensive package with everything you need to operate your Wyze camera system, including a motion sensor, micro-SD Card, two Wyze Plugs, three bulbs, a bridge, and two contact sensors, for $99. There are no installation fees or services; you have to follow the instructions, and you're good to go.
Like most Amazon products, the Blink home camera system is slightly higher priced to compensate for its brilliant features. With $34.99 – $139.98, you can walk out of the store with your choice of the Blink camera system, given your security system needs. Unlike Wyze, everything you need is included in the purchase, so Blink does not offer any additional home security products.
History of Wyze
Formerly known as Wyzecam, Wyze is a top Seattle-based company founded in 2017 by former Amazon employees as a smart home company. The company started with one product, the Wyze cam, which gained popularity with the younger generation. They were especially intrigued by the device's minimalistic design and advanced monitoring features offered at affordable prices. 
Wyze built on the great publicity and released subsequent home camera systems with improved features. For instance, the Wyze Cam Pan, released in 2019, had clearer video and audio systems. 
Today, Wyze stays true to its brand, offering a low-cost surveillance option. You can subscribe to its monthly package, which gives you access to cloud storage and real-time surveillance of your premises through the Wyze app.
History of Blink
Blink Outdoor 3rd Gen + Floodlight — wireless, 2-year battery life, HD floodlight mount and smart security camera, 700 lumens, motion detection, set up in minutes - 1 camera kit (Black)
Blink Floodlight works with Outdoor to deliver a wire-free, HD smart security LED floodlight camera with up to two years of battery life.
See, hear, and speak to visitors in real time with 1080p HD live view and two-way audio from the app.
Light up the night — get 700 lumens of motion-triggered, high-quality LED lights.
Choose to store video clips and photos in the cloud with an optional Blink Subscription Plan or locally with the included Blink Sync Module 2 and USB flash drive (sold separately).
Customize motion detection zones, enable alerts, and set lights to trigger from the free Blink Home Monitor app on your smartphone.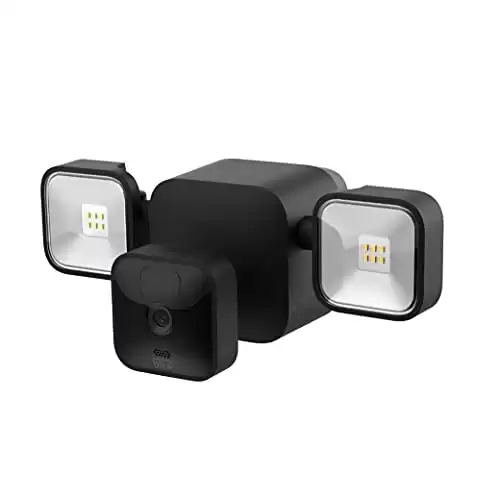 We earn a commission if you make a purchase, at no additional cost to you.
Blink was founded in 2009 as Immedia Semiconductor, a consumer electronics company. The enterprise started its venture into the home camera system business in July 2009, focusing on indoor security cameras. 
However, it was not until late 2019, after Amazon acquired the company, that it rolled out its first home security system. 
Blink is currently one of the best home security systems available. Their devices, such as the Blink Mini, have a sleep design and are compatible with Alexa smart home systems, allowing you to control various home operations remotely. 
The cameras' clear recordings are one of its finest qualities as the company constantly improves on it in each release. 
Pros and Cons of Wyze vs. Blink
| Pros of Wyze | Cons of Wyze |
| --- | --- |
| Superior video quality  | Five minutes cool-down period. |
| Compatible with smart home technology, allowing you to monitor your home remotely.  | Doesn't have free cloud storage, so you can easily lose footage.  |
| Available at an affordable price. | You must have an active subscription to enjoy most of the camera's features. |
| Sleek design with a 3-axis that increases the camera's flexibility.  | Its dependence on a plug-in power supply inhibits its portability.  |
| Pros of Blink | Cons of Blink |
| --- | --- |
| Easy DIY installation. | Poor night vision. |
| 10-second cooldown period | Recordings only last 60 seconds. |
| The app has numerous monitoring features, including a temperature display. | Requires a subscription to enjoy essential features. |
| Compatible with smart home systems. | More expensive than the Wyze camera.  |
Wyze vs. Blink: 7 Must-Know Facts
Amazon owns Blink, so their camera systems can integrate with Alexa home automation through the Blink app.
Wyze camera systems have a 5-minute cool down after taking a 12-second video, so it could miss essential details before it resumes recording.
Blink cameras stream live footage, allowing you to monitor your premises remotely through the Blink app.
Blink camera systems display the temperature of the surveyed room, allowing you to regulate it through your home automation system.
Wyze camera systems are compatible with Alexa and Google Assistant by allowing you to control home operations remotely.
Wyze and Blink record motion-triggered clips, so they do not have nonstop footage.
You get a one-year warranty when you purchase and install Wyze and Blink camera systems.
Wyze vs. Blink: Which One is Better? Which One Should You Use?
Wyze and Blink home camera systems are formidable, budget-friendly security options, each with merits and demerits. However, if you are looking to up your home security on a budget, Blink is the better option.
The main reason for installing a security system is to have 'eyes' on your premises at all times. Blink cameras give you a higher clip length for captured footage and have a lower cooldown period, so it records more. This defining feature, paired with the device's clear video quality and portability, gives it an edge over Wyze as an affordable home security solution.
However, if you are willing to pay an additional fee, Wyze presents great monitoring options that ensure your peace of mind. Ultimately, it is up to you to decide what features you want and the best home camera system for your home.
NEXT UP…