WP Engine vs. SiteGround Hosting: 6 Must-Know Facts
WP Engine is a managed web hosting service that costs more than SiteGround. On the other hand, SiteGround is not a fully managed WP hosting service; hence it's more affordable, especially for startups, but lacks the complete optimization for WordPress.
WP Engine currently has more than 80,000 customers and powers 500,000 sites compared to SiteGround, which powers 2,000,000 domains worldwide.
WP Engine servers are located in North America, Europe, London, and Asia/Pacific, while SiteGround hosting has servers in the USA, UK, Spain, Netherlands, Germany, Australia, and Singapore.
WP Engine and SiteGround offer free email, SSL, CDN, and backup and restore services.
WP Engine comes with a 97-day money-back guarantee compared to SiteGround hosting, which offers a 30-day money-back guarantee.
WP Engine and SiteGround offer a dedicated WooCommerce plugin, which is great if you're hosting a WooCommerce store.
There are numerous different web hosting options available on the market today. If you are looking for the best hosting for your WordPress site, there are two names you are bound to come across: WP Engine and SiteGround.
Both hosting providers have a lot in common and offer tools that make managing WordPress sites easy. However, when it comes to choosing the perfect web host for your site, there are dozens of factors to consider, like uptime, security, speed, price, and support.
Trying to choose between WP Engine and SiteGround for your website? In this article, we will compare both hosts' features, what you get for your money, and performance to help you make an informed decision. By the end of this review, you will be able to select the web host that suits your needs.
WP Engine vs. SiteGround Hosting: A Side-by-Side Comparison
| | WP Engine | SiteGround |
| --- | --- | --- |
| Founded | Early 2010 | March 22, 2004 |
| HQ Address | 504 Lavaca Street, Suite 1000, Austin, TX 78701 | SiteGround Office, 8 Racho Petkov Kazandzhiata, Sofia 1776, Bulgaria |
| Price | From $20/month | From $2.99/month |
| Security | SSL certificates and automatic daily backups | SSL certificates, AI anti-bot protection, 2-factor-authentication, DDoS protection, daily/weekly backup, and a Security plugin |
| Money Back Guarantee | 60 days | 30 days |
| Support | Email | Email, phone, and 24/7 live chat |
| Website immigration | Free automated WordPress migration | Free automated WordPress migration or paid professional site transfer |
| Server locations | North America, Europe, London, Asia/Pacific | US, UK, Germany, Singapore, Australia, and the Netherlands |
| Website | www.wpengine.com | www.siteground.com |
WP Engine vs. SiteGround Hosting: Overview
Launched in 2004, SiteGround has built a great reputation over the years, especially among WordPress users, due to its fast servers, professional support, and other valuable features.
As one of the biggest hosting companies, it currently hosts over 2,800,000 domains and allows customers to enjoy other services like free email, SSL, CDN, and daily backups. The company provides several hosting services, including enterprise solutions, shared hosting, email hosting, and domain registration. SiteGround also allows you to create your website on different platforms, including Joomla, Drupal, WordPress, Magento, WooCommerce, and PrestaShop.
As one of the leading managed WordPress hosting companies since 2010, WP Engine provides specialized WordPress hosting.
WP Engine is headquartered in Austin and has offices in San Antonio, London, Limerick, Brisbane, and Kraków. Since it's a WordPress-specific web host, its managed plans are fully optimized for the platform. Compared to SiteGround, its plans aren't exactly cheap. Recently, it has won multiple awards for Best Place to Work in Austin and for regularly contributing to the WordPress community.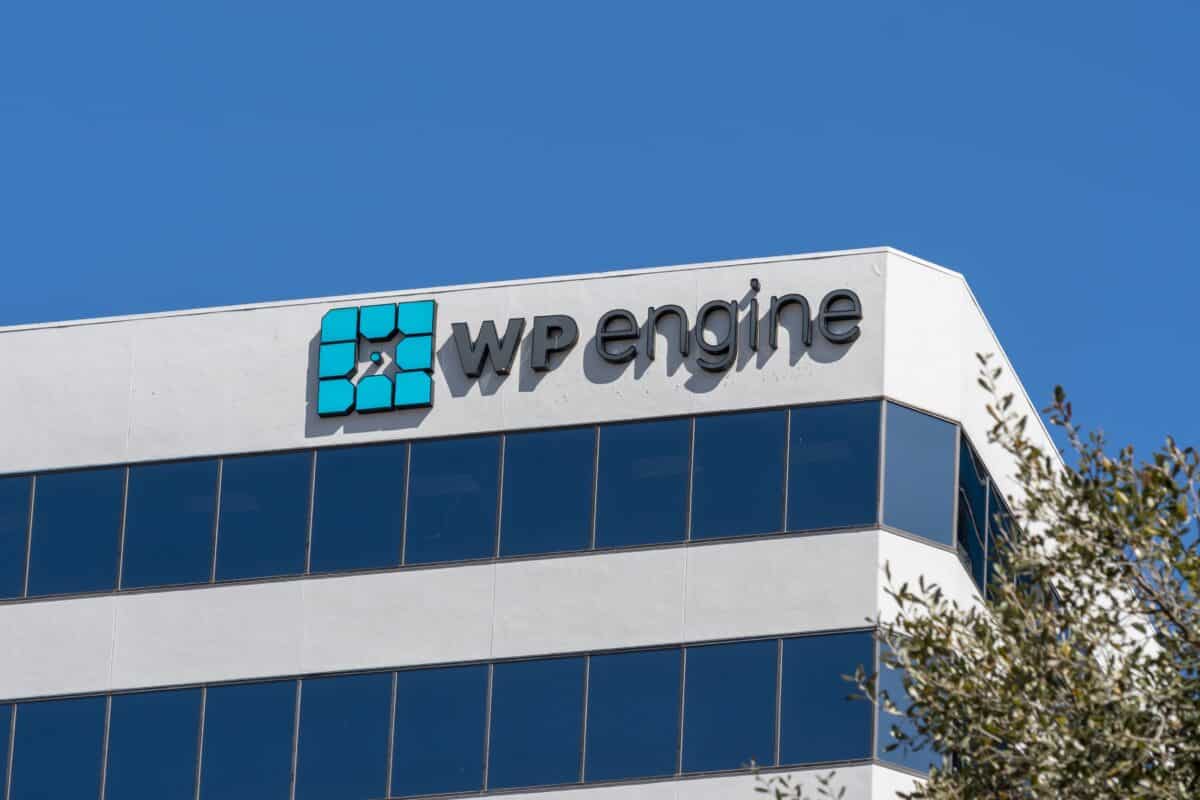 WP Engine vs. SiteGround Hosting: Key Differences
Ease of Use
While WP Engine and SiteGround are almost similar, WP Engine has its own system to manage the hosting account, which makes it a bit more flexible than SiteGround.
Since SiteGround has its own dashboard, its interface looks much more intuitive and clean, thus making it easy to use. This means you can now manage your sites individually instead of using one account to manage all the projects. For instance, you can add users but only share relevant sites with them.
Website Speed
Regarding website speed, SiteGround experiences a drop in rate compared to WP Engine, which is more consistent.
Although SiteGround guarantees 99.99 percent in uptime, WP Engine is the clear winner. However, this doesn't mean SiteGround won't suit your needs, especially if you have a small website. SiteGround has features like caching and image upload optimization to further boost its uptime.
Moreover, SiteGround offers a SuperCacher service which doubles the website speed and reduces the time required to load a page.
Website Staging Tools
If there is one area where WP Engine outdoes SiteGround, it's website staging tools. Compared to SiteGround, which only offers the staging environment, WP Engine comes with an offering of development, staging, and production environments, something you won't find on any other hosting platform.
While WP Engine staging tools are more advanced, SiteGround is simple and easy to use. It has a 3-environment system, each of which can function individually. Overall, both platforms are intuitive and functional and use custom management tools to make them more effective.
Customer Support
While SiteGround offers call and ticket support 24/7, WP Engine phone support is only meant for professional plan customers. Also, SiteGround offers fast premium support that makes it respond to your queries within 5 minutes. Nonetheless, both SiteGround and WP Engine have knowledge bases full of tutorials that answer most of your questions and real human support.
Email Accounts
Although SiteGround allows you to create as many email accounts as you need, each account only has a maximum storage of 2GB, 4GB, and 6GB, depending on your plan.
Contrary to this, WP Engine does not provide email support; hence, SiteGround is the clear winner regarding email accounts.
Website Migration
While migrating websites can be hard, both WP Engine and SiteGround offer various options. With SiteGround, you'll have to pay $30 to migrate your site. This is contrary to WP Engine, which only provides migration services to customers on a dedicated hosting plan. This means that SiteGround's migrations are a bit more affordable. Additionally, SiteGround doesn't limit the number of visitors you can receive and it delivers the same level of site speed regardless of your chosen plan.
Pricing
When it comes to the price, SiteGround is the clear winner. Starting at $2.99/month, its pricing plan structure is more straightforward and comes with shared and cloud options.
On the other hand, WP Engine starts at $11.95/month which makes it more expensive. Alongside its packages, WP Engine provides different options with extra features to suit your various needs.
SiteGround offers three WordPress-focused hosting plans to choose from:
StartUp: From $2.99 a month for one website, 10 GB of storage, and ~10,000 monthly visits.
GrowBig: From $4.99 a month for unlimited websites, 20 GB of storage, and ~100,000 monthly visits.
GoGeek: From $7.99 a month for unlimited websites, 40 GB of storage, and ~400,000 monthly visits.
WP Engine offers four managed WordPress hosting plans aimed at small and medium-sized businesses:
Startup: From $23 a month for one website, 10 GB of storage, 25,000 monthly visits, and 50 GB of bandwidth.
Professional: From $50 a month for three websites, 15 GB of storage, 75,000 monthly visits, and 125 GB of bandwidth.
Growth: From $115 a month for ten websites, 20 GB of storage, 100,000 monthly visits, and 200 GB of bandwidth.
Scale: From $290 a month for 30 websites, 50 GB of storage, 400,000 monthly visits, and 500 GB of bandwidth.
Pros and Cons of SiteGround
| Pros | Cons |
| --- | --- |
| More affordable plans | High renewal prices |
| High reliability and uptime | Limited basic plan |
| Quick server response times all over the world | Limited disk space in all shared hosting plans |
| Free site migration | None of the plans come with a free custom domain |
| FREE daily backup (30 days shared/7 days cloud) | |
| Top-notch security | |
| Free website builder | |
| 24/7 help center | |
| 30-day money-back guarantee | |
Pros and Cons of WP Engine
| Pros | Cons |
| --- | --- |
| EverCache technology for faster page loading | More expensive |
| Reliable customer support | You have to install a migration plugin |
| 60-day money-back guarantee | Some plugins and themes are not allowed |
| Hacked sites fixed at no charge | |
| Free data backup and restore | |
| Free let's encrypt SSL | |
| Free global CDN | |
WP Engine vs. SiteGround Hosting: Which One Should You Choose?
So, which is better: WP Engine or SiteGround?
As we have seen above, both WP Engine and SiteGround offer a lot of features, good performance, and outstanding support.
If you are just getting started with WordPress, SiteGround is the best option because you will get very good hosting for an affordable price. So, if you are just launching a new blog, portfolio website, or brochure website, we would recommend starting with SiteGround.
On the other hand, if you have an established website where performance and reliability are key, that is where WP Engine might make more sense. We also recommend WP Engine for more complex websites, such as membership sites or eCommerce stores as you will get better performance.
Up Next…
The image featured at the top of this post is ©imajinajib/Shutterstock.com.