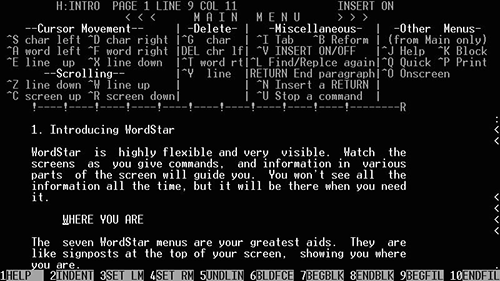 Key Points about WordStar Word Processor:
WordStar is a microcomputer word processor application that was invented by Seymour Rubenstein a Rob Barnaby in 1978.
A word processor is a computer application that allows you to write and update documents, create text layouts, and see how the printed version would look on a computer monitor. "What you see is what you get" (WYSIWYG; pronounced wi-z-wig) is the last capability.
Word processors make writing and editing more accessible, thanks to features such as the ability to copy and paste text ("cut-and-paste"), built-in dictionaries for checking to spell, and grammar checkers.
The History of WordStar Word Processor: What to know
Seymour Rubenstein and Rob Barnaby invented WordStar in 1978. Rubenstein worked for IMS Associates, Inc. as the director of marketing (IMSAI). IMS Associates, Inc. was a computer firm in California, which he quit in 1978 to create his software firm. He persuaded Barnaby, IMSAI's chief programmer, to join him. 
When Seymour Rubenstein was the head of marketing at IMSAI, he began designing an early version of a word processor for the IMSAI 8080 computer. Then, in 1978, he left to launch MicroPro International Inc. with only $8,500 in his pocket.
Quick Facts
Release Date

01/01/1978

Original price

$495

Discontinued

01/01/1994

Units Sold

3 million units in 1975
Software programmer Rob Barnaby left IMSAI to join MicroPro at Rubenstein's request. Barnaby contributed to the 1979 version of WordStar for CP/M, Gary Kildall's mass-market operating system for Intel's 8080/85-based microcomputers, introduced in 1977. Jim Fox, Barnaby's helper, transferred WordStar from the CP/M operating system to MS/PC DOS, Microsoft's and Bill Gates' famous operating system launched in 1981.
In 1982, the DOS version 3.0 of WordStar was published. Within three years, WordStar had become the most widely used word processing program on the planet. After the poor performance of WordStar 2000, however, products like WordPerfect pushed WordStar out of the word processing market by the late 1980s.
The owners of WordStar no longer create, maintain, or sell it. Instead, Riverdeep, Inc. owns the property. WordStar is presently owned by Riverdeep, an education and consumer software firm that is now a part of Houghton Mifflin Harcourt Learning Technology.
WordStar Word Processor Versions: Each Edition
There were numerous versions of WordStar word processor which were invented. The first version came out in 1978, and till 1994, newer versions were developed. However, it faced heavy competition from WordPerfect, which swiftly dominated the market.
WordStar 1.0 for CP/M (1978)
In September 1978, WordStar version 1 for CP/M was published. Barnaby and Fox kept working on the code, and multiple interim versions were produced until version 2 was released.
WordStar 2.0 for CP/M (1978)
Version 2 was, however, copy-protected, which proved to be a public relations nightmare, prompting its replacement almost immediately.
WordStar for TRS-80 LDOS (1979)
After Barnaby left MicroPro, Fox adapted the code for the Apple II's new Microsoft CP/M board and the Tandy (Radio-Shack) TRS-80's LDOS 5 operating system. Mail merge and the older WordMaster Editor were included in the TRS-80 bundle.
WordStar for Epson Personal Computer (1980)
Epson made a small computer (PX-8?) with an integrated LCD monitor. The corporation requested a customized version of WordStar that will run in 48Kb of RAM and would be based on ROM.
WordStar for Osborne 1 Portable Computer (1981)
In 1981, Adam Osborne released his CP/M-based portable computer, which came with $1,500 worth of software, including WordStar and SuperCalc, a spreadsheet tool.
WordStar 3.0 for CP/M and MS-DOS (1982)
So that it could be presented to Rubenstein, Jim Fox patched the CP/M-86 version of WordStar to make it work under MS-DOS on the IBM PC. A group of Irish programmers used Intel development systems running the ISIS II operating system to complete the port. The binary (executable) files were then transmitted to the IBM PC via serial cable once the software was built on 8″ floppies.
WordStar 2000 for MS-DOS (1985)
Rubinstein was approached by friends of a programmer named Edward de Jong about a WordStar clone that de Jong had built in the C programming language. The application was written on a VAX system running UNIX using a 1200-baud modem. In comparison to the original WordStar, the software was modest, with only about 12,000 lines of code.
WordStar 2000 for AT&T UNIX (1985)
AT&T's UNIX PC productivity software series now includes an early release of WordStar 2000. This was a UNIX-only version that simply included the core WordStar 2000 application. WordStar 2000 for AT&T UNIX PC, as well as the UNIX PC itself, did not last long.
WordStar Express for MS-DOS (1986)
In 1986, Amstrad released the PC 1512 SD and DD (with 512Kb of RAM and Single or Dual 5.25″ floppy Disk drives) and PC 1640 (with 640Kb of RAM). The Amstrad PCs included color or monochrome displays, as well as an Enhanced CGA graphics mode (which housed the power supply).
WordStar 2000 Plus Release 3.5 for MS-DOS (1987)
Release 3 of WordStar 2000 improved on the speed gains of Release 2. Despite continued development of an OS/2 version that lasted until Microsoft and IBM split ways, MicroPro abandoned WordStar 2000 in mid-1988. WordStar 2000 Plus Release 3.5 was the last version of WordStar 2000 to be sold.
WordStar 4 for CP/M and MS-DOS (1987)
WordStar 4, which was essentially NewWord 3 with portions of WordStar 3.3 added, was released in February 1987.
WordStar 5 and 6 for MS-DOS (1988-1990)
Several WordStar 2000 features were added to WordStar versions 5, 6, and 7, building on the success of WordStar 4. These versions included a new printer driver system, as well as an enlarged file format that allowed for the usage of 'text styles,' pull-down menus, backdrop printing, graphic support via the Inset application, and a new file format.
WordStar for Windows 1.0 (1991)
WordStar International purchased all rights to the Legacy word processor and its code, which was renamed WordStar for Windows 1.0 and published on October 1, 1991.
WordStar for Windows 1.1 (1991)
WordStar International rapidly released version 1.1 of WordStar for Windows, which was a pretty small change. This upgrade was made available as a bug-fixing release to tide users over until version 1.5 was ready.
WordStar for Windows 1.5 (1992)
Version 1.5 of Wordstar for Windows was released on June 23, 1992, following version 1.1. Version 1.5 increased table support and added OLE, new common file (New, Open, and Save As) dialogues, and TrueType font compatibility, all of which were new to Microsoft's Windows 3.1 operating system.
WordStar for Windows 2.0 (1994). 
WordStar for Windows 2.0 introduced drag-and-drop editing, as well as StarBASIC, a macro programming language based on BASIC with additional commands to allow interaction with WordStar for Windows and the files being edited.
The Public Response
WordStar was the first commercially successful word processing software program for microcomputers. In the early 1980s, it was the best-selling software package.
Word processors make writing and editing more accessible, thanks to features such as copying and pasting text, built-in dictionaries for checking to spell, and grammar checkers. A wide range of typographic fonts and sizes, numerous paragraph and page layouts, tools for finding and replacing strings of characters, and word counts are all frequent features.
WordStar was the first word processor to provide mail merge and textual WYSIWYG. This was most clearly implemented as on-screen pagination during the editing session, in addition to word-wrapping (still a prominent feature for early microcomputer programs). WordStar would display a full line of dash characters on-screen showing where page breaks would occur during hardcopy printout, based on the number of lines per page specified by the user during program installation. Knowing where pages would stop and begin and where the content would be interrupted throughout pages was comfortable to many users during editing.
Wordstar soon became a true blockbuster. In 1979 Micropro did half a million USD sales, which jumped to $1.8 million in 1980, and to $5.2 million in 1981. Then the company ported the product for CP/M-86 and PC-DOS (Jim Fox, Barnaby's assistant, ported WordStar to MS/PC DOS) and released it for the IBM PC in April 1982 and sales sky-rocketed to $23 million, to reach $45 million in 1983. In 1984, just as the company was going public, the sales were up to $70 million, and users of Wordstar were over 1 million. Micropro became the biggest software company in the USA.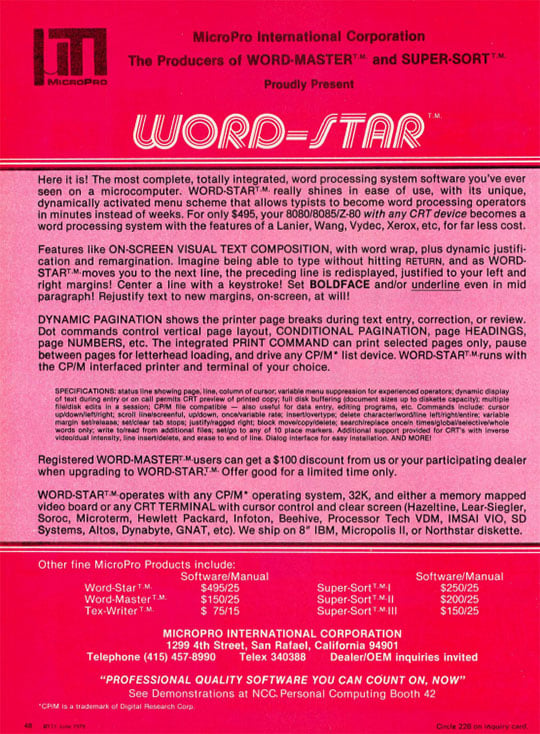 Interestingly, in late 1980s Rubinstein was sued by Bill Millard, former CEO of IMSAI, regarding theft of trade secrets regarding WordStar, but Rubinstein managed to defend successfully.
Rubenstein later developed a spreadsheet product called Surpass, which became the famous Quattro Pro.
Up Next…
Let's keep reading about word processors. Check these articles out.