HyperX launched a special pink variant of its excellent Cloud Stinger gaming headset on June 21st, 2021. The cloud stinger was already an award-winning device before the expansion of its color scheme.  It launched in 2016 and has bagged several awards, notably the IF Design Award. After continued positive reception, the designers decided to increase the color choices to meet a new market share.
The HyperX Cloud II was first launched in 2015 as a revamp of the original Cloud headset. The Cloud II was so successful, it propelled HyperX into the top spot for gaming headphones from 2017-2018. Despite the same $99 price tag it has had for the last eight years, it remains wildly popular. In March 2022, HyperX released a pink and white variant that has also been a success.
So if you're in the market for a pink HyperX headset, which one should you buy? After reviewing both of the HyperX headsets with pink variants, here's what we decided:
Best Value: HyperX Cloud Stinger
Best Sound Quality: HyperX Cloud II
Best Value: HyperX Cloud Stinger
The Cloud Stinger still has that slightly chunky look, however, the pink adds some pizazz. The bright, bubblegum pink with the grey HyperX logo and grey earcups ensure it stands out in a crowd. It's relatively lightweight at 0.6 pounds, so your head should stay fairly comfortable during long gaming sessions. It has an adjustable headband, and the earcups turn 90 degrees for the headset to lay flat for storage. These earcups are made from HyperX's signature memory foam and are topped off with leatherette. The memory foam padding is no doubt comfortable, but it will not be as plush or soft as on more expensive gaming headphones.
Next to the right earcup, there is a handy volume wheel. The left earcup hold holds the headset's non-detachable 4.5-foot-long 3.5mm cable and the mic. The Cloud Stinger has a pair of 50mm neodymium drivers with a frequency response of 18Hz-23kHz. There is no noise cancellation, but few gaming headsets boast this advantage. The stereo sound isn't going to have the most thump, meaning the bass probably won't be as potent, but you should get a loud, clear headset without a lot of distortion.
The Cloud Stinger has a standard condenser mic with unidirectional noise cancellation. The mic isn't detachable, but it's easy to get it out of the way due to its swivel-to-mute features. Flip the microphone up, and it'll be out of your face. Plus, this will silence you as well. Always a handy feature to have if you feel a rage quit is in your future.
The Cloud Stinger doesn't come with any software. Plus, it isn't compatible with HyperX's Ngenuity application, so that means it lacks RGB lighting. The headset has multi-platform compatibility, with support for PC, Xbox Series X|S, Xbox One, PS5, PS4, and mobile devices. If you don't need all of the bells and whistles that come with the higher-end HyperX headsets, this is a great entry-level option with plenty of flair. It's also a steal of a deal at $49.99 retail.
Best Value
HyperX Cloud Stinger Core - Gaming headset for PC, PlayStation 4/5, Xbox One, Xbox Series X|S, Nintendo Switch, DTS Headphone:X spatial audio, Lightweight over-ear headset with mic
Comes in pink
50mm directional drivers
90-degree rotating ear cups
Swivel-to-mute noise-cancellation microphone
Multi-platform compatibility: PC, Xbox Series X|S, Xbox One, PS5, PS4, and mobile devices
Lightweight comfort at just 0.6 pounds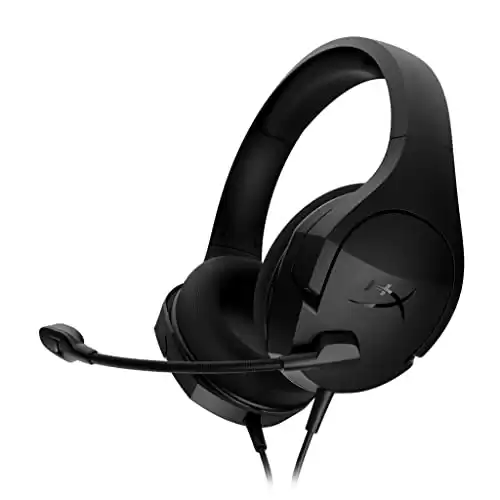 We earn a commission if you make a purchase, at no additional cost to you.
Best Sound Quality: HyperX Cloud II
The Cloud II has a predominantly white body with hot pink accents. It has a sturdy aluminum frame with an adjustable headband, weighing in at .07 pounds. Still fairly lightweight, and with ear cushions made from HyperX signature memory foam, you should remain comfortable for hours at a time. The earcups are also interchangeable between high-quality leatherette and velour, so you can change those out for different textures or sound profiles. The headset is wired, so it has a 3.2-foot, non-detachable nylon cable with a 3.5mm connector. It has multi-platform compatibility, with support for PC, PS4/PS4, Xbox One X|S, Series X|S, and mobile devices.
The headset has 53mm neodymium drivers, with a frequency response of 15Hz to 25KHz. The real star here is the 7.1 virtual surround sound. You can toggle this on and off using the advanced audio control box. The low latency should be excellent for gaming and watching movies, but for music, probably not as much. Although you should get some decent bass out of it, without it taking over and muddying the sound. Granted, it's not going to be like a real surround sound experience with your seven tweeters and a subwoofer, but as noted, it should be nice and well-rounded for gaming. The headset does not, however, have active noise cancellation, so it's not necessarily going to be suitable for commuting should you decide to take them on the road.
Unlike the Stinger, the mic on the Cloud II is removable. Plus, if you use it with the control box, you'll enable noise-cancellation, AGC functionality, and echo cancellation. The independent audio and microphone volume controls are also a nice touch.
The Cloud II doesn't come with any software, thus it isn't compatible with HyperX's Ngenuity application. So no RGB lighting here, either, but unless you're someone who enjoys regularly tweaking their gaming rig, you probably won't miss it. You'll no doubt be too immersed in the game thanks to that 7.1 virtual surround sound. It's still a tad pricey considering it's been out for eight years, but it has been a consistent bestseller for plenty of good reasons.
Best Sound Quality
HyperX Cloud II - Gaming Headset, 7.1 Virtual Surround Sound, Memory Foam Ear Pads, Durable Aluminum Frame, Detachable Microphone, Works with PC, PS5, PS4 – White/Pink
Advanced Audio Control Box: 7.1 Surround Sound turns on and off with a touch of a button
53mm drivers
100% memory foam ear pads and interchangeable ear cups
Compatible with PC, PS4/PS4, Xbox One X|S, and Series X|S
Detachable microphone
We earn a commission if you make a purchase, at no additional cost to you.
HyperX Cloud Stinger vs. Cloud II: Side-By-Side Comparison
| | Cloud Stinger | Cloud II |
| --- | --- | --- |
| Color | Bubblegum pink body with grey logo and earcups | White body and earcups with hot pink logo and accents |
| Driver Type  | Dynamic, 50mm with neodymium magnets | Dynamic, 53mm with neodymium magnets |
| Sound Type | Stereo | 7.1 virtual surround sound |
| Frequency Response | 18Hz-23kHz | 10Hz-23kHz |
| Connectivity Option | 3.5mm | 3.5mm |
| Software | None | None |
| Lighting | None | None |
| Weight | 0.6 pounds | 0.7 pounds |
| Compatibility | PC, Xbox Series X|S, Xbox One, PS5, PS4, and mobile devices | PC, PS4/PS4, Xbox One X|S and Series X|S, and mobile devices |
| Price | $49.99 | $99.99 |
How to Pick the Best HyperX Pink Headset
When you're researching HyperX pink headsets, fashion is not the only consideration. Here are a few things to keep in mind as you're making your decision.
Compatibility
The most important thing to check when purchasing a headset is its compatibility. Select a headset that has been proven to work well with your current gaming rig or the rig you are planning to build. If you choose a headset with multi-platform compatibility, you can future-proof your purchase. Save yourself the trouble of having to buy a new headset for each platform. Both of the HyperX pink headsets have compatibility with many different devices, so you should have no trouble using either with your setup.
Comfort and Design   
You want a sturdy headset that is going to be durable enough to last for several years, but comfortable enough to wear for hours at a time. You'll want it to be lightweight metal and adjustable, so it will fit many sizes. You will also want soft earcup padding and a padded headband. You don't want anything that is too tight with too little padding, as the pressure on your head and ears will quickly become irritating, if not intolerable. Will you need a wireless set, or will wired work for you? Wired headsets are more affordable, provide a solid connection, and reduce input lag, but they will also limit your range of movement and can make setup more difficult if you have to travel.
If you are prone to getting overheated, you may also want to check into velour pads, as velour is more breathable than leather or leather derivatives. The Cloud II earcups are interchangeable between high-quality leatherette and velour, so those may be your best bet to avoid sweaty ears. Whatever material you choose, make sure you get an effective seal around your ears to keep outside noises to a minimum. Some gamers may need larger earpads to cover their ears properly. Mic placement and detachability are also something to consider if you don't always plan to use your headphones with the mic on.
Audio Performance
Of course, the sound quality is going to be one of the top considerations when looking for a new headset. As noted above, make sure your earcups are the right size and material to cover your ears and get a good seal. Most headsets do not have noise cancellation, so it's important to filter out as much interference as possible.
Stereo sound is just fine, but surround sound is a handy thing to have if you play competitively. If someone comes gunning at you from the left, you will hear them on your left, giving you a real edge. You want a headset that is going to deliver loud, clear sound that allows you to immerse yourself in the game. The Cloud II has 7.1 virtual surround sound that you can easily turn on and off as needed. Note that wired headsets are also preferable when it comes to audio performance, as wireless headphones are prone to signal interference that can cause distortion and increase latency.
The Microphone
If you play team-based games, having a good mic is crucial to your team's ability to communicate. You'll want one with at least unidirectional noise cancellation so you can be heard in noisy environments. The ability to mute yourself is also important, because you may need to cough or reply to someone in your household. Some mics are detachable and some are not, so you will need to decide whether you can live with having a mic that cannot be removed. The Cloud Stinger has a swivel-to-mute feature, but the Cloud II mic is detachable, so you can take your pick.
Features 
Do you want RGB lighting so you can match your headset to your gaming rig? What about added tactile buttons on the headset, haptic feedback, or noise cancellation? Or maybe you want independent audio and mic volume controls. There are plenty of gaming headsets on the market with special features that can help you play your best, but they come at a premium price. All of this leads to our next section: the budget.
Budget
Budget is obviously something you need to keep in mind when searching for the pink headset that is right for you. Both of these options are budget-friendly, but the Cloud Stinger takes the prize based on price. It does not, however, have some of the premium features of the Cloud II, like surround sound and a detachable mic, so you may feel the higher price tag is worth it for the upgrades. Ultimately it comes down to finding the right balance between the budget and the features you need to make your gaming more enjoyable.
What to Know Before Buying a HyperX Pink Headset
Make sure the headset is going to be compatible with your set-up or the set-up you're planning to design. You'll want a high-quality build with an adjustable, lightweight metal frame and soft earcups. Surround sound is going to give you a competitive edge, but stereo sound will work very well for most games. The mic should have noise canceling and a way to quickly mute it. Extra features like RGB lighting are fun if they're in the budget, but if not, you'll want to prioritize comfort and sound quality.
Using a HyperX Pink Headset: What It's Like
Using a HyperX pink headset will allow you to look good while enhancing your gaming experience. The unique color variants definitely stand out, but HyperX did not sacrifice quality for looks. Regardless of which headset you choose, you'll get a sturdy, adjustable frame with comfortable earcups that will serve you well during long gaming sessions. The audio performance on both headsets has been shown to be very good, but the Cloud II comes out ahead with its virtual surround sound. If you're looking for an affordable, high-quality, entry-level gaming headset in pink, the Cloud Stinger and Cloud II are both solid choices.
HyperX Cloud Stinger Core - Gaming headset for PC, PlayStation 4/5, Xbox One, Xbox Series X|S, Nintendo Switch, DTS Headphone:X spatial audio, Lightweight over-ear headset with mic

Comes in pink
50mm directional drivers
90-degree rotating ear cups
Swivel-to-mute noise-cancellation microphone
Multi-platform compatibility: PC, Xbox Series X|S, Xbox One, PS5, PS4, and mobile devices
Lightweight comfort at just 0.6 pounds

Buy Now

We earn a commission if you make a purchase, at no additional cost to you.

03/03/2023 04:19 am GMT

HyperX Cloud II - Gaming Headset, 7.1 Virtual Surround Sound, Memory Foam Ear Pads, Durable Aluminum Frame, Detachable Microphone, Works with PC, PS5, PS4 – White/Pink

Advanced Audio Control Box: 7.1 Surround Sound turns on and off with a touch of a button
53mm drivers
100% memory foam ear pads and interchangeable ear cups
Compatible with PC, PS4/PS4, Xbox One X|S, and Series X|S
Detachable microphone

Buy Now

We earn a commission if you make a purchase, at no additional cost to you.

03/03/2023 04:24 am GMT