Tesla is getting a bit battered in the public eye, mostly as a result of its direct ties to CEO Elon Musk. Despite Tesla hitting ATHs (all-time highs) only a year ago, the electric car manufacturer seems to be faltering a bit as it still continues to receive criticism and face a downturned market. Still, that doesn't mean the company is totally down and out with no hope to look for ahead! Today, we are going to take a look at Tesla stock and do our best to forecast where it could be in a decade. When 2032 rolls around, we'll see if we were right! In the meantime, the forecast can also help us to understand if Tesla's woes are temporary or something truly breaking. Let's get started.
What is Tesla's Stock Price at Right Now?
Currently, Tesla is floating around $200 a share, down around 50% from last year's ATHs. This rapid downturn is a reflection of a few key factors, some of which Tesla isn't solely responsible for. Here's a quick breakdown.
Tesla experienced some of its highest share prices almost exactly a year ago, despite being in the final throws of the pandemic. The ride-up began in 2020 when a short squeeze (a bunch of negative Tesla bets expiring and pushing the price up) and seemingly boundless positive press brought billions of dollars pouring into the company. Everyone and their mother was investing in Tesla, and the lightning rod that was Elon Musk was still a more mysterious charismatic type than the chaotic charismatic type he is today. Within a year, Tesla's share price skyrocketed, bringing them to their ATHs of around $400. Even more, Tesla continued to scale their car manufacturing across the world, placing Gigafactories domestically and internationally.
By 2020 and 2021, hundreds of thousands of Tesla cars were being delivered, and there was nobody even close on the horizon when it came to sheer EV (electric vehicle) manufacturing and output. The only competitors at the time were the sad marketing campaigns coming from legacy carmakers like Ford and GM, and nobody seemed interested in those cars when Teslas were newer, cooler, and available for purchase NOW.
As the current share price of $200 shows, however, the two golden years weren't to last.
Why Did the Share Price Drop?
There are a lot of reasons why Tesla's share price isn't as high as it was a year ago. Most analysts agree that the drop in share price is a reflection of the cooling global market, worldwide consumer fear and worry, and an erratic and potentially distracted Elon Musk.
The first two "issues" are probably a bit more well-known to the average reader. The Russia-Ukraine conflict, inflation, supply chain issues, and a looming recession are impacting Tesla, sure, but also the global economy at large. Most anyone involved in consumer goods isn't doing great on Wall Street right now, even if they've posted reasonable earnings reports for the past few quarters (take a look at Amazon, for example). Tesla isn't immune to the cooling market, although that isn't the only ailment they seem to have come down with.
Probably a more important factor than a cooling market is their CEO, Elon Musk. Yes, Tesla announced that things have been more expensive for them with a strong US dollar and problems with supply chain issues, but that announcement didn't have NEAR the impact on the share price that Musk's announcement to buy Twitter had. For investors, public opinion and strong leadership are important elements to consider when investing in a company, and Tesla is being challenged on both of those fronts. Musk has repeatedly put himself at odds with what many would consider his largest consumer base (wealthy, eco-conscious young people) through his various memes and social commentaries. Even more, his recent announcement regarding his Twitter acquisition was quite damning, especially since "flipping" Twitter into something profitable would require a lot of time and money, both things that Tesla investors want to see more of in Tesla, not Twitter.
Looking Ahead: Competition, Scaling, and Elon Musk
So now that we understand why Tesla is sitting where it is today, we can make some guesses (because that's what these are) as to what the company's share price could be in a decade. 2032 is basically a different century, at least when we compare how different 2012 is from now, but we can still make some assumptions as to what is going to happen with Tesla.
Competition
The first thing that we need to acknowledge when looking ahead is Tesla's competitors. Currently, Tesla still has a MASSIVE lead in terms of EV production and its share of the market. As it stands, Tesla has a 3.4% market share in the United States, meaning that of all the new cars on the road, Tesla is selling 3.4% of them. While that seems small, that is the TOTAL market share, not the EV market share. When we narrow it down to just EVs, we see how dominant Tesla is. Currently, Tesla has around a 68% market share of all EVs sold in the United States, making it the largest EV maker in the United States by a very large margin. In fact, here are the top 5 EVs sold in the US so far this year:
Tesla Model Y: 103, 215 units
Tesla Model 3: 97,075 units
Ford Mustang Mach-E: 18,399 units
Tesla Model S: 15,317 units
Tesla Model X: 13,384
Tesla isn't just ahead but is totally dominating. Still, while the lead is substantial, it won't be forever. Nobody expects Tesla to be the only EV manufacturer in the future, however. Instead, what investors are banking on is the global EV market as a whole. In 2021, the global EV market was valued at $105 billion, a number that is expected to more than triple by 2028 to $354.8 billion. By 2032, the number will be exponentially larger. As it stands, almost 10% of new car purchases are electric. As 2032 gets closer, the percentage of the market that Tesla owns may shrink, but the market itself will become much, much more valuable.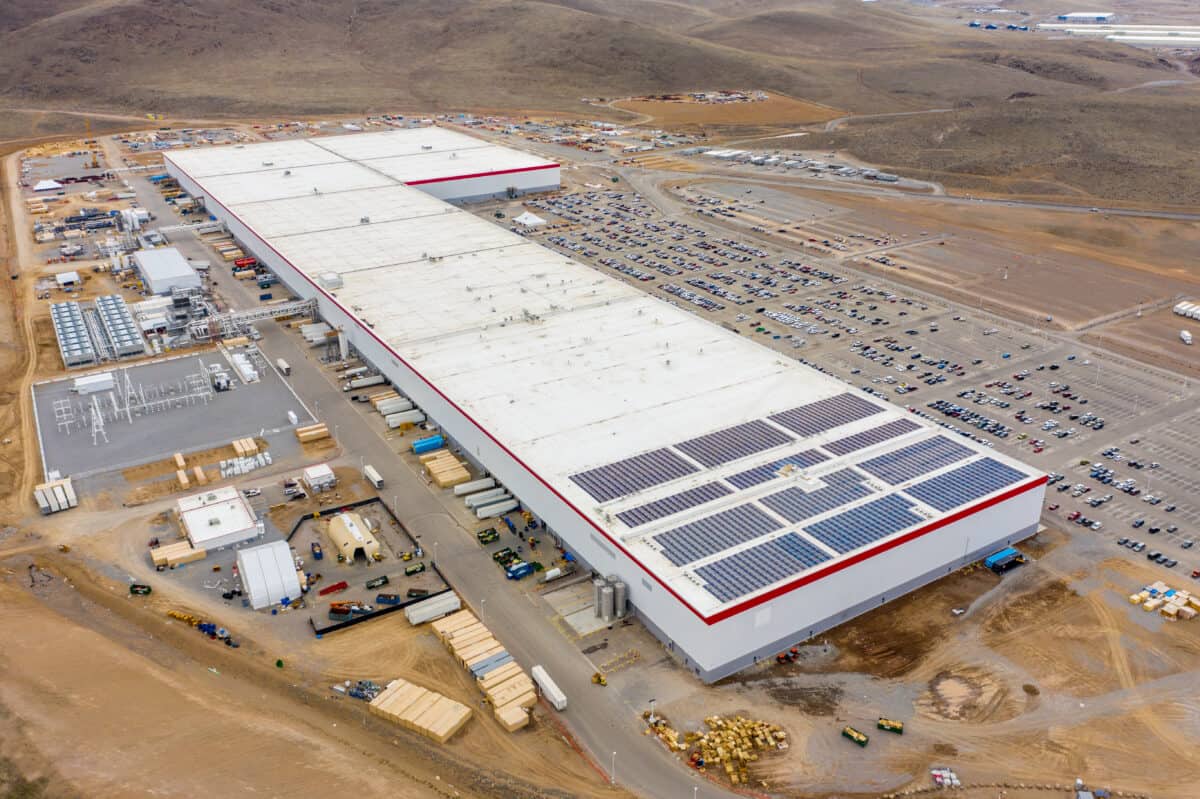 Scaling and New Technology
The EV market is, most assuredly, growing. At this point, it's not really an "if" but a "when" will EVs take over the roads. Widespread adoption is close, and the tipping point for rapid adoption is near. Still, even when that time comes, will Tesla be able to provide all those new buyers with a car? Well, the answer is one of scale, and currently, Tesla is really good at scaling.
In 2019, only a few years ago, Tesla delivered 367,000 vehicles, a nearly 50% increase from the previous year. In 2022, Tesla is set to deliver around 1.4 million vehicles, with 500,000 being delivered during Q4. For a company to deliver over a million cars is an astounding feat, but to ramp to it in a handful of years is remarkable. As far as scaling capabilities go, Tesla is probably the best in the world right now. Even more, they have plans to keep expanding with more Gigafactories.
Speaking of Gigafactories, it's important to remember that Tesla is primarily an EV maker, but in ten years, their "side businesses" today could be part of their primary businesses then. Aside from cars, Tesla also makes battery cells, solar roofs, and other energy storage systems. In a world that is clearly moving towards greener energy alternatives, these markets could be staggeringly huge in a decade. Here's proof:
The amount of revenue generated by Tesla's energy generation and storage segment for the first nine months of 2021—which was 5.8% of the company's total revenue. Of note, the $2.1 billion was a 69% year-over-year increase.

SEC – 10Q
Currently, it looks like Tesla is poised to be one of the largest battery manufacturers in a world that is fast becoming totally dependent on batteries.
Elon Musk
It's hard to deny, but Tesla's future and Elon Musk are intricately and intimately intertwined. Where one goes, the other follows. Right now, this is probably the weakest link for Tesla. They've had record deliveries this year, had some of the best earnings for every quarter so far, and are scaling at an unprecedented pace… but Musk is making people angry online. Twitter will make the 5th large company that he is the CEO of and is the latest distraction for a man who seems to love controversy. Musk's leadership of Tesla has undoubtedly been intrinsic to the company's success, but will that be true in ten years? Truthfully, nobody knows.
As it stands, Musk is distracted and probably has more than he needs. When (or if) he establishes normalcy across his many hobbies-turned-business-ventures, we may see him redirect his entire focus to Tesla, easily the largest company he owns. Still, Musk is a big question mark for investors looking for a stable company to grow into the EV market in the future.
Our Conclusion
Here's our forecast for where Tesla could be per share in ten years:
Bull Case. In a bull case for Tesla, the share price could easily top $1,300, which currently would mean an increase of around 500%. This sounds insane right now, but it's important to remember that we are talking about the share price for the largest EV and battery maker in a world that will be exclusively relying on EVs and batteries in ten years' time. This bull case assumes a few things, however. First, it assumes that something catastrophic doesn't happen to the company and Musk refocuses or at least allows other capable leaders to take on leadership roles. For reference, from 2020 to now, Tesla has seen a 150% increase in only two years. In ten, that increase could be significantly more.
Standard Case. In a standard case for Tesla, share prices could hit between $500-$800. We are relatively certain that Tesla will be around for some time as one of the biggest players in the automotive industry, especially in the American market. The standard case assumes that Tesla will still be ahead in their EV scaling and production, but they will have had some shaky growth along the way (either from market instability or something Musk will do).
Bear Case: In a bear case for Tesla, share prices could dramatically fall or grow extremely slowly over the next few years. If Tesla overextends, becomes clearly outmatched by a rival, or suffers horrendous PR due to some unforeseen circumstance, share prices could fall or cease to climb. In this case, Tesla could be insolvent and forced to liquidate to the point of no return. This probably isn't likely, but it's never not a possibility.
Up Next: