In today's digital age, having a reliable web hosting service is crucial for small businesses looking to establish a strong online presence. Whether you're starting from scratch or upgrading your existing website, selecting the right hosting provider can make all the difference, which is why finding the best web hosting service that meets your business's unique needs is key.
With scores to choose from, it can be overwhelming to decide which one is the right fit. In today's post, we'll explore some of the top web hosting services for small businesses that should be on your radar. We'll delve into their unique features, pricing, customer support, and more.
Whether you're a startup or an established business, this guide will help you make an informed decision on the perfect hosting solution to help your SMB succeed online. Let's jump right in!
Shared Web Hosting for Small Businesses
Shared hosting is the most popular and cost-effective hosting service available. Here, many websites share the space of one physical server and its resources, keeping costs low while giving you all the resources you need to get started.
If you are a small business owner looking to get your website up and running quickly and affordably, shared hosting is a great place to start. With most providers, should you need more advanced features or want a server all to yourself, you can opt for upgrading to dedicated hosting. Dedicated hosting plans provide a server entirely to one website.
It's important to note that, while the groupings we've used here provide a helpful starting point for evaluating web hosting providers, many providers offer a variety of hosting options that may span multiple categories. For example, Hostinger and Bluehost, providers primarily known for their shared hosting plans, also offer WordPress and VPS hosting.
This flexibility is important because it allows providers to meet the diverse needs of small businesses. A startup may begin with a shared hosting plan but later need the scalability of cloud hosting as it grows. An established business may require managed WordPress hosting for its website but also need a VPS for its internal applications.
Let's now look at some of the shared hosting providers you should consider.
#7: A2 Hosting
First on our list is A2 Hosting, which is an excellent option for small businesses looking for reliable and affordable shared web hosting services.
A2 Hosting offers shared web hosting services that come packed with features like a free SSL certificate, free site migration, and unlimited email addresses. They also offer WordPress site management tools, one-click installation for WordPress, WooCommerce, Joomla, and more, and a cPanel control panel.
With shared hosting, your website lives alongside others on the same server, allowing you to share resources like disk space, CPU, and memory, which is why it is so affordable. A2 Hosting offers blazing-fast servers at a low cost, and all of their shared hosting plans come with big SSD storage and free SSL.
In addition, A2 Hosting offers a 99.9% uptime guarantee, free automated backups, and free site migration, making it a great option for small businesses. Their shared hosting plans range from rather affordable to entirely premium and come with a variety of features like unlimited storage and websites, plus free automatic backups of your files and MySQL databases.
One standout feature of A2 Hosting's shared hosting plans is the HackScan, a handy (and free) security feature that adds an extra layer of security to your website. Additionally, A2 Hosting provides 24/7 customer support via email, live chat, 24/7/365 call support, and a knowledge base, ensuring that you can always get the help you need.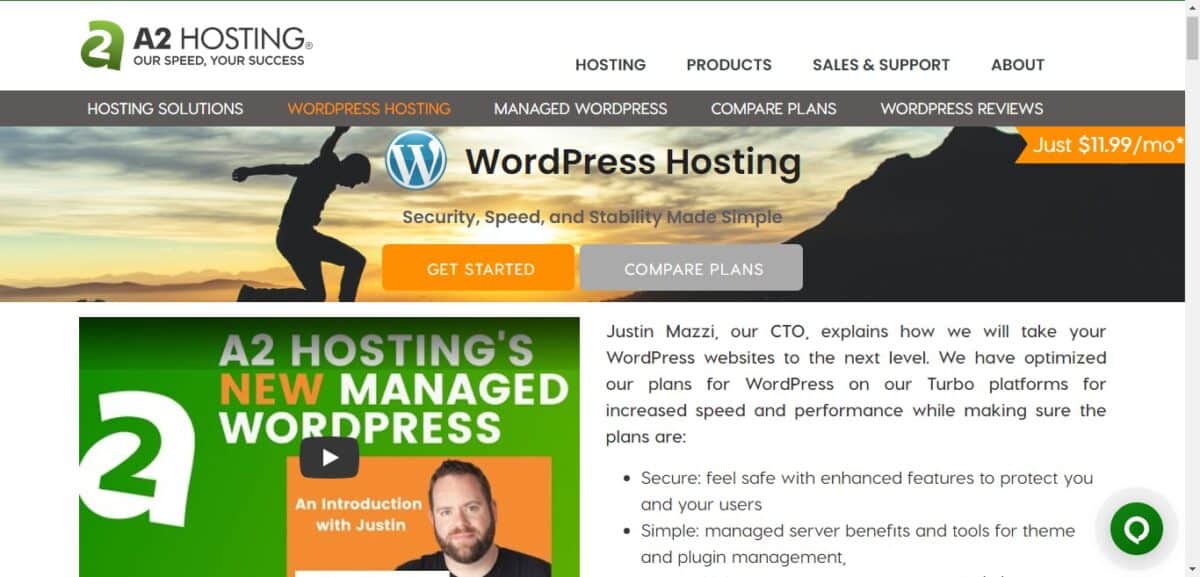 The following video from CyberNews discusses the key facts you need to know about A2 Hosting before you decide whether it's right for your small business.
#6: SiteGround
SiteGround is a reliable web hosting service you'll certainly want to check out. They offer reliable web hosting services for small businesses as well as personal projects.
With a high uptime guarantee of 99.99% and exceptional load speeds of up to 311ms, SiteGround is a top-performing hosting service. It stands out among its competitors and is considered one of the best in the industry.
They offer a suite of website hosting plans, including specialized options for WordPress developers and WooCommerce sites. Their CDN offering has both a free and a premium plan, allowing you to select the best option based on your website's requirements. If you opt for the GrowBig or higher plans, you stand to get a staging tool, on-demand backups, and advanced priority support.
All its plans offer free backup restores for the StartUp plan, a staging tool and on-demand backups for the GrowBig plan, and advanced priority support for the GoGeek and higher plans.
Moreover, SiteGround also offers perks such as a site-builder and a free shared SSL certificate to secure your website. With all of their shared, WordPress, and WooCommerce hosting packages, they provide free domains to their customers as well.
#5: HostGator
HostGator offers a variety of hosting plans, including cloud hosting for a secure and scalable service. They also offer unlimited Windows plans, with prices starting at $4.76 per month for a single-domain version. When you sign up for cloud, shared, or optimized WordPress hosting, you will also receive one free domain registration.
One of the best things about HostGator's shared hosting plans is the user-friendly, feature-rich experience they provide. You can choose from a variety of plans, including one-month and six-month options, and pay less for basic web hosting with HostGator. However, it is worth noting that you will need to pay the total sum upfront when you first sign up.
On average, HostGator earns a solid 4 out of 5 for its shared hosting features. With all the same features as other shared hosting plans, plus some extras to sweeten the deal, HostGator is a great choice for small businesses and individuals looking to get online quickly and easily.
#4: DreamHost
With over 1.5 million websites powered by DreamHost, it's clear the company is a leader in web hosting. DreamHost provides a fast and secure service that ensures customers' websites are always up and running.
DreamHost's Shared Hosting plans offer a free non-profit plan for qualifying organizations, making it a great choice for such entities. With DreamHost's Starter Shared plan, you can host one website, while the Shared Unlimited plan allows you to host any number of websites with no limitations.
DreamHost provides a flexible and budget-friendly option by allowing you to choose between monthly and yearly payment options for each of its hosting plans. They also offer a 97-day money-back guarantee if you choose shared hosting or WordPress hosting.
DreamHost's WordPress Hosting service is one of its most popular features, starting at only $2.59 per month. It comes with various integrated features, such as a free domain, business email addresses, and SSL security, all at no additional cost.
Another notable feature of DreamHost is DreamPress, a premium hosting plan for WordPress sites that is hosted on DreamCompute, DreamHost's cloud service. WordPress is automatically installed on every instance of DreamPress, making it a popular choice for businesses that require high-performance WordPress web hosting.
#3: GoDaddy
GoDaddy's shared hosting plans are a great place to start for budding businesses. Their budget-friendly plans promise reliable web hosting with a 99.9% uptime guarantee and award-winning 24/7 tech support.
One thing that sets GoDaddy apart from other web hosting services is its offer of a free domain name for new accounts. And unlike other services, your domain name remains free for the entire length of your first term, even if you sign up for multiple years. Speaking of pricing, GoDaddy's most basic shared hosting plan starts at just $6.99/month and comes with 25GB storage, unmetered bandwidth, and a free domain name and email.
But what about security features? GoDaddy offers extra perks like a free SSL certificate and AutoSSL, which automatically renews SSL certificates to ensure website security. All in all, while GoDaddy may have started as a domain registrar, it has evolved into an all-in-one website service and business product provider. So, whether you need hosting, domains, or other business tools, you sure will want to consider GoDaddy.
#2: Hostinger
Hostinger is a web hosting provider that offers shared and virtual private server (VPS) hosting packages as well as WordPress hosting. Their shared hosting offerings consist of three plans: Single Shared Hosting, Premium Shared Hosting, and Business Shared Hosting.
Hostinger offers free and paid hosting services, but the free version has limited storage capacity and message limits. The cheapest shared hosting plan starts at $1.99/month, while the Premium and Business plans will set you back $2.99/month and $3.99/month, respectively. Hostinger's Business Shared Hosting plan also includes daily backups, a free SSL certificate, and 4x the computing power of their cheapest plan.
Hostinger also offers several web hosting plans, including Agency Hosting, WordPress Hosting, and WooCommerce Hosting, which are available 24/7 with live support.
They offer free migration from your web host and everything you need for WordPress hosting. With a free domain name and email accounts included in their hosting plans, Hostinger is certainly a worthwhile choice for small fledgling businesses looking to establish their presence on the web.
If you're considering Hostinger but you're not sure whether it's the right web hosting company for your small business, check out the following comprehensive review from Site Starters.
#1: Bluehost
Bluehost claims the top spot on our list as the best-shared web hosting service due to its wide range of web hosting products and optimized packages tailored to meet the unique needs of its customers. With their managed shared hosting, users can relax knowing that technical needs like server management and platform patches are taken care of.
When you purchase a Bluehost shared hosting package, you get more than just a hosting service. It also includes an SSL certificate, a free domain name, and other features necessary to get your site up and running. They also have shared WordPress hosting perfect for small or low-traffic websites, such as personal portfolios, blogs, or an SMB. With WordPress hosting, customers get a wide selection of free and premium themes, SSD web storage, and marketing features like Yoast SEO.
Bluehost deftly balances price and features, offering services that are on par with the best in the industry. For instance, if you're looking for a basic shared hosting plan, their Basic plan is a great option. For just $2.95 per month (on a 12-month term), you get reliable hosting that includes 50GB of SSD storage and, of course, a free domain name for the first year. This plan is perfect for those who need a single website with minimal traffic.
For those who need to host multiple sites, the Plus plan is a great option. At $5.45 per month (on a 12-month term), this plan provides unmetered website space, unlimited websites, and unlimited email accounts, perfect for a growing small or medium-sized business.
Moving on, let's now look at managed WordPress hosting.
Managed WordPress Hosting
As the name implies, this type of hosting is a specialized service tailored for WordPress websites. It's ideal for small business owners who want to focus on their content and marketing without having to worry about the technical details of maintaining their website.
Managed WordPress hosting providers often offer additional features such as staging environments, built-in caching, and premium themes and plugins to help you create a professional-looking website.
While managed WordPress hosting can be more expensive than shared hosting, it offers many other benefits, including improved website speed, better security, and more reliable uptime. And because your website is hosted on a server optimized for WordPress, you can expect better performance and fewer compatibility issues.
Let's look at some of the most reputable providers in this category.
#3: WP Engine
WP Engine hosting is, as we'd expect, optimized for WordPress, providing impressive enterprise-class hosting features for even mission-critical WordPress sites around the world.
One of the standout features of WP Engine is its automatic updates. It takes care of updates to your WordPress core, plugins, and themes, so you don't have to worry about keeping your site secure and up-to-date. Plus, with daily backups, you can easily restore your site in case of any issues.
When it comes to support, WP Engine has you covered with 24/7 availability via chat, phone, and email. And if you're making changes to your site, you can test them out on a staging site before pushing them live.
WP Engine also includes a global content delivery network (CDN) to ensure that your site loads quickly for users around the world. And if you're a developer, you'll appreciate the SSH access, Git integration, and one-click staging sites that WP Engine provides.
With plans ranging from basic to enterprise-level, WP Engine has options for sites of all sizes. And with prices starting at just $30/month, it's a cost-effective solution for small businesses looking to power their WordPress sites. Plus, with a 60-day money-back guarantee and 4 months free on annual plans, WP Engine makes it easy to try it out risk-free.
While they may be pricey, you get what you pay for in terms of top-tier performance and numerous premium features.
#2: Kinsta
If you're a small business owner looking for a top-tier web hosting service, Kinsta should definitely be on your radar. This managed WordPress hosting service is built on top of the Google Cloud Platform and LXD-orchestrated Linux containers. In short, that means you get the latest in cutting-edge technology, along with excellent security features and the ability to handle traffic surges.
Being a managed WordPress hosting service, Kinsta takes care of all the technical aspects of running your site, from security and speed to WordPress updates and website uptime, so you can focus on running your business. Kinsta also provides network monitoring, DDOS scanning, GeoIP blocking, free SSL certificates, and many other security features that set it apart from other hosting services
In terms of pricing plans, Kinsta has a range of options to suit your needs. Their Starter plan for example starts at $35 USD per month and includes 1 WordPress install, 10GB storage, 100GB CDN, and 1 premium migration among other plans.
On the other end of the spectrum, if you're looking for enterprise-level features, they've got you covered with feature-packed business offerings. Their Business 1 plan, for instance, costs $115 USD per month and includes 5 WordPress installs, 100,000 visits, 30GB storage, 400GB CDN, 3 premium migrations, 4 PHP workers, and a ton of other features. All their plans come with at least 14 days of backup retention.
Kinsta is designed to help companies and dev teams manage their web projects faster and more efficiently. With Kinsta, you also get excellent 24/7 support with a priority for hack fixes. With fast servers and built-in redundancy as well as years of WordPress-specific security experience, Kinsta is a bonafide contender for the top spot among managed WordPress hosting providers.
#1: Nexcess
For small businesses that want to ensure their WordPress website is professionally managed, Nexcess offers top-of-the-line managed WordPress hosting services.
With over 20 years of experience in the industry, Nexcess's managed WordPress service offers concierge-level support and manages all technical aspects of running a WordPress website, including security, speed, daily backups, and website uptime.
One of their biggest draws is the free migration service for users purchasing a paid WordPress or WooCommerce offering, making it easy to transition a website over to their managed platform. Importantly, Nexcess provides premium WordPress plugins free of charge to enhance your website's performance. They even provide pre-installed plugins and specialized tools for managing multiple WordPress websites.
Besides managed WordPress hosting, Nexcess also offers flexible cloud hosting, enterprise hosting, domain registration, and SSL certifications, as well as Managed Magento Hosting for those looking to create an e-commerce platform.
With pricing ranging from $19 to $109.05 per month, Nexcess provides managed WordPress hosting services for businesses of all sizes. Their various packages such as Spark, Maker, Designer, and Executive plans offer varying levels of storage, bandwidth, and PHP workers per site, allowing users to choose the plan that best fits their business needs.
In a nutshell, Nexcess provides small businesses with the infrastructure, tools, and expert support needed to build, manage, and grow their business online. With Nexcess managing your website's technical aspects, you'll have more time to focus on running your business.
Cloud Web Hosting for Small Businesses
Cloud hosting is undoubtedly one of the most powerful web hosting solutions available today. With cloud hosting, you get a whole server to yourself and you don't have to share its resources with anyone. This means that you can enjoy a much more consistent level of performance and reliability, making it a great option for small businesses that require robustness in hosting.
One great option for cloud web hosting is Cloudways, especially for small businesses that need a simple and user-friendly platform. They offer managed cloud hosting on popular cloud infrastructure providers such as AWS, Google Cloud, and DigitalOcean, allowing you to choose the provider that best suits your needs. They also provide optimized hosting for popular CMS platforms such as WordPress, Magento, and Drupal.
Plus with Cloudways hosting, you get a range of features such as automatic backups, advanced security, and 24/7 support, all managed through an intuitive dashboard. They also offer a variety of hosting plans, including pay-as-you-go options, making it easy to scale up or down as needed.
Another excellent option for cloud web hosting is Digital Ocean, which offers a range of plans to fit different business needs. Their servers are powered by SSDs, which ensures faster load times, and they offer a variety of features such as monitoring, backups, and scaling.
There are plenty of other cloud hosting options available, including major players like Google Cloud Platform (GCP), Microsoft Azure, AWS, Linode, and Vultr.
Platform as a Service (PaaS) Hosting
If you have a team of developers or don't mind getting your hands dirty deploying your website, Platform as a Service (PaaS) hosting could be a viable option for your small business. Two popular PaaS providers are Heroku and Vercel, which offer a range of features to make application deployment and management more streamlined
Heroku is a PaaS provider that allows you to deploy, manage, and scale your applications easily. With Heroku, you can choose from a wide range of programming languages and frameworks, and it provides built-in tools for managing databases, monitoring, and security.
Vercel, on the other hand, is a PaaS provider that specializes in serverless functions and static websites. Vercel offers a simple and intuitive interface for deploying and managing your applications, and it provides built-in tools for caching, routing, and optimization.
Cloud hosting can be a great option for small businesses that are looking to explore the whole gamut of performance, scalability, and affordable hosting solutions. Whether you choose DigitalOcean, AWS, or even Linode, it's important to choose a provider that best fits your needs. Factor in your exact needs such as the amount of traffic you expect to receive, the level of customization you require, and the types of applications you will be hosting.
Final Thoughts
Whether you opt for traditional hosting with providers like GoDaddy, Bluehost, and Kinsta, or embrace the cloud with DigitalOcean, AWS, Linode, or Cloudways, it's essential to choose a hosting provider that can meet your business's specific needs. This may involve considering factors such as the type and complexity of your website or application, the level of technical support required, and the budget you have available.
Another consideration to keep in mind would be the level of support and customer service that the provider offers. Available and responsive customer service can be invaluable in case of hosting issues or, crucially, downtime.
Everything said, the key to selecting the right cloud hosting provider for your small business is to do your research and evaluate your options carefully. By understanding your unique needs and weighing the pros and cons of different providers, you can find the best solution to help your business thrive online.
The image featured at the top of this post is ©maicasaa/Shutterstock.com.