Key Points
The Western Digital (WD) range of hard drives, including the WD Blue and Black series, offers varying capacities, speeds, and price points.
WD Black drives are designed for high-end users and offer faster data access and transfer rates, making them suitable for tasks like video editing and gaming.
WD Blue drives are aimed at mainstream users and are more affordable, with slower data access and transfer rates that are still suitable for everyday tasks.
WD Black drives have a higher storage capacity, reaching up to 10TB, while WD Blue drives typically offer less storage space.
The choice between WD Blue and WD Black depends on individual needs and preferences, with WD Blue being a budget-friendly option for everyday tasks and WD Black offering superior performance for gaming and intensive workloads.
The Western Digital (WD) range of hard drives has established a strong foothold in the computer hardware market. Specifically, the WD Blue and Black hard drive series stand out for their unique attributes, offering varying capacities, speeds, and price points. This guide will delve into the key differences between these two series, equipping you with the necessary insights before you make your purchase.
WD Blue vs. Black: Side-by-Side Comparison
| Aspect | WD Blue | WD_Black |
| --- | --- | --- |
| Users | Aimed at mainstream users | Targeted towards high-end users |
| Capacity | Maximum capacity of 6TB | Maximum capacity of 10TB |
| Speed | Rotational speed of 5400RPM for HDD | Rotational speed of 7200RPM for HDD |
| Power Consumption | Lower power consumption | Higher power consumption |
| Price | Economically priced | More expensive |
| Warranty | 2-year warranty | 5-year warranty |
| Performance | Less performance-oriented | More performance-oriented |
| Suitability | Suitable for everyday computing | Suitable for gaming, video editing, and intense workload tasks |
Great for Everyone
We earn a commission if you make a purchase, at no additional cost to you.
WD Blue vs. Black: What's the Difference?
Let's detail the difference between WD Blue and Black under various categories.
Performance and Speed
Perhaps one of the most significant differences between the two lies in their performance metrics. WD_Black drives can handle data-intensive tasks common in video editing, 3D rendering, and high-end gaming. They generally sport higher revolutions per minute (RPM), signifying faster data access and transfer rates. This enhances load times and file transfer speeds, which are crucial for tasks that demand fast and seamless data access.
On the other hand, WD Blue drives operate at a lower RPM, translating to slower data access and transfer rates. However, for everyday tasks such as browsing, word processing, and media playback, the performance difference might not be noticeable.
Storage Capacity
Storage capacity is another area where these hard drives differ. WD_Black drives offer more extensive storage options, with many of them reaching up to several terabytes (TB). The high capacity is suitable for those who deal with large file sizes. This includes high-definition video files, game installations, and extensive software applications.
In contrast, WD Blue drives typically offer less than WD_Black drives. Some may reach TB-level storage, but it isn't as common. These capacities are sufficient for those who wish to store documents, photos, music, and smaller video files.
Price and Value
The cost of both of these hard drives reflects their target audience. The WD Blue series is for general use. This typically makes it an attractive option for budget-conscious users. Do not worry; these cards still deliver reliable performance despite their more affordable price.
On the other hand, with its higher price point, the WD_Black series offers enhanced performance. With this also comes greater storage capacities. For those who need high-speed data access and storage, typically gamers, this cost is justified by its superior performance.
Durability and Warranty
Durability can have a significant effect on your hard drive's lifespan. The WD_Black hard drive is built for heavy-duty use. Therefore, it typically comes with a longer warranty period and is reinforced, providing both durability and reliability.
The WD Blue drives are also known for reliability, even though they're not explicitly created for heavy-duty use. They do, however, typically come with a shorter warranty period. This is matched by their lower price and performance.
Noise and Power Consumption
Noise level and power consumption are aspects of hard drives which are often overlooked. The WD_Black series generates more noise due to its higher RPM and higher consumption rate. Although this may not be an issue for those who prioritize performance, it's certainly something to keep in mind. Especially if you prefer working in a quiet environment or are conscious of your energy usage.
The WD Blue drives have a lower RPM, making less noise and also consuming less power. Therefore, making them a far more suitable choice for users who seek quiet operation and reduced power consumption.
Compatibility and Ease of Installation
Both WD Blue and Black hard drives are compatible with a variety of computer systems. This includes both desktops and laptops, including Macs and Windows. However, the ease of installation for each may vary. The WD_Black series may require more advanced setup procedures. This is especially for optimizing performance settings because the hard drive is more performance-oriented. This makes it a bit more challenging for a non-tech-savvy person to install and configure.
On the other hand, WD Blue drives are designed with simplicity in mind. They typically have a straightforward installation procedure. This makes them a better choice for those who prefer easier installations.
High-Speed HDD
We earn a commission if you make a purchase, at no additional cost to you.
Software and Firmware
Western Digital offers specific software and firmware updates for their hard drives to enhance performance and provide additional features. For the Black series, the software is geared more toward gamers and professionals. It often includes features such as dynamic cache allocation. This allows the drive to prioritize data in the cache based on the user's activity. Ultimately, providing faster performance for intensive tasks.
The software is more general for the Blue series. It lacks many of the advanced features found in the Black series. However, it still provides all the essential functions needed for everyday computing. And therefore, is sufficiently user-friendly for the general public.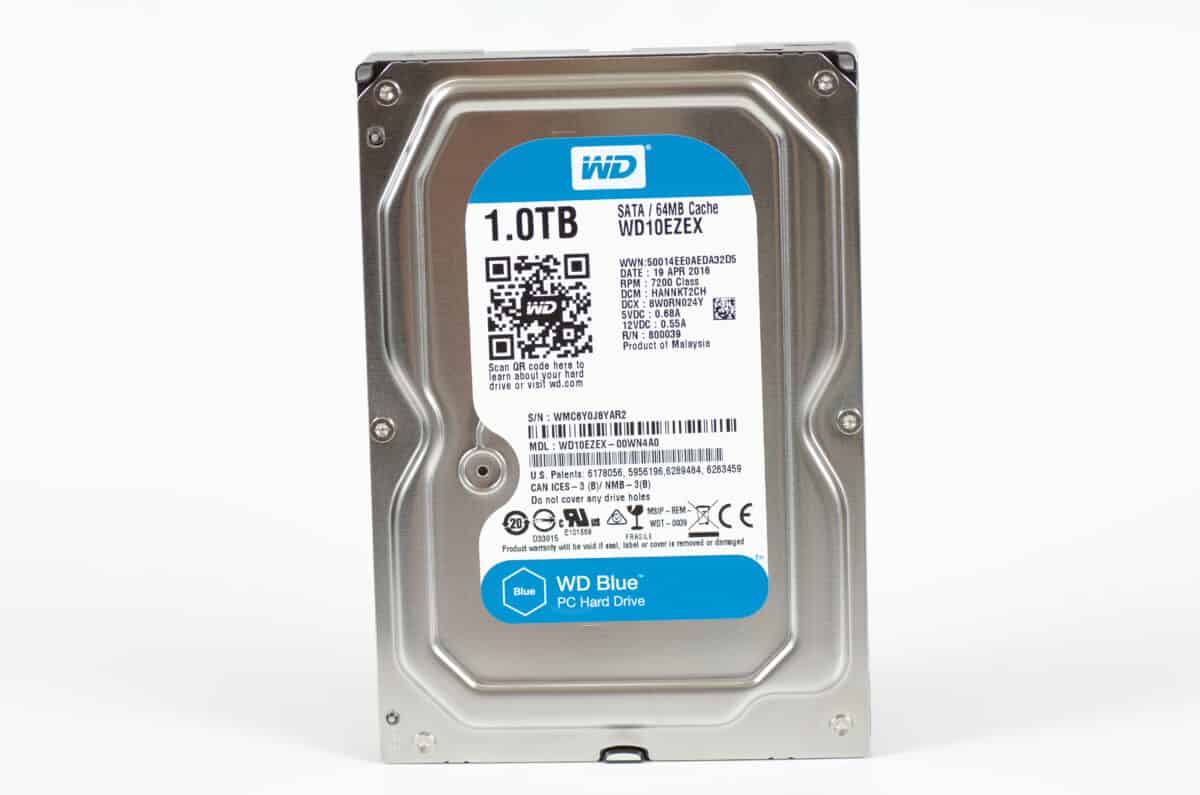 WD Blue vs. Black: 5 Must-Know Facts
WD_Black hard drives run at a faster rotational speed (7200RPM). This provides quicker data access than WD Blue drives (5400RPM).
The WD_Black series offers a more extensive warranty period of 5 years. Meanwhile, the Blue Series comes with a 2-year warranty.
If maximum storage is a necessity, the WD_Black series wins with a maximum capacity of 10TB. The Blue series maxes out at 6TB.
Power efficiency is better on WD Blue drives due to their slower speed and simpler design, making them suitable for environments requiring low power consumption.
WD_Black hard drives deliver higher performance and are better equipped to handle high-end gaming, graphic design, and video editing tasks.
WD Blue vs. Black: Which One Is Better? Which One Should You Use?
Choosing between WD Blue and Black primarily hinges on your unique needs, personal preferences, and financial plan. Both hard drives have their distinct advantages, and the choice isn't as simple as declaring one universally superior to the other.
For casual users seeking a budget-friendly solution for everyday computing tasks, WD Blue emerges as a suitable choice. It's particularly beneficial for those who prioritize lower costs, silent operation, and easy installation. Its less flashy design and lower power consumption reflect its focus on utility and efficiency. This drive offers ample storage space and respectable speeds for common tasks like document editing, web browsing, and media streaming.
However, if you're a hardcore gamer or a professional whose work involves demanding software, WD_Black might be a more fitting option. Its high-speed data access capabilities and overall performance outweigh its relatively higher cost. It has a higher RPM and larger cache size, facilitating faster load times and smoother operation, even when running resource-intensive tasks. The specialized firmware further enhances performance, tailoring it specifically for high-end use cases.
The WD_Black's sleek and professional design signifies its premium positioning, which aligns with its superior performance. Still, it's essential to note that it may require a more advanced setup, generate more noise, and have a higher power consumption compared to WD Blue.
In the end, neither drive is inherently superior. Instead, each caters to different segments of users, responding to their unique requirements. The choice between WD Blue and WD_Black should be an informed one, based on an understanding of their features, the trade-offs involved, and, most importantly, their alignment with your personal needs and preferences.
Max RPM: 7200
Cache size: 64MB
Includes WD's Acronis True Image software
Connector type: SATA (6Gb/s)

Buy on Amazon

We earn a commission if you make a purchase, at no additional cost to you.

12/08/2023 06:08 am GMT

Max RPM: 7200
Cache size: 256MB
Form factor: 3.5-inch internal HDD
Warranty: 5 years

Buy on Amazon

We earn a commission if you make a purchase, at no additional cost to you.

12/07/2023 08:33 pm GMT
The image featured at the top of this post is ©Elya Vatel/Shutterstock.com.