Fox News is the most-watched cable news network in the United States. However, there is a vast amount of Fox News content that never airs on the network. In order to compete with a growing number of streaming services, the company launched Fox Nation to deliver additional content on-demand. If you are a subscriber to Fox Nation, then you will want to add the streaming app to your LG Smart TV.
LG makes excellent TVs that offer phenomenal image quality and features. Unfortunately, the proprietary webOS operating system leaves a lot to be desired. In fact, many streaming services like ESPN do not have an app for LG Smart TVs. The good news is that the Fox Nation app is available, and you can easily start streaming with the five simple steps listed below.
Step 1: Go to the LG Smart TV's Home Menu
The first thing that you must do is turn on your LG Smart TV and go to the home screen. To get there, just click on the home icon on your remote. Once on the homescreen, click the search icon, which looks like a magnifying glass, in the upper right of the screen.
Step 2: Search for Fox Nation on Your LG Smart TV
After selecting the icon, a search bar will appear. Type in "Fox Nation" to search the store. You can select one letter at a time or use voice recognition if your remote is equipped. Once you see the Fox Nation app on the screen, you can stop typing and select it.
Step 3: Install Fox Nation on Your LG Smart TV
After selecting the Fox Nation app, you will end up in the app store. Once there, click the "Install" button to add the Fox Nation app to your LG Smart TV. The installation should finish within a few seconds, so stay on the Fox Nation page, if possible, until it finishes.
Step 4: Launch the Fox Nation App on Your LG Smart TV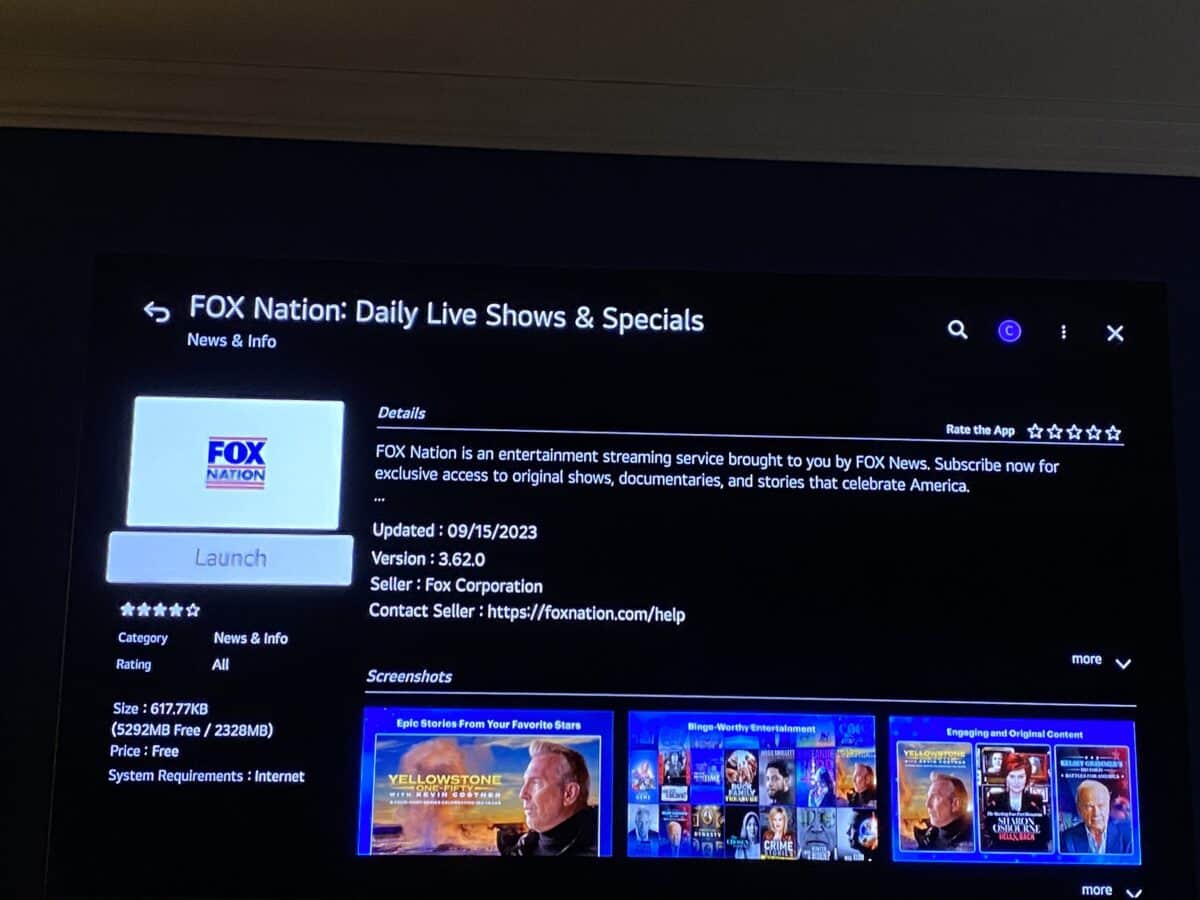 Next, you need to launch the Fox Nation app. If you are still on the Fox Nation page in the app store, the install button should now say Launch. Click on the "Launch" button to automatically open the app. Otherwise, you can find the newly installed app on your home screen.
Step 5: Sign in With Your Fox Nation Username and Password
Lastly, sign in to Fox Nation with your username and password. You can also create an account if you don't have one. Cable and satellite subscribers can log in with their provider for access to even more content, including live TV.
Fox Nation Subscription Options
Fox Nation subscription options are pretty straightforward. There is only one tier, which costs $5.99 per month, or you can pay for a full year and get a slight discount at $64.99. In addition, Fox Nation often runs specials that range from a seven-day free trial to the first month for $1. Members of the military, veterans, and first responders can also get their first year of Fox Nation for free.
What Can You Watch on Fox Nation?
Fox Nation has a range of exclusive content, including shows hosted by popular news personalities, documentaries, and even reality TV shows. You will also find a small amount of licensed content, such as movies and TV shows. Several Fox News primetime shows are available on Fox Nation. However, you can only access the full Fox News lineup and live coverage by signing in with a cable or satellite provider.
Wrapping Up
Fox Nation is the ultimate streaming service for fans of Fox News Channel. While it isn't a complete replacement for the 24-hour live news network, it complements the more traditional programming. You can still watch several popular primetime shows, and there is a plethora of exclusive content to watch on Fox Nation with your LG Smart TV.